Education opens up your mind, expands your horizons, and just gives you so much more to explore. Education quotes can be very helpful for you if you are a student looking for some inspiration.
Moreover, if you are a teacher who wants to ignite a spark in your student's brain, you have come to the right spot too! These pearls of wisdom are a gift of the world's wisest thinkers.
These wide sayings are timeless and precious and continue to impart a beneficial piece of advice from generation to generation.
Sometimes all you need is a little pat on the back to move ahead successfully in life. And, these inspirational education quotes are good enough to work the same way for you.
These smart sayings are surely going to work wonders for you and help you aim for a bright and successful future. So, lots of luck with your journey filled with education, learning as well as teaching.
You may also want to read:
Inspiration Graduation Quotes
Motivational Quotes for Students to Inspire Young Generations
The Best Education Quotes
"Who questions much, shall learn much, and retain much." – Francis Bacon.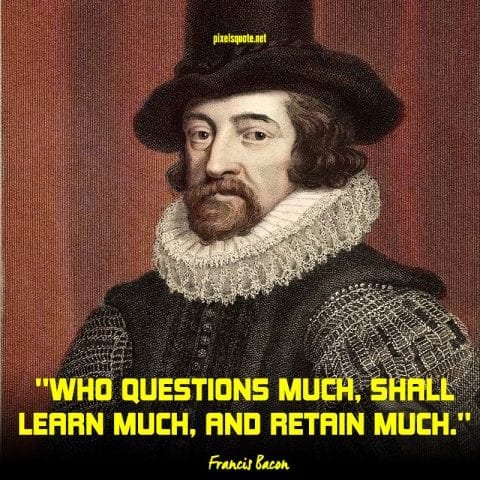 Education not only brightens up our minds but triggers our inquisitiveness as well. As we tend to gain more knowledge, our curiosity to understand everything at a deeper level increases too. Moreover, when we question things around us, it helps us widen our horizons.
Education quotes like these help a great deal to prepare yourself for the upcoming challenges. And, it also adds up to the intellect that one possesses. In order to achieve your goals, you have to work hard every day.
"Life itself is your teacher, and you are in a state of constant learning." – Bruce Lee.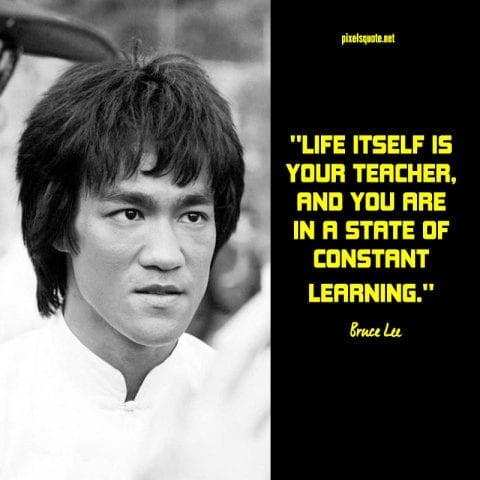 It can be really difficult to work on yourself when your heart desires otherwise. Life continues to impart valuable teachings in the form of past mistakes or present situations.
In other words, whatever you do helps you become a little stronger emotionally and mentally. Every single experience ensures that you stay focused on your growth.
Life teaches you to never give up. Whatever happens, good or bad, you are always learning something new. Indeed, life is the best teacher.
Keep reading: Inspirational Teacher Quotes.
"The highest result of education is tolerance." – Helen Keller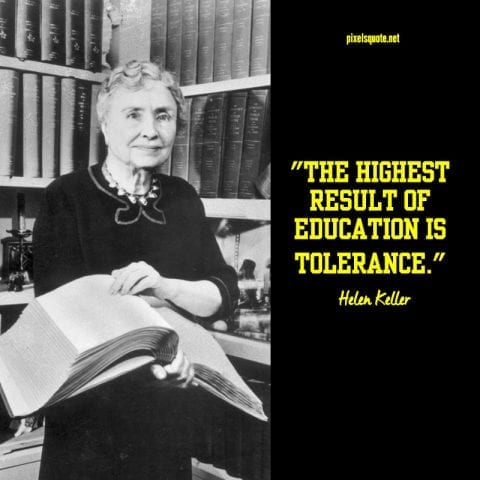 Undoubtedly, as much education one gains, he also becomes more and more humble throughout the way. This education quote aptly tells how we gain tolerance and depth allowing to education.
As we gain a deeper understanding of the world around us, we possess knowledge of the actual facts. More than anything that education provides, it encourages us to look at everything with a broader vision. So, we can look above our own selfish motives and gain empathy for the people around us.
"A well-educated mind will always have more questions than answers." – Helen Keller.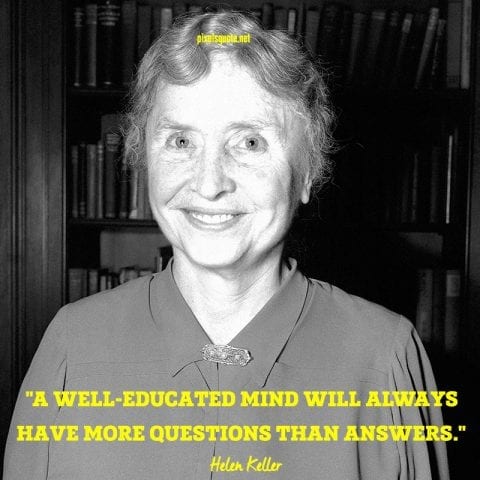 One who is truly educated seeks to find answers to all the queries that he comes across. Undoubtedly if you study deeply, you will become rationally involved with all things happening around you. Also, it is very wisely said that the smartest brains are the ones that ask the dumbest questions.
So, it is always good to ask questions rather than shying away, as suggested by this education quote. If you don't, then you must understand that this world is nothing else but competition.
"As long as you live, keep learning how to live." – Lucius Annaeus Seneca.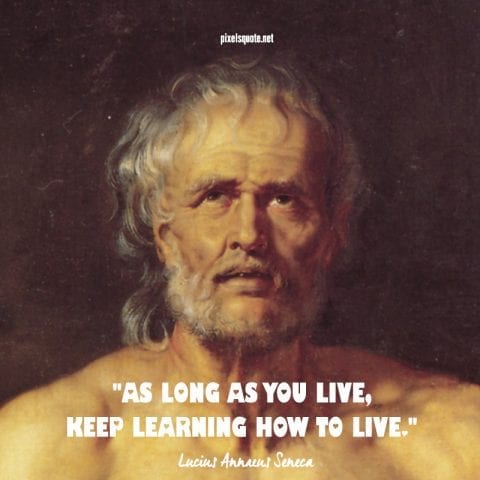 Life is short and must be lived to the fullest. As soon as it dawns on you, it makes you realize how precious time is. Moreover, as you grow, you learn how to make more and more of what's left with you.
Some people enjoy each moment as if it is the only one left. They are the ones who actually live a happy life. There is no point in wasting time learning things that are useless.
"Learning is a treasure that will follow its owner everywhere." – Chinese proverb.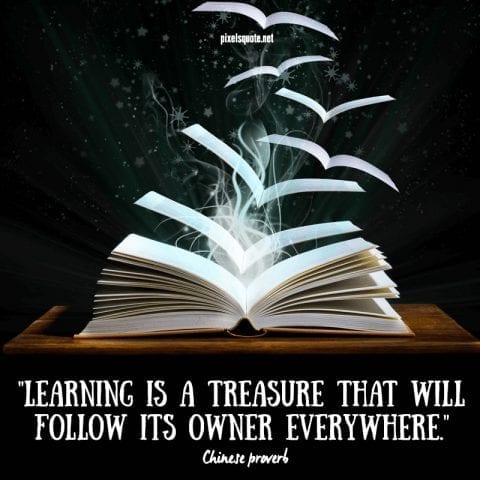 Out of all the treasures in the world, learning is something that will never get lost. No matter how many hard terrains the man crosses, education will never leave him.
Education quotes like these play a big role in inculcating the love for learning in children. What they hear from childhood is what they believe in for their whole lives.
"If you have a garden and a library, you have everything you need." – Cicero.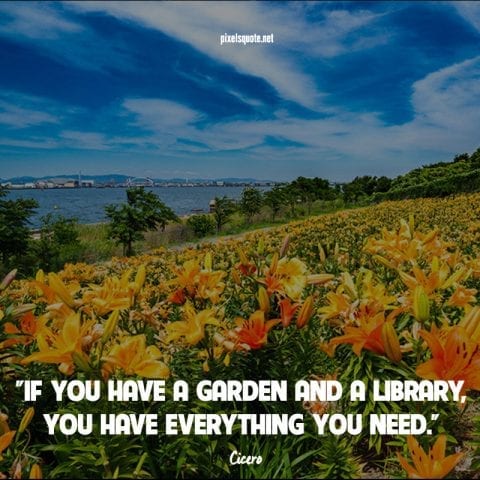 The Garden is indeed heavenly and has a calming and soothing effect on you. The chirpy birds, the fragrant flora, and the greenery, all added together make for a lovely landscape. Same way, a library stacked with educational books is a heaven for book lovers.
People who have both gardens and libraries are truly lucky. Undoubtedly, they have everything that a person can desire for mental peace. Simple living can do very well for a person.
"I have never let my schooling interfere with my education." – Mark Twain quotes
This would be a very fun graduation quote to incorporate in your speech. Indeed, true education is much beyond the regular textbook knowledge. It includes being humane, learning values, implementing the knowledge in real life, and making yourself useful for the world.
It becomes very important to keep the two spectrums of knowledge aloof from each other. As the author says, it's important to not let your school life interfere with your real-world knowledge.
Education quotes to inspire you to keep learning
"Don't let your learning lead to knowledge. Let your learning lead to action." – Jim Rohn.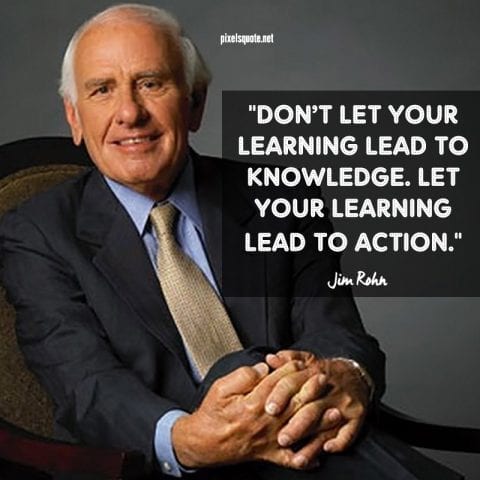 Actions speak louder and stronger than words. A learned man always seeks to improve himself. He looks for ways to better himself. Your learning should be a pathway to lead you to the best version of yourself. It should guide you to work for it.
This education quote teaches that the learning that constrains you to mere knowledge only, is not worthy enough. Allow your learning to be open sufficiently to take you to the action required for success.
Education quotes to elevate your mind
"To add a library to a house is to give that house a soul." – Marcus Tullius Cicero.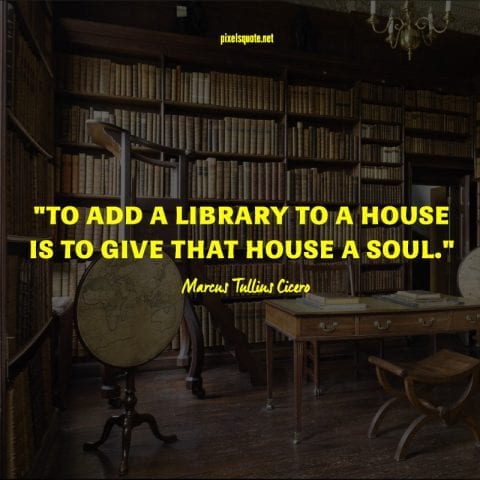 It is very famously said that books are a man's best friend. Cliché as it may seem, books indeed are the supporters that one needs to sail through the journey of life, strongly. Rows and rows lined with knowledge passed down generations surely have a specialty of its own.
Education is the key to success and the library, for sure, is the treasure chest containing the key. Having a library is a great way to make sure that all your leisure time is spent wisely.
Final Thought about Education
After reading all the education quotes, hopefully, you must be full of enthusiasm and inspiration. It would be great to implement these beautiful thoughts in your lives.
Moreover, you can pass them down to your friends or family to motivate them too! These thought-provoking quotes are very effective in honing your intellectual skills.
As we know, education is the weapon through which all barriers can be erased, it is a necessity to be well-educated in today's world. Hopefully, this amazing collection of wise sayings would have helped you learn the importance of education.