School is the beginning of all dreams and ambitions, whose final destination is succession. We all have good memories associated with this place that you will surely be very linger when recalling. Let's evoke beautiful feelings about school with a compilation of school quotes here.
Each of us used to be a student. And we know clearly that school is welcoming any of us regardless of skin color or ethnicity. Whether you're a parent or a student, we all want to be inspired by our learning with inspirational school quotes below.
Inspirational School Quotes
"School is a building which has four walls with tomorrow inside." – Lon Watters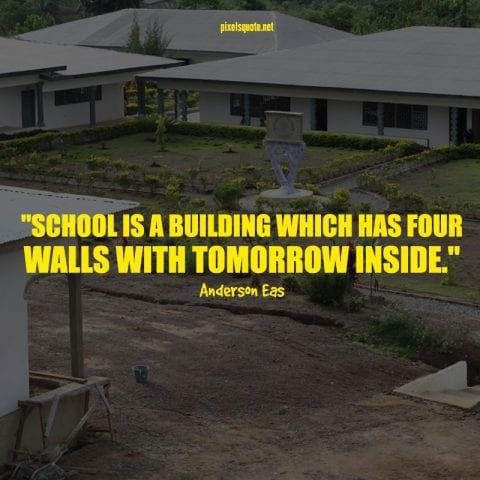 Education is a noble and important cause for all countries in the world. And school is the place to build the foundation and the most basic preparation to actualize all those wishes.
Moreover, the school is a place to help students build moral values to become good citizens of the country.
Read more quotes about school at Education quotes.
"The fundamental purpose of school is learning, not teaching." – Richard DuFour.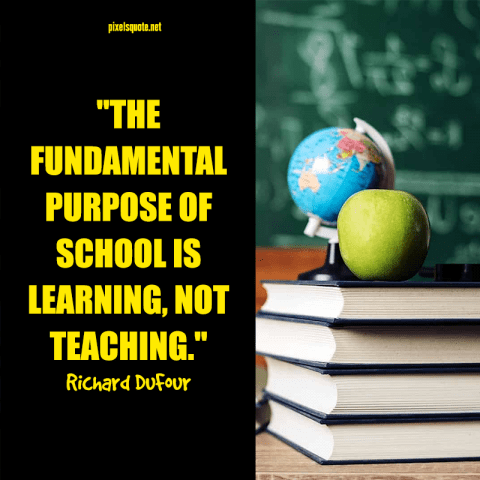 Teachers' role is like a bridge for us to explore understanding. Teachers are also people who want to grow in their teaching careers.
They must find more interesting and funny ways to cover the ordinary dull lessons. Or, for students to be interested in learning, teachers must upgrade themselves and become an inspiration to their students.
So, just like this school quote inferred, students and teachers always need to study.
"To educate the peasantry, three things are needed: schools, schools, and schools." – Leo Tolstoy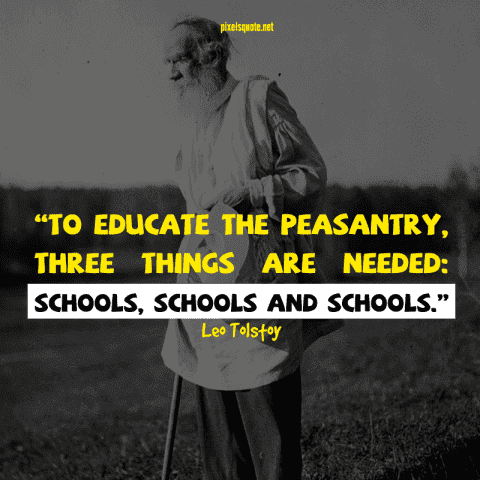 Back about 100 years ago, going to school was something that was still very wasteful for people. Almost only wealthy and well-off families have the opportunity to go to school. The rest have to worry about other more urgent things like food and clothing.
Thus, new thinkers like Leo Tolstoy have emphasized the great importance of schools in this school quote.
In any case, a professional and methodical education system like school is still the best way to improve people's understanding.
"No matter how much you think you hate school you'll always miss it when you leave."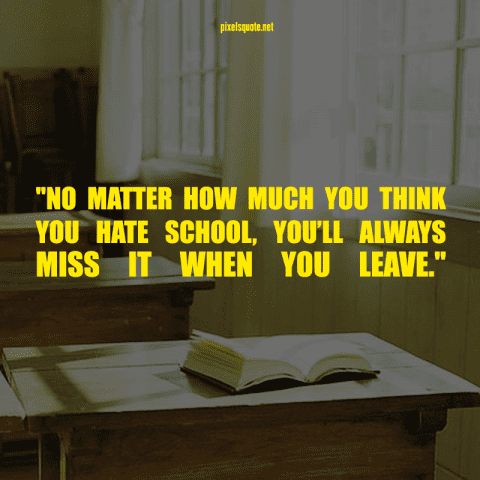 Anyone who has been a student knows what it feels when facing with piles of homework and projects at school. Not to mention the extremely stressful and difficult exams. But let's admit it's still much better than having to deal with work pressure, right?
Just kidding! In short, after reading this school quote, you will probably start to feel grateful for your time as a student. Because the truth is, it has trained you to go through difficulties and become a lot better.
"The home environment can undo a lot you try to do at school." – Ray Bradbury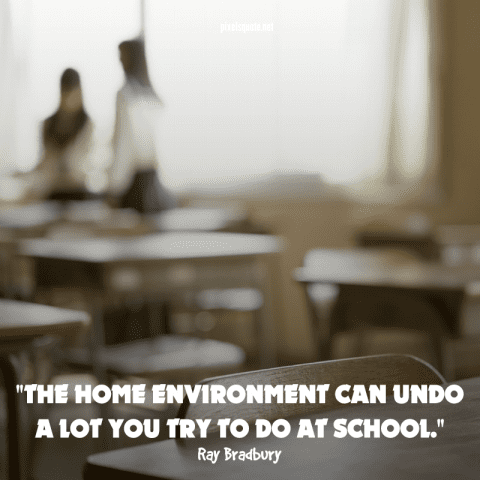 It is often said that only study at school is never enough. You have to study at home and in society to have a much more subjective and comprehensive view. How parents educate children is much more important than how the schools do.
The educational environment of the family and the school is a condition to perfect the thinking and personality of any student. Therefore, always keep this school quote in mind to never underestimate homeschooling.
"You can't learn in school what the world is going to do next year." – Henry Ford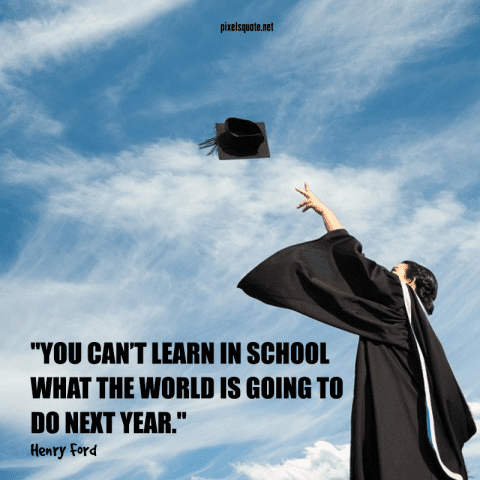 As mentioned many times in articles on the same topic as quotes for education and teacher quotes. Teaching is just a tool for us to come to knowledge. Schools, teachers, books help us a lot. But learners, we are the deciding factor of everything.
The way you reason, contrast, consider and plan a problem are all skills you learn to achieve anything.
More inspirational School quotes you may like
"A small effort in developing multiple skills in school-age will yield tremendous result in future."
"School may be hard, annoying, and irritating. But admit it, you're going to miss it when it ends."
"Wisdom is not a product of schooling but of the lifelong attempt to acquire it." – Albert Einstein
"I prefer the school of life." – Cassandra Clare
"The difference between school and life? In school, you're taught a lesson and then given a test. In life, you're given a test that teaches you a lesson." — Tom Bodett
"School offers us to class and friends but our homes give us morality and attitude which follows us to our graves."
"Learn as much as you can while you are young since life becomes too busy later." – Dana Stewart Scott
"You have to stay in school. You have to. You have to go to college. You have to get your degree. Because that's the one thing people can't take away from you is your education. And it is worth the investment." — Michelle Obama
"The first half of my life I went to school, the second half of my life I got an education." — Quote from Mark Twain.
"Study without desire spoils the memory, and it retains nothing that it takes in." – Leonardo da Vinci
"Instruction ends in the schoolroom, but education ends only with life."
"I think a school is a place where thinking should be taught." – Edward de Bono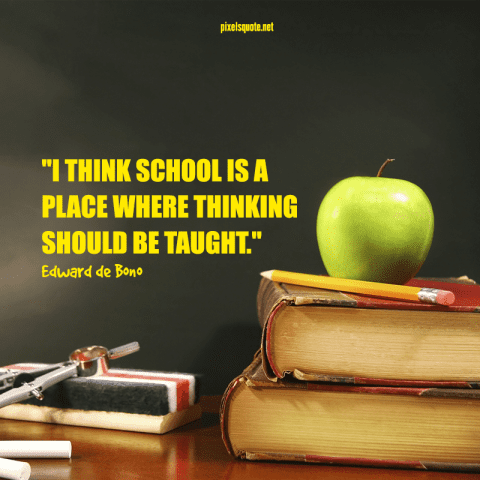 Absolutely. School is the perfect place for us to hone those skills. There is no one else to tell us how to think. We cannot deny the importance of school. It teaches us the most essential survival skills before officially becoming adults.
Read this inspirational school quote over and over to make sure you don't get bored of school again.
"We all learn by experience but some of us have to go to summer school." – Peter De Vries
"An investment in knowledge pays the best interest." – Benjamin Franklin
"Education is our passport to the future, for tomorrow belongs to the people who prepare for it today." – Malcolm X
"The things taught in schools and colleges are not an education, but the means to an education." – Ralph Waldo Emerson
"Everything is a learning process: any time you fall over, it's just teaching you to stand up the next time." — Joel Edgerton
"School is the advertising agency which makes you believe that you need the society as it is." – Ivan Illich
"We learn not in the school but life." – Seneca
"Education is a continual process, it's like a bicycle… If you don't pedal you don't go forward." – George Weah
"He who opens a school door closes a prison." ― Victor Hugo
"Learning is a treasure that will follow its owner everywhere." – Chinese Proverb
"The road to freedom –here and everywhere on earth-– begins in the classroom." – Hubert Humphrey
"When you take the free will out of education, that turns it into schooling." – John Taylor Gatto
"Intelligence plus character that is the goal of true education." – Martin Luther King Jr.
"There is no school equal to a decent home and no teacher equal to a virtuous parent." – Mahatma Gandhi
"Don't let your life outside of school dictate your future." – Simone Elkeles
"Knowledge will bring you the opportunity to make a difference." ― Claire Fagin
"Let us remember: One book, one pen, one child and one teacher can change the world." – Malala Yousafzai.
First day of school quotes
"First day of school! Wake up! Come on. First day of school." — Finding Nemo
"Describing her first day back in grade school after a long absence, a teacher said, It was like trying to hold 35 corks underwater at the same time." – Mark Twain
"The most important day of a person's education is the first day of school, not Graduation Day." – Harry Wong
"I've always loved the first day of school better than the last day of school. Firsts are best because they are beginnings." – Jenny Han
"The first day of school: The day when the countdown to the last day of the school begins."
"All children start their school careers with sparkling imaginations, fertile minds, and a willingness to take risks with what they think." – Ken Robinson
"The worst thing is trying to find a good seat on the first day of school."
"I felt like the first day of school or something. My heart was beating a little faster, my anticipation was building up. It was like the first day of school when you go to kindergarten or something." – Carlos Booze
"Every day is the first day of school." — Dr. Edoardo Zeloni Magelli
"Waking your kids up for school the first day after a break is almost as much fun as birthing them was." – Jenny McCarthy
"Be kind and make friends."
"The first day of school is always a fashion show. The rest of the school year? A pajama party."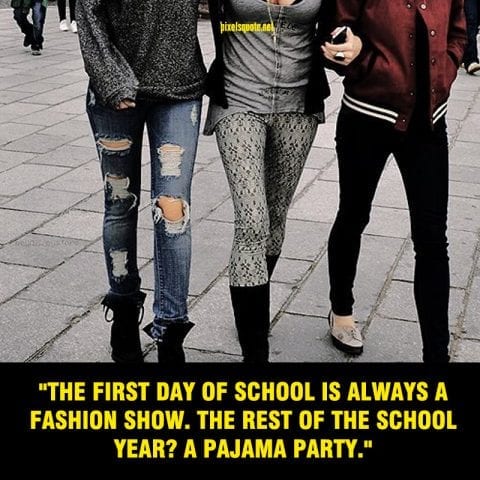 This school quote captures the psychology of students very well, do you admit it?
School is a place to meet and mingle with many friends, groups, and clubs. It's not unusual if sometimes we go to school to meet friends and participate in school activities.
And those are the best opportunities to express your personality with your look, dress, makeup. That's why everyone wants to dress up and put on makeup on the first day of school
"Time to rise. Time for school! Open your eyes." — Tammie Jones
"I'm not going to school just for the academics. I wanted to share ideas, to be around people who are passionate about learning." — Emma Watson
"I said school starts tomorrow. I didn't say I was going to be there." — Kim Harrison
"What makes a child gifted and talented may not always be good grades in school, but a different way of looking at the world and learning." — Chuck Grassley
"You learn something every day if you pay attention." — Ray LeBlond
"The road to here and everywhere on earth begins in the classroom." – Hubert Humphrey
"On the first day of school, you got to be real careful where you sit. You walk into the classroom and just plunk your stuff down on any old desk, and the next thing you know the teacher is saying, 'I hope you all like where you're sitting because these are your permanent seats." – Jeff Kinney
"A little learning is a dangerous thing." – Alexander Pope
"The first day of school, make sure that you know your locker combination." " – Jordan Francis
"That awkward moment on the first day of school when you'll go in front of the class and introduce yourself."
"On the first day of school, my father told me I'd be the most popular girl and everyone would love me and want to be my friend. It wasn't so, but it gave me an enormous amount of confidence." – Maeve Binchy.
High School Quotes
"High school is what kind of grows you into the person you are. I have great memories, good and bad, some learning experiences and some that I'll take with me the rest of my life." – Giancarlo Stanton
"What I remember most about high school are the memories I created with my friends." – J. J. Watt
"High school is about finding who you are because that's more important than trying to be someone else." – Nick Jonas
"High School is the penalty for transgressions yet to be specified." – Frank Portman
"If there's a Hell on Earth, it's high school." – Lisa Desrochers
"Every high school has its Romeo and Juliet, one tragic couple. So does every generation." – Chuck Palahniuk
"Don't be afraid to ask questions."
"Prison is like high school with knives." – Raegan Butcher.
"When I say I miss school, I mean my friends and the fun. Not the studying part."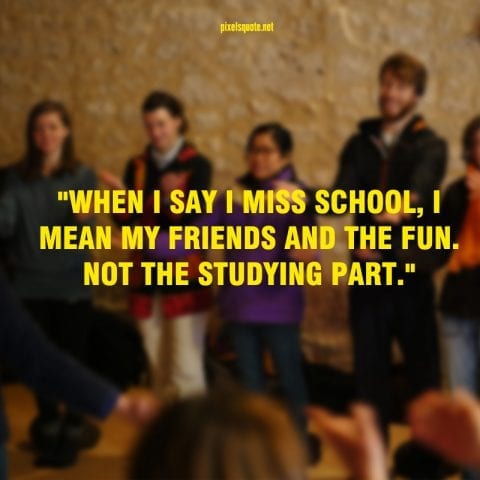 Children often ask their parents why they have to go to school cause there is nothing fun in school. And many parents also have a hard time convincing their children to go to school every day.
It's not easy when we want to get our kids excited about school without talking too much about the benefits of learning.
Because in fact, you'll find that you're just nostalgic for the memories of school instead of the lessons there.
"One day middle school will end and become high school and after that it just becomes life. All those things you think are important now won't be anymore." – Diary of a Wimpy Kid
"Sometimes, it's better to bunk a class and enjoy with friends, because now, when I look back, marks never make me laugh, but memories do." – A.P.J. Abdul Kalam
"I don't want to go to school and learn solemn things." – James Matthew Barrie
"High school looks so much cooler on TV."
"I would enjoy school more if I was allowed to bring a pillow."
"We don't stop going to school when we graduate." – Carol Burnett
"What is the most important thing one learns in school? Self-esteem, support, and friendship." — Terry Williams
"What we learn becomes a part of who we are." — Kathy R. Jeffords
"You don't understand anything until you learn it more than one way." —Marvin Minsky
Funny quotes about School
"There's no use going to school unless your final destination is the library." – Ray Bradbury
"I am always ready to learn although I do not always like being taught." – Winston Churchill
"In school, one learns to ask stupid questions of life." – Marty Rubin
"Bunking is an attempt to fire yourself from school." – Funny School quote short.
"In the first place, God made idiots. This was for practice. Then he made school boards." – Mark Twain
"Life gets really simple once you cut out all the bull shit they teach you in school." – George Carlin
"If we go to school to learn, and knowledge is power and power is corrupt and corruption is crime and crime doesn't pay then why the hell do we go to school?"
"The things that have been most valuable to me I did not learn in school." – Will Smith
"I go to school, but I never learn what I want to know." – Funny quotes from Bill Watterson.
"I believe in teaching, but I don't believe in going to school." – Robert Frost
"That awkward moment when you're at your parent/teacher school conference and when the teacher is talking about you, and you're right there."
"School made us 'literate' but did not teach us to read for pleasure." – Ambeth R. Ocampo
"You can drag my body to school but my spirit refuses to go." – Bill Watterson.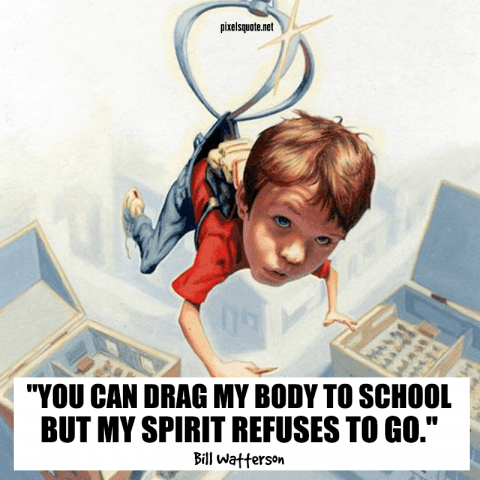 School is sometimes too stereotyped and boring for many people, especially children. Children are inherently naughty and love to explore everything, so many children really can't stand sitting still.
And it's funny that we adults sometimes are the same. Sometimes we just go to school as a necessity, while our souls are wandering elsewhere. So you see, adults are just big kids.
"Some parents do not send their children to school because they don't know its importance at all." – Malala Yousafzai
"True terror is to wake up one morning and discover that your high school class is running the country." – Kurt Vonnegut
"School prepares you for the real world… which also bites." – Jim Benton
"Rules and school are tools for fools! I don't give two mules for rules." – Trenton Lee Stewart
"HOMEWORK Stands for Half of my energy wasted on random knowledge."
"School for 12 years, college for 4 more years, then you work until you die. Cool."
"Everyone in our school has afterschool activities. mine is going home." – David Levithan
"I've been making a list of the things they don't teach you at school. They don't teach you how to love somebody. They don't teach you how to be famous. They don't teach you how to be rich or how to be poor. They don't teach you how to walk away from someone you don't love any longer. They don't teach you how to know what's going on in someone else's mind. They don't teach you what to say to someone who's dying. They don't teach you anything worth knowing." – Neil Gaiman, The Kindly Ones"
"School is a jail, the cells are the classes, teachers are the security guard and WE ARE THE PRISONERS!"
"I can pick a lock. How do you think I got into my parents' liquor cabinet in middle school?" – Richelle Mead
"Sunday school: A prison in which children do penance for the evil conscience of their parents." – H.L. Mencken
"I am of the order whose purpose is not to teach the world a lesson but to explain that school is over." – Henry Miller
"As long as teachers give tests, there will always be prayer in schools."
"I could have gone to medical school, I said. Except for all the math and stuff." – MaryJanice Davidson
"A child educated only at school is an uneducated child." – George Santayana
"School bells are ringing loud and clear; vacation's over, school is here." – Winifred C. Marshal.
Final Thought
We make sure these funny school quotes will make you feel more comfortable about education. Education is the mission of all of us. Everyone wants themselves and their children to fully enjoy the best educational conditions.
So, right now, send these school quotes to your friends, a little contribution has also made a positive change. If that's still not enough, read more about Senior quotes and Inspiration Graduation Quotes.