A school plays a major role in a person's life. Right from giving you an ocean full of memories, it helps you get ready for the hurdles of life. You might need some fantastic senior quotes, to sum up, your life in the school.
These quotes are the works of some of the funniest students of the school who manage to come up with some hilarious lines to express their school journey. These one-liners are surely going to make you unforgettable and leave your mark on everyone's minds.
Although many people like to play it safe with their yearbook's quotes. But once in a while, some funny students word epic memories to treasure forever. If you want, you can draw inspiration from these awesome senior sayings that left everyone laughing out loud.
It sure is fun to go through what everyone read for the yearbook. Here we have compiled some of the best senior quotes of all times.
Don't forget to read Inspiration Education Quotes and Motivational Quotes for Students to inspire young generations.
The best Senior quotes with images
"I'm a senior, but I stay freshman." – Martin Alvarado.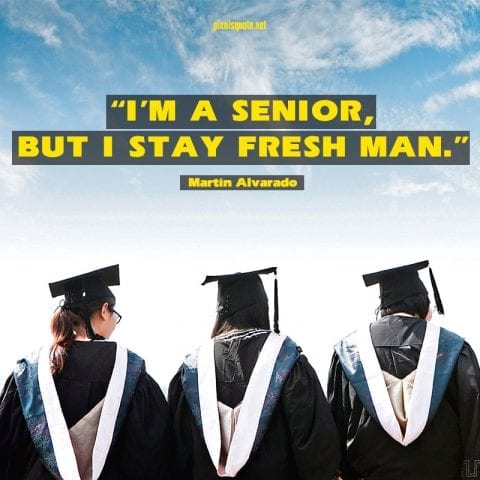 For a freshman, everything is super fresh and new. They are going through major adjustments in their student life. And, gaining new experiences. A senior on the other hand has already lived all those moments.
But if you are a senior who still live every moment as a fresher, then you might be able to relate to this senior quote. A freshman claims all the opportunities as best as he can. And a senior must learn this quality and stay a freshman at heart.
"I'm gonna go stand outside. If anyone asks, I'm outstanding." – Taylor Bass.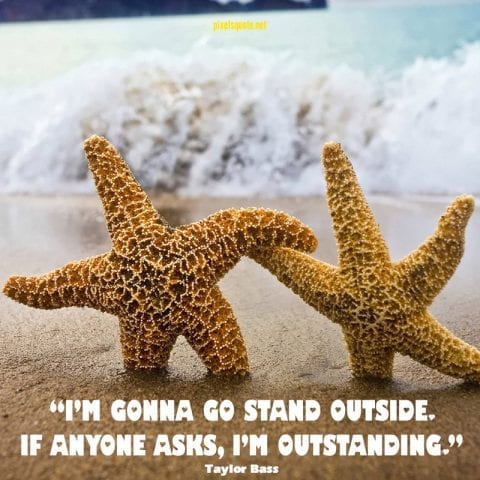 A student's life is full of fun and laughter. It is indeed the best time of your life. You are carefree and can even make a joke out of punishment. For instance, this quote is all about living your best life and enjoying your college.
Even being punished seems like an adventure that you're ready to dive into. And, it becomes even better when you are with your friends. Being made to stand outside the classroom looks like a treat in the vicinity of friends.
"I was told in high school that the last game during your senior year stays with you forever, which is true." – Jim Otto.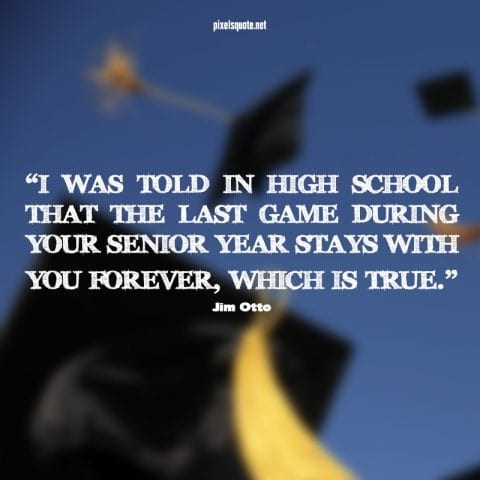 As the last football game ends, all the seniors feel a wave of nostalgia hitting them. This senior quote aptly describes how a person feels while playing the last game of his student life.
Indeed, it stays in your memories forever and becomes an integral part of you. Your team becomes your family and you build an undying team spirit. Surely, your last game is the best, regardless of your win or loss in the game.
"The past cannot be changed. The future is yet in your power."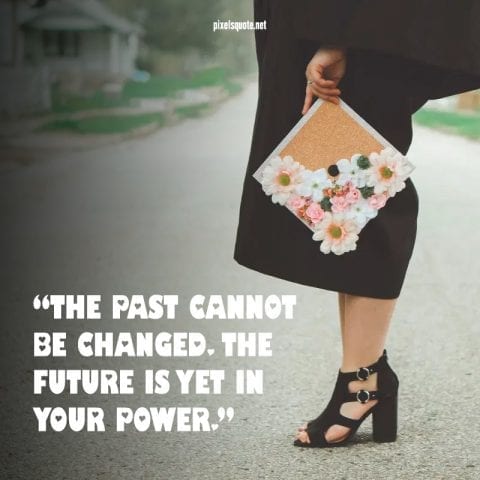 One of the biggest realities of life is that the past is not capable of changes. Hence, it is always best to keep your head high and move forward. All you need to do is take care of the present and the future will be all yours.
A student's life is challenging. So, you must know how to overcome the stress of failure. It is very wisely said that only those who look forward, move forward.
"The future belongs to those who prepare for it today." – Malcolm X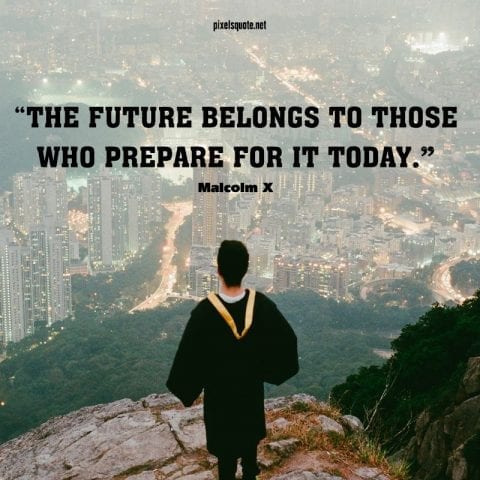 These powerful words of wisdom can also be used as graduation quotes in a speech. Passing on your experiences to your juniors is very important so that they can be prepared to brighten up their future.
This saying can be useful to have a deep impact on young minds. Also, it will help them make good decisions as they are in the future. People who work constantly in the present are able to create a beautiful future for themselves.
"Action is the foundational key to all success." – Pablo Picasso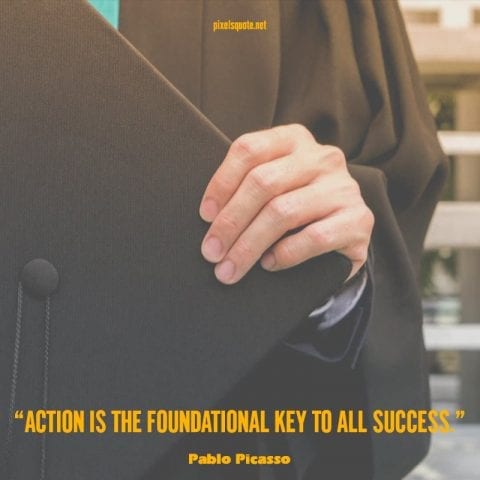 Actions are the carriers that make our thoughts visible to the world. Undoubtedly, your actions define you and what you can or cannot do. It helps you lay down the foundation for a successful life.
For students fresh out of University, life could surely be a little haunting. But those who lay their foundation well and strong, get everything they want in life. A strong action done at the right time reaps fruits for a lifetime.
"Build your own dreams, or someone else will hire you to build theirs." – Farrah Gray.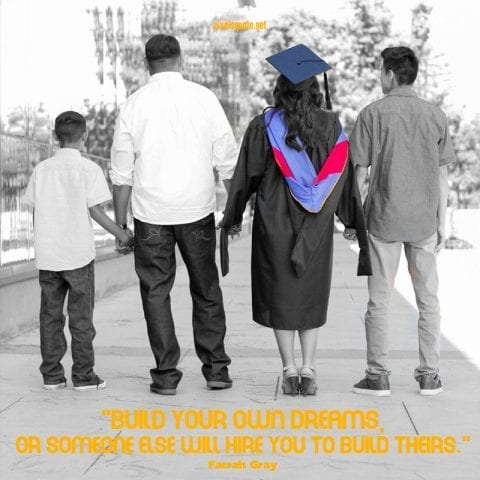 If you do not work to fulfill your dreams, you might never be able to live them. You might even see yourself helping someone else to achieve their goals.
A good dose of inspirational quotes helps you reignite your passion. It boosts your motivation and prepares you for the upcoming challenges of life. Likewise, it pushes you to work on yourself and for yourself. You realize the importance of self-love and self-work.
Memorable Senior Quotes
Graduation is a very crucial turn in a student's life. These amazing senior quotes are surely going to make these sweet memories immortal for you.
Also, these are great conversation starters with your batch-mates who shared some beautiful moments with you. You might even experience waves of emotions hit you all over again.
"This is nothing but a hive, and I am the one and only Queen Bee." – Brian A Castle
"I haven't even begun to peak." – Dennis Reynolds
"It will take a nation of millions to hold me back." – Timothy Howard
"The roof is not my son, but I will raise it."
"Remember to always be yourself, unless you suck. Then pretend to be someone else." – Mitchel Wieland
"We've arrived because we stuck together, champions one and all." – Sharpay Evans
"One person's craziness is another person's reality." – Tim Burton
"When it rains, look for rainbows. When it's dark, look for stars."
"Change your life today. Don't gamble on the future, act now, without delay." – Simone de Beauvoir
"It is not in the stars to hold our destiny but in ourselves." – William Shakespeare quote
"Memories are the key not to the past, but to the future." – Corrie Ten Boom
"What you do today will determine your future." – Catherine Pulsifer
"The longer you look back, the farther you can look forward." – Winston Churchill sayings.
"Don't wish it were easier. Wish you were better." – Jim Rohn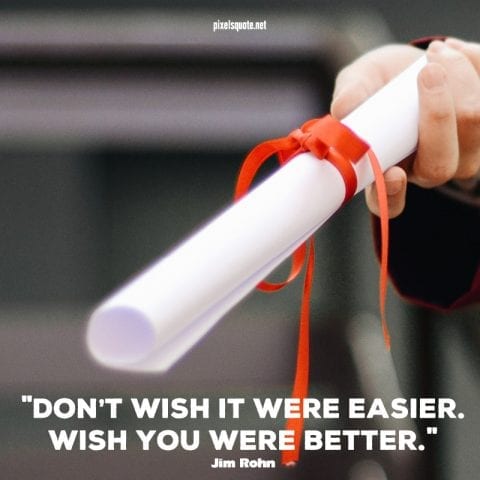 Challenges are the part and parcel of life. This senior quote is a bit of apt advice to give to fresher. They are surely going to feel motivated by your gesture. Student life can be full of ups and downs. A friendly assurance helps a great deal with confidence and inspiration.
New students look forward to such uplifting exchanges with their seniors. Undoubtedly, those who aim for the best, deserve the best. One should put his energy into winning rather than complaining about difficulties.
"It's amazing how a little tomorrow can make up for a whole lot of yesterday." – John Guare
"It doesn't matter that your dream came true if you spent your whole life sleeping." – Jerry Zucker
"Go confidently in the direction of your dreams. Live the life you have imagined." – Henry David Thoreau
"Keep looking up! Learn from the past, dream about the future, and look up." – Rachel Boston
"Let us make our future now, and let us make our dreams tomorrow's reality." – Malala Yousafzai
"My dreams are my dress rehearsals for my future." – David Copperfield
"The future belongs to those who believe in the beauty of their dreams." – Eleanor Roosevelt
"Dreams are often most profound when they seem the craziest."- Sigmund Freud
"Yesterday is gone. Tomorrow has not yet come. We have only today. Let us begin." – Mother Teresa
Inspirational Senior Quotes from famous
"The past is always tense, the future perfect." – Zadie Smith
"Will we think about tomorrow as we think about now?" – Vitamin C
"I'm looking forward to the future, and feeling grateful for the past." – Mike Rowe
"The future depends on what you do today." – Mahatma Gandhi
"It's hard to beat a person who never gives up." – George Herman Ruth
"There are no shortcuts to any place worth going." – Beverly Sills
"The difference between ordinary and extraordinary is that little extra." – Jimmy Johnson
"The highest result of education is tolerance."-Helen Keller
"Start where you are. Use what you have. Do what you can."-Arthur Ashe
"Don't judge each day by the harvest you reap but by the seeds that you plant." – Robert Louis Stevenson
"Everything you've ever wanted is on the other side of fear." – George Addair
"Make each day your masterpiece." – John Wooden.
"Opportunities don't happen. You create them."- Chris Grosser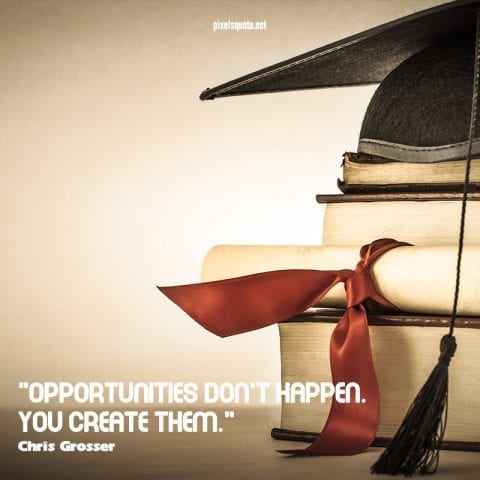 Losers wait for opportunities to come their way. Winners create opportunities for them to slay. The only thing that matters, in the end, is that how much you have worked for your success.
All you have to do is keep your eyes set on your journey. Your vision should be good enough to capture every opportunity. Moreover, you should know how to make maximum use of it. Truly, opportunity is everywhere. All you need to do is grab it.
"Perfection is not attainable, but if we chase perfection we can catch excellence." – Vince Lombardi
"Wherever you go, go with all your heart." – Confucius
"Write it on your heart that every day is the best day in the year." – Ralph Waldo Emerson
"It is better to fail in originality than to succeed in imitation."- Herman Melville
"Why don't you focus on where you're going and less on where you came from?" – Amy Harmon
"The road to success and the road to failure are almost exactly the same." – Colin R. Davis
"Whenever you remember times gone by, remember how we held our heads so high." – Carrie Underwood
"All through my senior year, luckily, I didn't have too many hard classes, just a lot of electives. I was able to spend most of my time at the practice space." – Brendon Urie
"Now that you've graduated, just remember: Bosses don't usually accept notes from your mother." – Melanie White
"My wish, for you, is that this life becomes all that you want it to, your dreams stay big, your worries stay small." – Rascal Flatts
"Success is like a mountain that keeps growing ahead of you as you hike it… Err in the direction of kindness." – George Saunders.
Keeping all the fun aside, these Senior quotes are motivating and inspiring enough to help you sail through your senior year in school. Make use of these quotes as much as you can to create a beautiful future for yourself. Share them with your friends too!