Graduation has always been an important milestone in everyone's life. It marks the time that a youngster has become ready mentally, socially… every aspect to become a fully grown man/woman. These wholesome graduation quotes may equip yourself, or your child/friend/relative with a helpful mindset for their new journey in life.
If you are looking for words of motivation, look at the collection of graduation quotes below. Wise words will not only direct the "new birds" in the open sea but also keep you company.
They will gain the power they need to spread their wings steadily through the storms of life.
Keep reading: Education quotes for Students and Teacher.
Inspirational Graduation quotes
"There are no regrets in life. Just lessons." – Jennifer Aniston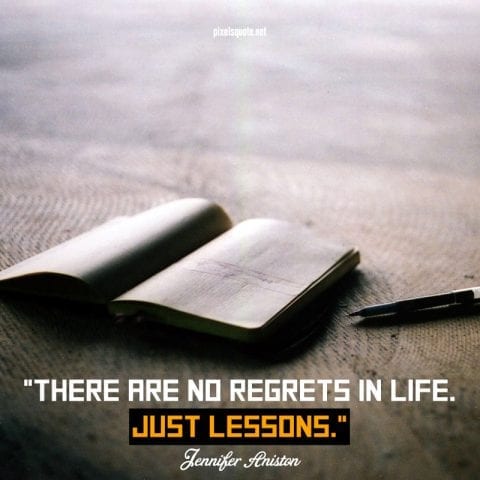 Life will constantly throw at our challenges, sorrows, and regrets. But it also gives us meaning, joy and chances. There will always be chances to do everything over again. When there is a will, there is a way.
This quote is encouraging us to think positively about what has passed. We all make mistakes in life and that is okay. Because, is there anyone who never makes mistakes? Don't waste your time regretting it. Think of how you can grow and be happier instead.
You may also like to read senior quotes and motivational quotes for students.
"Your education is a dress rehearsal for a life that is yours to lead." – Nora Ephron.
It is nothing but true when we're saying the school is the mini-size of the society. In school, we have regulations, relationships, and different social circumstances.
The more we grow up, the bigger and more complex our school will be. That is why we are told to be given the chance to try, to fail, and to learn through these miniature societies.
Through those years of learning and schooling, finally, we are well-equipped to thrive in real life! Check more similar quotes at Inspirational School Quotes.
"Education is the key to unlocking the world, a passport to freedom." – Oprah Winfrey.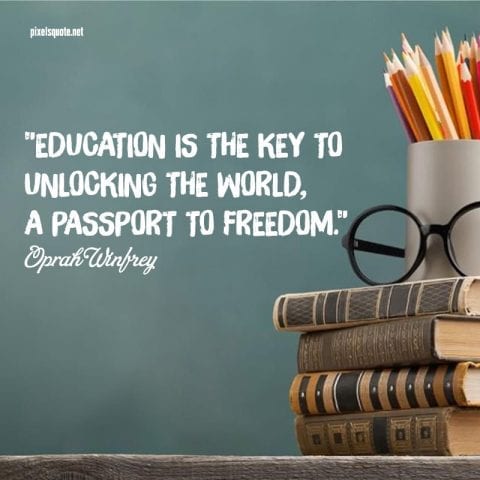 Listen to our renowned public figure – Oprah Winfrey. This quote of Oprah is one of the most inspiring education quotes. Which are words that have been proved by the author's life story.
Education gives you the chance to see a broader view of life. We are taught the rights and the wrongs and how to choose the best option for our lives.
Therefore, education is truly the key to a better life. It is a ticket to freedom of wish and will.
"Everything's always ending. But everything is always beginning, too." – Patrick Ness.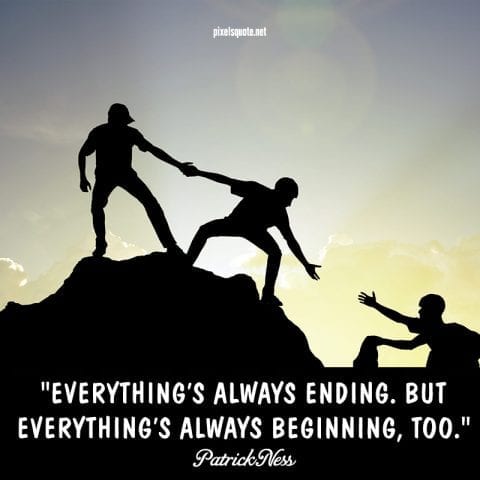 Maybe you think that your graduation has just ended a beautiful journey in your life. You are grieving and wish you can be a student again because students' lives are always easier than adults' lives.
However, listen to this graduation quote of Patrick Ness. Life has its way, and endings and beginnings are the crucial part of it.
By accepting the fact, you are allowing yourself to see a brighter outlook. Because the challenging part ahead will have its end, too. Don't you agree?
"The whole purpose of education is to turn mirrors into windows." – Sydney Harris.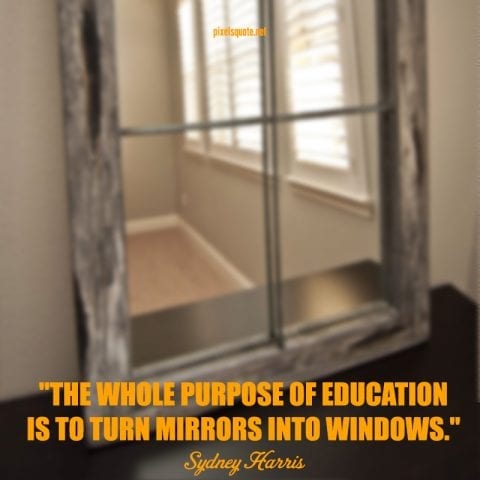 This is one of the most beautiful graduation quotes. It mentions the beauty of education with a comparison image of mirrors and windows. While mirrors reflect the images that it faces, creates identical images without any differences, windows bring open spaces and possibilities.
Education allows humans to learn as they wish, gives space for the mind, and lets humans are inspired and creative.
If you have graduated, congratulations! Because you've been granted the ticket to a brand-new window in the name of you.
"The fireworks begin today. Each diploma is a lighted match, each one of you is a fuse." – Ed Koch.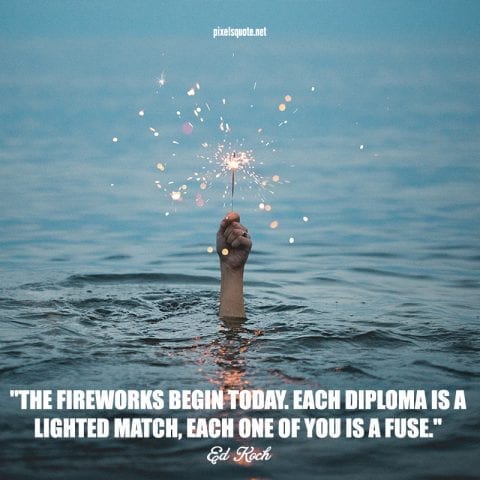 This is one of the graduation quotes they say in graduation ceremonies. Its comparison image is beautiful, it sparks inspiration and hopes inside every new graduate.
A new class of graduates just like a show-off firework. They are constantly shot into the sky and competing for some kind of award.
But don't worry, because you are a fuse. You and only is the one who decides to let the match continue burning or to pause for a while. Therefore, take your turn as you wish.
"Struggling to decide what to do after graduation is, and always will be, a sort of rite of passage to the next phase of your life." – Gloria Davidson.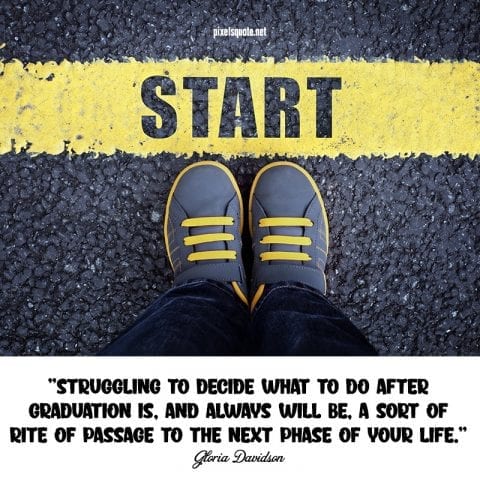 The struggle in finding a job after graduating is always a struggle. Even the best people, who have the most talents can even get lost.
All of us will always be different when we stand before a vast array of possibilities, even in the smallest decision in life. So, don't push yourself too hard to get a job.
This part shall pass. It is one of the most crucial parts of everyone's life journey. So, keep yourself bright and calm.
Graduation quotes to inspire and motivate you
These graduation quotes that we have collected here are the words of the most successful people around the world. The world becomes wider, both vertically and horizontally for those who have graduated. So, let's welcome them to the new life journey with the wise words below.
"There is no passion to be found in playing small, in settling for a life that is less than the one you are capable of living." – Nelson Mandela
"Always be a first-rate version of yourself, instead of a second-rate version of somebody else." – Judy Garland
"You may never know what results come of your action, but if you do nothing there will be no result." – Mahatma Gandhi
"The noblest question in the world is: What good may I do in it?" – Benjamin Franklin
"Success is stumbling from failure to failure with no loss of enthusiasm." – Winston Churchill
"Don't underestimate the power of your dreams." – Corinna Kong
"You get in life what you have the courage to ask for." – Oprah Winfrey
"What lies behind us and what lies before us are tiny matters compared to what lies within us." – Ralph Waldo Emerson
"Education is something we have to keep pursuing day after day." – Premier Brian Gallant
"Learning is the only thing the mind never exhausts, never fears, and never regrets." – Leonardo da Vinci
"Don't cry because it's over. Smile because it happened." – Dr. Seuss
"The important thing is not to stop questioning." – Albert Einstein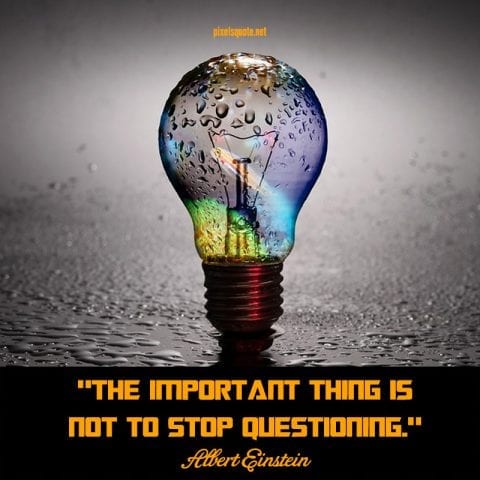 Our world's genius Albert Einstein had emphasized the importance of a questioning mindset since his time. Our years of education at school may have ended, but our years living and exploring the new world are awaiting ahead.
Unless you stop asking, the world no longer has new things to share with you.
Therefore, we should always keep questioning the things around us. It not only let us break the limitations, but also challenges the assumptions and brings us to a new sphere of wisdom.
"There are far, far better things ahead than any we leave behind." – C.S. Lewis
"The best way to predict your future is to create it." – Abraham Lincoln
"No, the sky is not the limit. It is only the beginning." – Donovan Livingston
"Do not follow where the path may lead. Go, instead, where there is no path and leave a trail." – Ralph Waldo Emerson
"Every person you meet knows something you don't; learn from them." -H Jackson Brown Jr.
"Great things are done by a series of small things brought together." – Vincent Van Gogh
"Never bend your head. Always hold it high. Look the world right in the eye." – Helen Keller
"To accomplish great things, we must not only act but also dream, not only plan but also believe." – Anatole France
"It takes courage to grow up and become who you really are." – E.E. Cummings
"Wherever you go, go with all your heart." – Confucius
More quotes and sayings about graduation
"Your education has prepared you for whatever happens." – Roderick Paige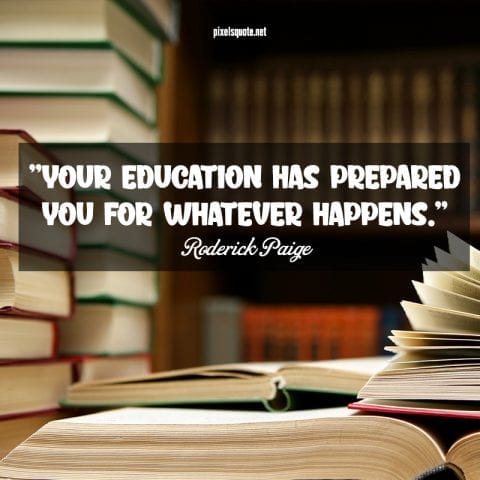 If you just graduated and are worrying about what happens next, don't worry we are all the same. Normally, most of the students lose their orientation after graduating. Because the list of universities is much shorter than the list of potential jobs that an individual can acquire.
Don't worry if you are in such a situation. Believe in yourself and everything that you have gained through your years of education. You have prepared well. All you need to do is trust and let life take its turn.
"Twenty years from now you will be more disappointed by the things that you didn't do than by the ones you did do, so throw off the bowlines, sail away from safe harbor, catch the trade winds in your sails. Explore, dream, discover." – Mark Twain.
"Just remember, you can't climb the ladder of success with your hands in your pockets." – Arnold Schwarzenegger.
"A wise man will make more opportunities than he finds." – Francis Bacon.
"When you take risks, you learn that there will be times when you succeed and there will be times when you fail, and both are equally important." – Ellen DeGeneres.
"Surround yourself with doers. Be around people who demonstrate their boldness." – Wayne W. Dyer.
"Fortune does favor the bold, and I promise that you will never know what you're capable of unless you try." – Sheryl Sandberg.
"Self-confidence is the first requisite to great undertakings." – Samuel Johnson.
"It is not in the stars to hold our destiny but in ourselves." – William Shakespeare.
"Man's greatness consists in his ability to do, and the proper application of his powers to things needed to be done." – Frederick Douglass.
"The future belongs to those who believe in the beauty of their dreams." – Eleanor Roosevelt.
"The beautiful thing about learning is that no one can take it away from you." – B.B. King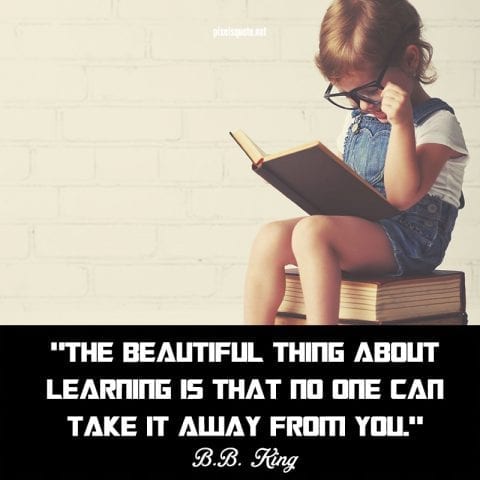 The right to education is one of the basic human rights. Learning is our instinct and with our natural curiosity, humans strive and thrive. The most beautiful and powerful of learning is even if we have lost everything, we still have our ability to learn.
Continuous learning gives us adaptability, flexibility to adjust ourselves due to every kind of situation.
Therefore, even graduation has put you in any kind of situation, you still can learn and turn things around.
"If you haven't found it yet, keep looking. Don't settle. As with all matters of the heart, you'll know it when you find it." – Steve Jobs
"Go confidently in the direction of your dreams. Live the life you have imagined." – Henry David Thoreau
"Always aim high, work hard, and care deeply about what you believe in." – Hillary Clinton
"You're going to fall down, but the world doesn't care how many times you fall down, as long as it's one fewer than the numbers of times you get back up." – Aaron Sorkin
"A ship in harbor is safe, but that is not what ships are built for." -John A. Shedd
"If you're willing to stand for what you believe in … you won't need advice from me, because you will be able to handle whatever comes." – Whoopi Goldberg
"You have to have confidence in your ability, and then be tough enough to follow through." – Rosalynn Smith Carter
"The road to success is always under construction." – Lily Tomlin
"Never let the fear of striking out keep you from playing the game." – Babe Ruth
"We must use time wisely and forever realize that the time is always ripe to do right." -Nelson Mandela.