Hi, how are you? I hope you are fine and happy. Today I really want to tell you one of my favorite stories. It happened in a small village, on a beautiful day like today, the teacher asked her students: "Who thinks you from a poor family, let's raise your hand".
Some of hands raised except a boy who comes from the poorest family in that village. After class, the teacher asked that little boy why he didn't raise his hand and he proudly answered: "My family is not poor, I have my mother and father and they both love me very much. I am rich."
I bet his answer not only touched his teacher's heart, but also my heart and hearts of other people.
That boy showed me that I have the most precious thing in my life, a thing which sometimes I almost forget.
How about you? Have you ever thought about the fact that you are really lucky when you have a house where you can come back anytime, where you have someone always waiting for you with hot soup, soft bed and lots of hugs and great deal of love?
We call it a "family". And I am certain that everyone wants to have their own family. For real. I will prove my opinion by some "family quotes", right now.
Read more:
Quotes about Mothers
Son quotes from Mother
Family Love quotes
I used to talk about some endless love in some topics before. And family is where we have it all: mom and dad who gave you life, who brought you into this beautiful world.
They also give you love greater than anything. You even might have a brother, a sister, or grandparents who teach you what is love and how it feels to be loved.
"Family. Where life begins and love never ends."
"At the end of the day, a loving family should find everything forgivable." – Mark V. Olsen
"The eternal love between man and woman really exists! It`s the love between mother and her son."
"I sustain myself with the love of family." – Maya Angelou
"Clever father, clever daughter; clever mother, clever son." – Russian Proverb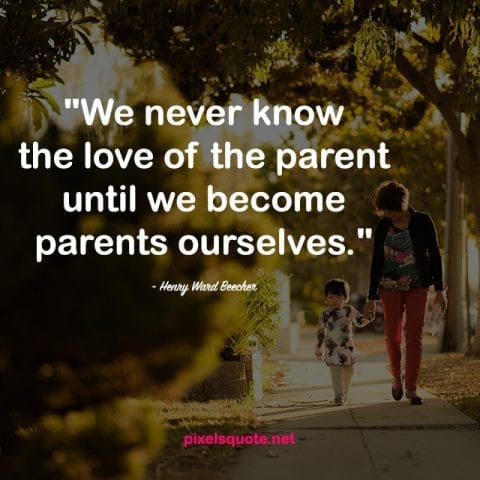 I know if you are a mom or a dad, you will totally agree with Henry Ward Beecher.
Of course, your parents love you a lot. But when you become a parent, you will know exactly how much your parents really love you.
You will understand how much they worry that you are sick, hungry or tired. And you are always in their mind no matter what.
"We never know the love of the parent until we become parents ourselves." – Henry Ward Beecher
"Fathers and sons are much more considerate of one another than mothers and daughters." – Friedrich Nietzsche
"Children learn to smile from their parents." – Shinichi Suzuki
"A happy family needs a loving and caring father, and he who knows how to be a mother sometimes."
"There is no job more important than parenting. This I believe." – Ben Carson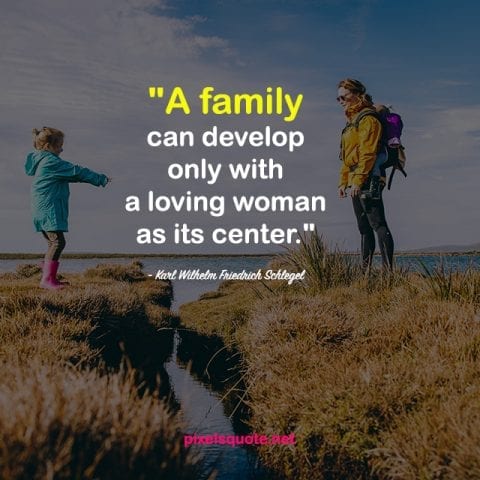 Man builds a house, woman builds a family. She is the person who keeps house warm with her love, her care.

Let's accept that nobody does it better than a woman. That is her duty from God.
"A family can develop only with a loving woman as its center." – Karl Wilhelm Friedrich Schlegel
"I don't care how poor a man is; if he has family, he's rich." – Colonel Potter
"The love of family and the admiration of friends is much more important than wealth and privilege." – Charles Kuralt
"The love of family is life's greatest blessing."
"One day you will do things for me that you hate. That is what it means to be family." – Jonathan Foer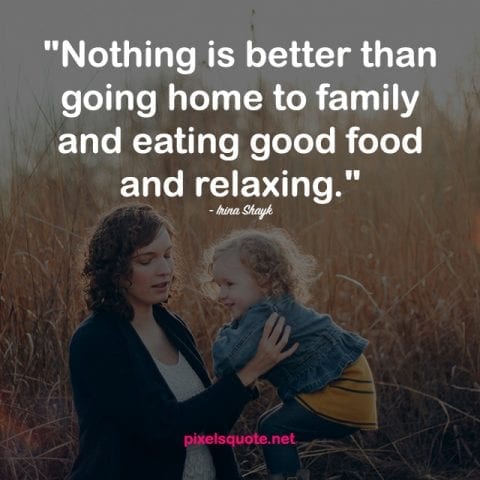 Admit it, this is exactly what you think after finishing a long and busy day, right?
And not only after a busy day, but also whenever you are tired, whenever you stumble in life, whenever you are sick or on Christmas.
When you are happy or in pain, your family is where you want to stay the most.
"Nothing is better than going home to family and eating good food and relaxing." – Irina Shayk
"It is a wise father that knows his own child." – William Shakespeare
"I think family is key, and if you have love for family, then you have love for others – and you have unity as a people." – Marlon Wayans
"Family: A social unit where the father is concerned with parking space, the children with outer space, and the mother with closet space." – Evan Esar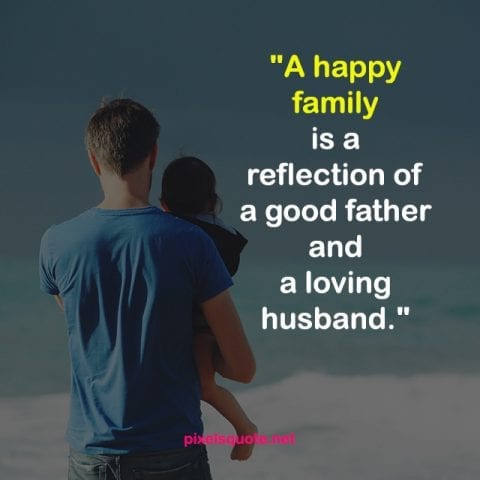 "A happy family is a reflection of a good father and a loving husband."
Short Family Quotes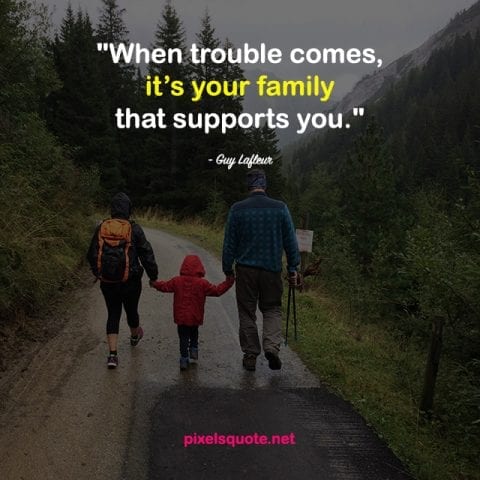 Why do you want to come back to your family? Because your mom or your wife will cook delicious dinner for you, dad will give you his advice, your brothers and sisters are always willing to help you.
Your kids will tell you that you are their hero. Maybe sometimes they only simple tell you that "they'll always be here". And that is all you need to face troubles.
"When trouble comes, it's your family that supports you." – Guy Lafleur
"Family isn't an important thing. It's everything." – Michael J. Fox
"A happy family is but an earlier heaven." – George Bernard Shaw
"Family makes a house a home." – Jennifer Hudson
"Home is the nicest word there is." – Laura Ingalls Wilder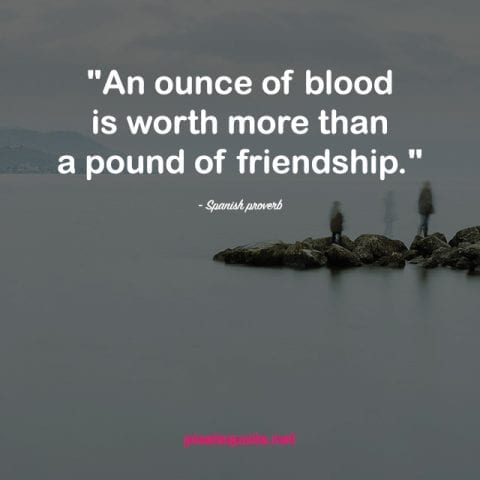 You can't deny the strength of blood-relationship. Trust me, you can give up your friends but you can't give up your dad or your mother up. And they would never give you up whenever who you are.
"An ounce of blood is worth more than a pound of friendship." – Spanish proverb
"Blood makes you related. Loyalty makes you family."
"Family means no one gets left behind or forgotten." – David Ogden Stiers
"My family was my guide to my reality." – Haywood Nelson
"I think togetherness is a very important ingredient to family life." – Barbara Bush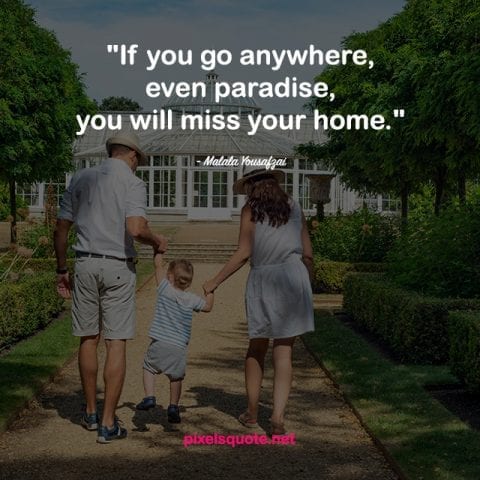 I have never been to paradise. But I know exactly what it doesn't have delicious food like my mother's, it is not safe like under my dad's protection.
And I also know that if my family is with me, it alone makes my own personal paradise.
"If you go anywhere, even paradise, you will miss your home." – Malala Yousafzai
"Children are the keys of paradise." – Eric Hoffer
"A man should never neglect his family for business." – Walt Disney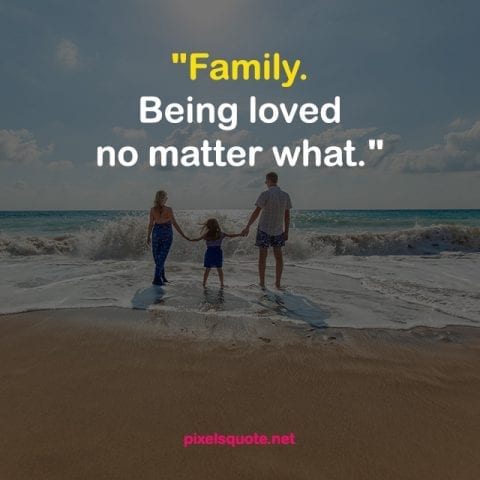 "Family. Being loved no matter what."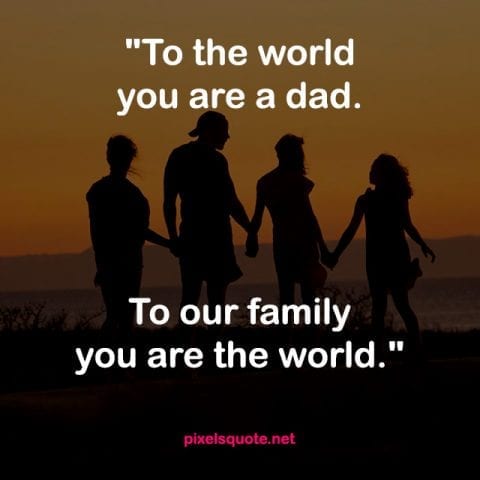 "To the world you are a dad. To our family – you are the world."
Inspirational Family Quotes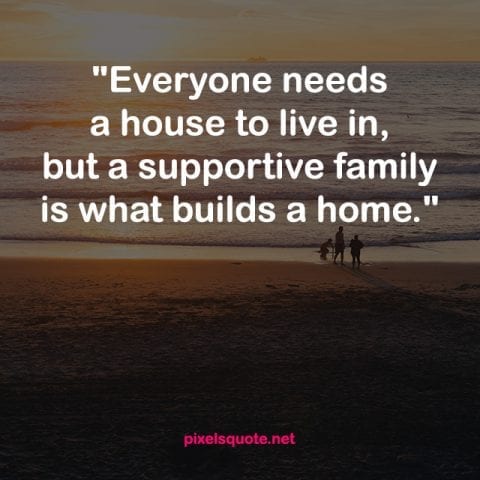 That is exactly what makes that little boy in my story feel rich. A house without a family, without love from parents, a wife, a husband, that house is really cold.
You can pay for a nice and expensive house, but you can't buy a happy family, you know that, right?
"Everyone needs a house to live in, but a supportive family is what builds a home. "
"A baby is God's opinion that the world should go on." – Carl Sandburg
"I believe that the greatest gift you can give your family and the world is a healthy you." – Joyce Meyer
"Your children need your presence more than your presents." – Jesse Jackson
"Many men can make a fortune but very few can build a family." – J.S. Bryan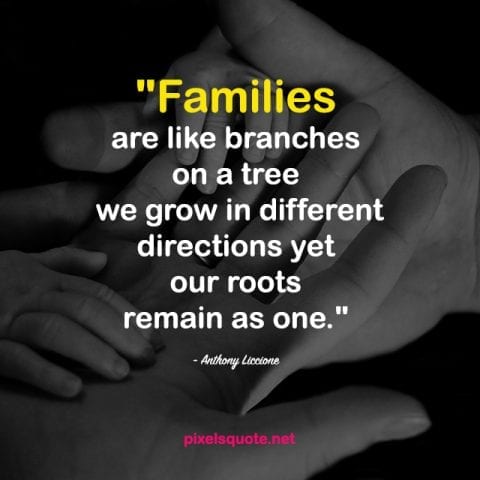 What a great family quote! It gives a detailed picture of a family. No matter who you are, you always take some things from your family, like an appearance, a personality, or your habits.

Because it is in your blood, it grows up with you. And if don't have it, you would miss it. And even though you can be on the other side of the world, you will always come back to your roots.
"Families are like branches on a tree – we grow in different directions yet our roots remain as one." – Anthony Liccione
"The happiest moments of my life have been the few which I have passed at home in the bosom of my family." – Thomas Jefferson
"Each day of our lives we make deposits in the memory banks of our children." – Charles R. Swindoll
"Family and God – that is what's important. Money, cars, those are things that come and go." – Fabrice Muamba
"I would give everything, if I could only keep my family."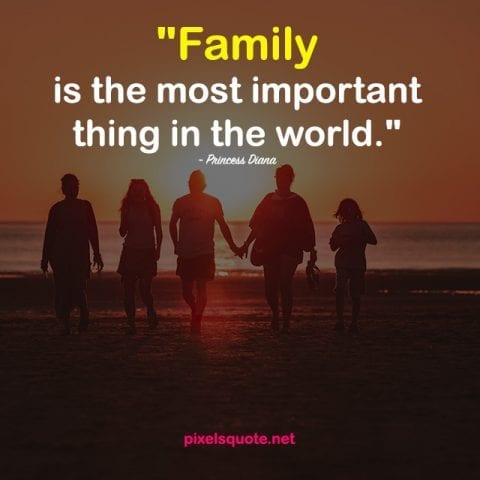 A mother is the most precious thing you have in the world. And a family is the biggest work of your mother.
No need to pay for it, because you can't pay, it is priceless. Your family is the most important thing you need to protect.
"Family is the most important thing in the world. " – Princess Diana
"Families are the compass that guide us. They are the inspiration to reach great heights, and our comfort when we occasionally falter." – Brad Henry
"As the family goes, so goes the nation and so goes the whole world in which we live. " – Pope John Paul II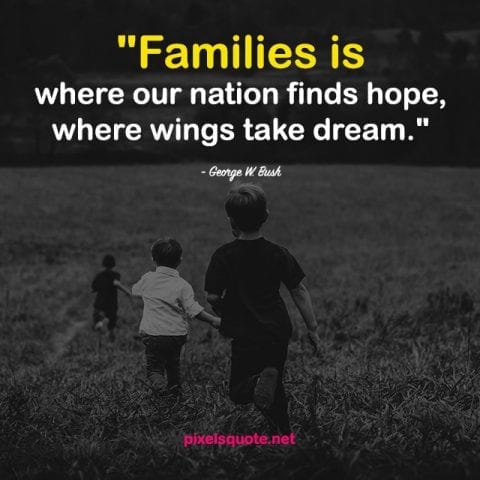 "Families is where our nation finds hope, where wings take dream." – George W. Bush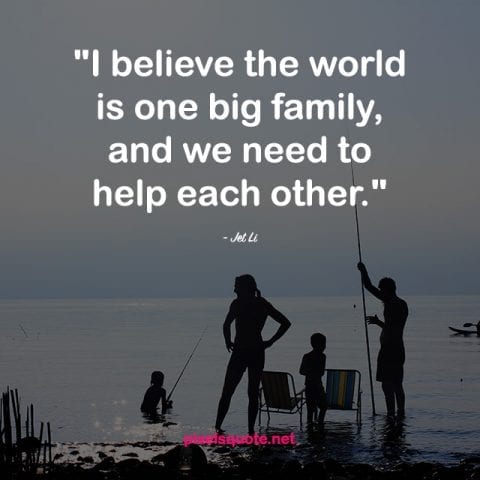 "I believe the world is one big family, and we need to help each other." – Jet Li
Conclusion
Yes, the family is precious and important. But let's remember you only have a family when you build it.
The family is built not by bricks and stone, but by love, forgiveness, protection, sharing, and sacrifice.
So if you have a happy family, congratulations! You are rich!