Building a workout routine is not an easy task – it requires lots of perseverance. But you can find many means to fuel your motivation, including using workout quotes.
These quotes will teach you how to stay motivated with your workout plan, as well as remind you about its benefits.
Doing exercises frequently does not only help you to keep fit but also clears your minds and makes you happier.
Successful people consider workout as an indispensable part of their life. Reading their workout quotes, you will be inspired by how this routine brings them strength, joy, and fulfillment.
Motivational Workout Quotes
"An early-morning walk is a blessing for the whole day." – Henry David Thoreau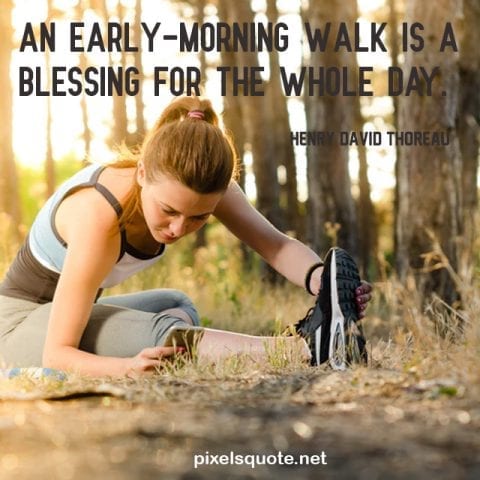 The best time for a workout is early in the morning. It is when you are getting ready for a whole day, and some exercises will pump you up.
Even if it is just as simple as a walk, it still helps you stretch your muscle and refresh your mind. The exercise is easy to do, yet it brings you a blessing for the whole day ahead.
"The best feeling in the world is a hard workout, a shower, and a protein shake." – Mirko Cro Cop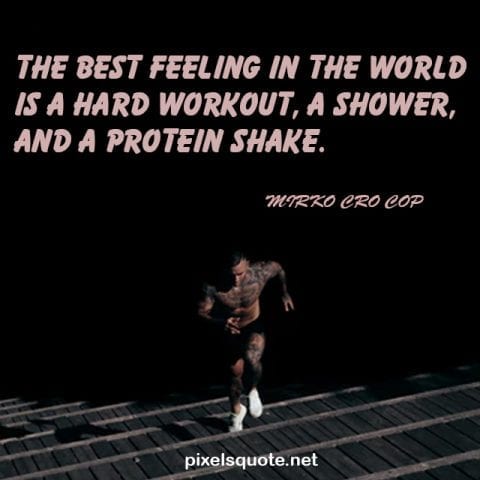 Many people will assure you that a workout brings you the best feeling in the world. During a workout, your body is stretched, your mind is relaxed and the sweat brings a feeling of satisfaction.
Moreover, after taking a shower you will feel like you have shaken off all the worries, stress and tiredness. Some treats of healthy foods are a good way to refuel yourself after an effective workout.
"Nothing lifts me out of a bad mood better than a hard workout on my treadmill. It never fails. Exercise is nothing short of a miracle." – Cher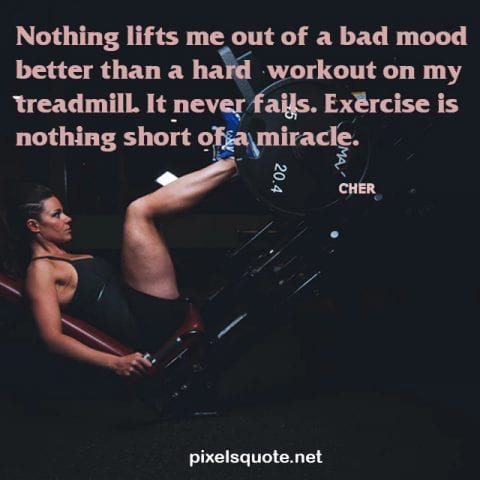 In your daily life, stress and a bad mood are unavoidable. Sometimes you can feel too stressed to bear and just want to release everything out.
Workout quotes suggest the best way to do it: through doing exercise. When you are focusing on training your body, your mind is free from negative thoughts.
As you sweat, you will feel your body is lighter and stronger. Workout clears your mind and gives you the strength to tackle any obstacles ahead.
You may also like to read Motivational Gym Quotes to inspire you the most.
"When you get a good workout in, you feel good for the rest of the day. It helps clear the mind." – Reggie Miller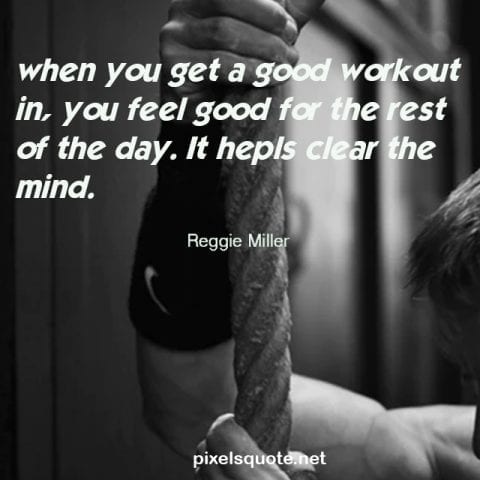 A good workout does miracles to your body and mind. Many people choose to do exercises in the morning because that will make them feel good for the whole day.
You may have noticed that after asleep, your body is heavy and your thoughts are unclear.
After a workout, you come back to your daily tasks with a refreshing mind. Both your body and your mindset become strong and ready for anything to come.
"I change the workout every month, so you never adapt and never plateau." – Jillian Michaels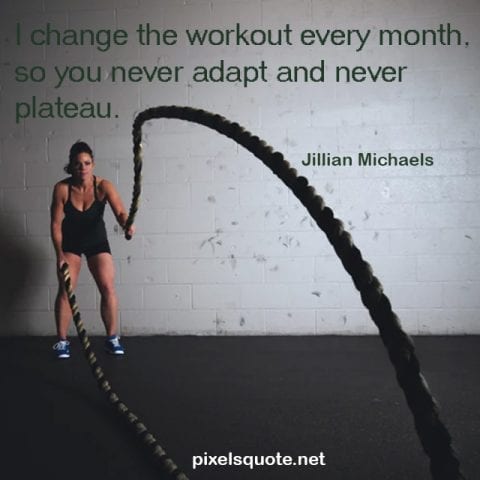 One of the most amazing things about the workout is that there are many exercises for you to try. There are many ways to train your hand muscles, leg muscles, chest and back.
There are gymnastics exercises, yoga, aerobics and dance. To avoid getting bored during the process of building workout habits, you can change your exercise frequently.
It is one helpful trick for you to always stay motivated and excited.
Workout Quotes with Images
"You don't need equipment of any kind to get a good workout in. In fact, you can get a good workout in the smallest of spaces, from a dorm room to a studio apartment to a hotel room." – Harley Pasternak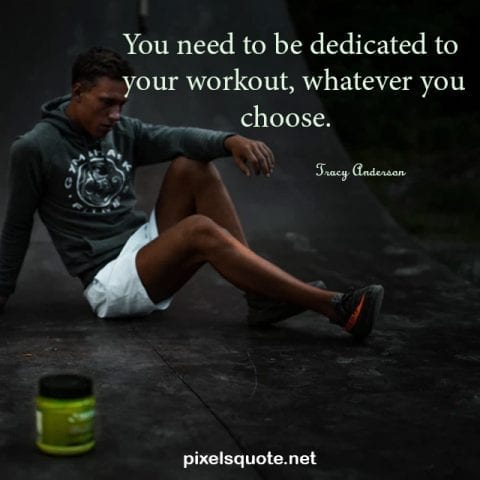 Taking about a workout, many people will immediately think of fitness centers and their expensive equipment. But as workout quotes show, the condition to get a good workout is much simpler.
"If you don't make time for exercise, you'll probably have to make time for illness." – Robin Sharma's meaningful workout quotes.
"The pain you feel today will be the strength you feel tomorrow."
"The reason I exercise is for the quality of life I enjoy." – Kenneth H. Cooper
"Good things come to those who sweat."
"One thing guys have to remember is consistency… You can't make up for three years of eating poorly in just one workout. " – Apolo Ohno.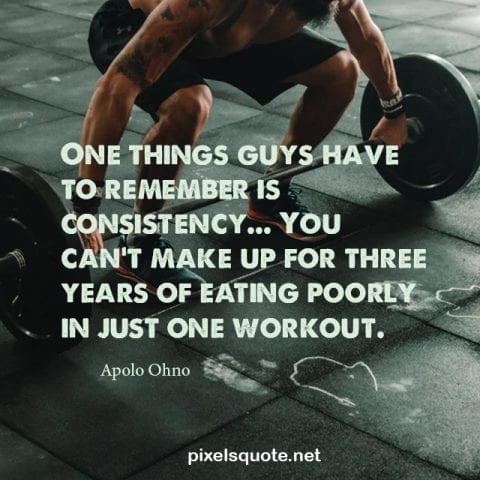 You cannot wish for a magical exercise to change your life overnight. Consistency is a key to success, whether in your career or in your personal life.
Taking care of your body also requires you to stick to good habits – hard work out and a healthy diet. You cannot use one thing to make up for another thing.
You have to care for all sides of keeping fit and consistently do it until it becomes your lifestyle.
"Sweat is fat crying."
"I always tell myself, 'There are so many things you regret doing or eating, but you never regret a workout.' I always feel better after a workout. I have more energy, and mentally, I'm in a better place. "
"No matter how slow you go, you are still lapping everybody on the couch."
"Any way to make a workout feel like a playtime is great." – Lauren Conrad
"If you eliminate the junk food, you don't really run the risk of gaining weight if you've got a good workout routine." – Joe Bastianich.
Don't forget to check Weight Loss Motivation Quotes to help you have a good health
"You need to be dedicated to your workout, whatever you choose." – Tracy Anderson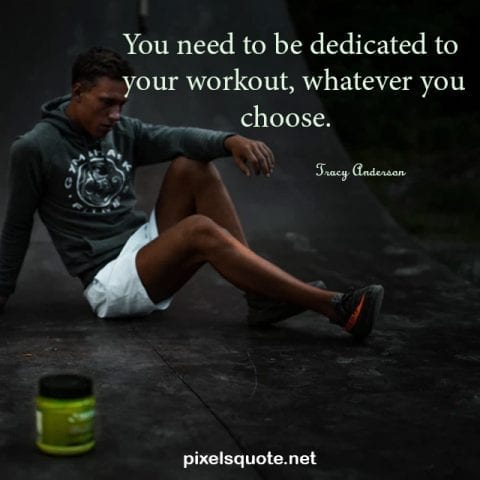 There are many kinds of workout for you to choose and the number is still growing. You can hit the gym, take yoga or dance classes. But one important thing you need to remember is to stay dedicated to your exercises.
Workout only does miracles to you if you feel your muscles stretched if you sweat. Just like in any other aspect, half-heartedly doing something doesn't help you go anywhere.
"All truly great thoughts are conceived while walking." – Friedrich Nietzsche
"I feel the best after a workout – I'm sweaty and exhausted, but it also gives me an energy I really like." – Hilary Rhoda
"I started mountain-bike riding two years ago, which is much better than riding a stationary bike in the gym. Mountain biking is a total body workout." – Samantha Stosur
"A buddy will keep you honest and add a dimension of fun to your workout." – Bill Toomey
"Running is not just exercise; it is a lifestyle." – John Bingham
Many workout quotes contain an interesting perspective: considering workout as a lifestyle. It is not just about exercises.
It is about keeping yourself healthy and happy. If you stick to your workout routine, you will notice the change in your whole life.
You will get more joyful, active and creative in other aspects of life. Doing exercise is a lifestyle of successful and happy people.
"It doesn't matter if you're sad or hung-over or lazy or tired – a workout will get your endorphins pumping, and you'll feel like a new person almost instantly." – Rachel Nichols
"My workout is my meditation." – Kyle MacLachlan
"Half the struggle is just getting yourself to the gym or getting yourself in your workout gear and ready for action." – Mel B
"I try to squeeze in a workout whenever I can, even if it's doing squats with my 7-month-old in the kitchen or jumping on the trampoline with my 5-year-old." – Jennie Finch
"I feel so good after a workout. Any time you can be alone with yourself is really important." – Shay Mitchell
"Take care of your body. It's the only place you have to live in." – Jim Rohn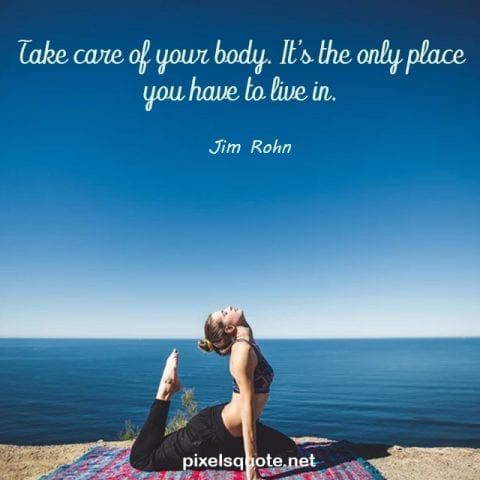 Your body helps you do anything you need in a whole day long – a helpful machine that you often forget. Your body's state affects directly your well-being.
Without a healthy body, you cannot do anything consistently and effectively. This world has many possibilities and you can do many things in your lifetime.
The requirement is that you must take care of your body and keep it in a good state.
"I've got this old-school workout – push-ups, sit-ups, tricep dips. And it worked. Anybody can do this at home." – Valerie Bertinelli
"My favorite off-mountain workout is the long run. It's great for building endurance and strength." – Jimmy Chin
"I never get bored of a workout, because I feel great after a session." – Esha Gupta
"Just like keeping a healthy diet is important to maintaining a healthy lifestyle, eating the right foods is just as important for getting the most out of your workout." – Marcus Samuelsson
Workout Quotes from Famous Persons
"As long as I get those running shoes on, then there's no turning back, and I have to go for that run. As long as you've got those workout clothes, you've got them on, you've got to go." – Kim Raver
"Nothing feels better than to sit down on a six-hour flight with tired muscles from a workout." – Christina Tosi
"Working out and working as an actor has gone hand in hand – I always feel more prepared if I know I have done a workout. It gives me confidence – and peace of mind." – Sebastian Stan
"My New Year's resolution is to stick to a good workout plan that will keep me healthy and happy." – James Lafferty
"It's empowering to find a workout that builds strength and grace." – Mary Helen Bowers
"I try to get a workout for myself in before I work with my clients. I do this to center myself." – Mandy Ingber
"I hate morning workout; I'm a night person more. But it's good to work out in the mornings because then you can have all-day free." – Irina Shayk
"Nowadays, we have become so busy in our work, especially on our phone, that we don't go out for a workout. It creates a lot of health problems." – Armaan Malik
"Men scream and go crazy in the gym. I'm a silent workout partner, but when my adrenaline gets up, I talk trash." – Fergie
"Sometimes less is more when it comes to workout routines." – Nina Agdal's workout quote.
"Bring a workout DVD with you everywhere. I always have one in my bag." – Nina Agdal
"I love the convenience of a protein shake, and not just for after a workout." – Harley Pasternak
"If you're not a workout person, go there 75 percent fast asleep. Anybody who has ever been in one of my workout classes knows I'm there practically in my pajamas!" – Hannah Simone
"For me, if I stay on the couch all day – or even one day – I'll be more tired doing that than going out and giving my body a workout." – Ichiro Suzuki
"Don't be lazy; workout and diet is the only way to get fit."
"You've got to get your mind connected to the workout. Pay attention to what your body's doing. It's about connecting the mind and the body. Visualize the muscles moving." – Michael Cudlitz
"Exercise is a celebration of what your body can do. Not a punishment for what you ate." – Anonymous
Final Thought
The workout is becoming more and more important in modern life. In this era, when people are mainly working in the office, workout helps to make our bodies active.
Additionally, doing exercises helps to clear our minds and make us feel positive. However, building a workout routine that sticks is not an easy cake.
In case you need more motivation to keep up with it, try using workout quotes. They will remind you of the reason why you start doing exercises in the first place.
Furthermore, many quotes contain valuable advice on how to do a workout in the right and exciting way. They will surely assist you well on your way to a healthy and exciting lifestyle.