Motivational Fitness Quotes
"It's so easy to lose your fitness and so hard to gain it back." – Alex Morgan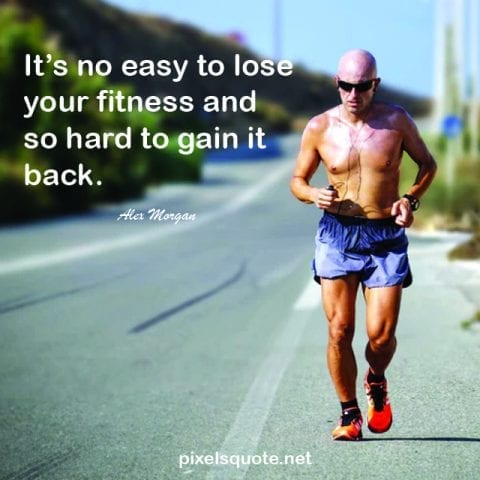 "For me, fitness is not just about hitting the gym; it is also about an inner happiness and an overall well-being." – Rakul Preet Singh
"Fitness starts at home. What you eat is what you will look, just as what you sow is what you reap. Eat good food: eat fruits, vegetables, healthy grains, and don't go for sweet and trite food." – Rakul Preet Singh
"In fitness, there are no shortcuts. It involves immense discipline and hard work." – Mahesh Babu's fitness quotes.
"I am quite a fitness freak. I may not have the time to sleep, but a workout is a must. I have even set up a small personal gym on the sets." – Karan Patel
"A muscle is like a car. If you want it to run well early in the morning, you have to warm it up. " – Florence Griffith Joyner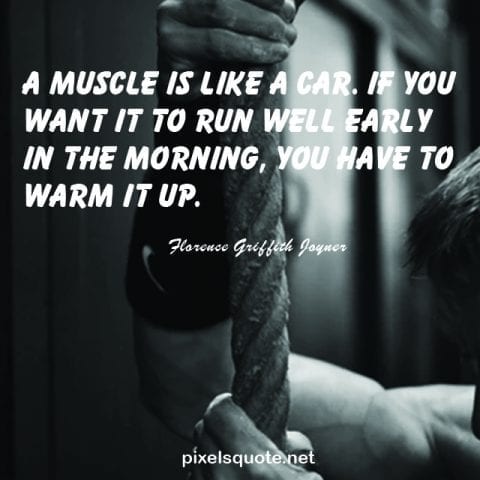 "You can be the most beautiful person on Earth, and if you don't have a fitness or diet routine, you won't be beautiful. " – Martha Stewart
"To enjoy the glow of good health, you must exercise. " – Gene Tunney
"Tactics, fitness, stroke ability, adaptability, experience, and sportsmanship are all necessary for winning." – Fred Perry
"Exercise to stimulate, not to annihilate. The world wasn't formed in a day, and neither were we. Set small goals and build upon them." – Lee Haney
"You can always improve your fitness if you keep training." – Pastor Maldonado's fitness quotes.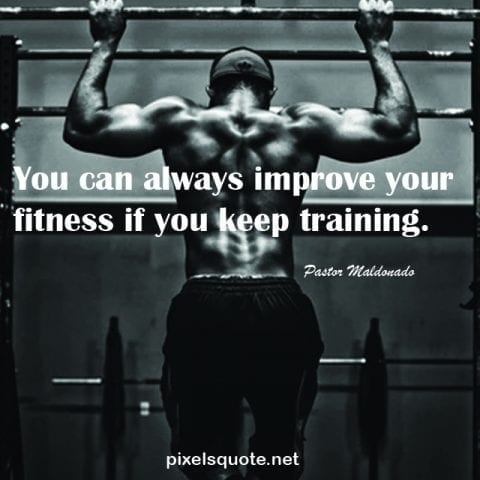 "I try and maintain a little bit of fitness, man." – Frank Bruno
"I am not a fitness freak, but I do my regular exercises." – Uday Kiran
"Fitness is just like marriage: you cannot cheat on it and think it would benefit you. People need to incorporate it as part of their daily life." – Urvashi Rautela
"In my judgment, physical fitness is basic to all forms of excellence and to a strong, confident nation." – Robert Kennedy
"The mind is the most important part of achieving any fitness goal. Mental change always comes before physical change." – Matt McGorry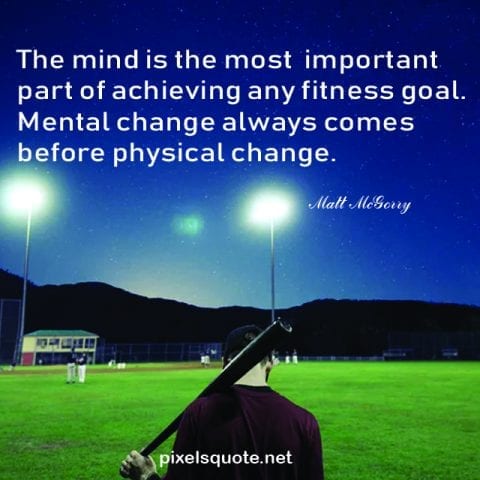 "Fitness is the key. You need to have strokes and stamina and agility; you need to exercise really well. On-court and off-court are equally important." – P. V. Sindhu
"My fitness journey will be a lifelong journey." – Fitness quote from Khloe Kardashian
"Fitness is a luxury when you are busy!" – Lauren Conrad
"Fitness isn't about being extreme and hard-core. Healthy eating is not about counting calories, weighing food, or finding less tasteful ingredients. Life is about balance. " – Harley Pasternak
"True enjoyment comes from activity of the mind and exercise of the body; the two are ever united." – Wilhelm von Humboldt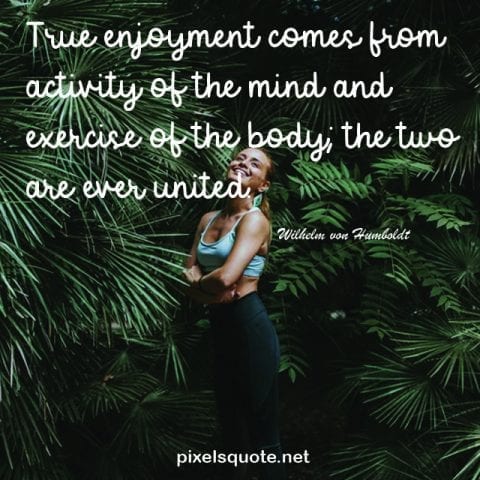 "Fitness, defending, the mental stuff – those were all weaknesses of mine. And I turned those into strengths." – Carli Lloyd
"I am concentrating on my fitness levels so that I don't look old. " – Sonu Nigam
"Fitness is not an option. It's part of my job." – Alison Sweeney
"My fitness instructor helped me with strength training, muscle building, and toning. " – Karan Patel
Inspirational Fitness quotes
"Making fitness a priority will energize you, make you look and feel better, and help diffuse stress." – Mary Helen Bowers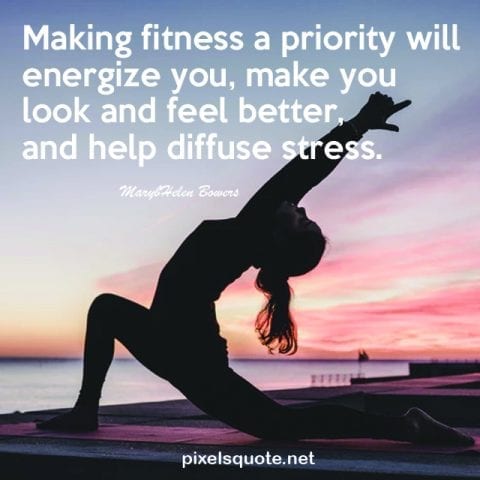 "I understand only three things – films, fitness, and food." – Rakul Preet Singh
"Health and fitness is who I am. It's what I do.s" – The short fitness quotes from Lee Haney
"I don't lift weights. I do fitness exercises to stay strong." – Chad le Clos
"I try and groom myself, be it through fitness or dance. " – Yami Gautam
"Physical fitness is not only one of the most important keys to a healthy body, it is the basis of dynamic and creative intellectual activity. " – Fitness quote from John F. Kennedy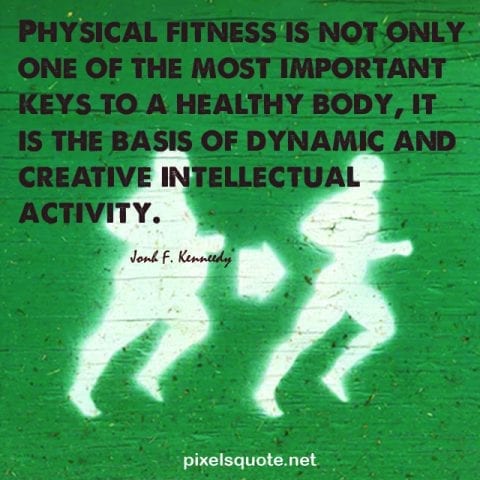 "I can work hard and be disciplined like a soldier, but I could never reach their level of fitness." – Richard C. Armitage
"Fitness is really important for my mental and emotional equilibrium as well as my physical wellbeing." – Robert Rinder
"I consider fitness, diet, and beauty to be essential to a balanced self." – Hannah Bronfman
"Resting for me is fitness training. " – Jenson Button
"Fitness is not about being better than someone else… It's about being better than you used to be." – Khloe Kardashian.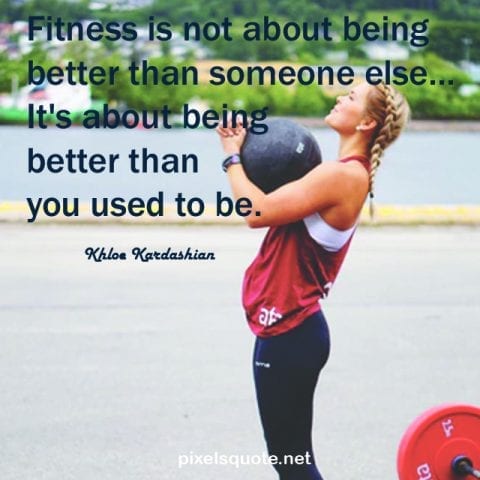 "The fitness builds the foundation for me as an actor to have clarity. Fitness has always been the base of where I start off as a performer." – Manu Bennett
"Fitness is the most important aspect of this sport. You've got to feel good. " – Mario Gotze
"Personally, I need a high level of physical fitness in order to feel at ease. " – Jurgen Klinsmann
"I treat health and fitness as looking after myself." – Iskra Lawrence
"Fitness helps me think better, feel better, and move better. " – Jason Winston George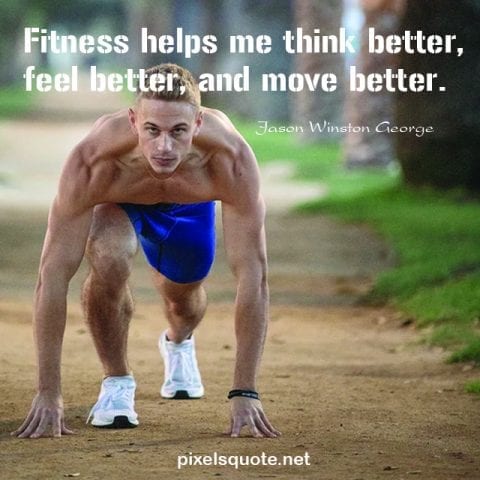 "You must also give mental and physical fitness priority." – Jim Otto
"Fitness needs to be perceived as fun and games or we subconsciously avoid it." – Alan Thicke
"I didn't have the same fitness or ability as the other girls, so I had to beat them with my mind." – Martina Hingis
"Just as you can't blindly follow fashion, you can't follow fitness, either. " – Anushka Sharma
"Fitness has nothing to do with age. " – Virender Sehwag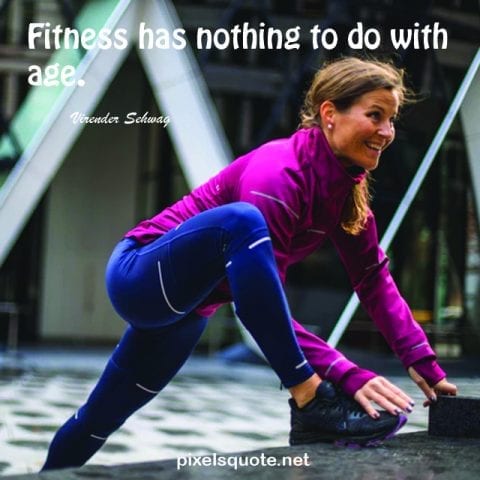 "Fitness really changed my life. " – The shortest fitness quote for women.
"Oh, and once, when I was in the Marines, I got a perfect score on my physical fitness test. " – Drew Carey
"I'm really into fitness, so my hobbies are yoga, Pilates, and working out." – Charlotte McKinney
Don't forget to check more related quotes:
Workout quotes
Gym Quotes
Healthy quotes