If you have ever wanted to lose weight, you may have known how hard the process is. In that case, the following weight loss motivation quotes can help you.
Losing weight is essential if you want to live healthily. It can also lead to more opportunities and happiness in your life.
But losing weight requires a lot of mental strength to let go of old bad habits and adopt new good ones.
It will be painful and most of the time people will want to quit. This is where you will need wisdom and advises from the below weight loss quotes to motivate you through this hard journey.
You may also like to read:
Workout Quotes To Inspire You To Exercise
Gym Quotes from Famous
Motivational Fitness Quotes
Weight Loss Motivation Quotes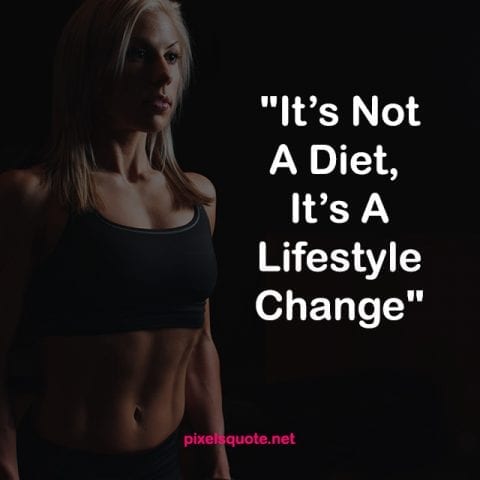 "It's Not A Diet, It's A Lifestyle Change"
"An Active Mind Cannot Exist In An Inactive Body"
"On the other side of your workout is the body and health you want!"
"Slow And Steady Wins The Race"
"Be Stronger Than Your Excuse" – The shortest weight loss motivational quote.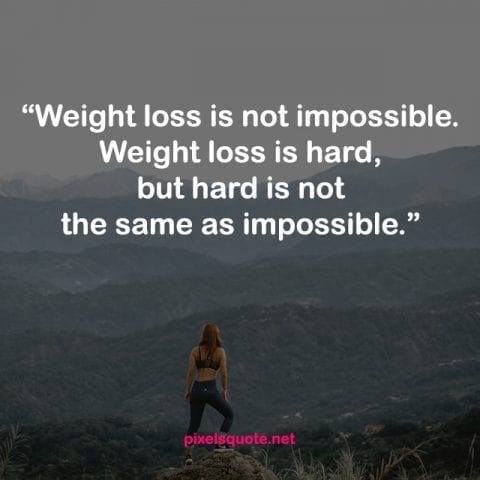 "Weight loss is not impossible. It is hard, but hard is not the same as impossible."
"Only I Can Change My Life, No One Can Do It For Me"
"Be The Best Version Of You" – The meaningful weight loss quote.
"Exercise should be regarded as a tribute to the heart." – Gene Tunney
"Nothing Tastes As Good As Being Thin Feels"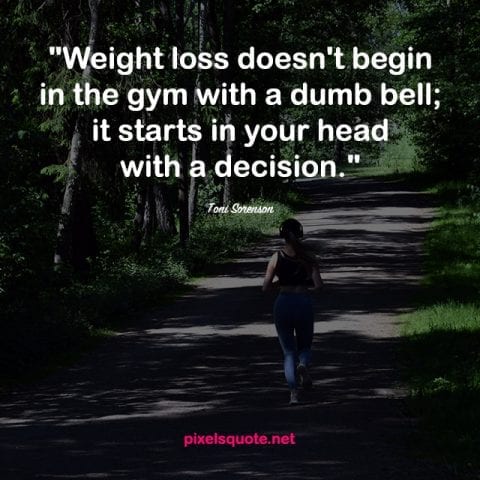 "Weight loss doesn't begin in the gym with a dumbbell; it starts in your head with a decision." – Toni Sorenson
"If You Are Tired Of Starting Over, Stop Giving Up"
"Eliminate the mindset of can't — because you can do anything." – Tony Horton.
"Will Is A Skill" – short motivation quotes for weight loss.
"Workouts are like life. The harder it is, the STRONGER YOU BECOME!"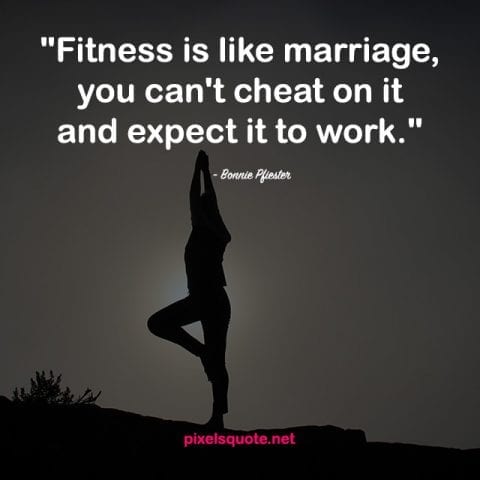 "Fitness is like marriage, you can't cheat on it and expect it to work." – Bonnie Pfiester.
"A Goal Without A Plan Is Just A Wish"
"Most people give up right before the big break comes — don't let that person be you." – Michael Boyle.
"Doubt Kills More Dreams Than Failure Ever Will"
"Stressed Spelled Backwards Is Desserts. Coincidence? I think not!"
Motivational Weight Loss quotes images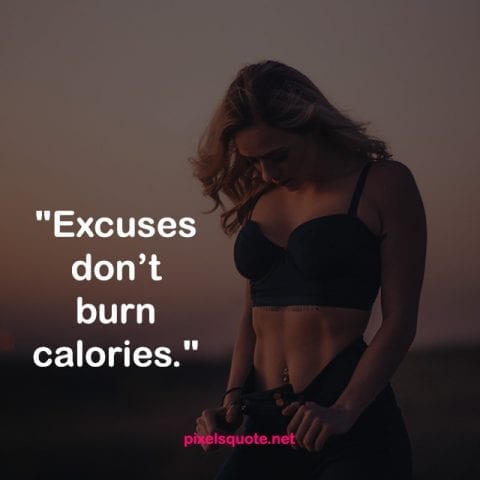 "Excuses don't burn calories."
"It has to be hard so you'll never ever forget." – Bob Harper.
"If you still look good at the end of your workout…you didn't work hard enough!"
"Make time for it. Just get it done. Nobody ever got strong or got in shape by thinking about it. They did it." – Jim Wendler
"Food, Like Your Money, Should Be Working For You".
Also read these best food quotes that help you eat healthily.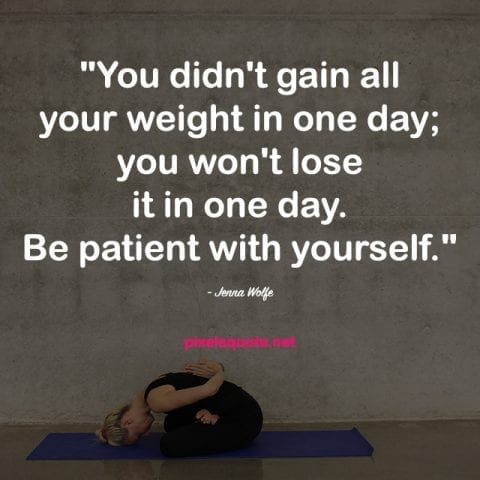 "You didn't gain all your weight in one day; you won't lose it in one day. Be patient with yourself." – Jenna Wolfe.
"It's going to be a journey. It's not a sprint to get in shape." – Kerri Walsh Jennings.
"Strive For Progress, Not Perfection"
"Looking after my health today gives me a better hope for tomorrow." – Anne Wilson Schaef.
"You can't run from all your problems, but it will help you lose weight."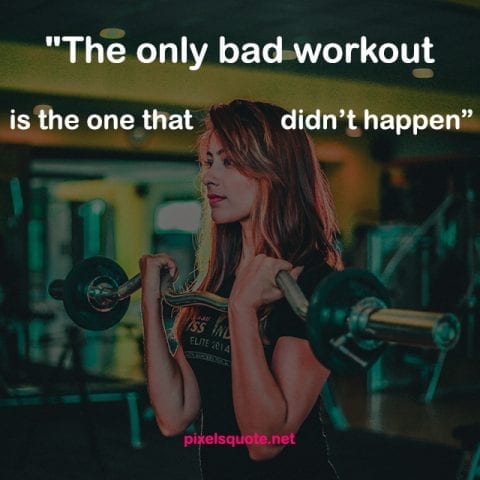 "The only bad workout is the one that didn't happen."
"The Road May Be Bumpy But Stay Committed To The Process"
"If you don't do what's best for your body, you're the one who comes up on the short end." – Julius Erving talked about weight loss.
"Success Is Never Certain, Failure Is Never Final"
"f you have 30 minutes for Facebook, you have 1 hour for the gym!"
Inspirational Weight Loss Quotes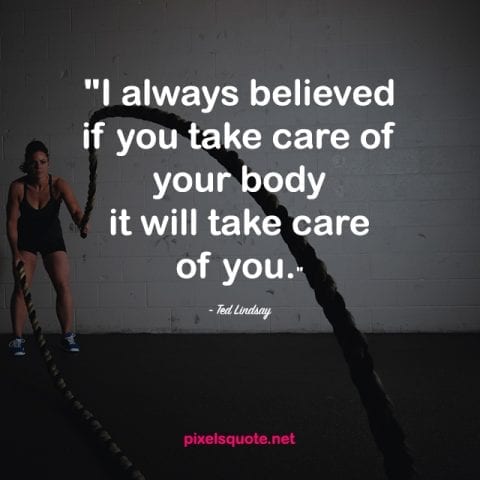 "I always believed if you take care of your body it will take care of you." – Ted Lindsay.
"The best way to predict your health is to create it."
"Champions keep playing until they get it right" – Billie Jean King.
"Make time for it. Just get it done. Nobody ever got strong or got in shape by thinking about it. They did it." – Jim Wendler.
"Just believe in yourself. Even if you don't, pretend that you do and, at some point, you will." – Venus Williams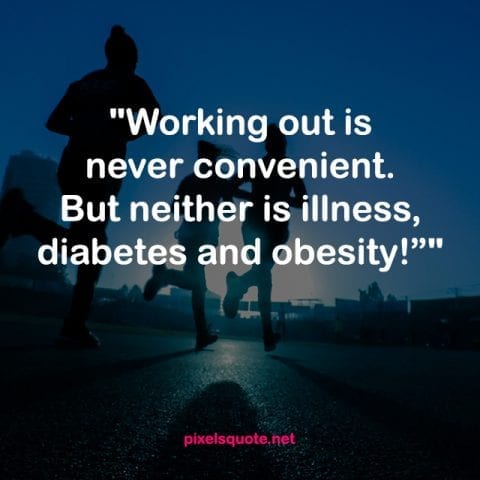 "Working out is never convenient. But neither is illness, diabetes and obesity!"
"Success Is The Sum Of Small Efforts, Repeated Day In And Day Out"
"Every day, in every way, I am getting better and better." – Emilie Coue
"To change your body you must first change your mind."
"Nobody is perfect, so get over the fear of being or doing everything perfectly. Besides, perfect is boring." – Jillian Michaels.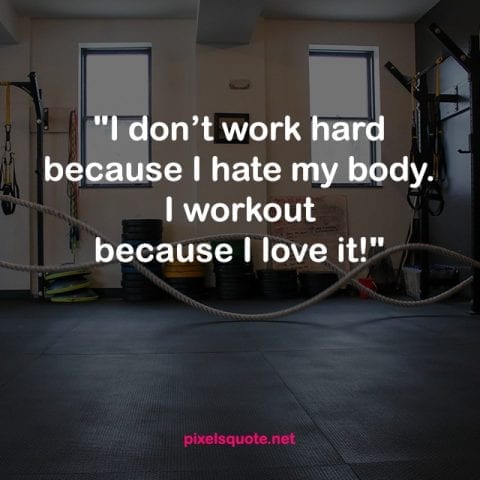 "I don't work hard because I hate my body. I workout because I love it!"
"When it burns, is when you're just getting started. That's when you get stronger!"
"Walking: the most ancient exercise and still the best modern exercise." – Carrie Latet.
"The Struggle You Are In Today Is Developing The Strength You Need for Tomorrow".
"To enjoy the glow of good health, you must exercise." – Gene Tunney.
Don't forget to also read these quotes about health that remind you to stay healthy.
Final Thought
Losing weight is hard, but you can succeed if you have the right mindset and attitude.
Weight loss motivation quotes reveal the key here: you have to love yourself, make a decision and stick with the process.
You love your body so you want the best for it. You start your journey by deciding to change and keep up with the plan until you get the result.
It is not easy, it does not happen overnight, but the result is worth all the effort.
That is the reason why the calories burned calculator comes in handy to predict your weight loss or weight gain, depending on your current fitness goals.
Weight loss quotes will support you and whoever wants to have good health.
Use them for yourself, or share with your loved ones, and together we can have a better and happier life.