In collections of quotes for family members, sister quotes are always the sweetest among all. We all know friendship is an indispensable part of our lives. And family is the most important thing.
Amazingly, we know someone who can take both roles in our life – our sisters. Sometimes we can have a love-hate relationship with our siblings, our friends, or our (ex)lovers.
But the ones that will stay with us until the end of our lives, and ensured relationship, will only be our sisters/brothers.
If you are having a sister and you know how important they are in your life, show them your love. The collection of sister quotes below may give you interesting suggestions to warm up your relationship.
The best quotes about Sister
"A sister is both your mirror – and your opposite." – Elizabeth Fishel.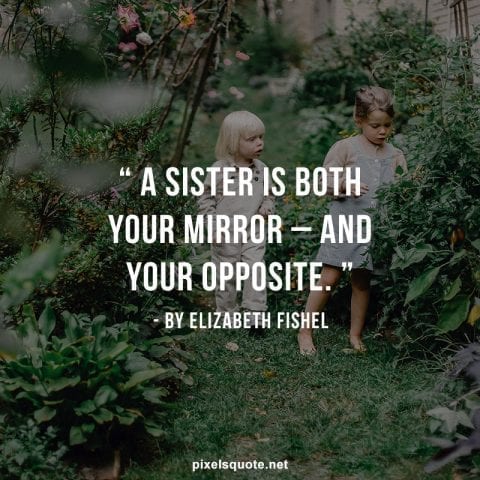 Growing up in the same family with the same parents gives sisters mutual references during their courses of life. This not only creates some identical aspects but also contrasts between their personalities.
As sisters normally learn from each other's lessons and decide to act like them or in the opposite direction. That's to say. Your sister is your most updated reference when you are looking for a view on your own personal identity.
So, don't let the differences separate you two and blur away your connection.
"When traveling life's journey it's good to have a sister's hand to hold on to."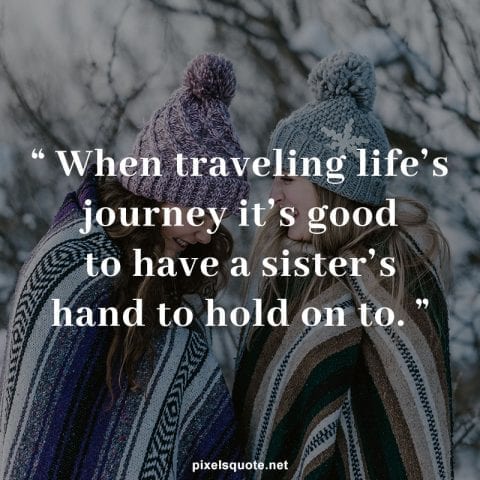 It is always better to have someone to accompany you through everyday life. Having a sister is like having a best friend. Our sisters are the ones with who we can share our stories, someone with who we can go shopping or try a new recipe.
This sister quote is one of the family quotes that demonstrate the importance of family. Family means always belong together we go through it all. So, tell your sister how lucky you are to have her.
"A sister is a little bit of childhood that can never be lost."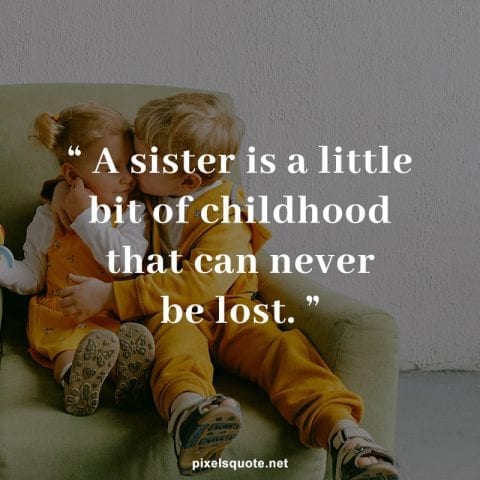 If you are having a sister, then you are lucky. Because not everyone has a younger or older sister to share their beautiful childhood with. Remember your childhood dreams that you two had shared, the hours spending in the garden, tea times with baby dolls and teddy bears…
Your sister is not a part of your childhood, but she is also the person who keeps your valuable childhood memories for you. So, cherish your sisters and keep them tight!
Read more: Cousin quotes
"Being sisters means you always have back up."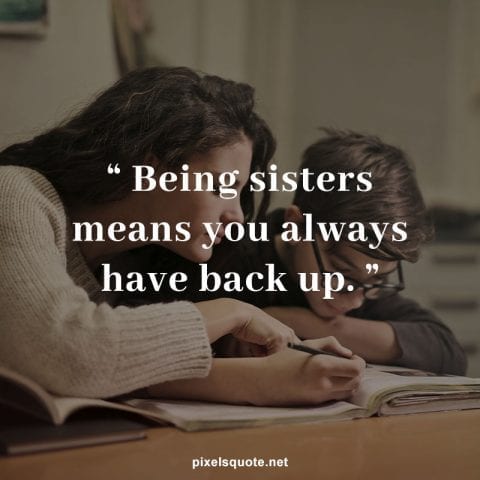 No matter how many fights you and your sisters have been through, you will always love each other and support each other like no one else. Because you two are family. Being talkative and argumentative is girls' nature.
We can fight over little things to bigger things in life, but love and compassion are also in our DNA. So, don't take your sisterhood for granted. They are the never give-up-on-you and the always-beside-you no matter what.
"She's my sister, my best friend, my soul mate, and the best part of me."
There is no one else in the world that is better fit to be your best friend than your sister – the girl who lives in the same house with you. By having each other through thick and thin, together with go through ups and downs, you two both grow and become each other's best part.
This is one of the best sister quotes. Keep your sister company and you are ready to face anything in this whole wide world.
"Side by side or miles apart we are sisters connected by the heart."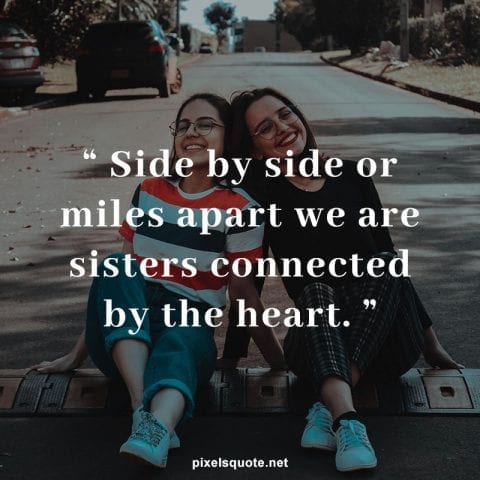 Distance is nothing compared to what's inside your heart. If you love someone, they will always be in your heart no matter what. This is also true when applying to sisterhood.
Despite any geographical challenges, you and your sister will always be connected. By blood and by love.
If you and your sister are living far away from each other, use this sister quote to remind both of you about your connection. And to start a wholesome conversation.
"You think I am crazy? You should meet my sister!"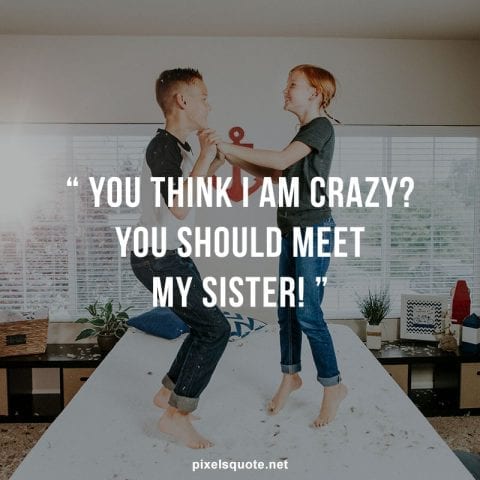 Best sister-ship is the friendship where sisters can be crazy together! No matter where they are, no matter who they're with.
This funny sister quote reminds girls to be themselves when being with their sisters and friends. And it also cherishes the value of sisterhood.
Therefore, if somebody says that you are crazy, let them meet your sister. She is the proof that you are not "crazy" alone, and it is great to be yourself. Bring your sister with you everywhere you need support!
"Sisters are like fat thighs… they stick together."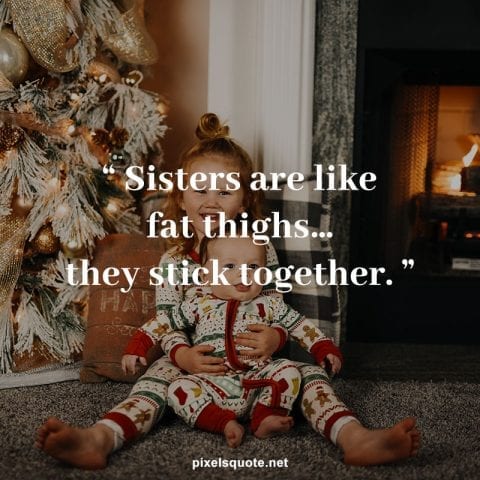 This evocative quote about sisters makes us laugh with its humorous comparison image. We all know how fat thighs stick together and that is exactly how close we are sisters. Or how sisters should.
No matter how independent a girl can be, they will always need a friend, a soul mate, and share all their moments in life. It is a gift if you can keep your sister beside you just as this quote.
Also, check out these sunflower quotes and sayings to raise our mood.
Meaningful Sister Quotes
"Sister and friend. Two words that mean the same thing."
"There is no better friend than a sister. And there is no better sister than you."
"Sisters are for sharing laughter and wiping tears."
"When sisters stand shoulder to shoulder, who stands a chance against us?" – Pam Brown.
"We're sisters. You're my family what is you is me. There's nothing that you could ever say to make me let go. I love you."
"Sisters don't need words. They have perfected their own secret language of smiles, sniffs, sighs, gasps, winks, and eye rolls."
"Brothers and sisters are as close as hands and feet."
"The only thing better than having you as my sister is my children having you as their aunt."
"Happiness is being with my sister."
"Sisters are blessed with an extra sense that whispers when the other needs them."
"Sisters are different flowers from the same garden."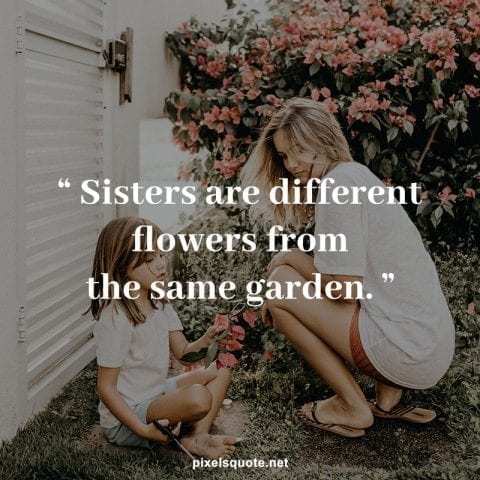 This is a beautiful quote about sisters that moms can tell their daughters, besides daughter quotes. Its comparison image: girls and flowers make the quote become more poetic.
By saying this, moms can encourage their daughters to be close together. Just like flowers in the same garden, sisters share the same house, the same parents. Which makes them identical in many ways but still keeps their own identity and characteristics.
"A sister is a gift to the heart. A friend to the spirit. A golden thread to the meaning of life."
"Sister to sister we will always be, a couple of nuts off the family tree."
"The greatest gift our parents ever gave us was each other."
"Sisters take care of each other, watch out for each other, comfort for each other, and are there for each other through thick and thin."
"A little sister time is good for the soul."
"Sisters are angels who lift us to our feet when our wings have trouble remembering how to fly."
"Sisters are special. From young ones to old. God gave me a sister. More precious than gold."
"Sisters are like angels. They sparkle twinkle and glow, they are the greatest gift our hearts will ever know."
"A sister is more than a forever friend. She is a joy to the heart, and love without end."
You may also like these Sister quotes below:
"Hey, sister. Just want you to know that I love you to the moon and back."
"Sister, you are like my angel, with a love that always glows. You are one of the greatest gifts my heart will ever know."
"Two are better than one… for if they fall one will lift up the other."
"Sister – a person who's been where you've been; someone you can call when things aren't going right; is more than just family; a sister is a forever friend."
"Because I have a sister I will always have a friend."
"Our paths may change as life goes along but our bond as sisters will remain ever strong."
"Sisters make the bad times good and the good times unforgettable."
"I loved you too much to just be your friend. So God made me your sister."
"A loyal sister is worth a thousand friends."
"Behind every little sister, there's a big sister standing behind her holding a bat saying "You wanna say that again?"
"My sister has been there for me through everything." – Brad Goreski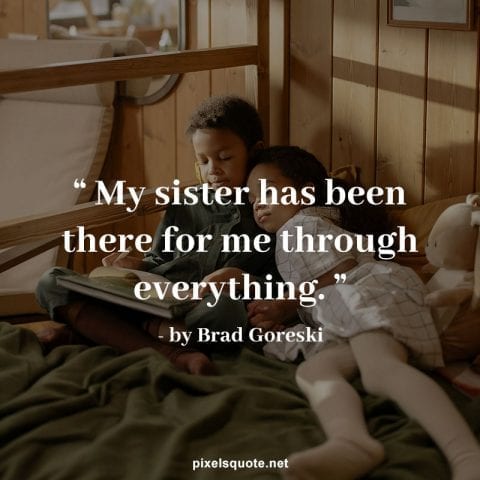 Not only being there for us when things get hard, but our sisters can also be our consultants, our best friend, and our soul mate. Having another perspective from someone we love can always be helpful, especially in things that not everyone can understand.
Therefore, to share and to be shared with your sister is always beneficial. You will never be disappointed by connecting deeper with your sister – who is in your family.
"I love my sister. She is simply amazing and I just couldn't imagine my life without her."
"Sister. She is your mirror, shining back at you with a world of possibilities. She is your witness, who sees you at your worst and best, and loves you anyway."
"All you need is love… and a sister."
"A sister just gets it."
"Sister, did you know good friends come and go but a sister and her wardrobe are for life. Can I borrow your blacktop?"
"Best friend? Nah, she's my sister."
"If you don't understand how a woman could both love her sister dearly and want to wring her neck at the same time, then you were probably an only child."
"Yes, I do have the best sister in the world. It's just that she's crazy and she scares me a little bit."
"I love you, sister. Our hearts have grown closer with the passing of time. Through the ups and downs of life, we've come to understand what it means to have each other. Sometimes we talk often, sometimes not. It doesn't seem to matter – the feelings of closeness remain with me because I know you are always there. I love you, Sister. What a blessing it is to call you mine!"
"If you mess with the big sister, there is always a younger, crazier sister behind her… That's who you don't wanna mess with!"
Final Thought, What is the Sister quotes would you like?
Sisters are ones who take care of each other, watch out for each other, and comfort each other through good and bad times.
Their presence is like presents, which keep us company and never leave us facing our problems alone.
Our sisters, may not be perfect and sometimes they can be quite annoying, but we should be thankful for the ones that we've got.
Right now, no matter how good or bad your relationship with your sister is, appreciation is always the key to happiness.
Spend a few moments to reminisce your best memories with your sister, think of how your life has been better by having her. And when you are done, tell her how glad you are for having her by your side, such as one of the sisters quotes that we have listed here.