Dad quotes are sayings about a strong man who is the strongest support for the whole family. Dad is the one who protects you when it rains, the one who takes care of you when you are sick…
No matter what you do, where you are, succeed or fail, there is always a father figure at the end of the road.
A Dad may be a man of few words, but his love for his children is immense and profound. Say "I love you" often to make him feel warm and happy.
The Best Dad quotes
"A dad is someone you never outgrow your need for."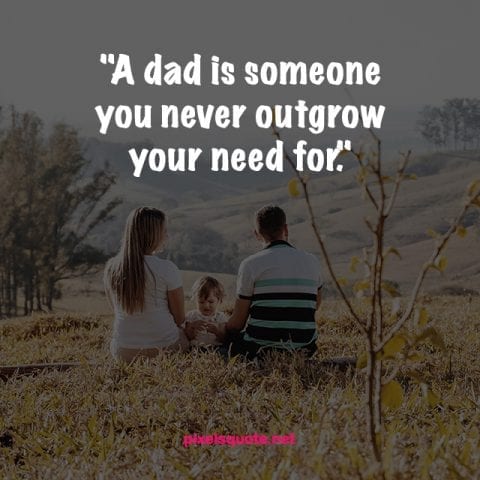 "A dad is someone who wants to catch you before you fall but instead picks you up, brushes you off, and lets you try again."
"I'm as lucky as can be, for the world's best dad belongs to me."
"Dad, I know you've loved me as long as I've lived; but I've loved you my whole life."

"My Dad, he was like the rock, the guy you went to with every problem." – Gwyneth Paltrow

"There's no shame in fear, my Dad told me, what matters is how we face it." – George R. R. Martin
"The most important influence in my childhood was my dad." – DeForest Kelley.
You may also like to read Father Son quotes to remind us about the meaningful bond between fathers and sons.
"There is no place higher than on Daddy's shoulders." – best Dad quote.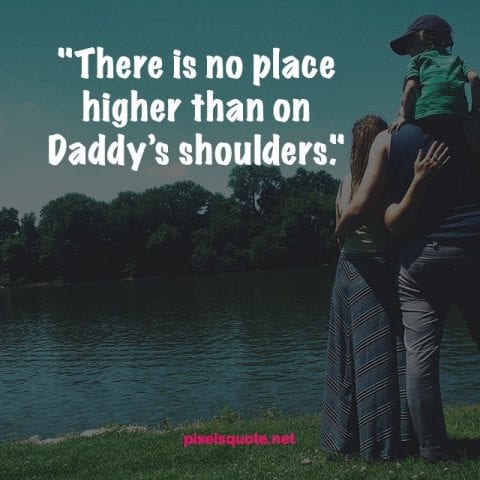 "I hope I am remembered by my children as a good dad. " – Orson Scott Card.
"The hardest part about parenting is when I have to be The Dad–aka the Fun-Sucker–as opposed to being a friend." – JAMES PATTERSON.
"We are coming to understand as fathers that our relationships with the important people in our lives – especially our children – are of paramount importance to feeling good about ourselves and feeling that our lives have meaning. " – Bruce Linton.
"I'm convinced that a father's role in child-raising should never be underestimated. underestimated. Fathers play a crucial role in their children's emotional and physical well-being and in the choices, they make about how to live their lives now and in the future. " – Nicoline Ambe.
"A father is a banker provided by nature."
"The best thing a dad can do for his baby is to love his mother."
"Never before in the history of men and women have expectant fathers been so involved in the pregnancy process." – Harlan Cohen.
"One of the greatest needs of this age is for responsible and committed fathers. " – Bishop Charles Edward Blake Sr.
"You know, fathers just have a way of putting everything together." – Erika Cosby
"We looked up to our Dad. He still is much greater than us." – Wynton Marsalis.
"My father used to play with my brother and me in the yard. Mother would come out and say, You're tearing up the grass. We're not raising grass, Dad would reply. We're raising boys." – Harmon Killebrew's quotes about Father.
"No word makes me happier than the word daddy uttered by one of my children."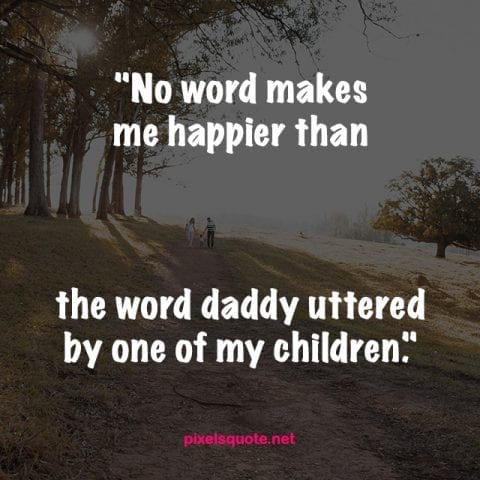 "My father believed in toughness, honesty, politeness and being on time. All very important lessons." – Roger Moore
"Your dad's not young when your small is he, he's not any age, he's more a power." – CARYL CHURCHILL, A Number
"There is probably no more terrible enlightenment than the one in which you discover your dad is a man–with human flesh."
"My Dad used to say, 'Let them see you and not the suit. That should be secondary." – Cary Grant quote about Dad.

"My dad raised us to step toward trouble rather than to step away from it." – Justin Trudeau
Dad Quotes from Daughter
"Dad, your guiding hand on my shoulder will remain with me forever."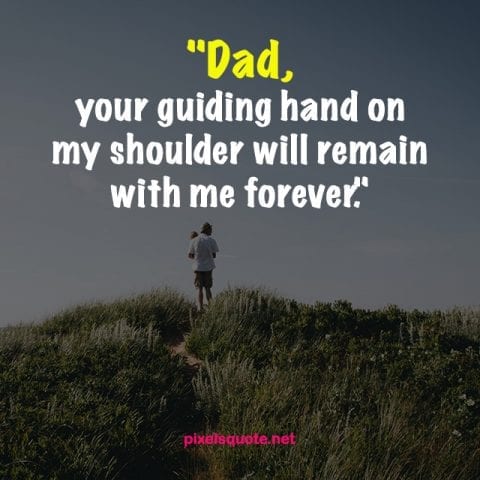 "The love between a Dad and daughter is forever."
"Behind every great daughter is a truly amazing dad." – Short Dad and Daughter quote.
"Fathers, be good to your daughters. You are the god and the weight of her world." – John Mayor's quote.
"Nothing makes me feel stronger than knowing that I have a dad who's got my back. I love you, Dad!"
"Dad – A son's first hero, a daughter's first love."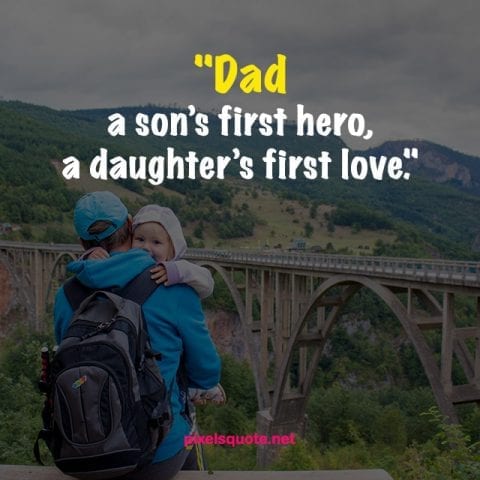 "To her, the name of dad was another name for love." – Fanny Fern.
"The only man a girl can trust is her daddy."
"My Dad had a profound influence on me. He was a lunatic." – Dad quotes from Daughter – Spike Milligan.
"A father holds his daughter's hand for a short while, but he holds her heart forever."
"You have seen me at my worst, yet you think that I am the best. I love you, Dad."
"The greatest gift I ever had came from God, and I call him Dad!"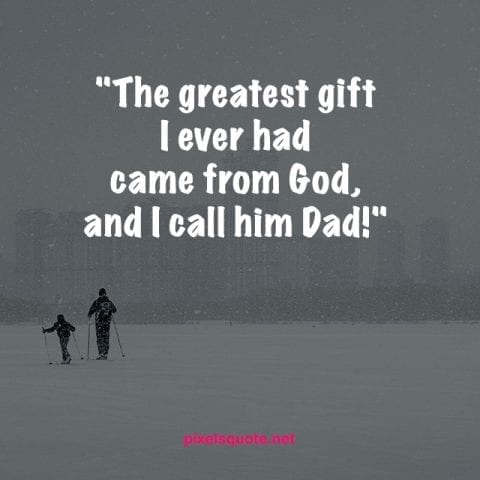 "Being a daddy's girl is like having permanent armor for the rest of your life." – Marinela Reka saying about Dad and Daughter.
"Dad. He can play like a kid, give advice like a friend, and protect like a bodyguard."
"Daddy, thanks for being my hero, chauffeur, financial support, listener, life mentor, friend, guardian, and simply being there every time I need a hug." – Agatha Stephanie Lin.
"No one in this world can love a girl more than her father." – Michael Ratnadeepak.
"To be a Dad requires patience, love and giving up the 'all about me' attitude."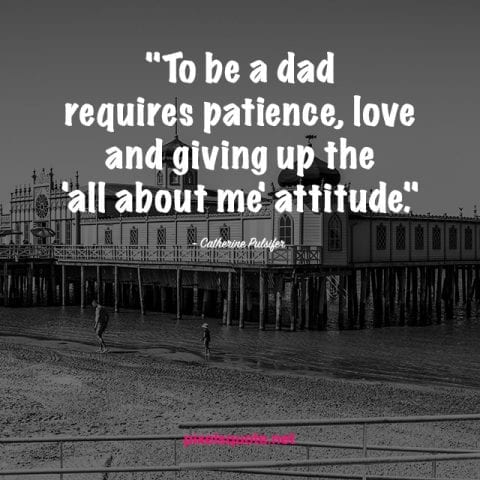 "Whether you fall or fail, whether you cry or sob, all you can look forward to is that your dad believes in you. He picks you up, brushes you off, and lets you try again."
"A good father is one of the most unsung, unpraised, unnoticed, and yet one of the most valuable assets in our society. "
"I watched a small man with thick calluses on both hands work fifteen and sixteen hours a day. I saw him once literally bleed from the bottoms of his feet, a man who came here uneducated, alone, unable to speak the language, who taught me all I needed to know about faith and hard work by the simple eloquence of his example." – Mario Cuomo
"One never knows anything about one's father. A father … is a passageway immersed in the deepest darkness, where we stumble blindly seeking a way out." – ROBERTO BOLAÑO.
"Dad, you're someone to look up to no matter how tall I've grown."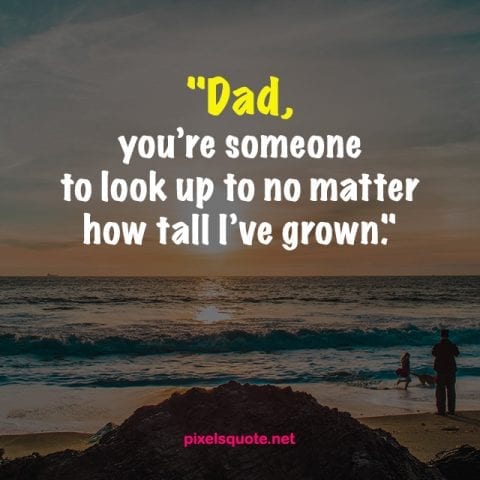 "This relationship has something special about it, that makes every father and every daughter in the world speak warmly about it."
"When I come home, my daughter will run to the door and give me a big hug, and everything that's happened that day just melts away." – Hugh Jackman.
"In the darkest days, when I feel inadequate, unloved and unworthy, I remember whose daughter I am and I straighten my crown."

"I am a princess not because I have a prince, but because my father is a king."
"Some people don't believe in Heroes. They've never met my DAD."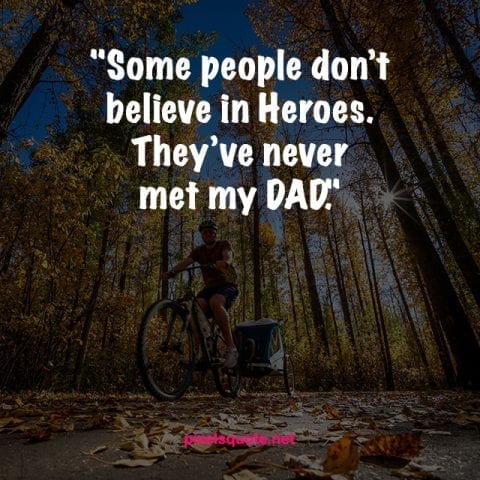 "Old as she was, she still missed her daddy sometimes." – Gloria Naylor.
"Fathers, be your daughter's first love and she'll never settle for anything less."
"A daughter needs a dad to be the standard against which she will judge all men."
"A good father will leave his imprint on his daughter for the rest of her life." – Dr. James Dobson.
Final thought about our superhero – Dad
The above quotes about Dad are not enough to write all the feelings and love of a father for his children. Surely, from the depths of each child, a Dad is always a source of life and solid support for his daughters and sons.
If you still have a father and mother, don't make your parents sad, parents cry. Because those will be the biggest mistakes in every human life.
Check more related quotes:
– Happy Father's Day quotes
– Happy Mothers Day quotes
– Family quotes
– Little Daughter quotes