There is hardly one thing in this entire world that is greater than a mother's love for her son. A mother will always be there by her son's side no matter how hard life is.
Her arms will always be open for a loving hug whenever he feels tired, discouraged, or even defeated.
Her love needs no reason and knows no limit. It is so natural yet so profound, which can be sensed through the following heartfelt son quotes from mom.
Dearest Son Quotes from Mom
"You are my sonshine."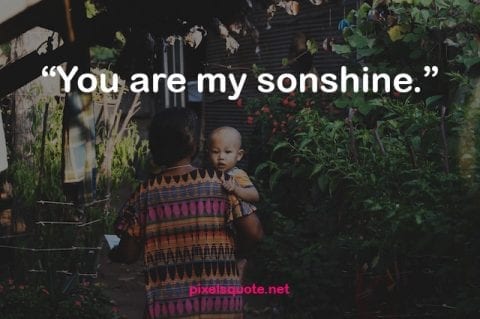 Mothers consider their sons as the biggest creations and the source of light in their lives.
The son represents his mother's happiness, hope, and legacy, the one she loves unconditionally.
"You are my son, my moons, my stars"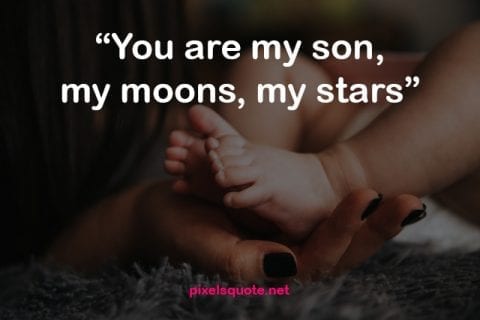 To a mom, her son is her sun and her moon, her star, and her whole universe.
She compares her own son to the most beautiful and shiny things the human can ever see.
It is really touching and it shows the ultimate depth of her love.
"You are the beautiful gift that I receive every day. My life is so magical because of you, my dearest son. I love you!"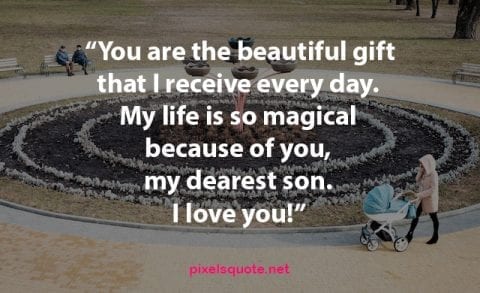 Every child is a blessing to his mom. The second a son is born is the mother's magical moment.
It lights up her heart and turns her life into an adventure, a fairy tale.
"His little hands stole my heart and his little feet ran away with it."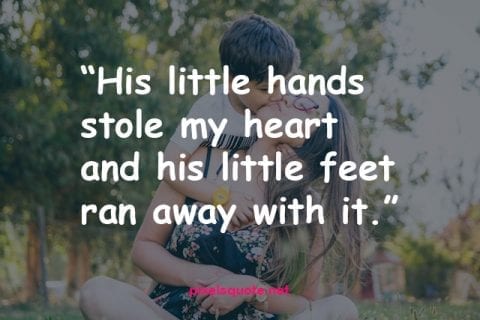 When a mother sees her little sons, it is like she sees the most adorable thing in the world.
Every little thing he does brings a smile to her face and warmth to her heart. The love grows in her and becomes an uncontrollable sweetness.
"Sons are the anchors of a mother's life."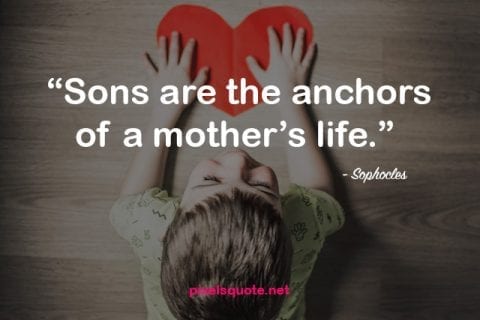 Having a son turns a new page in a woman's story of life. Life can sometimes be hard, cruel, and confusing, especially to women.
However, the existence of the sons brings the reason and courage they need to cope with any difficulty.
Keep reading: Heartwarming Mothers Quotes to know the most special love in the world.
Quotes about sons
"So there's this boy. He kinda stole my heart. He calls me 'mom'."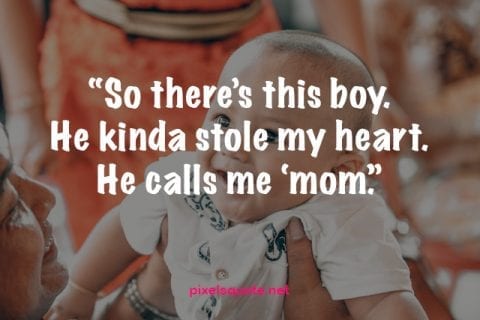 People can often overlook the healing power of the single word 'mom'. For a woman who has just become a mom, it means the whole world. It brings a lot of responsibilities, yet also a lot of happiness.
"No one else will ever know the strength of my love for you. After all you're the only one who knows what my heart sounds like from the inside."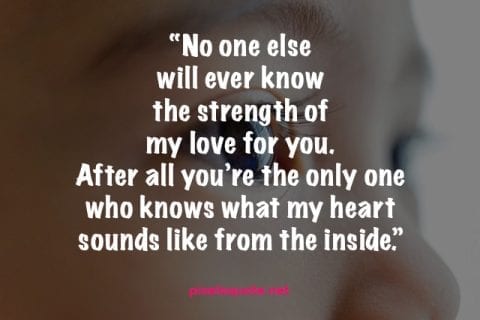 Love is strong, and the strength of a mother's love is boundless. It can not be measured, it can only be felt by heart, invisible yet so strong.
From the very first moment a mother senses her little son's presence inside her, they create this magical connection.
"I live for my sons. I would be lost without them." – the son quote from Princess Diana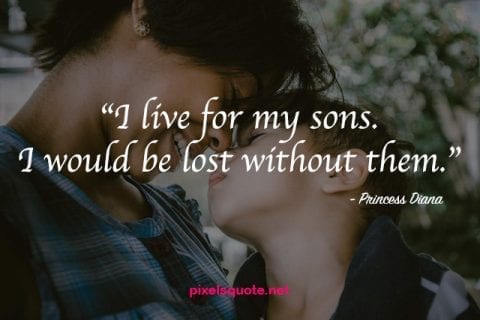 Regardless of wealth, fame, or any other material possession, love remains the core of our existence.
Both the most normal woman and the most famous princess share the same feeling towards their kids.
From the moment a son appears, he becomes a crucial part of his mother's life. The mother is willing to sacrifice for her child's safety and happiness.
"My son is super awesome and I am the lucky one because I get to be his mother."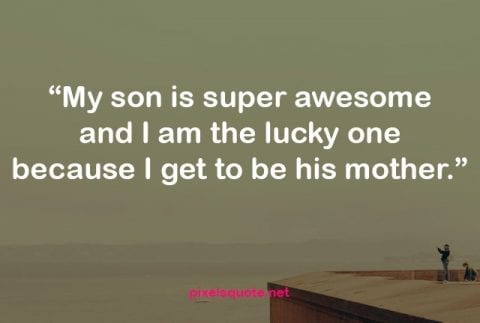 Raising and taking care of kids is hard, but the mothers consider that hardship as their happiness.
Mothers always see good things in their children and take pride in them as their most valuable treasures.
"To my dearest son, I want you to know that forever you will be in my heart no matter the distance. I love you!"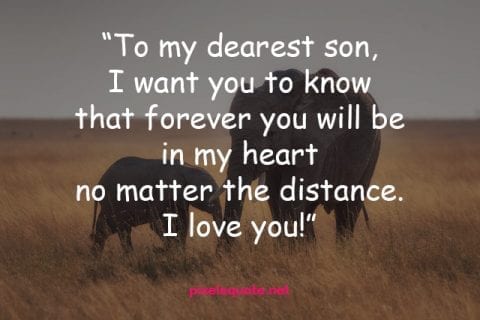 Time flies and distance can appear between even the closest ones. But no matter how far one is, he will always stay in his mom's heart.
He knows that someone will always look after him, and he can always find a way back home.
Check more related quotes:
I love you son quotes from mom
"And I promise you this: no matter who enters your life, I will love you more than any of them."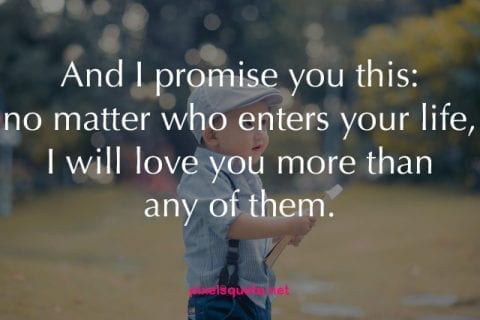 "A son is a mother's most precious treasure."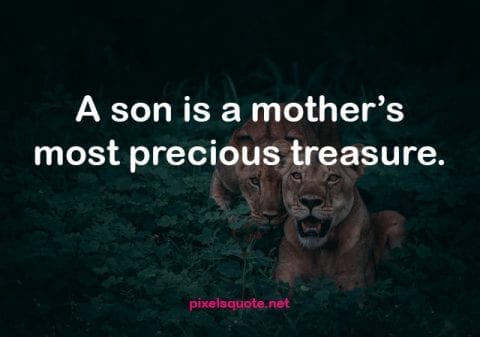 "You make me so proud to be your mother, and I hope that I make you proud to be my son, too. I love you!"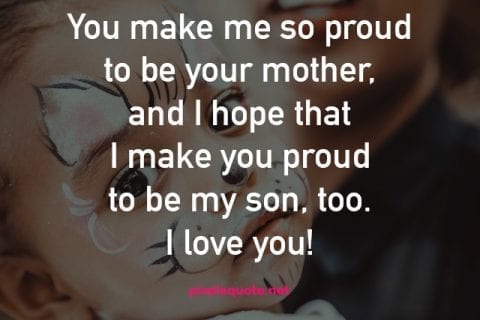 "My son is my baby, today, tomorrow, and always. You hurt him, I will hurt you. I don't care if he's 1 day or 50 years old, I will defend and protect him all of my life!"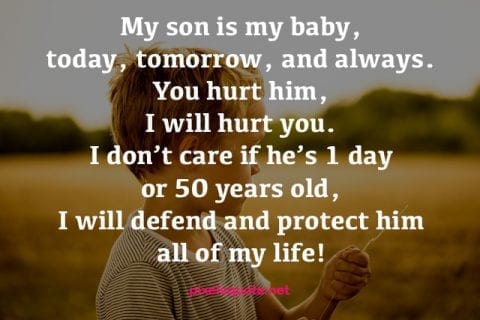 "Be brave. Be silly. Be your own magic. Be present. Be full of surprises. Be adventurous. Be kind. Be free. Be you."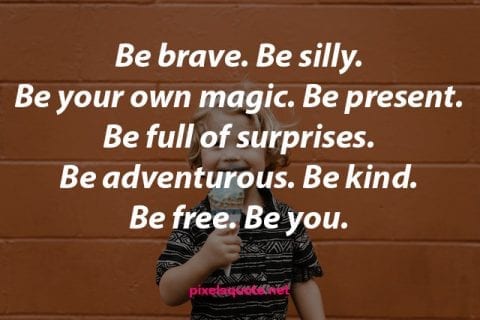 "You're not just my son. You are my reason for living, the love of my life, and the king of my heart. I love you, my dearest son!"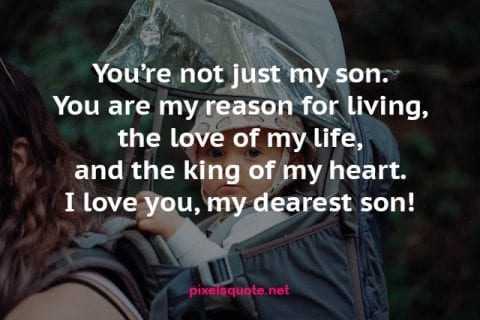 "And she loved a little boy very, very much—even more than she loved herself." – Shel Silverstein quote about son.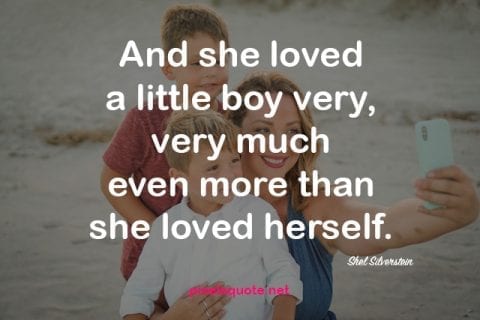 Mother and son quotes
"A good mother knows if her son becomes a soldier, he will be a general."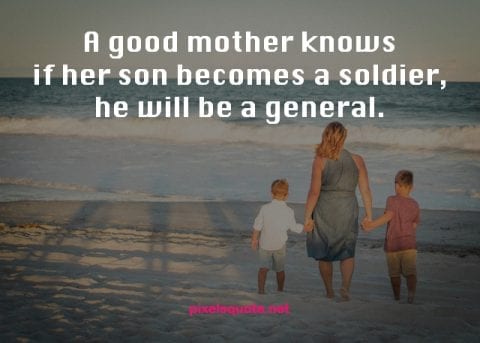 "You've been a wonderful blessing from the very start. I love you with all my heart, dearest son."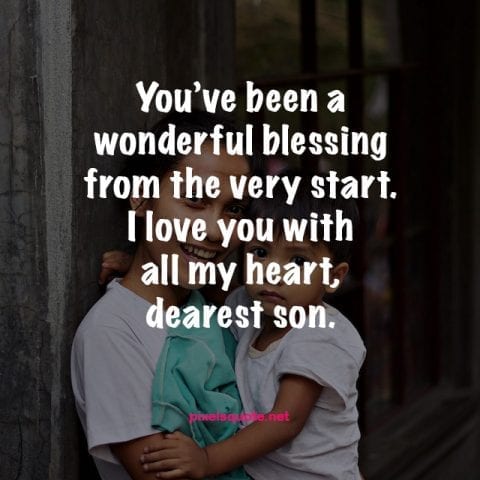 "I adore his smile, I cherish his hugs, I admire his heart but most of all… I love that he is my son."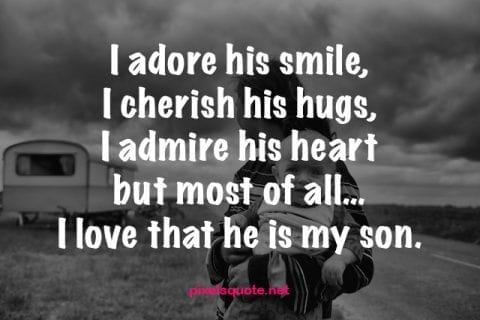 "A son makes love stronger, days shorter, nights longer, bankroll smaller, home happier, clothes shabbier, the past forgotten and the future worth living for."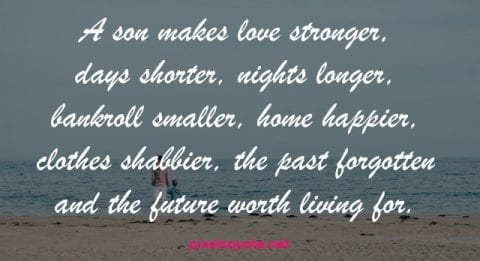 "Never forget that I love you. Life has its ups and downs, but I know you will be able to overcome them with your head held high. I believe in the man that you can be, son. I love you!"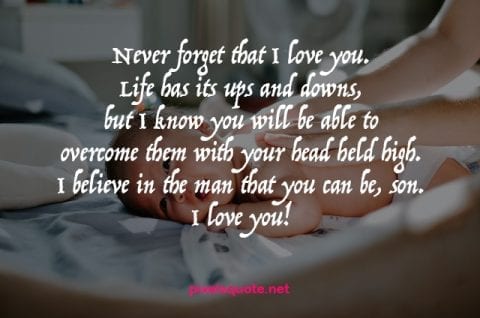 "He who can be a good son will be a good father."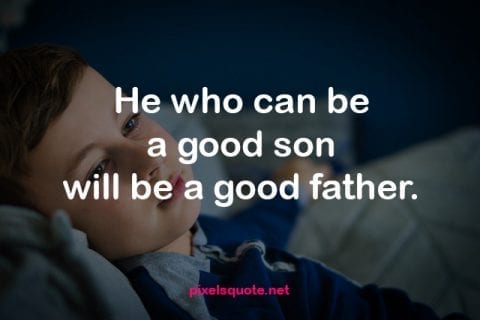 "It doesn't matter how old a son is. Even big and strong he is always a small boy for his mother."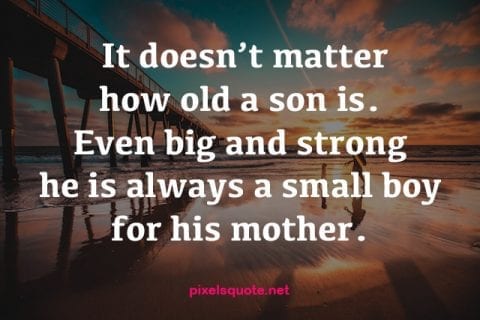 "Whenever I look at you, I am reminded that I was able to produce something good in this world. You make me so proud of all that you achieved and will achieve. I love you, son!"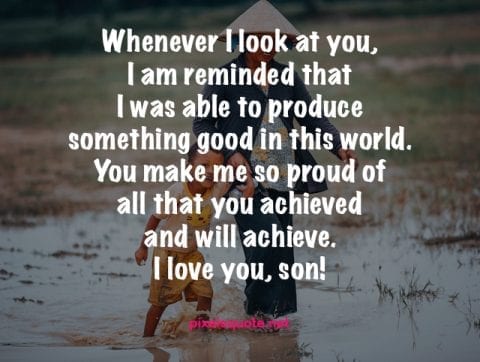 Love quotes for sons
"I believe in you, my son. I believe that you'll be the luckiest person in this world because I have worked my whole life in bringing the best out of you. I love you with all my heart!"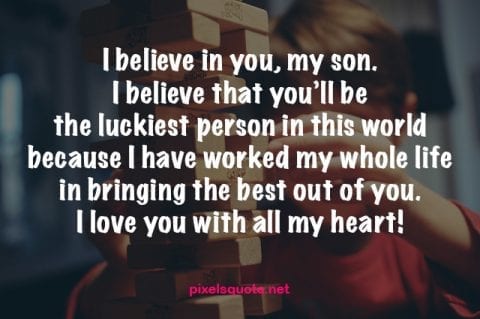 "Of all the animals, the boy is the most unmanageable." – Mother and son quotes by Plato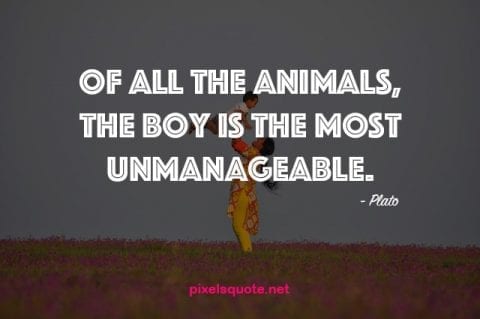 "Sometimes when I need a miracle, I look into my son's eyes, and realize I've already created one."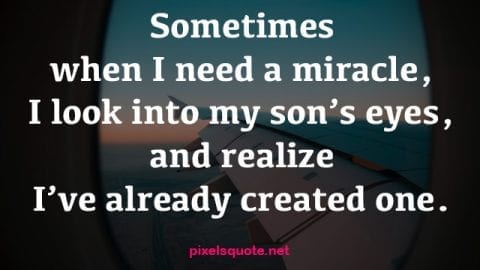 "When the road gets tough, just keep going. You are made of tough stuff, and you will easily overcome all your challenges. I believe in you, sweetie!"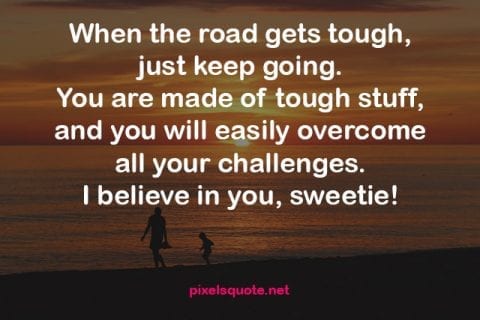 "My son, live your life to the fullest. Spread your wings and fly high up in the air. You can achieve much greater things in your life because you're my son, and I have put my trust in You! I love you son."
The innate, special bond between family members may sometimes be forgotten in this modern and rushing world. But there will be hard times when we realize we need the warmth and love inside our mother's arms.
Mothers' love for their sons can touch everyone's heart through their loving quotes. Mother and Son quotes remind us about one of the most important emotional pillars of our lives.
They can be used on either special occasions or daily as tools to reinforce the relationship between mothers and sons.
You may also like these son quotes from mother
I cannot be more grateful for the things that I have because I love my son and I have him.
I constantly go between wanting you to be my baby forever, and being excited about all the amazing things you'll do in this life.
Superheroes are often disguised as sons.
To a mother, a son is never a fully grown man; and a son is never a fully grown man until he understands and accepts this about his mother.
Never has it been more apparent that the days of my baby boy's childhood are fleeting.
The only man who has stolen my heart is my son.

– by Sandra Bullock –
I have a son, who is my heart. A wonderful young man, daring and loving and strong and kind.

-Maya Angelou – talk about son quote.
No matter how old you get, you will always have my hand to hold. I will always be here to give you the support that you need. I love you, son.
Mother gives her hand to a son only for a while, and she presents him her heart for life.
I love my son and he makes me proud and brings me happy whenever he's around me.
Let your boys test their wings. They may not be eagles, but that doesn't mean they shouldn't soar free.

-C.J. Milbrandt, On Your Marks: The Adventure Begins-
Quotes to My Son
People usually say that only when being a mother you can totally understand how much your mom loves you. That's right, being a mom is one of the most priceless feelings of happiness of any woman.
Especially when you have a son, that baby must be of great meaning to you, because he is one of the three important men in your life who will protect you, will take care of you when you get old.
Feel this happiness by quotes to your son to find out why being a mom is amazing.
"Mother and son – there has never been, nor will there ever be anything quite as special as the bond between us."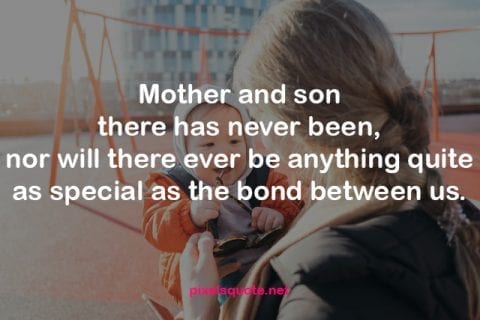 This quote solidifies the idea that the special connection formed between a mother and a son is sacred.
The connection starts with the conception of the child, and as time passes, they grow more and more connected to each other, eventually developing a unique bond, unlike anything else.
"I will always be your number one supporter for I care for you the most in this life of ours."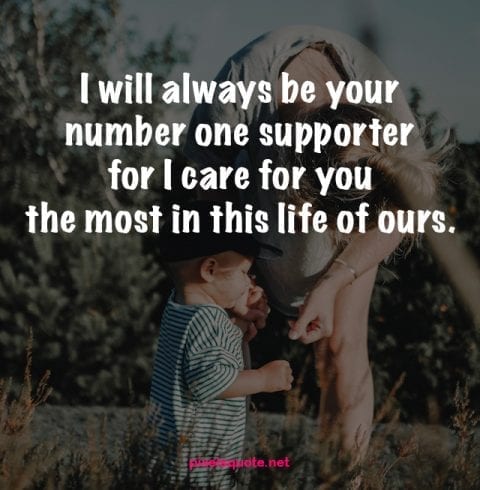 As the mother has gone through many hardships to take care of her son, she wants to do whatever is best to ensure his well-being and happiness.
The mother will support every decision and look out for danger trying to harm her precious child.
Share this mom and son quote with your mother and see the smile on her face. It will be priceless.
"Son, you will outgrow my lap, but never my heart."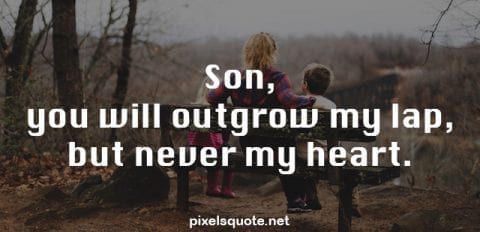 As the child grows older, the mother doesn't have to follow him everywhere and take care of every little thing.
However, there will always be a place for him in her heart, and the mother will always love her son dearly.
"To my dearest son, I want you to know that forever you will be in my heart no matter the distance. I love you!"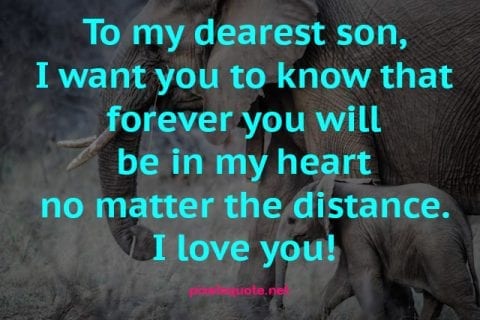 As the son grows older and starts to get independent, he will eventually move out and part with his mom.
Despite the distance that they travel from each other, the mother wants to use this quote to remind her son that he will always have a special place in her heart.
"There is an endearing tenderness in the love of a mother to a son that transcends all other affections of the heart."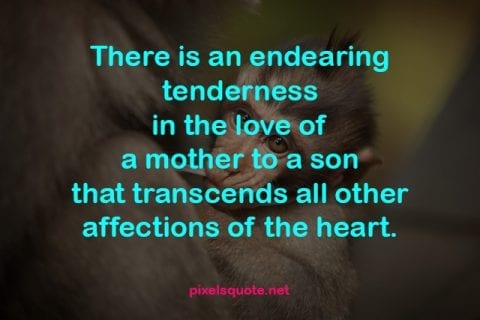 This quote speaks volumes about a mother's unique and special bond with her son. " … an endearing tenderness" describes the passionate feelings of a mother to her son, and "transcends all other affections…' emphasizes the importance of the mom and son connection.
"I will be there for you all the time and be that pillar of strength that you can always rely on to support you through life. I love you, dear son."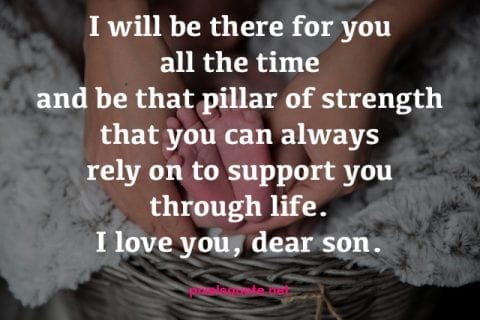 Through thick and thin, the mother will always be a reliable place for the son to fall back through in times of need.
She will give him her unconditional support and that will help the son through his hardships in life.
It's a beautiful quote about the mother-son relationship.
"Don't wait to make your son a great man – make him a great boy."
This quote emphasizes the importance of not over-protecting your son and trying to prepare him for real life.
The mom needs to teach their son about life at an early age, and not wait until he goes into adulthood. A simple, to-the-point and straightforward mother-son quotes.
"I love my son more than anything. I will do whatever it takes to make sure he is raised the right way."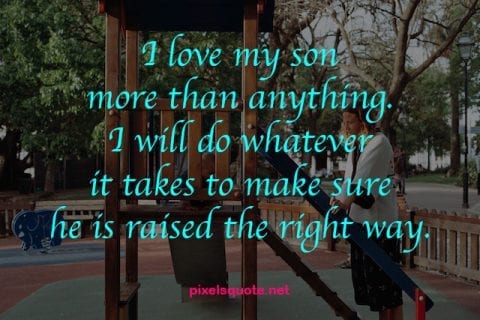 This shows the sacrifices the mother is willing to make her son a better man.
Every mother wants what's best for their child, and despite long hours, working 2 jobs, and giving up on sleep, she will do everything to make sure her son is raised the right way.
"A mother is the first love of her son, and a son is a whole world for a mother."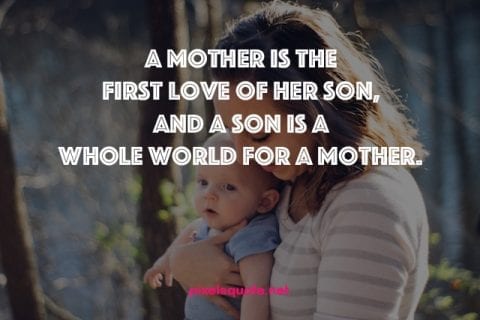 When a child first comes to life, his mother will be the figure that is closest to his heart.
She will be there when he is sick and also there when he is happy. As a result, a mother will be her son's first love.
With all the care and attention given to her son, the mother will also grow attached to him, making him his whole world.
Mother and son image quotes
"I'm so blessed to have a son that's so brilliant and strong. You have a good heart, and I know that you will go places. I love you son! Remember that I'm always here to support you."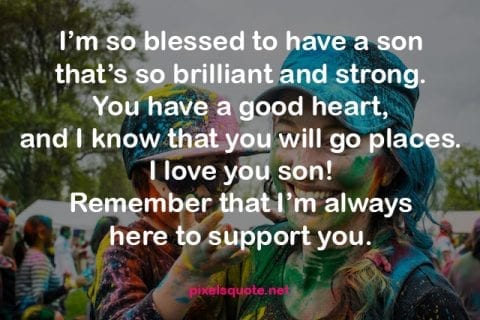 This quote shows how proud the mother is when her son is finally strong enough to go out on his own.
She has raised a beautiful and strong human being, and she has the utmost confidence in him going out into the world.
Whatever the son does or any hardship he might face, she will always be there for him. It is one of the good mother to son quotes in the list.
"Only one woman is able to love a man more than she loves herself. It`s his mother."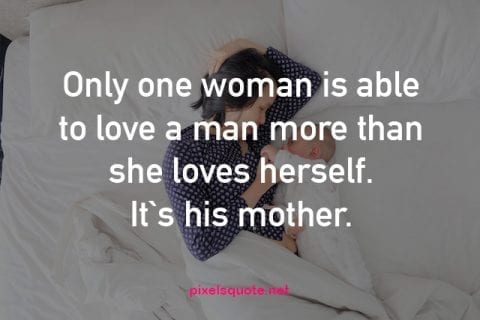 "A son is the only man, who can complete his mother`s womanhood."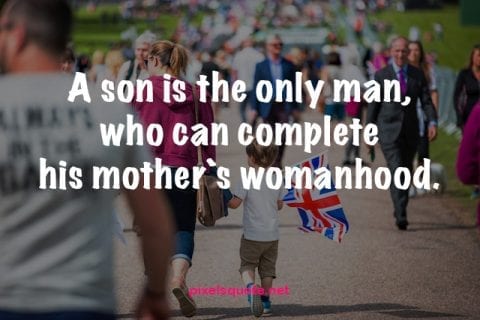 "I listen to my mom, and that keeps me out of trouble. I'm a good son."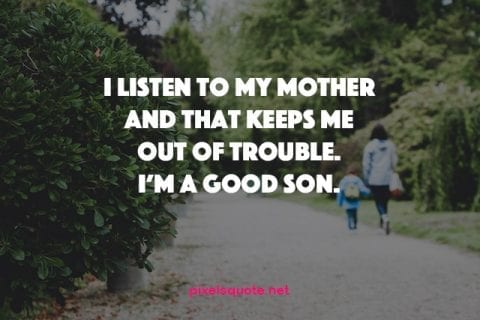 "Moms are as relentless as the tides. They don't just drive us to practice, they drive us to greatness."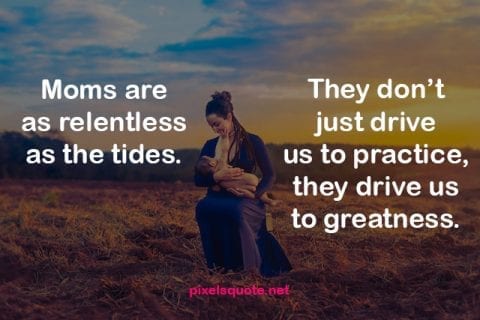 "Mothers are inscrutable beings to their sons, always." – A.E. Coppard talk about mother son quotes.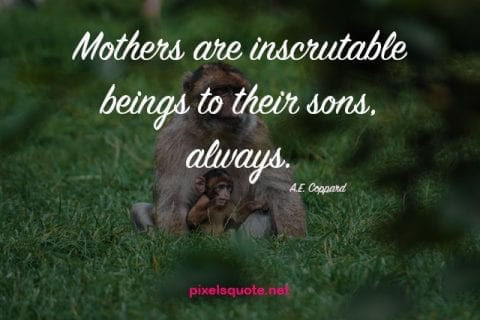 "Giving your son a skill is better than giving him one thousand pieces of gold."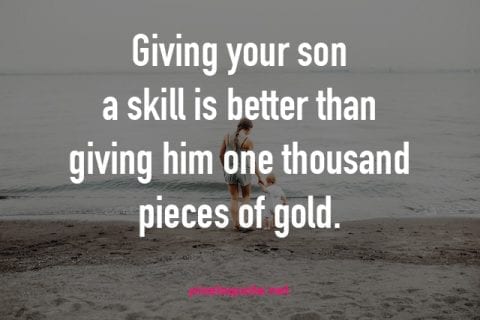 Until you have a son of your own… you will never know the joy, the love beyond feeling that resonates in the heart of a father as he looks upon his son.
My son's the most precious thing to me; he's changed me from being selfish to selfless.

– Mother Son quotes from Ricardo Antonio Chavira –
Sons may grow into men and grow out of their toys but in the hearts of mothers, they are still their little boys.
I just want you to be bold and brave in life. Live your life to the fullest. I don't want you to regret anything when you're old and gray. I love you son!
Only mother is able to teach her son how to love.
"Sometimes a mother can think that her son could get a better mommy. But she knows for sure that she knows that there doesn`t exist a better son."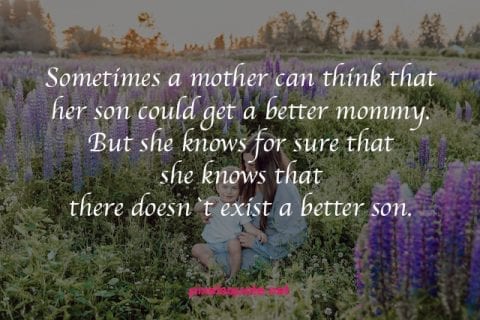 "You don't raise heroes, you raise sons. And if you treat them like sons, they'll turn out to be heroes, even if it's just in your own eyes." – Mother son quotes by Walter M Schirra Sr.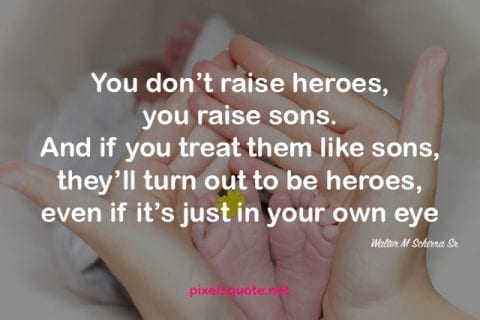 "From the moment they placed you in my arms, you snuggled right into my heart."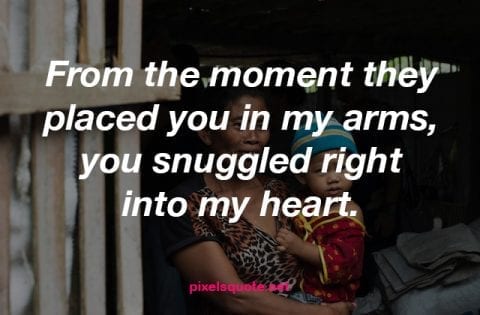 "I understand if you feel like I'm always out to ruin your life. I know that you hate me sometimes because I don't agree with your decisions. But I want you to know that I do it not to make your life hell. I do it because I love you and only want the best for you."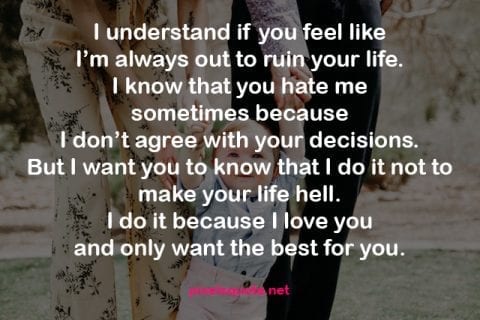 If you want to remember your childhood, don`t forget that it was your mother, who gave it to you.
Mother is the main pillar of her son`s future.
A man loves his sweetheart the most, his wife the best, but his mother the longest. – Irish Proverb about mother son quotes.
To my dearest son, never forget that I love you and that I will always have your back. Whatever will come your way, know that you will always have my guidance and support. I love you!
Your son will hold your hand for a little while but he will hold your heart for a lifetime
It doesn't matter what problems follow a man; he always knows that he is the best for her mom.
I'm thankful for my son's laughter. It's the sound of all that's right in the world.
The sooner you treat your son as a man, the sooner he will be one. – John Dryden.
Remember that every son had a mother whose beloved son he was, and every woman had a mother whose beloved son she wasn't. – by Marge Piercy.
The best way for a woman to get away from the problems is to see her son`s smile.
I think you might have been an angel sent by the heavens above to me, you make me happy.
The hardest thing for every mother is to teach her son to bite the bullet and keep going ahead.
Final thoughts
Do you believe in love at first sight? Yes, I do. There is one kind of love that starts at first sight and lasts forever. That's mother's love. These Son quotes from mother make me feel like I am reading a romantic fairy tale, but it is real and it is happening every day around me and you.
These mother and son quotes make me realize that being a mom, having a son, is one of the most wonderful, amazing things that I have never known before.
I hope these quotes can bring something meaningful to you too. Love and appreciate your mom more, because she is the woman who will love you unconditionally forever!
My son, you are the reason that I am living today. You're my world. I have been struggling for a long in my life to provide you comfort, and I'll always be doing the same for you till my last. I love you!
No matter your age, you always need your mom.
I hope you know how special you are. You will go places, just believe in yourself. I will be right here cheering you on. I love you!
You can be naughty at times, but you are mostly sweet and nice. Never lose your kindness and your compassion for others.In this oftentimes cruel world, we need more nice guys like you! Keep doing us proud, son!