"Mother" is the most beautiful word in the world. A word that makes us feel warm and happy whenever we hear it.
People who have a mother and enjoy a mother's love are very lucky, being used to touch by her tender hands, knowing she cares all the time no matter where she is.
We are used to her warm feelings as children in need of love, in need to be protected by our mom. And whenever we fall or feel tired, our mother is always there, giving us peace of mind, power, and her undying support.
And that is more than enough to make us stronger, able to stand up again and continue to chase our goals.
Mother's love is the most special love in the world. It is unconditional, limitless, doesn't need any special days to show because it is always there.
So even on an ordinary day like this, let's remember our mothers and read mother quotes to feel this wonderful love!
The beautiful Mother quotes:
"A little girl, asked where her home was, replied, where mother is." – Keith L. Brooks.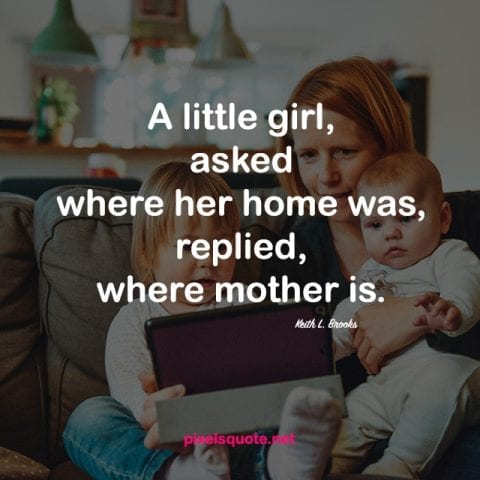 When you stay far from your home and your parents, you will know that "Home" means where mom's caring love is, where delicious mom's foods await, a place that has your mom's smell.
A place that has everything you need because your mom is there.
"Good mother is worth hundreds of schoolmasters." – George Herbert.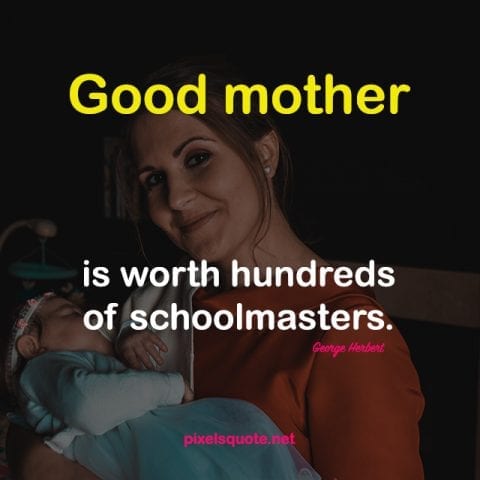 When I was a child, my mom was a person who can answer my questions such as "why the sky is blue". As an adult, my mom is a person who always knows my troubles, shows me what I should do according to my heart.
And I believe your mom is a person who you can ask any question about life or love too. Having a mother is really wonderful, right?
Also, check out these mother's day quotes that will brighten her day and spice up your mother's life.
"I love my mother as the trees love water and sunshine – she helps me grow, prosper, and reach great heights." – Terri Guillemets.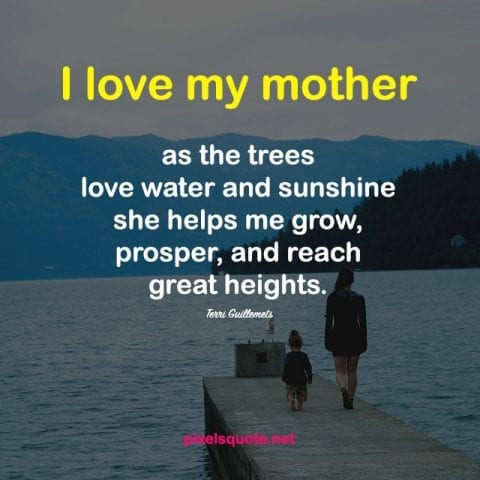 Mother doesn't raise you only to become a physically fit individual, but as trees need water and sunshine, your mother provides and raises your heart, enriches your soul.
And as trees always need water and sunshine to survive, you and I always need mother's love.
"An ounce of mother is worth a pound of clergy." – Spanish Proverb.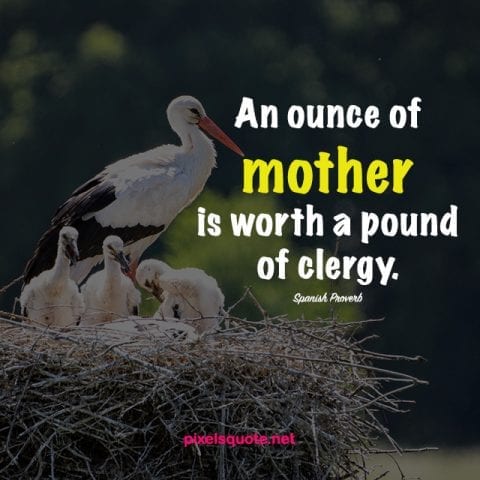 A priest is often a person we seek when we need consolation, life advice, or emotional and spiritual support. But one touch from a mother can take away all the pain and bring serenity into our hearts.
"My mom is a lifelong smile in my heart, her voice a comfort to my soul, her hugs my ladder to the stars." – Terri Guillemets.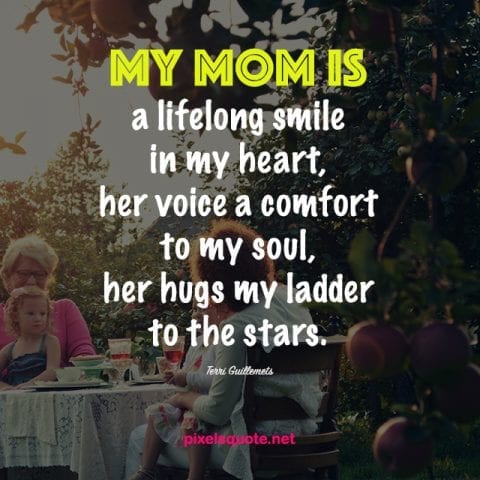 Mom's smile, mom's voice, and mom's hug are truly amazing things.
They can give anyone a feeling of strength and happiness, make their soul warm, and fill them with power that no task in the world would feel impossible to accomplish.
Heartwarming Mother Quotes
"God could not be everywhere, so he created mothers" – Jewish Proverb.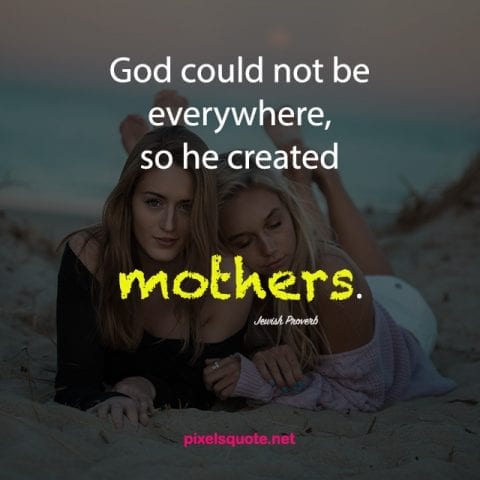 Yes, the mother is a miracle that comes from God. Mother always knows, listens to our wishes and hopes, shows us how to make our dreams miraculously come true. And we know that miracles are real because we have our mom.
"The best place to cry is on a mother's arms." – Jodi Picoult.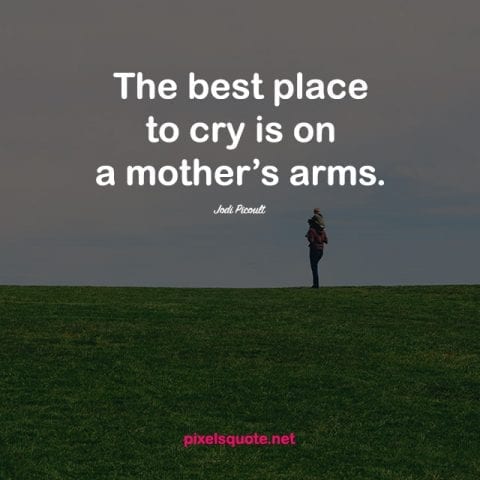 Whenever you stumble in your life, you will miss your mom and long to find her. Because only mom is a person who really cares about your pain, shares your happiness and sadness.
Her arms bring you a peaceful feeling and give you the power to help you rise and walk onwards.
Check out more related quotes: Mother daughter quotes.
"Call your mother. Tell her you love her. Remember, you're the only person who knows what her heart sounds like from the inside." – Rachel Wolchin
Since the moment a woman became your mother, she lives and breathes for your happiness, her heart beats with and for your heart.
Your heart will know what makes her happy, what she really wants. Just you and only you know about it.
"Moms are the backbones of their children's success." – The best heartwarming of mother son quotes.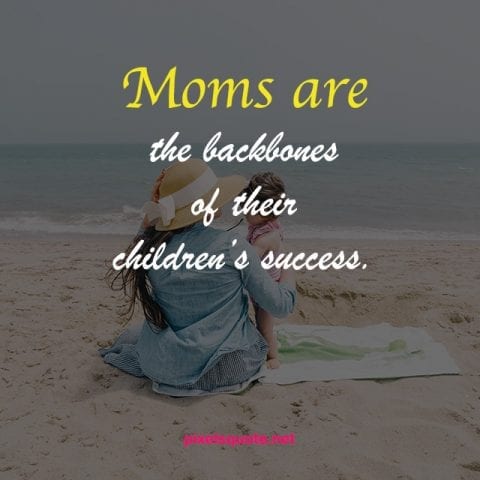 You can't see your backbone, but you can't survive without it. When you succeed, your mom might not be with you to share your happiness all the time, but you clearly know that you can't succeed without your mom.
This is the warming mother quotes that you can send to your mom.
"And I realized when you look at your mother, you are looking at the purest love you will ever know". – Mitch Albom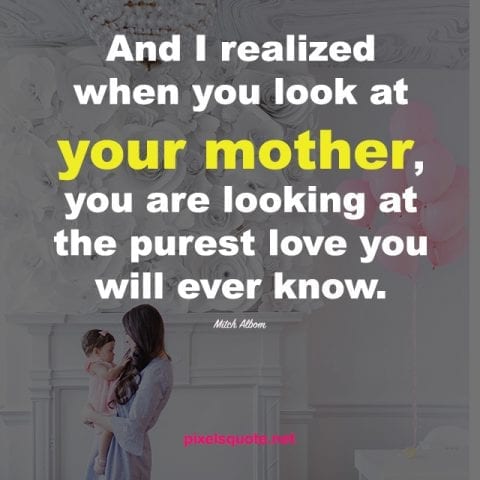 A girl loves you because of your talents, a man loves you because of your beauty. But your mom loves you no matter what if you are healthy or sick, no matter if you are successful or failing in life, no matter if you are rich or poor.
And you know that she will never give you up because her love never ends.
"The heart of a mother is a deep abyss at the bottom of which you will always find forgiveness". – Honor' de Balzac.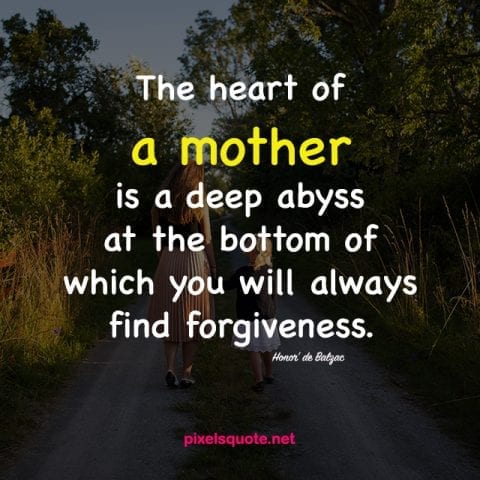 "Mother's love is peace. It need not be acquired, it need not be deserved." – Erich Fromm's mother quotes.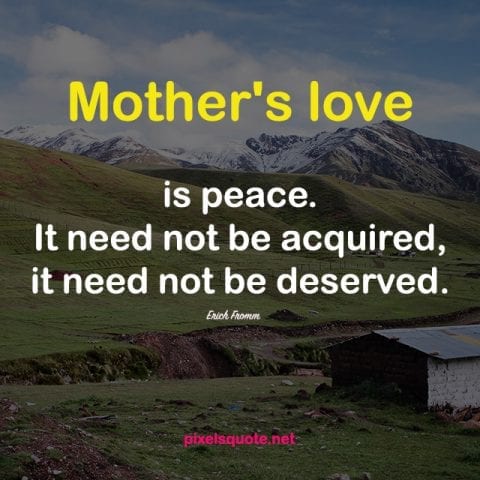 "The phrase "working mother" is redundant." – Jane Sellman.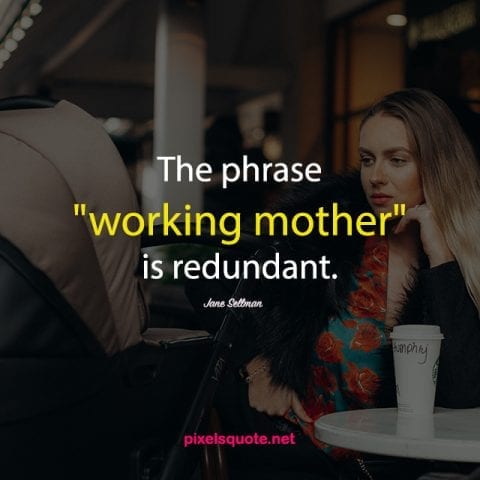 "There is nothing as sincere as a mother's kiss." – SALEEM SHARMA.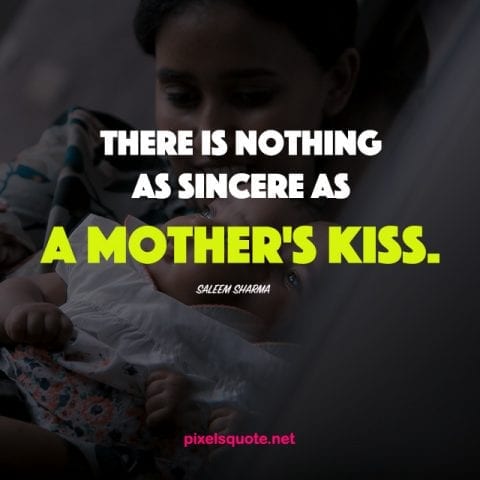 "Think of your mother and smile for all of the good precious moments."- Ana Monnar.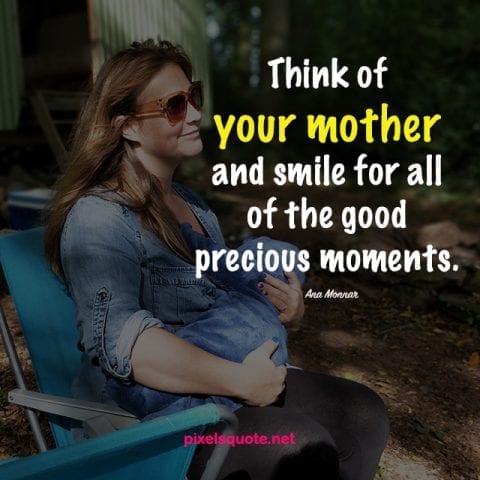 Think: How long haven't you call your mom and tell her that you love her? Don't ever think that her care will ever be there. Let's respect and appreciate it.
Because it is the most precious thing in the world, reserved for you and only you. Her love never ends but her caring is not endless.
I hope the mother quotes I show here will make you realize that you are lucky. Because you have your mom, that her love is a present from God, a present for which you don't need to pay.
And If you still can, go back home to hug your real "home", to tell her that you love as much as she loves you.
Don't forget to also read these women's day quotes to share with your mom.
Famous mother quotes:
"A mother's happiness is like a beacon, lighting up the future but reflected also on the past in the guise of fond memories." – Honoré de Balzac.
"Life began with waking up and loving my mother's face" – George Elliot.
"A mother's arms are made of tenderness and children sleep soundly in them." – Victor Hugo.
"When you are a mother, you are never really alone in your thoughts. A mother always has to think twice, once for herself and once for her child." – Sophia Loren.
"A mother understands what a child does not say." – Jewish Proverb about mother quotes.
"Behind all your stories is always your mother's story. Because hers is where yours begin." – Mitch Albom.
"Mother is the name for God in the lips and hearts of little children. " – William Makepeace Thackeray.
"A mother's love is patient and forgiving when all others are forsaking, it never fails or falters, even though the heart is breaking." – Helen Rice.
"Being a full-time mother is one of the highest salaried jobs in my field since the payment is pure love." – Mildred B. Vermont.
"Mother's love grows by giving." – Charles Lamb.
"I remember my mother's prayers and they have always followed me. They have clung to me all my life." – Abraham Lincoln.
"For mother's sake the child was dear, and dearer was the mother for the child." – Samuel Taylor Coleridge.
"If evolution really works, how come mothers only have two hands?" – Milton Berle.
"Being a mother is an attitude, not a biological relation." – Robert A. Heinlein.
"If Mama ain't happy, ain't nobody happy." – Ferrell Sims.