These ballet quotes exhibit a plethora of creativity, risk, and finery. An artist puts their whole heart and mind into their work and the result is an amazing masterpiece. And, these quotes beautifully describe the grandeur and grace of art.
Ballet undoubtedly takes many long years of practice by the dancer to hone their craftsmanship. And so, these quotes are a symbol of respect to such artists who give art their all.
It is very mystifying to understand the complexities of an artwork. Especially in dance forms like ballet, where an artist suffers many injuries. All you can do is try to delve into the world of art with the help of these amazing ballet quotes.
Top 10 Ballet quotes
"The purpose of art is higher than art. What we are really interested in are masterpieces of humanity." – Alonzo King.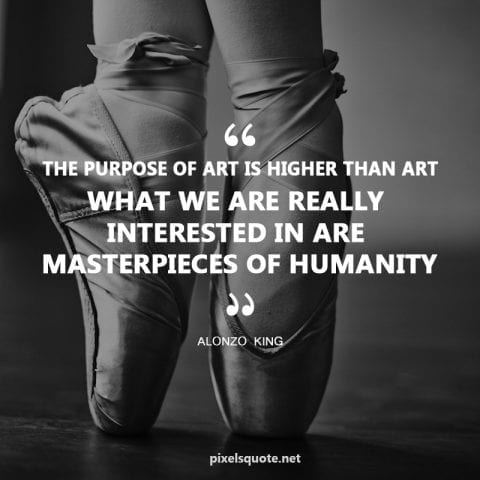 All lovers of art can easily relate to this amazing quote. Only an artist can understand what goes into the making of a masterpiece.
The purpose behind the creation of an art piece is much more than just a show and attraction. Art is a symbol of expression. It conveys the feelings of the artist, his vision, his thoughts, and above all his humanity.
"Ballet is not just movement, not simply abstract. It's something beautiful. Sometimes there's this feeling in the movement that makes me want to cry." – Nina Ananiashvili, The Ballet Book.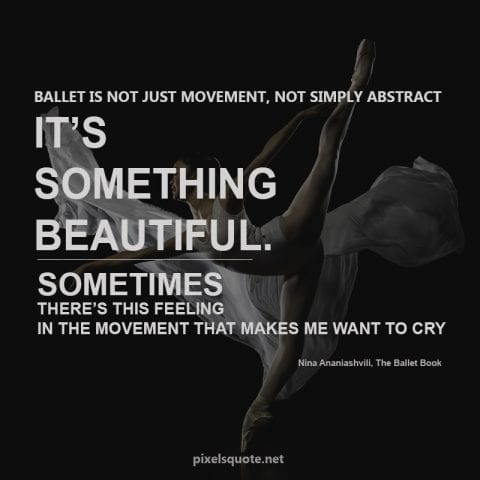 Of all the forms of expression, dance is one of the most graceful ones. And this ballet quote describes ballet dance form as the personification of elegance and poise.
With each movement, you can feel shivers go down your spine. It's so beautiful, it makes you want to cry. The fluidity of the movements makes you sway along with it too.
"Fine dancing, I believe like virtue, must be its own reward. Those who are standing by are usually thinking of something very different" – Jane Austen.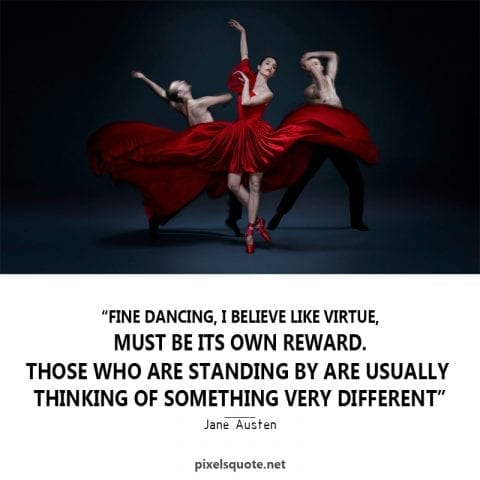 Ballet is an art form that exhibits charm and flow. Those who are fond of dancing feel the positivity and ease that fine dancing gives away. But the same can't be felt by the one watching the dance.
Only an artist knows how much hard work it takes to become perfect in art. This quote stresses that no other person can feel the same way about art. No one can realize the time and effort that is put into art.
"A dance is a measured pace, as a verse is a measured speech." – Francis Bacon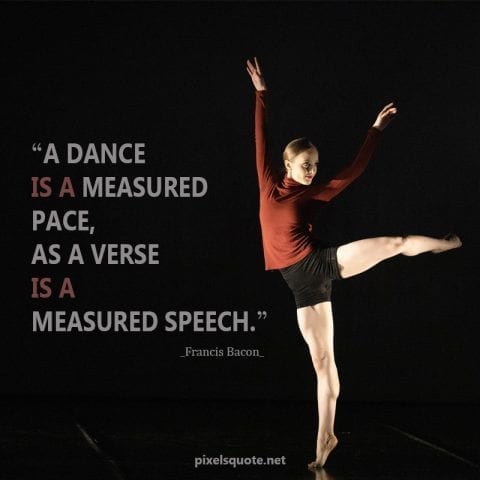 This quote out-and-out describes ballet in the most poetic way possible. Each step of dance is marked by rhythm, the same way as each verse is marked by due rhetoric.
While dancing, the performer has a lot going on in their mind. They have to concentrate on their moves while making sure that the dance comes out graceful altogether.
In the same way, while reciting a verse, the reciter has to make sure that the verse is recited properly. At the same time, the recital should be smooth too.
"The mirror is not you. The mirror is you looking at yourself." – George Balanchine.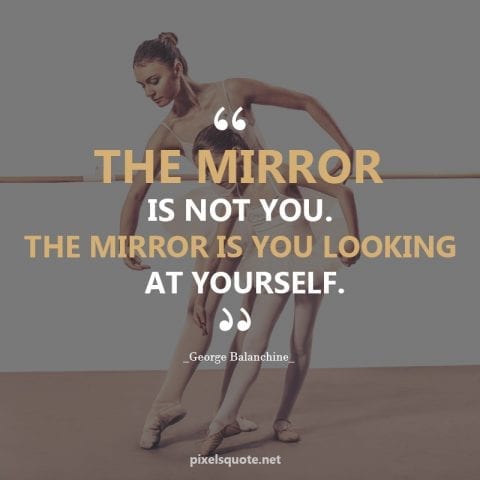 This quote from George Balanchine may seem simple when you look at it first. But it has a deep meaning to it. This amazing phrase stresses that nobody is you. You are one of a kind.
Even the mirror in which you can see your twin identity is you only looking at yourself. You are the sole personality on this planet and there is no one like you. And this is your superpower.
Inspirational Ballet quotes
"The real beauty in life is that beauty can sometimes occur" – Colum McCann.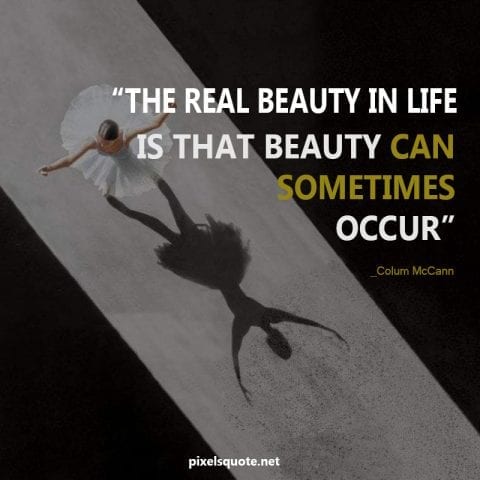 The ballet quote is a reminder for all people to take a pause and savor the beauty of life. Look around you, and you will find ravishing panorama in abundance. Nature is perhaps the most aesthetic essence.
Moreover, this quote is utterly charming in itself. A wise man once said that beauty lies in the eyes of the beholder. True to that, the real beauty in life is that beauty can sometimes occur.
"A toe shoe is as eccentric as the ballerina who wears it: their marriage is a commitment." – Toni Bentley.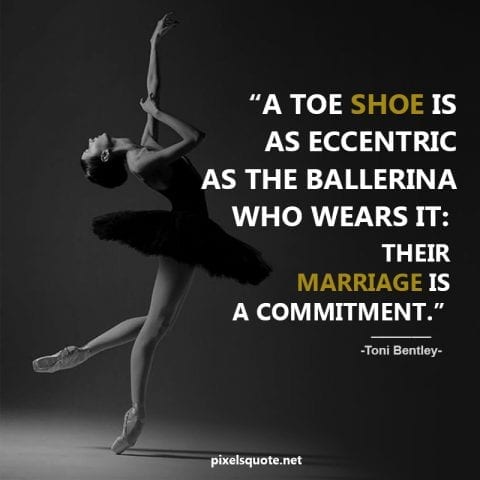 This quote elegantly describes the relationship of a ballerina dancer with her toe shoes. A ballerina needs her shoes to sway with ease. In fact, her toe shoe is as distinctive as she is.
Not only do they hustle together but they thrive together as well. They are made for each other and it's evident in the way they make their togetherness work miracles.
"I am always doing things I can't do, that's how I get to do them." – Pablo Picasso.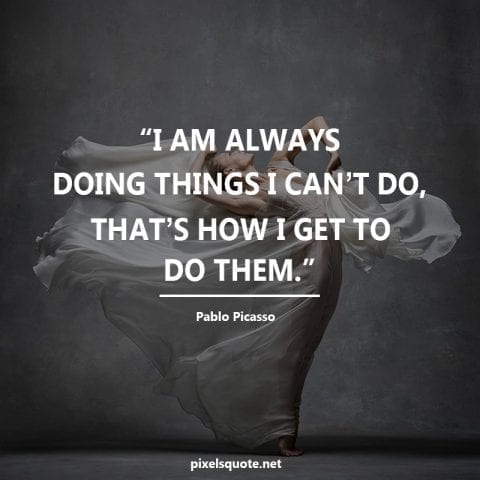 The author of this phrase, Pablo Picasso, needs no introduction. He was perhaps the greatest artist of his time. This quote is a fine expression of the beauty of art.
The making of any masterpiece would've been impossible if all artists backed off seeing the difficulties. In fact, only those who conquer their fears, give birth to true art pieces.
"Dancing is wonderful training for girls. It's the first way you learn to guess what a man is going to do before he does it" – Christopher Morley.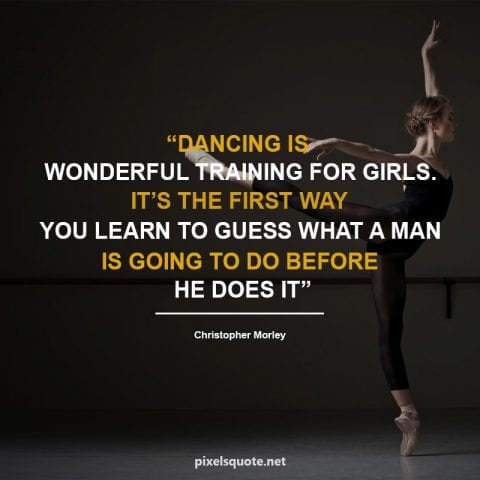 Dance can easily be categorized as the most fun way of expressing your feelings. This ballet quote tells how this art form trains girls for their future. It teaches them how to read expressions.
For instance, they can easily guess what a man is up to just by looking at his face. This is surely fun as well as a crucial form of teaching, which prepares them for all the upcoming events.
"Dancers are the athletes of God" – Albert Einstein.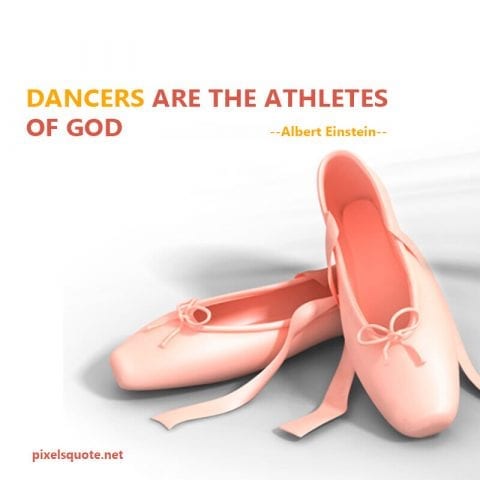 This ballet quote points out the athleticism with which the dancers dance. The grandeur and pomp with which ballerinas dance is phenomenal. The agility and adroitness of ballet are unmatchable.
Along with this their utter poise is like the icing on the cake. Indeed, they are the athletes of the almighty himself as such splendor cannot be seen anywhere else.
Nice Ballet quotes by famous dancers
"Even if you weren't born with a genetically perfect body, you can take something like a hand, where everyone has the same capabilities, and you can make it speak. You can make it speak in many different ways." – Sarah Lamb
"To dance is to be out of yourself. Larger, more beautiful, more powerful. This is power, it is glory on earth and it is yours for the taking." – Agnes De Mille
"I get into the studio and I try to make visible what's in the choreographer's mind. Sometimes a choreographer wants you to have an idea, and sometimes you are the idea.`" – Angel Corella, The Ballet Book
"A child sings before it speaks, dances almost before it walks. Music is in our hearts from the beginning." – Pamela Brown
"Dance for yourself. If someone understands, good. If not, then no matter. Go right on doing what you love" – Lois Hurst
"The ballet is a purely female thing. It is a woman, a garden of beautiful flowers, and man is the gardener" – George Balanchine
"Work like you don't need the money. Love like you've never been hurt. Dance like nobody's looking"
"Plie is the first thing you learn and the last thing you master" – Suzanne Farrell
"Our pointe shoes are our instruments. If something's wrong with my feet, all my mind goes there. I usually have six pairs ready. Soft shoes for one act, stiffer shoes for another, stronger shoes for a variation with a lot of turns" – Nina Ananiashvili, The Ballet Book
"When you dance, your purpose is not to get to a certain place on the floor. It's to enjoy each step along the way." – Wayne Dyer
"A pas de deux is a dialogue of love. How can there be a conversation if one partner is dumb?" – Rudolf Nureyev
"When I miss class for one day, I know it.n When I miss class for two days, my teacher knows it. When I miss class for three days, the audience knows it." – Rudolf Nureyev
"Someone need not be perfect to be a great dancer – feeling a soul is more important than what the body can do" – Marcia Haydée
"Learning to walk sets you free. Learning to dance gives you the greatest freedom of all: to express with your whole self the person you are." – Melissa Hayden
"The more you understand the music, the easier you can dance." – Orlando Gutinez
"There are three steps you have to complete to become a professional dancer: learn to dance, learn to perform and learn how to cope with injuries." – D. Gere
"Minor things can become moments of great revelation when encountered for the first time" – Dame Margot Fonteyn
"The one important thing I have learned over the years is the difference between taking one's work seriously and taking oneself seriously. The first is imperative and the second disastrous." – Dame Margot Fonteyn
"The mechanics of épaulement are what gives ballet its inner transitions." – William Forsythe
"I think Balanchine and Robbins talk to God and when I call, he's out to lunch" – Bob Fosse
"After I stopped dancing, I was unable to listen to beautiful music" – Suzanne Farrell
Check out more Ballet text quotes
"Even though I am a professional, and I know what the steps are, I don't quite know how I'm going to do them, because I haven't lived that moment yet. I always feel very insecure and I get very excited." – Suzanne Farrell
"It's a wonderful thing to be able to dance, tell your body what you want it to do." – Suzanne Farrell
"I think it was important that I learned to love to dance eventually for its own sake, as opposed to wanting to be a ballerina." – Suzanne Farrell
"The only way to do it is to do it." – Merce Cunningham
"I was very happy that I was as normal as possible before I went into serious dance." – Suzanne Farrell
"The dancer's body is simply the luminous manifestation of the soul. The true dance is an expression of serenity; it is controlled by the profound rhythm of inner emotion. Emotion does not reach the moment of frenzy out of a spurt of action; it broods first, it sleeps like the life in the seed, and it unfolds with a gentle slowness. The Greeks understood the continuing beauty of a movement that mounted, that spread, that ended with a promise of rebirth." – Isadora Duncan.
"Dancing is the poetry of the foot." – John Dryden
"A dance legacy must be performed in order to be preserved." – Ann Daly
"Dance is your pulse, your heartbeat, your breathing. It's the rhythm of your life. It's the expression in time and movement, in happiness, joy, sadness and envy." – Jacques d'Amboise
"Enjoy the process of learning to dance. The process of our profession, and not its final achievement, is the heart and soul of dance." – Jacques d'Amboise
"The dance world is too small in lots of ways – it's too intense, it rattles around itself, and it needs exposing to other ideas." – Siobhan Davies
"The Dance instills in you something that sets you apart. Something heroic and remote." – Edgar Degas
"Many other women kicked higher, balanced longer, or turned faster. These are poor substitutes for passion" – Agnes de Mille
"I think most dancers would agree that the art of ballet chooses the dancer, not the other way around." – Kevin McKenzie
"Dance is bigger than the physical body. Think bigger than that. When you extend your arm, it doesn't stop at the end of your fingers, because you're dancing bigger than that: your dancing spirit." – Judith Jamison
"What we hope ever to do with ease, we must first learn to do with diligence." – Samuel Johnson
These ballet quotes are indeed going to be of great use to you if you are an ardent lover of art. All the artists deserve their due recognition. And these amazing quotes are just the right thing for you if you love to praise true talent.
These ballet phrases can be used to show appreciation to the dancers. After all, how dull the world would be without any art in it.
So, do share these superb quotes with your friends, family, or an avid lover of art and spread good cheer!!