Wherever you may go; Life is a beautiful thing. Life is like a passing season. It comes and goes. Whatever may come, it's better to enjoy the changing seasons.
In the following words, we've selected a collection of life is beautiful quotes that show you how important it is to keep fighting for what you hold dear in life.
Life is beautiful quotes
"When one has a grateful heart, life is so beautiful." – Roy T. Bennett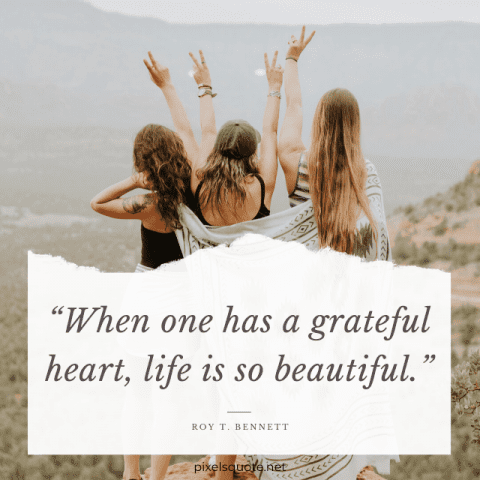 "Because of your smile, you make life more beautiful." – Thich Nhat Hanh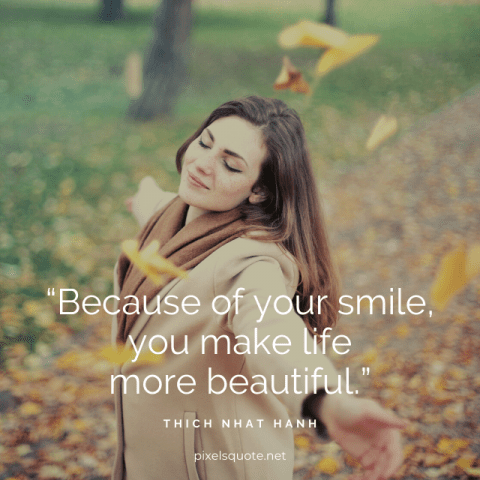 "Relax! Life is beautiful!" – David L. Wolper
"Life is abundant, and life is beautiful. And it's a good place that we're all in, you know, on this earth, if we take care of it." – Alice Walker
"Very little is needed to make a happy life; it is all within yourself, in your way of thinking." – Marcus Aurelius
"God gave us the gift of life; it is up to us to give ourselves the gift of living well." – Voltaire
"The biggest adventure you can take is to live the life of your dreams." – Oprah Winfrey
"If a man cannot understand the beauty of life, it is probably because life never understood the beauty in him." – Criss Jami
"Life is beautiful but people are crazy." – Charles Osgood
"Keep your head high, keep your chin up, and most importantly, keep smiling, because life's a beautiful thing and there's so much to smile about." – Marilyn Monroe
"Dwell on the beauty of life. Watch the stars, and see yourself running with them." – Marcus Aurelius's Life is beautiful quotes.
"Be happy for this moment. This moment is your life." – Omar Khayyam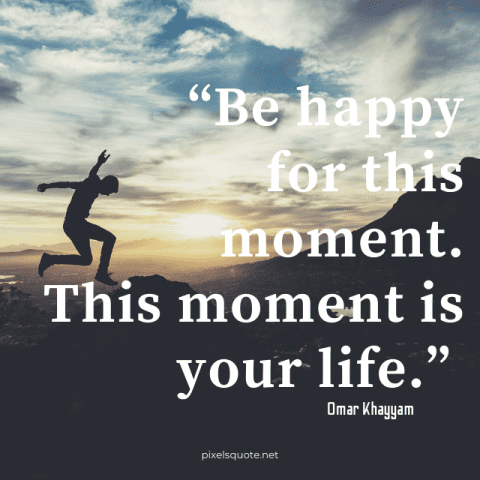 "Peace is the beauty of life. It is sunshine. It is the smile of a child, the love of a mother, the joy of a father, the togetherness of a family. It is the advancement of man, the victory of a just cause, the triumph of truth." – Menachem Begin
"Life is not always easy to live, but the opportunity to do so is a blessing beyond comprehension." – L. Lionel Kendrick
"Find ecstasy in life; the mere sense of living is joy enough." – Emily Dickinson's life is beautiful quotes.
"Unexpected intrusions of beauty. This is what life is." – Saul Bellow
"There is only one happiness in this life, to love and be loved." – George Sand
"Life is so beautiful that death has fallen in love with it, a jealous, possessive love that grabs at what it can. But life leaps over oblivion lightly, losing only a thing or two of no importance, and gloom is but the passing shadow of a cloud…" – Yann Martel
"There's a sunrise and a sunset every single day, and they're absolutely free. Don't miss so many of them." – Jo Walton
"I don't like people who have never fallen or stumbled. Their virtue is lifeless and it isn't of much value. Life hasn't revealed its beauty to them. " – Boris Pasternak
"I enjoy being happy every day, and hopefully, you can hear my happiness in my music. Life is beautiful." – Christina Milian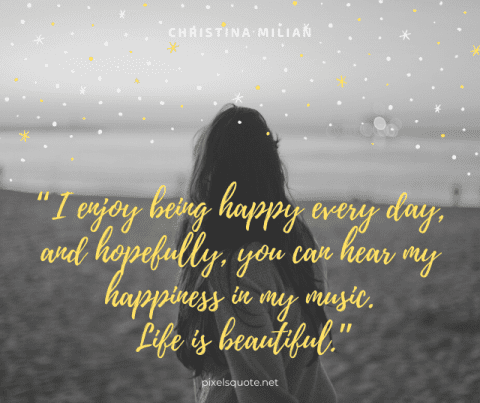 "Even in a world with much sadness, at its essence, life is beautiful." – Quote by Dianne Reeves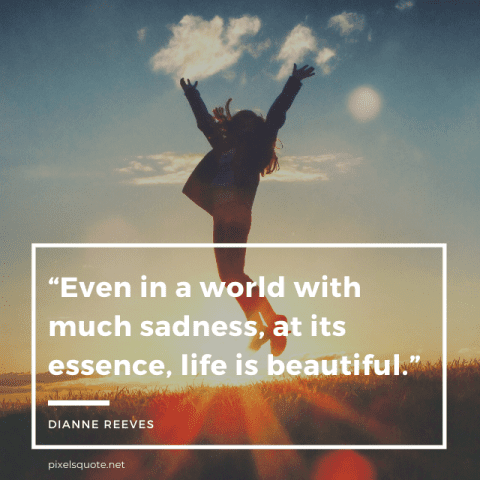 "Nature didn't need an operation to be beautiful. It just was." – Scott Westerfeld
"My theory on life is that life is beautiful. Life doesn't change. You have a day, and a night, and a month, and a year. We people change – we can be miserable or we can be happy. It's what you make of your life." – Mohammed bin Rashid Al Maktoum
"Life is full of beauty. Notice it. Notice the bumble bee, the small child, and the smiling faces. Smell the rain, and feel the wind. Live your life to the fullest potential, and fight for your dreams." – Ashley Smith
"Each life is made up of mistakes and learning, waiting and growing, practicing patience and being persistent." – Billy Graham
"True friendship multiplies the good in life and divides its evils." – Baltasar Gracian
"Life isn't about waiting for the storm to pass… It's about learning to dance in the rain." – Life is beautiful quote from Vivian Greene
"I think you need to go through some stuff to really appreciate life and understand what it means to persevere, overcome and have faith. I think those tough times make you a stronger person." – Judith Hill
"Life is the art of drawing without an eraser." – John W. Gardner
"Our lives are not as limited as we think they are; the world is a wonderfully weird place." – Tom Robbins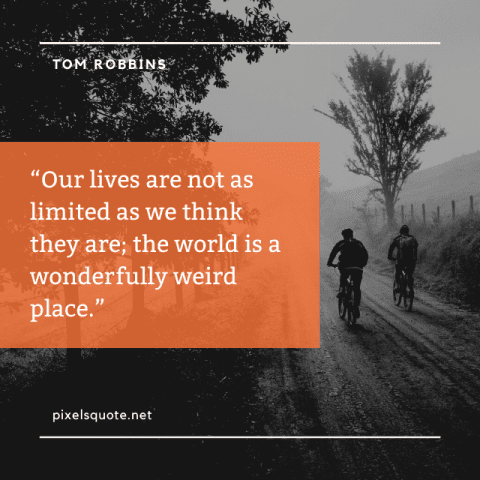 "Once you become accustomed to life you will see its full meaning and its incredible beauty." – Jon Krakauer quotes about beautiful life.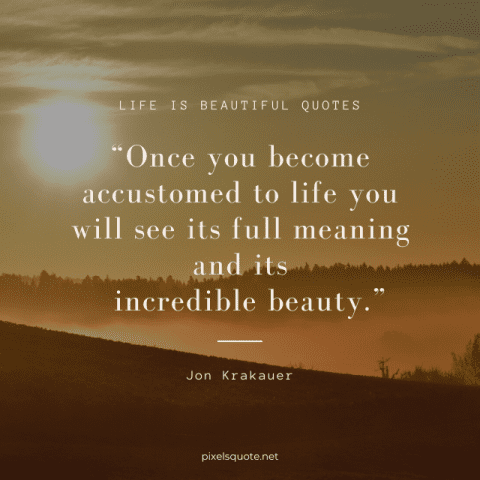 "To be creative means to be in love with life. You can be creative only if you love life enough that you want to enhance its beauty, you want to bring a little more music to it, a little more poetry to it, a little more dance to it." – Osho
"A man who dares to waste one hour of time has not discovered the value of life." – Charles Darwin
"Clouds come floating into my life, no longer to carry rain or usher storm, but to add color to my sunset sky." – Rabindranath Tagore
"Life ain't always beautiful, but it's a beautiful ride." – Gary Allan
"Where there is love there is life." – Mahatma Gandhi
"Life was meant to be lived, and curiosity must be kept alive. One must never, for whatever reason, turn his back on life." – Eleanor Roosevelt
"The most important thing is to enjoy your life—to be happy—it's all that matters." – Audrey Hepburn
"Slow down and enjoy life. It's not only the scenery you miss by going to fast – you also miss the sense of where you are going and why." – Edie Cantor
"I think being in love with life is a key to eternal youth." – Doug Hutchison's quote.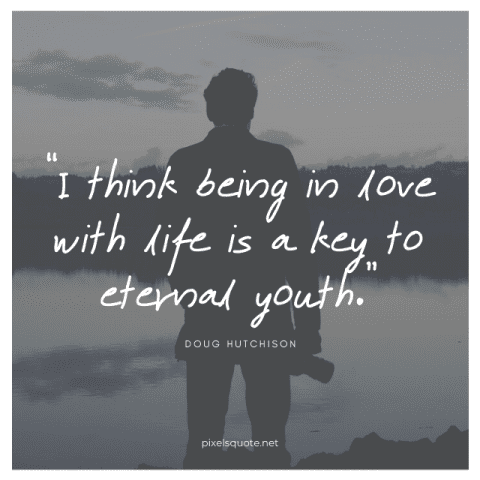 "Life is like a roller coaster, brace yourself for the ups and downs, but don't worry so much and enjoy every second." – Avril Lavigne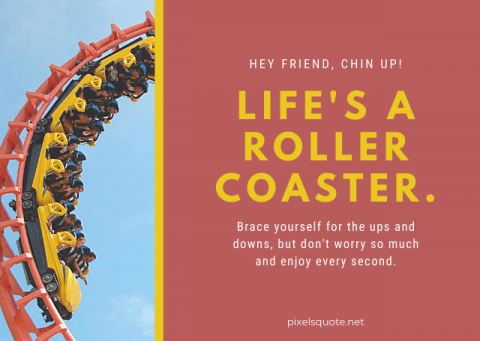 "The family only represents one aspect, however important an aspect, of a human being's functions and activities. A life is beautiful and ideal or the reverse, only when we have taken into our consideration the social as well as the family relationship." – Havelock Ellis
"Sometimes beautiful things come into our lives out of nowhere. We can't always understand them, but we have to trust them. I know you want to question everything, but sometimes it pays to just have a little faith." – Lauren Kate
"Life is beautiful because it doesn't last." – Brit Marling
"After all the world is indeed beautiful and if we were any other creature than man we might be continuously happy in it." – Sebastian Barry
"Lighten up, just enjoy life, smile more, laugh more, and don't get so worked up about things." – Kenneth Branagh
"The greatest gift of life is friendship, and I have received it." – Hubert H. Humphrey
"There are two great days in a person's life – the day we are born and the day we discover why." – William Barclay
"When you rise in the morning, give thanks for the light, for your life, for your strength. Give thanks for your food and for the joy of living. If you see no reason to give thanks, the fault lies in yourself." – Tecumseh