Many of the following baseball quotes from baseball coaches, famous and players. As such, these quotes have developed a big passion for the most beautiful sports in the world.
When you read their quotes, you know that these words live and breathe baseball.
10 best Baseball quotes
"In baseball, there's always the next day." – Ryne Sandberg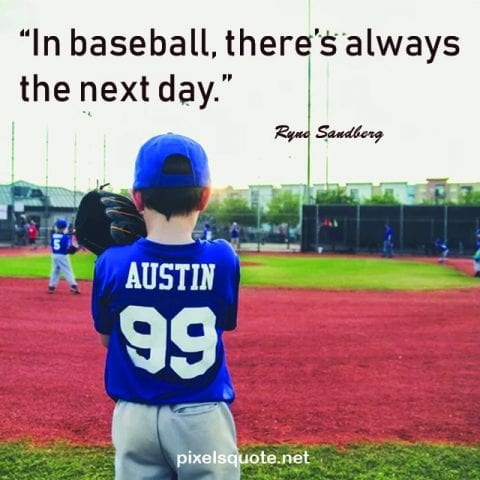 "Love is the most important thing in the world, but baseball is pretty good, too." – Yogi Berra's baseball quotes.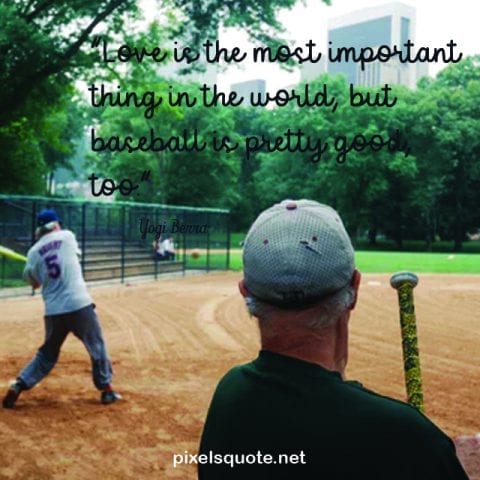 "I see great things in baseball." – Walt Whitman
"No matter what I talk about, I always get back to baseball." – Connie Mack
"Baseball is a good thing. Always was, always will be." – Stephen King
"Deep down, it's all baseball, no matter what kind of geometrical shape you play it with." – Vernon D. Burns
"The only thing I can do is play baseball. I have to play ball. It's the only thing I know." – Mickey Mantle
"In this game of baseball, you live by the sword and die by it. You hit and get hit. Remember that." – Alvin Dark
"I've fallen in love with baseball." – Nick Jonas's quote.
"No baseball pitcher would be worth a darn without a catcher who could handle the hot fastball." – Casey Stengel
Inspirational Baseball Quotes
"There is no room in baseball for discrimination. It is our national pastime and a game for all." – Lou Gehrig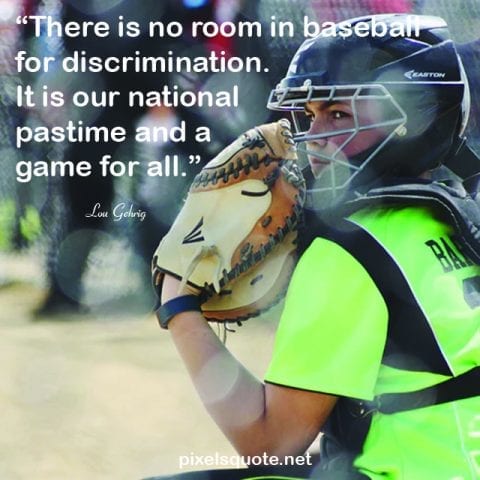 "Baseball is also a game of balance." – Shortest baseball quotes.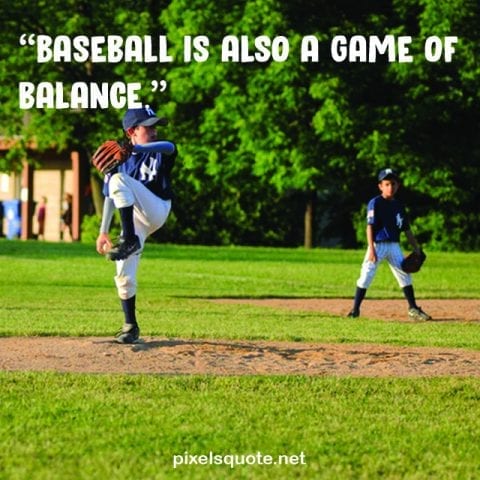 "Baseball really is a glorified game of throw and catch. And if you don't have guys who throw it really well, you can't compete for long." – Tucker Elliot
"If you have a bad day in baseball, and start thinking about it, you will have 10 more." – Sammy Sosa
"Baseball is a game with a lot of waiting in it; it is a game with increasingly heightened anticipation of increasingly limited action" – John Irving
"They were both Mets fans, and the hopelessness of that passion had created a bond between them." – Paul Auster
"Baseball is a simple game. If you have good players and if you keep them in the right frame of mind then the manager is a success." – Sparky Anderson
"If I didn't make it in baseball, I won't have made it workin'. I didn't like to work." – Yogi Berra
"Baseball can be slow in many ways. The action starts with when the pitcher delivers the ball. But the action really starts when the crack of the bat happens." – Cal Ripken, Jr.
"You can't be afraid to make errors! You can't be afraid to be naked before the crowd, because no one can ever master the game of baseball, or conquer it. You can only challenge it." – Lou Brock
Famous Quotes about Baseball
"Every strike brings me closer to the next home run." – Babe Ruth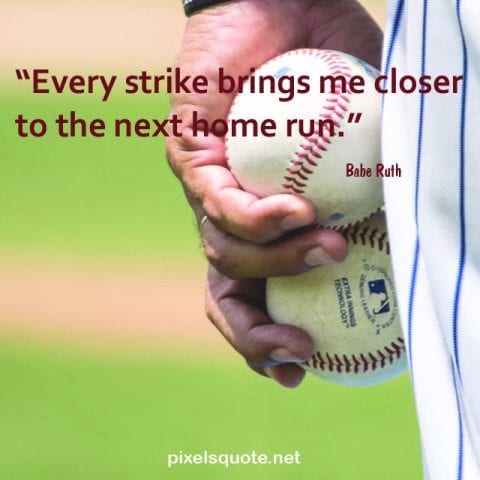 "It took me seventeen years to get three thousand hits in baseball. It took one afternoon on the golf course." – Hank Aaron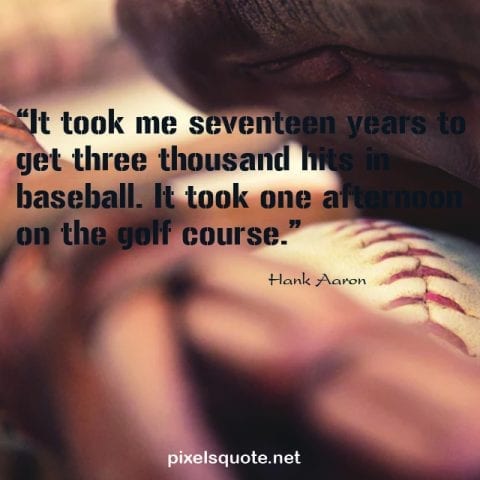 "Playing baseball for pay – home run. Teaching kids to play the game – priceless" – Jack Perconte
"It is dangerous to spring to obvious conclusions about baseball or, for that matter, ball players. Baseball is not an obvious game." – Roger Kahn
"Fenway is the essence of baseball." – Tom Seaver
"If there are any curses left in baseball, they are all on the north side of Chicago." – Tucker Elliot
"I've always loved baseball. Ever since 6th grade, I was geared to becoming a baseball writer." – Scott Miller
"More than any other American sport, baseball creates the magnetic, addictive illusion that it can almost be understood." – Thomas Boswell
"One of the beautiful things about baseball is that every once in a while you come into a situation where you want to, and where you have to, reach down and prove something." – Nolan Ryan
I love to play baseball. I'm a baseball player. I've always been a baseball player. I'm still a baseball player. That's who I am." – Ryne Sandberg
Funny Quotes
"Baseball is like church. Many attend, few understand." – Leo Durocher quotes about baseball.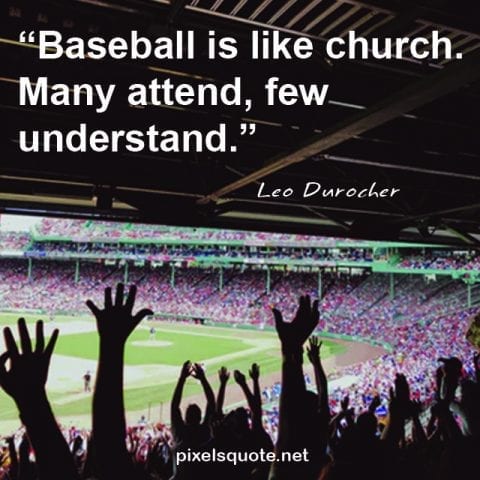 "You never know what's going to happen… And that's the fun of it!! That's what baseball's all about!!" – Keiichi Arawi
"Oh, to be a center fielder, a center fielder – and nothing more" – Philip Roth
"When I was coming up, I just wanted to play baseball and I'm doing what I love to do most. How can I feel pressure doing what I love to do?" – Miguel Cabrera
"There's nothing to it. Baseball isn't that tough to play." – Red Schoendienst
"I just want to play baseball." – David Ortiz
"You have to have a lot of little boy in you to play baseball for a living." – Roy Campanella
"In baseball, you don't know nothing." – Yogi Berra
"People ask me what I do in winter when there's no baseball. I'll tell you what I do. I stare out the window and wait for spring." – Rogers Hornsby
"You could be a kid for as long as you want when you play baseball." – Cal Ripken, Jr.
About Baseball Life
"Worrying about things you can't control is a waste both on the baseball field and in life." – Stephen King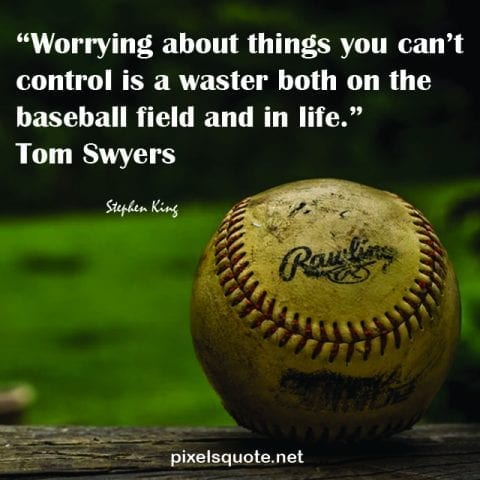 "Baseball is not life. It is a fiction, a metaphor. And a ballplayer is a man who agrees to uphold that metaphor as though lives were at stake." – David James Duncan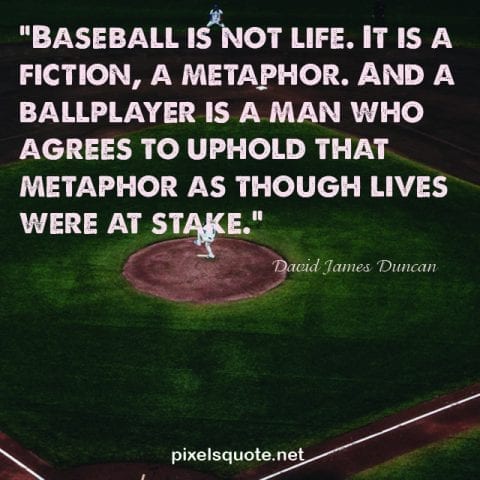 "A ballplayer spends a good piece of his life gripping a baseball, and in the end, it turns out that it was the other way around all the time." – Jim Bouton
"To me, baseball has always been a reflection of life. Like life, it adjusts. It survives everything." – Willie Stargell
"I'm a guy who just wanted to see his name in the lineup everyday. To me, baseball was a passion to the point of obsession." – Brooks Robinson
"Baseball gives every American boy a chance to excel, not just to be as good as someone else but to be better than someone else. This is the nature of man and the name of the game." – Ted Williams
"A catcher must want to catch. He must make up his mind that it isn't the terrible job it is painted, and that he isn't going to say every day, 'Why, oh why with so many other positions in baseball did I take up this one." – Bill Dickey
"I think about baseball when I wake up in the morning. I think about it all day and I dream about it at night. The only time I don't think about it is when I'm playing it." – Carl Yastrzemski
Baseball is a team game but, at the same time, it's a very lonely game: unlike in soccer or basketball, where players roam around, in baseball, everyone has their little plot of the field to tend.
When the action comes to you, the spotlight is on you but no one can help you.