There are moments when you desire to make your girl feel loved and cherished. Girl quotes are an apt rescue to help you string your emotions into precious words.
These awesome sayings are the works of celebrities and wise personalities. Surely, these will help you in appreciating all the strong, powerful, beautiful, and pretty girls that you know.
Words impact minds like nothing else. It gets imprinted in your memory forever. Similarly, if you want to create memorable moments with your sweetheart, then words can help you a lot with that.
Likewise, an acute romantic quote can make your woman feel absolutely adored. You might want to try using this idea once.
So, go through this list of Girl quotes and find the perfect one for your special woman. Also, a bouquet of flowers would be a great accompaniment to make her feel honored.
Pretty Girl Quotes
"A pretty girl is like a melody that haunts you night and day." – Irving Berlin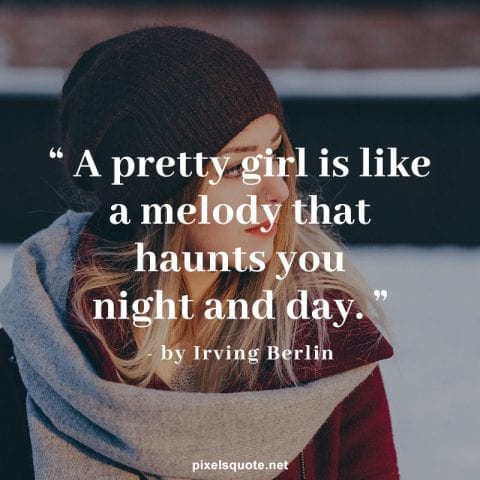 Interestingly, this pretty girl quote is an excerpt from a famous musical piece by the author. When you hear a hearty melody, you can not get it out of your head for days at an end. It plays on your mind on loop.
Likewise, a beautiful maiden charms you with such an effect that you're unable to concentrate on anything else. Her thoughts linger like a haunting dream. She just steals all your attention and makes your heart go crazy for her.
"Pretty girls are the perfect combination of sun and moonlight."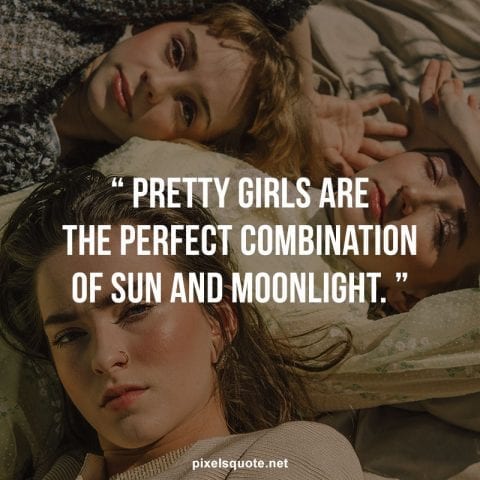 A sunbeam bright and takes away all the gloominess with the help of its rays. It brightens up the whole sky and makes everything seem cheerful. Similarly, moonlight fills up the night sky with soothing luster. The moon's radiance glitters in the pool waters and looks splendid.
Both sun and moonlight have their uniqueness. Undoubtedly, girls harbor all these qualities. They bloom with happiness and spread it all around. With them, everything blossoms. They are the messengers of love.
"Some girls are just born with glitter in their veins." – Paris Hilton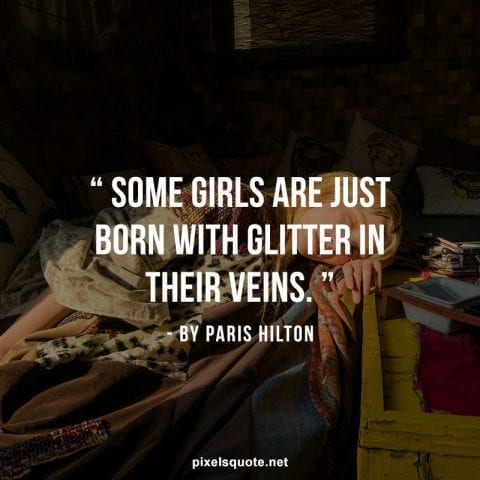 When you think of glitter, all you can see is a beautiful sparkling tint. It radiates positivity and cheerfulness. You get tinges of happiness just by looking at it. Similarly, some girls simply emit love and joy. You feel waves of optimism just by being with them.
The glitter of hope and comfort flows throughout their body. Small acts of generosity can be wondrous for people who need it. Truly, girls know how to give love and care out to the world.
"Confidence is the most beautiful thing a girl can wear."
Expensive clothes, precious jewels, and branded shoes can never exceed the grace that confidence provides to a girl. It is the most glamorous thing that you can style. It gives you power and elevates your self-esteem.
Undoubtedly, loving yourself is one of the greatest blessings you can have. A confident woman is far more attractive and desirable than those who just deck up. Dress up all if you may, but if you lack confidence, your adornments would be incomplete.
"A girl should be two things, classy and fabulous." – Coco Chanel quotes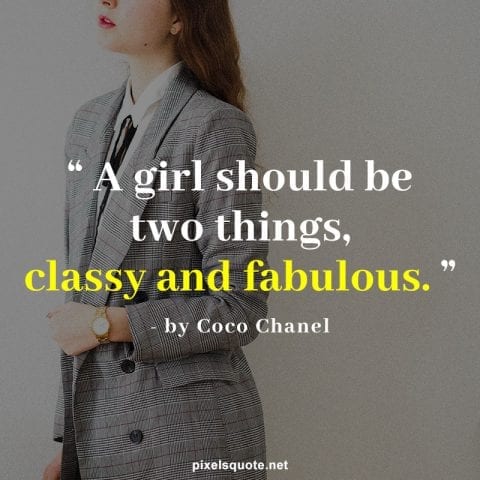 A woman must know how to carry herself with class. Not just to garner lots of male attention but to boost confidence and self-love. This girl quote signifies how a woman carries herself with etiquette and takes the world by storm.
Moreover, looking fabulous all the way through. Having a grateful heart and elegance is an irresistible combination. It inspires people to be like you. Laced with grace and poise, your classy attitude truly makes you look fabulously amazing.
Don't forget to also read these Girly quotes to share with your baby.
"You are beautiful just the way you are."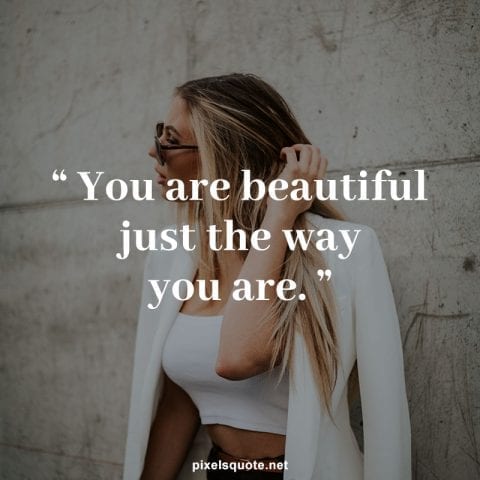 Although society sets unattainable standards of beauty, everyone is unique in their way. Scars and flaws are perfectly normal. Moreover, they make us more human. Whatever be the situation, love yourself for what you are. God made you like this for a reason.
You are splendid and charismatic only because of your originality. Don't let the societal rules fool you. Beauty is not what's on the outside. It's what's on the inside that matters the most. Feel blessed for what you are.
"Be a girl with a mind, a woman with attitude, and a lady with class."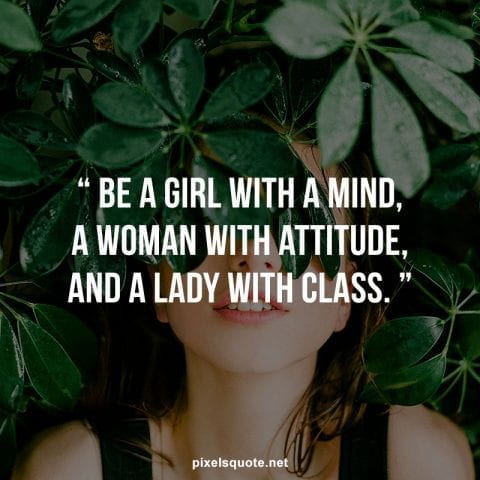 Women are the roots that bind everyone and everything together. They raise strong and powerful minds that are responsible for the growth of the world. Being a female takes a lot of effort.
She must be a strong-headed girl to lay a firm foundation; a woman who holds a solid attitude to be able to walk boldly on her own. And, a lady with an undeterred class so that she can carry herself well, whatever be the chore.
Must read Strong women quotes to encourage women everywhere.
Short Quotes for Girls
"Girl, you are the epitome of elegance and beauty."
"Courageous girls are gorgeous."
"Girls glow in their own light."
"The strongest action a girl can ever take is to be herself."
"Beauty begins the moment you decide to be yourself." – Coco Chanel
"The essence of beauty lies in the glow."
"Being happy never goes out of style." – Lily Pulitzer
"Chin up, princess."
"Beauty comes in all sizes."
"If it makes you feel beautiful, do it."
"Be your own kind of beautiful." – A short girl quote.
"A girl should be two things: who and what she wants."
"Smile is the most beautiful curve on a girl's body."
"No beauty shines brighter than that of a good heart."
"Beauty is the flower of virtue." – John Ray.
"Girl, you are nothing less than fireworks."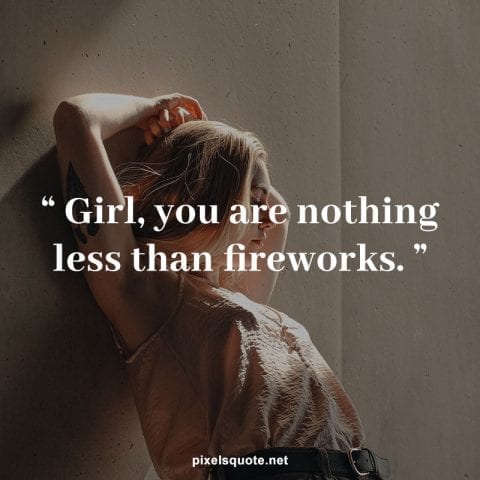 A woman who is gentle from the heart, strong from the mind, and confident in her conduct is highly attractive. Nothing can belittle her and she is a feisty package in herself. Being glamorous is not just about the body. Your humor and intelligence are what make you strikingly desirable.
Moreover, as true as it gets, smartness and elegance are what makes a woman truly sexy. It all boils down to having a good personality and a pure heart and soul.
"We should be beautiful in our own way."
"A real girl isn't perfect, and a perfect girl isn't real." – Harry Styles.
"Beauty has a lot to do with character." – Kevyn Aucoin
"Darling, you are magic, and so is your beauty."
"She's a tornado with pretty eyes and a beautiful heart."
"True beauty can't shine through make-up." – Nice and short quote about beauty.
"Beauty is not flawless. It makes you shine even through your flaws."
"Your rules should dictate your style."
"Real beauty is to be true to oneself." – Laetitia Casta
"You have a pretty vibe in your aura."
"Girl, you are the creator of your own reality."
"Your smile is a work of art."
"One should learn to be comfortable in one's own skin to feel and look beautiful."
"Beauty gets the attention, but personality captures the heart." – Marilyn Monroe
"Beauty is all about being the best possible version of yourself, both inside and out."
"Beauty can be bold or natural, but it always has to be in harmony with the individual." – Danny Sanz
"To be beautiful means to be yourself. You don't need to be accepted by others. You need to accept yourself." – Thich Nhat Hanh
"It's that heart of gold and stardust soul that makes you beautiful." – R.M.Broderick
"Hey gorgeous, you were chosen to pursue hard things in life. So believe in yourself."
Women quotes are a great way to appreciate all the special women in your life. After all, they deserve all the care and pampering that you wish to shower on them. So, share these short Girl Quotes with your loved ones. Surely, this will help spread the message that "all the girls are queens and must be treated that way."
Cute and Beautiful Girl quotes
"Outer beauty is inner beauty made visible." – Paulo Coelho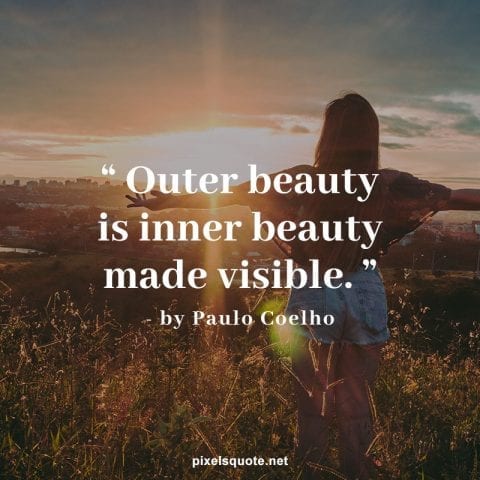 Outer beauty goes way beyond just a pretty face. It is the reflection of a person's personality. What you are on the inside is what shows up on your face. A beautiful heart is what makes someone pretty from the inside out.
This girl quote emphasizes that the brightest light is the one that shines from within. You need to glow like the moonlight. Outer beauty is superficial and often overhyped. In reality, it is just the shadow of your inner beauty.
"Pretty girls are made of grit and grace." – A short and cute quote.
"A girl's beauty is never defined by her looks."
"To all the girls that think you're fat because you're not a size zero, you're the beautiful one, it's society who's ugly." Marilyn Monroe
"When a girl has gone through the journey of finding and pursuing her most authentic self and shares that gift, for me, that's beautiful." Geena Rocero
"Girls don't need a short and tight skirt or a low cut top to impress a guy. A girl doesn't need a lot of makeup on their face to look beautiful, all a girl needs to look beautiful is a nice personality, a natural smile, and to be true to themselves."
"Beauty isn't about having a pretty face. It's about having a pretty mind, a pretty heart, and a pretty soul."
"For beautiful eyes, look for the good in others; for beautiful lips, speak only words of kindness; and for poise, walk with the knowledge that you are never alone." – Audrey Hepburn.
"The beauty of a girl is not in a facial mole, but true beauty in a woman is reflected in her soul. It is the caring that she lovingly gives, the passion that she knows." Audrey Hepburn.
"You are beautiful because of the light you carry inside you. You are beautiful because you say you are, and you hold yourself that way." – Mary Lambert.
"Beauty is not in the face; beauty is a light in the heart." – Kahlil Gibran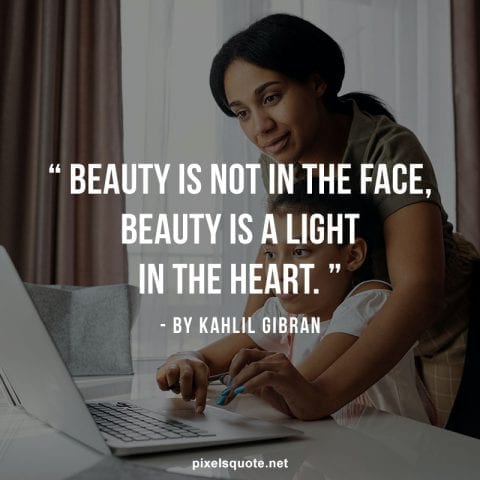 Defining beauty has been an arduous task for many. Although beauty is traditionally linked to the attractiveness of the appearance, it is much more than that. Being utterly giving and harboring good feelings in your heart makes you attractive in the true sense.
You can have a beautiful body but it is nothing if you own a foul heart. Undoubtedly, a pretty face shines brighter if the heart is enlightened too. The light from your heart makes you even more beautiful.
"Beauty is only skin deep. I think what's really important is finding a balance of mind, body, and spirit." – Jennifer Lopez.
"Adornment, what a science! Beauty, what a weapon! Modesty, what elegance!" – Coco Chanel
"Spend less time in the mirror and more time feeling wonderful." – Frederic Fekkai
"Your beauty blinds me because it comes from your heart, and it is reflected in your eyes."
"When virtue and modesty enlighten her charms, the luster of a beautiful woman is brighter than the stars of heaven, and the influence of her power it is in vain to resist." – Akhenaton
"Happiness and confidence are the prettiest things you can wear." – Taylor Swift
"A girl's greatest asset is not her pretty face but her beautiful heart."
"You can see it in her eyes when she is a mess of gorgeous chaos."
"You are beautiful and perfect and lovely HOWEVER you are." Ariana Grande
"Simplicity is the key to a beautiful soul."
"Beauty is power, and makeup is something that really enhances that; it's a woman's secret." Charlotte Tilbury
"When virtue and modesty enlighten her charms, the luster of a beautiful girl is brighter than the stars of heaven, and the influence of her power it is in vain to resist." Akhenaton
A girl is a perfect mixture of innocence, love, cheer, and dignity. These cute girl quotes will help all the girls to understand that they are beautiful from the outside and embodies an abundance of courage, strength, and inner beauty as well.
Read more: Cute Girlfriend Quotes To Spice Up Your Girl.
Do you have a favorite quote you'd like to share and add to this list? Share it with us and– use the comment section below! And if you like our collection of Girl quotes share it with friends and family on Facebook, Twitter, Tumblr, and more.