Flowers have been a very popular way of conveying love and appreciation for a long time. Accompanied with these flower quotes, a sweet fragrant bouquet would be adored by your girl a lot. Indeed, it is one of the best gifts to give to a loved one, because it represents romance and love.
Nowadays, people are usually caught up with one thing or another. It is really important to take a break and appreciate the small wonders that surround us and are often consumed down by the hustle. Without a doubt, these flower quotes will surely bring a smile to your face and soothe your nerves.
Moreover, just like a flower blooms and spreads its fragrance around, these quotes inspire you to grow and spread cheer among all mankind. So, skim through these beautiful and romantic quotes and give yourself a kick start to celebrate the joy, beauty, and new beginnings.
Flower quotes meaning with beautiful images
"Every flower is a soul blossoming in nature." – Gerard De Nerval.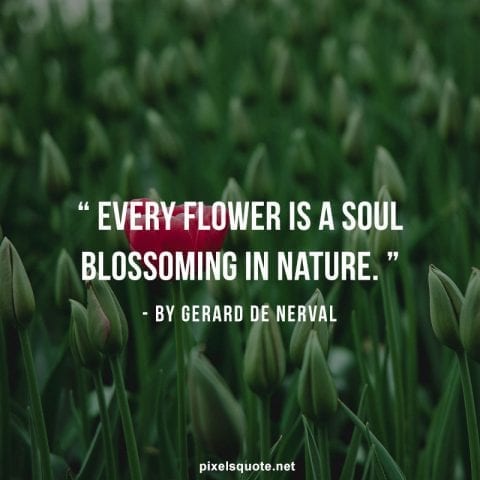 It is highly enjoyable to watch the lovely and immensely beautiful natural wonders, flowers. Every little flower is a life in itself. It is an embodiment of love and admiration.
As the flower blossoms, it helps us draw parallel with the growth in our life. The delicate tint of color and the dewy aroma makes our hearts fill with peace and happiness. It helps us feel connected with nature and our soul feels to be nearer to complete harmony.
You might also like these nature quotes to acknowledge the great impact of nature on our lives.
"A flower does not think of competing to the flower next to it. It just blooms." – Sensei Ogui.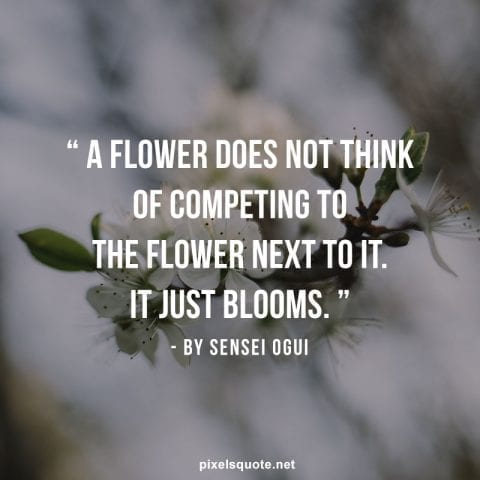 Flowers are the symbol of eternal love and cheerfulness. If only they started to imbibe feelings like jealousy, hatred, and competitiveness, they would surely lose their elegance and originality.
Likewise, a person whose sole aim is to rise and shine must surpass all negative emotions that pull him or the other person down. A flower blossoms with pride and just focuses on being itself. If you follow suit, no force can stop you from becoming what you want to be.
"I'd rather have roses on my table than diamonds on my neck." – Emma Goldman.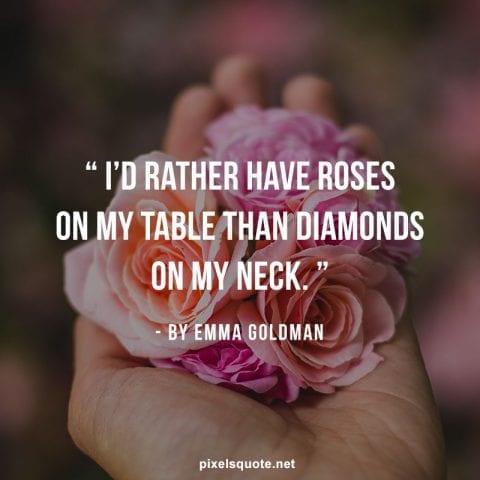 Roses are perhaps one of the most graceful flora to ever exist. Still, many women prefer to receive flowers over some bling jewelry. Surely, diamonds attract you for a moment or two. But after that, you no longer want to look at it after every two seconds; or sniff it and fill up your lungs with a gorgeous aroma.
Whereas, a bouquet of flowers remains as charming and desirable as ever. Really, true love always triumphs over all materialistic beauties.
"The earth laughs in flowers." – Ralph Waldo Emerson.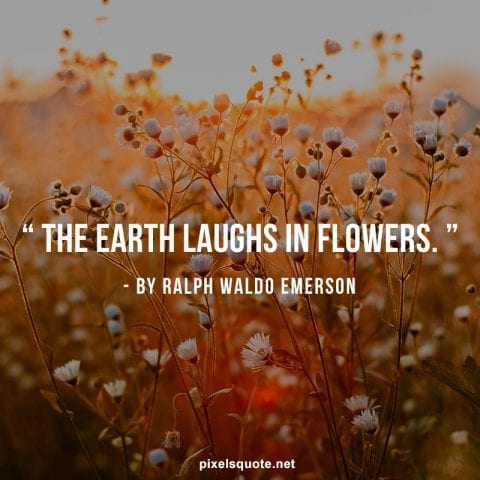 This short flower quote points out that on many occasions, we simply ignore the fleeting specimens of beauty. Even the magnificent Earth expresses its laughter through little buds. Hence, we must celebrate even the smallest of joys with the people we adore.
Life is too short and uncertain. It is changing rapidly. Those who make the most of it are the actual victors. Honestly, each moment is so different from the other. It is best to savor every minute peacefully.
"Life is the flower for which love is the honey." – Victor Hugo.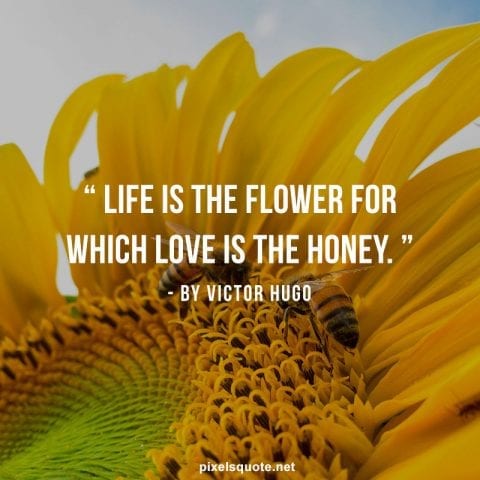 A very stark reality of life is highlighted very subtly in this flower quote. A flower knows only giving. It showers abundant blessings on us in the form of fragrance, beauty, and honey. The sweet nectar of the little buds is capable to captivate everyone who tries it.
Similarly, all humans have excess love in their hearts. When they spread it around, they are sweetening their lives in the process. As they say, what you give, you get manifold.
"Perfumes are the feelings of flowers." – Heinrich Heine.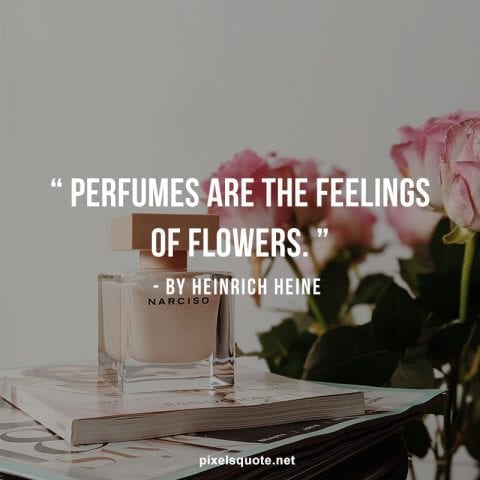 Mankind would have been just like puppets without sentiments. Moreover, flowers would have just been an object of beauty without their beautiful fragrance. Just as humans express themselves through their emotions, the feelings of flowers flow through its incense. They communicate with our hearts through the language of redolence.
Every night, they modestly wait for the cool breeze to help them sprinkle their magical aroma everywhere. Surely, they are a perfect fit for setting up a romantic mood and making someone happy.
"Flowers seem intended for the solace of ordinary humanity." – John Ruskin.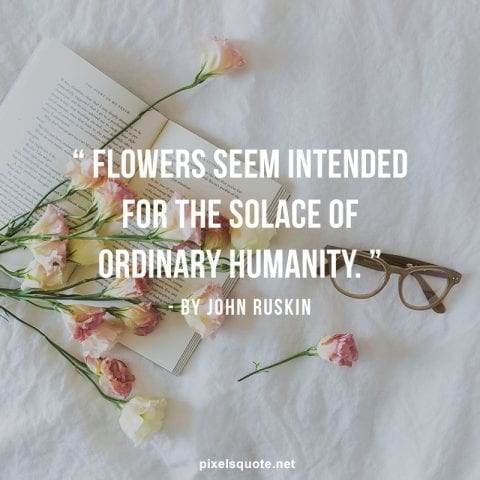 As time passes on, comfort ceases to exist among us. But, this flower quote tells how the beautiful creations of God do their part in granting relief to human beings. It seems like they bloom only to spread their gorgeous aroma in the otherwise dull world.
Surely, there is not even a single person who doesn't smile at the sight of lovely floral waving in the air. They have a calming and soothing effect on the vibes of a place.
Flower quotes short but powerful and inspire
"A flower blossoms for its own joy." – Oscar Wilde
"He who wants a rose must respect her thorn." – André Gide
"I tried to draw my soul but all I could think of was flowers." – Natalya Lobanova
"Flowers are restful to look at. They have neither emotions nor conflicts." – Sigmund Freud
"Flowers bloom when you are happy!" Avijeet Das
"Flowers are the Romeos and the Juliets of nature!" – Mehmet Murat Ildan
"I tried to draw my soul but all I could think of was flowers." – Natalya Lobanova
"Tulips were a tray of jewels." – Tulip quote of E.M. Forster.
"Remember that there is always some good in people who love flowers." – Esther Hautzig
"Minds are like flowers; they open only when the time is right." – Stephen Richards
"The violets in the mountains have broken the rocks." – Tennessee Williams
"I must have flowers, always, and always." – Claude Monet.
"To me, flowers are happiness." – Stefano Gabbana.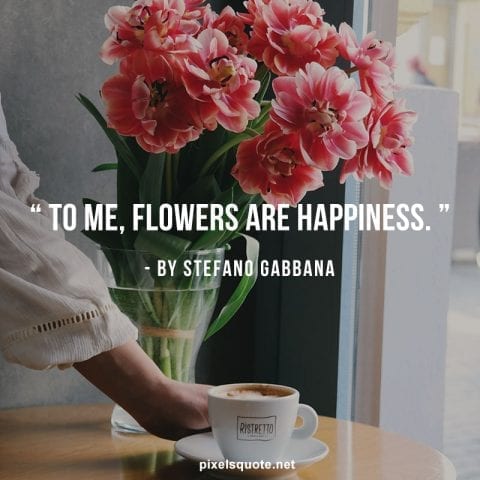 Perhaps, flowers are one of the most underrated things to exist. They are small in size, but their lively colors and sweet scent can brighten up your day. Indeed, it is a beautiful way to uplift your mood and give you the much-needed elation.
Honestly, flowers, chocolates, poetry, and the moon are a few things that can bring solace to anyone, at all times. Having flowers decorated in your room would be so therapeutic. They are the epitome of pleasure.
"Flowers are happy things." – P. G. Wodehouse
"Dark clouds become heaven's flowers when kissed by light." – Rabindranath Tagore
"Even the tiniest of flowers can have the toughest roots." – Shannon Mullen
"Flowers grow out of dark moments." – Corita Kent
"In joy or sadness, flowers are our constant friends." – Okakura Kakuzo
"Can you look at a flower without thinking?" – Jiddu Krishnamurti
"Flowers make me irrationally happy." – Alexa Von Tobel
"Butterflies are self-propelled flowers." – Robert A. Heinlein
"Writing blooms flowers for the mind, which last forever." – Debasish Mridha
"A flower teaches us how to love." – Debasish Mridha
"A sunflower field is like a sky with a thousand suns." – Corina Abdulahm-Negura.
Looking for some more similar flower quotes? Check out these Sunflower quotes with nice images.
Spring Flowers quotes that freshen your day with joy and happiness
"Blossom by blossom the spring begins." – Algernon Charles Swinburne.
"Flowers are always more serious than they appear." – Catherynne M. Valente
"The first blooms of spring always make my heart sing." – S. Brown
"Flowers are the songs of nature and dance of spring." – Debasish Mridha
"Bread feeds the body, indeed, but flowers feed also the soul." – Unknown
"Spring unlocks the flowers to paint the laughing soil." – Bishop Reginald Heber
"I am going to try to pay attention to the spring. I am going to look around at all the flowers, and look up at the hectic trees. I am going to close my eyes and listen." – Anne Lamott
"If I had a flower for every time I thought of you…I could walk through my garden forever." – Alfred Tennyson
"Break open a cherry tree and there are no flowers, but the spring breeze brings forth myriad blossoms." – Ikkyu Sojun
"You can cut all the flowers but you cannot keep spring from coming." – Pablo Neruda
"Happiness radiates like the fragrance from a flower and draws all good things towards you." – Maharishi Mahesh Yogi​
"The mind is like a flower. It does not bloom without the lights of appreciation, encouragement, and love." – Debasish Mridha
"If you've never been thrilled to the very edges of your soul by a flower in spring bloom, maybe your soul has never been in bloom." – Audra Foveo.
"If you have a garden and a library, you have everything you need." – Marcus Tullius Cicero.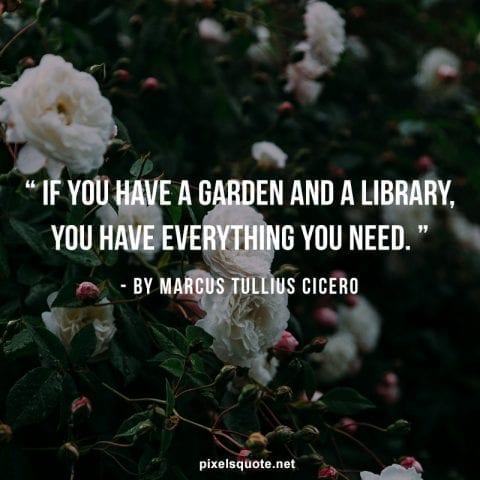 Undoubtedly, gardens are a great place to sit back and relax. Also, you can think and philosophize your thoughts very efficiently amidst the cool and calm flowers.
A person who masters a beautiful yard, as well as a library, surely has all elixirs to live peacefully. Pondering over the quote carefully, it can also mean that a simpler lifestyle is always better for peaceful and quiet living. It helps you create the perfect aura for Zen.
Also, read these inspirational Spring quotes that will warm up your soul.
"Where flowers bloom, so does hope." – Lady Bird Johnson
"When you have only two pennies left in the world, buy a loaf of bread with one, and a lily with the other." – Chinese Proverb
"God will reward you,' he said. 'You must be an angel since you care for flowers." – Victor Hugo
"It is said there are flowers that bloom only once in a hundred years. Why should there not be some that bloom once in a thousand, in ten thousand years? Perhaps we never know about them simply because this "once in a thousand years" has come today." – Zamyatin
"Some people wait to get flowers while others grow gardens." – Chris McGeown
"The flowers of late winter and early spring occupy places in our hearts well out of proportion to their size." – Gertrude S. Wister
"Many people have never learned to see the beauty of flowers, especially those that grow unnoticed." – Erika Jus
"Humble yourself, and you will find that Love is spreading a carpet of flowers beneath your feet." – Hannah Hurnard
"There are always flowers for those who want to see them." – Henry Matisse
"Give thanks for the rain in your life which waters the flowers of your soul." – Jonathan Lockwood Huie
"There are always flowers for those who want to see them." – Henry Matisse
"People from a planet without flowers would think we must be mad with joy the whole time to have such things about us." – Iris Murdoch
"If you admire somebody you should go ahead and tell them; people never get the flowers while they can still smell them." – Reddit
"Flowers and fruits are always fit presents; flowers, because they are a proud assertion that a ray of beauty outvalues all the utilities of the world." – Ralph Waldo Emerson
Beautiful flowers quotes
"Even though we know we'll get hurt by thorns, we still go for flowers." – Rupal Asodaria.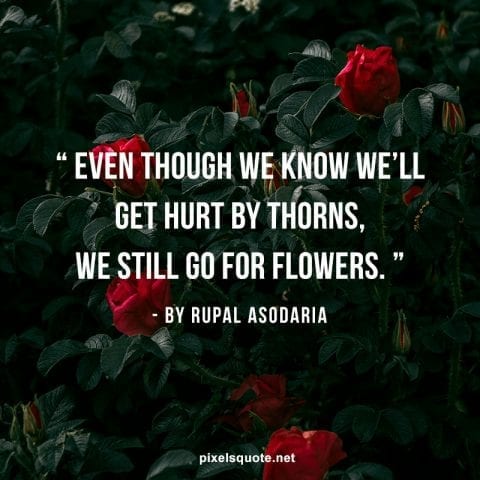 Truly, as pretty as a flower is, it may hurt us with its thorns. Still, we are so fascinated by its beauty that we outlook the pain and get attracted to it. Similarly, we get so blindly attracted to worldly pleasures that we ignore the problems that they might bring with them.
We might have to struggle a lot to get the finest luxuries of life. If you want to celebrate the joys of life, you need to endure pain and hardships.
"After women, flowers are the most lovely thing God has given the world." – Christian Dior
"A flower is there to bloom and make the earth beautiful and full of the joy of life." – Debasish Mridha.
"Almost every person, from childhood, has been touched by the untamed beauty of wildflowers." – Lady Bird Johnson
"When a flower doesn't bloom, you fix the environment in which it grows, not the flower." – Alexander Den Heijer.
"Flowers don't worry about how they're going to bloom. They just open up and turn toward the light and that makes them beautiful." – Jim Carrey.
"If you look the right way, you can see that the whole world is a garden." – Frances Hodgson Burnett.
"Just living is not enough… one must have sunshine, freedom, and a little flower." – Hans Christian Andersen.
"Flowers have spoken to me more than I can tell in written words. They are the hieroglyphics of angels, loved by all men for the beauty of their character, though few can decipher even fragments of their meaning." – Lydia M. Child.
"Happiness held is the seed; happiness shared is the flower." – John Harrigan.
"Let us dance in the sun, wearing wildflowers in our hair." – Susan Polis Schutz.
"Every one of us has a beautiful story just like every flower is different but beautiful." – Debasish Mridha.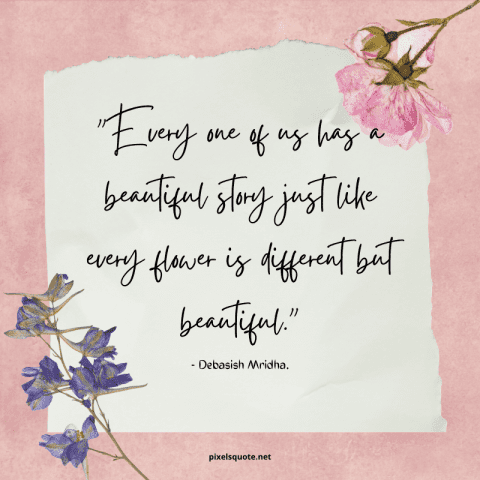 "I perhaps owe having become a painter to flowers." – Claude Monet
"The first wild-flower of the year is like land after sea." – Thomas Wentworth Higginson
"Flowers whisper "Beauty!" to the world, even as they fade, wilt, fall." – Dr. SunWolf
"I love being by myself, love being outdoors, love taking a long walk with my dogs and looking at the trees, flowers, the sky." – Audrey Hepburn
"The lotus flower is a reminder of the beauty that comes from change, the magic that a new beginning brings, and the seed of potential that's buried in the most unlikely places." – Jennifer Williamson
"The flower that blooms in adversity is the rarest and beautiful of all." – Mulan, Disney .
"I will be the gladdest thing under the sun! I will touch a hundred flowers and not pick one." – Edna St. Vincent Millay.
"Be like a lotus. Let the beauty of your heart speak. Be grateful to the mud, water, air and the light." – Amit Ray.
"It is only goodness which gives extras, and so I say again that we have much to hope from the flowers." – Arthur Conan Doyle.
"The career of flowers differs from ours only in inaudibleness. I feel more reverence as I grow for these mute creatures whose suspense or transport may surpass my own." – Emily Dickinson
"A flower's appeal is in its contradictions — so delicate in form yet strong in fragrance, so small in size yet big in beauty, so short in life yet long on effect." – Terri Guillemets
"To be overcome by the fragrance of flowers is a delectable form of defeat." – Beverly Nichols
"The bright flower was like a face. Somehow, the beauty and life of it were surprising in the plain room, like a gay little child who might suddenly appear in a doorway." – Sarah Orne Jewett, The Only Rose.
"Water Lilies' is an extension of my life. Without the water the lilies cannot live, as I am without art." – Claude Monet.
"'Tis my faith that every flower enjoys the air it breathes!" – William Wordsworth.
"I paint flowers, so they will not die." – Frida Kahlo.
More Cute Floral Quotes and Caption
"I love flowers, I'd love to have the whole place swimming in roses." – James Joyce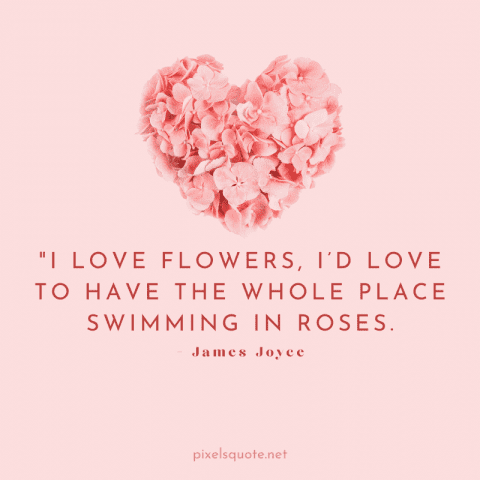 "Nobody sees a flower – really – it is so small it takes time – we haven't timed – and to see takes time, like to have a friend takes time." – Georgia O'Keeffe
"I am in awe of flowers. Not because of their colors, but because even though they have dirt in their roots, they still grow. They still bloom." – D. Antoinette Foy
"Gardens and flowers have a way of bringing people together, drawing them from their homes." – Clare Ansberry
"Flowers always make people better, happier, and more helpful; they are sunshine, food and medicine for the soul." – Luther Burbank
"Ideas are living creatures, active and activating, like flowers." – Henry Miller
"Without darkness, nothing comes to birth, As without light, nothing flowers." – May Sarton
"If you look the right way, you can see that the whole world is a garden." – Frances Hodgson Burnett
"If you love a flower which happens to be on a star, it is sweet at night to gaze at the sky. All the stars are a riot of flowers." – Antoine de Saint-Exupéry, The Little Prince
"If we could see the miracle of a single flower clearly our whole life would change." – Buddha
"I always like to have flowers on the table. I think they make it look special." – Ina Garten.
"A flower cannot blossom without sunshine, and man cannot live without love." – Max Muller.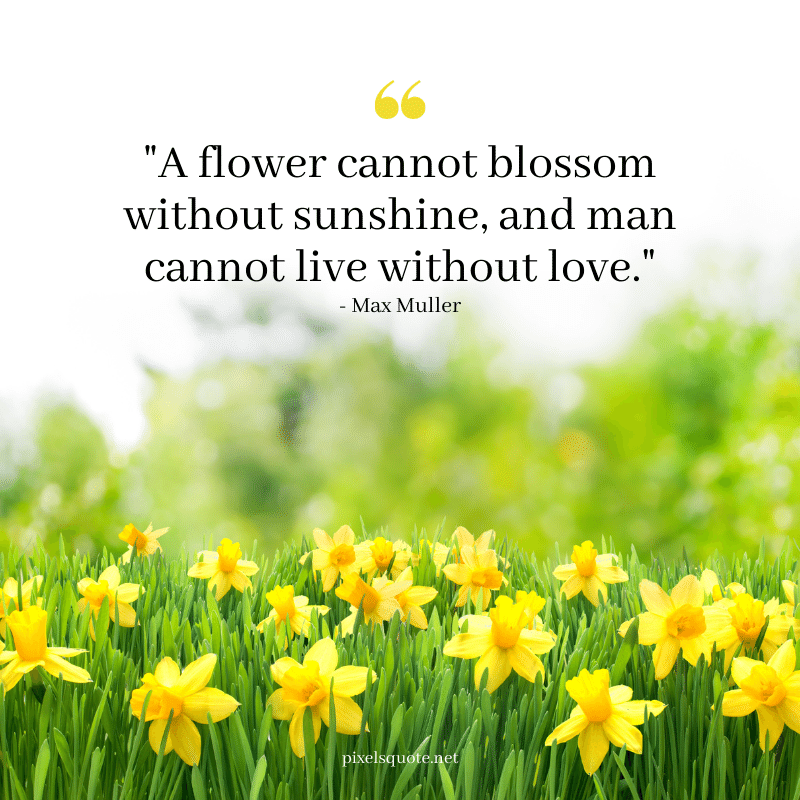 "How can one help to shiver with delight when one's hot fingers close around the stem of a live flower, cool from the shade and stiff with newborn vigor!" – Colette
"Can we conceive what humanity would be if it did not know the flowers? Maurice Maeterlinck
"The artist is the confidant of nature, flowers carry on dialogues with him through the graceful bending of their stems and the harmoniously tinted nuances of their blossoms. Every flower has a cordial word which nature directs towards him." – Auguste Rodin
"Flowers are those little colorful beacons of the sun from which we get sunshine when dark, somber skies blanket our thoughts." – Dodinsky.
"Flowers enshrine my heart between their petals; that's why my heartbeats love them so much." – Munia Khan
"What branch does not have its leaves and which twig will not have its flowers?" – Sorin Cerin
"Love is the flower you've got to let grow." – John Lennon
"Flowers were meant to give love and be loved." – Anthony T. Hincks
"At his lips' touch she blossomed for him like a flower and the incarnation was complete." – F. Scott Fitzgerald, The Great Gatsby
"Without you I wouldn't have moved this way, to speak the language of flowers." – Vladimir Nabokov, Letters to Vera
"Love speaks in flowers. Truth requires thorns." – Leigh Bardugo
"I love your roots, not the flower everybody sees!" – Akilnathan Logeswaran
Final thought about the beauty of flowers
Flowers hold the power to bring charm to even the dullest and mundane sceneries. Likewise, these flower quotes have it in them to bring joy and ecstasy to whoever reads them. These delicately carved natural beauties can leave everyone in awe and elation.
That is why many people regard flowers as the perfect gift to give to loved ones. Moreover, the happiness that the person who receives flowers as a gift is priceless. We hope that our sweet collection of flower quotes would stick with you. Indeed, it is a great way to celebrate special moments with your beloved one.
"Flowers always make people better, happier, and more helpful; they are sunshine, food, and medicine for the soul." – Luther Burbank.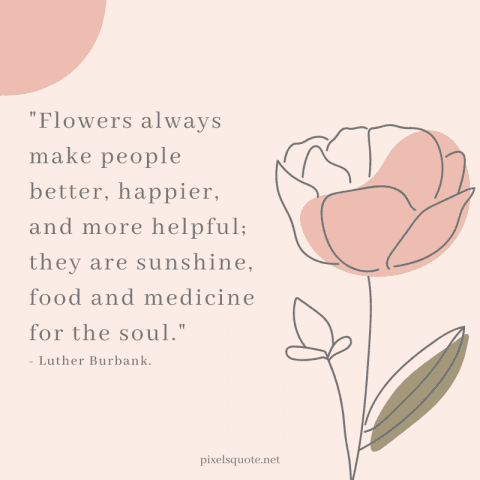 "If we could see the miracle of a single flower clearly our whole life would change." – Buddha
"Deep in their roots, all flowers keep the light." – Theodore Roethke
"So plant your own gardens and decorate your own soul, instead of waiting for someone to bring you flowers." – Jorge Luis Borges
"Little things seem nothing, but they give peace, like those meadow flowers which individually seem odorless but all together perfume the air." – Georges Bernanos
"Stretching his hand up to reach the stars, too often man forgets the flowers at his feet." – Jeremy Bentham
"A garden to walk in and immensity to dream in–what more could he ask? A few flowers at his feet and above him the stars." – Victor Hugo
"To create inner peace and harmony, meditate like a tree. To bloom like a flower, sing your song with silence and love." – Debasish Mridha
"What sunshine is to flowers, smiles are to humanity. These are but trifles, to be sure; but scattered along life's pathway, the good they do is inconceivable." – Joseph Addison
"Let us be certain of who we want to be. Let us choose for ourselves our path in life, and let us try to strew that path with flowers." – Émilie Du Châtelet
Did you enjoy these Flower quotes and sayings? Which of the quotes was your favorite? Tell us in the comment section below. We would love to hear all about it?