Nothing can be better than a sound sleep at night-time. Whenever you feel like relaxing your nerves, our peaceful sleep quotes have got you covered.
It is very important to channel a positive mindset before jumping into your dreams. Otherwise, you will surely have a hard time sleeping and wake up all naggy and grumpy.
Losing sleep over your problems is definitely not a good idea. So, make it a habit to go through our sweet good night quotes to steer the right vibe for your great sleep.
Having negative thoughts right before snoozing impacts your sleep quality to a considerable extent. Hence, you must imbibe positive belief before drowning in a lazy nap.
There are a ton of things that you can do such as reading a good book, aromatherapy, or even indulging in a wholesome movie session with your loved ones. Try these sleep quotes once and you'll know.
Peaceful Sleep Quotes for a Good Night
"The nicest thing for me is sleep. Then at least I can dream." – Marilyn Monroe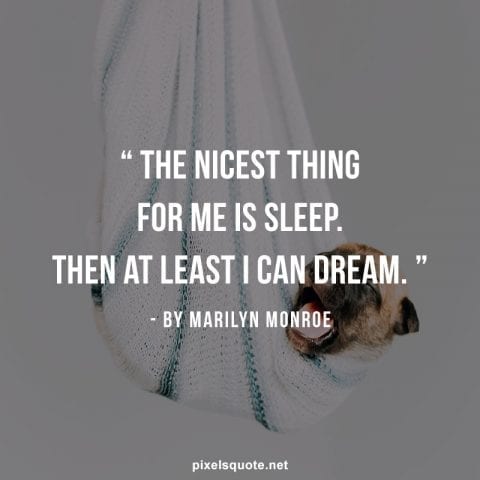 Marilyn Monroe is one of the most iconic figurines of the 1950s. Surely, she has given us a ton of memorable moments, of which this sleep quote is a great example. Dreams are the only place where we can be safely insane without anyone's interruption.
Indeed, our dreams are far more beautiful than reality. Naturally, anyone would prefer to sleep over everything else as sleep takes us a step closer to our dreamy land, where you can be whatever you want to be.
Read more: Inspirational Dream quotes.
"Your future depends on your dreams, so go to sleep." – Mesut Barazany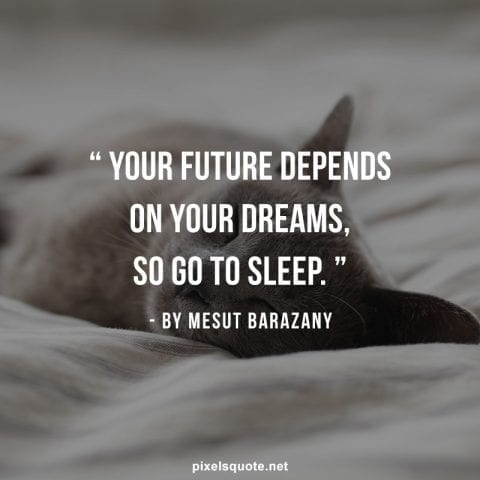 In our quest for success and fame, we tend to forget something that is a lot important to us. Enough rest. Our health is directly connected with our sleep patterns. Also, only a healthy body and mind can support you in achieving your dreams.
Keeping all things together, your future is highly associated with the fact if you are getting enough sleep or not. So, make sure you take a good dose of bedtime and wake up refreshed and motivated.
"I'm so good at sleeping that I can do it with my eyes closed."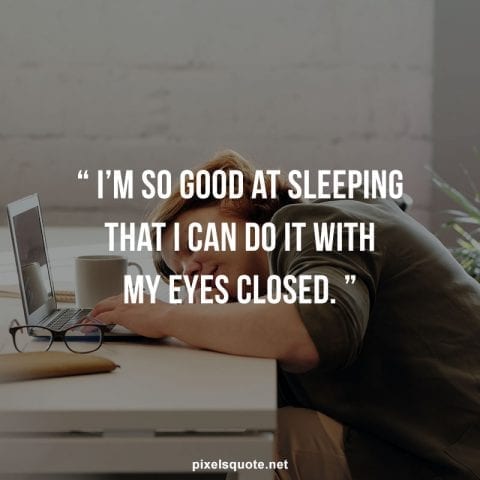 You might appreciate this sleep quote that harbors the capacity to put you to sleep with a smile. Surely, it is a boon to be good at something. But even if you don't have any such talent, you can still assure yourself that you're not good for nothing.
Sleeping is a therapy in itself and being good at it is second to none. Moreover, it requires no extra effort. All you need is to close your eyes and relax.
"I don't need a hairstylist; my pillow gives me a new hairstyle every morning."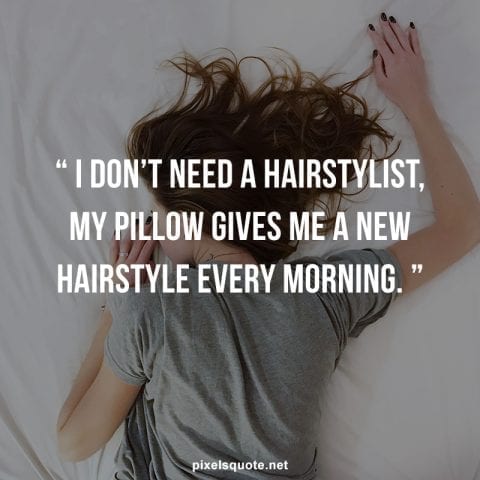 Who doesn't love to sleep as carefree as a child? A worriless sleep is surely very comforting and cozy. But it tangles your hair in such a way that you find yourself donning a new hairstyle every single morning.
As much as you adore your pillow, it is obvious to get petrified by what it would do to your hair. Although looking at the brighter side, it saves you the bucks you'd spend at the salon whipping up a new hairstyle.
"Some people can't sleep because they have insomnia. I can't sleep because I have internet."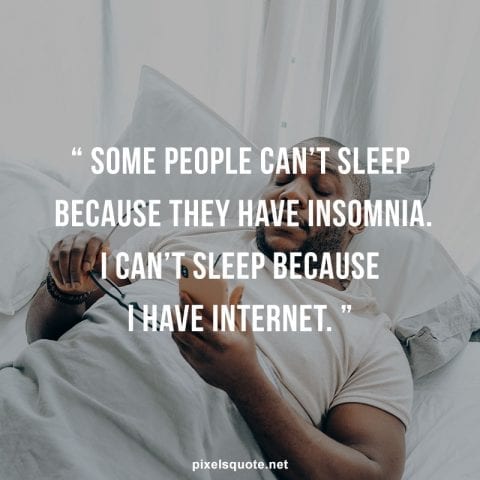 Sleep is very important to stimulate the connection of menfolk with the inner self. Insomnia can surely act as a barrier in allowing you to rejuvenate spiritually. But this sleep quote has come up with a more prominent reason for sleeplessness, which is the internet.
Hours of scrolling and late-night socializing definitely takes a toll on your health. It messes up your body cycle forcing you to spend hours tossing and turning on your bed, yearning for some rest.
Peaceful sleep well quotes
"The day is over, the night is here, know that I love you today and forever, my dear." – Catherine Pulsifer
"I wish for you a good night of sleep, sweet dreams, and a smiling morning." – Debasish Mridha
"Listen to the night sky; the mockingbird always sings you my lullaby." – Jmemo
"They say that God sprinkles his blessings upon the Earth every day and I think I've caught one—it's you! Wishing you a good night and I love you."
"I can't close my eyes without you in my dreams." – Luke Bryan
"Good night. May you fall asleep in the arms of a dream so beautiful you'll cry when you awake." – Michael Faudet
"Everything I do, I do it for you." – Bryan Adams
"Your hand touching mine… This is how galaxies collide." – Sanober Khan
"I wish I was there to hold you tight, instead of just sending you this loving 'good night.'"
"You'll be the last thing I think of before I fall asleep and the first thing I think of when I wake up." – A.G. Henley
"I miss you in waves, and tonight I am drowning." – Denice Envall.
"Sleep is the best meditation." – Dalai Lama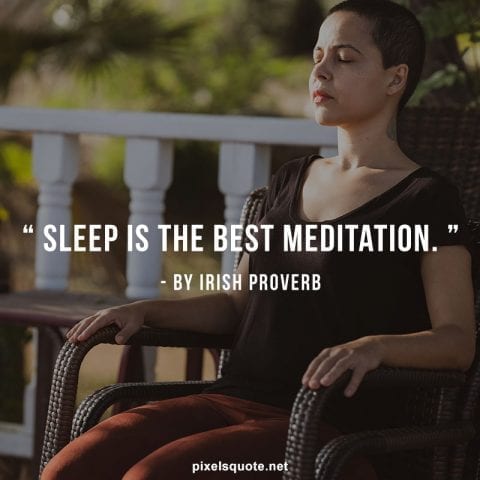 Sleep is awfully precious for calming your mind and body. Inducing a dark, cozy, and relaxed atmosphere for a nap is no less than a meditative practice. Moreover, loosening up your mind and body also helps to relieve stress and declutter all unwanted thoughts.
A sound sleep, free from any disruptions, helps you rest deeply and is undoubtedly, just as beneficial as a mindful meditation session. It helps release all the anxiety and mental fatigue that might bother you.
"Each day I wish that my dreams will come true. Then I remember that I am with you."
"Good night. May you fall asleep in the arms of a dream so beautiful you'll cry when you awake." – Michael Faudet
"I wish I was there to hold you tight, instead of just sending you this loving 'good night.'"
"Everything I do, I do it for you." – Bryan Adams
"Your hand touching mine… This is how galaxies collide." – Sanober Khan
"I can't close my eyes without you in my dreams." – Luke Bryan
"You'll be the last thing I think of before I fall asleep and the first thing I think of when I wake up." – A.G. Henley
"I miss you in waves, and tonight I am drowning." – Denice Envall
"Each day I wish that my dreams will come true. Then I remember that I am with you."
Our Dream Quotes will help you to have a peaceful sleep.
Sleep well quotes
"You make my days so colorful and the brightness your presence brings into my world is so awesome. Good night to you, my love!"
"Even though we are separated by the dark and lonely nights, the thoughts of you are always in my mind. Good night, sweetheart, and may your dreams be as cute as you are."
"When the night falls and darkness sets in, the thoughts of you brighten my world. Good night, dear. I wish you the most splendid of dreams."
"I can't just get enough of you, so I am taking you into my dreams. Good night, love."
"Good night to the man who fills my world with so much happiness, love, and fun! I hope your dreams are just as handsome as you are."
"Good night, dearest daughter/son. Sleep tight and remember that mummy/daddy is proud of you."
"I am happy to sing you lovely lullabies while watching you gently close your cute little eyes as you slumber and have nice dreams. Good night."
"I pray that the guardian angels will watch over you as you sleep. I love you so much, my sweet child."
"Every moment spent with you is indeed a magical one for me. Good night and sleep soundly, my little angel!"
"Good night, my little child! It is my greatest wish that you enjoy your sleep soundly and have the sweetest dreams."
"Anytime I watch you as you gently fall asleep, I thank the Lord for giving you to me. Sweet dreams, my little prince!"
"A good laugh and a long sleep are the best cures in the doctor's book." – Irish Proverb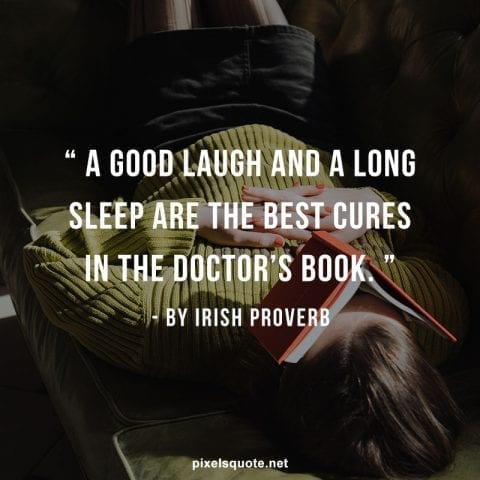 A heartfelt laugh can help a person forget all his woes and start making the most of the moment that he is living in. Likewise, a long and peaceful sleep energizes you deep down and makes you feel content and indulged in the happiness that the world has to offer.
A hearty laugh and a good sleep are the best therapies that anyone can make use of. Surely, no doctor can cure your ailment better the way you're being happy can.
"The feeling is spectacular and startling each time I go to bed knowing that you are mine and I am yours. Good night, baby. Hope you have marvelous dreams."
"Babe, you are the source of true joy and ecstasy in my world. I wish you pleasant dreams as you sleep soundly. Love you."
"Good night to the loveliest and cutest treasure in my world. I hope you go to bed and sleep tight knowing that I will love you more and more each day."
"Spending the whole day with you seems like only a minute and spending the night without you seems like being without you forever. Good night, handsome!"
"You are the only one who brings laughter and joy into my world. Good night, my dear, and have a restful sleep."
"Sweetheart, the mere thought of you alone makes me have heavenly dreams. Wishing you a good and a restful night!"
"Every night, before I go to bed, I say a special prayer to the Lord to guide and protect you so that you can bring more sunshine into my world each morning. Good night, my darling angel."
"Sweetheart, my night is perfect and complete whenever I know you are the last person I have spoken to before falling asleep. Good night and enjoy a peaceful rest."
"I can't stop thanking you for making my good times much better and my hard times a lot easier for me. May your rest this night invigorate you for a fresher tomorrow. Good night, sweetheart."
"You are always in my head, and I don't want to ever get you out of it. Good night, and have a restful sleep, pretty angel."
"You are never out of my mind because you are the last thing I think of before going to bed and the first thing on my mind once I am awake. Good night, dearest wife."
"From the bottom of my heart, I want to thank you for making my life such a splendid one. Good night, my darling."
"Ending the day with a very positive thought brings so much hope for a brighter tomorrow. Have a sound and peaceful sleep, my love!"
"Hey, cute little one! I just wanted to wish you a good night and a sound sleep. Hope to see you much stronger and bigger tomorrow."
"Sweetie, it is so surprising that my love for you increases by the day, and each night I can't wait to see your cute little face the next day."
Also, read our Best Night Quotes and Sayings for your sleep well.
Sleep tight quotes
"Sleep tight and wake up fresh and bright with the brightness that the morning brings."
"When the sun is no more visible and the moon and the stars begin to shine so brightly, then it is time to say good night. Sleep tight, my little child."
"I will like to use every opportunity I get to let you know how much value you add to my life. Good night and sleep tight, girl!"
"Good night, sleep tight. Now the sun turns out his light. Good night, sleep tight, dream sweet dreams for me, dream sweet dreams for you." – The Beatles, Rock Band
"Good night, dear! Just to remind you, you are the greatest gift that life has given me. I cherish you so much. Sleep tight!"
"There is no sunrise so beautiful that it is worth waking me up to see it." – Mindy Kaling
"I always say 'morning' instead of 'good morning,' because if it was a good morning, I'd still be asleep."
"Don't give up on your dreams so soon, sleep longer."
"A day without a nap is like a cupcake without frosting." – Terri Guillemets
"Good night, my Prince Charming. I want you to know that you are always on my mind, and even in my dreams. Sleep tight, dear!"
"When I'm at work I can fall asleep instantly, but when I'm in my bed I can hardly fall asleep."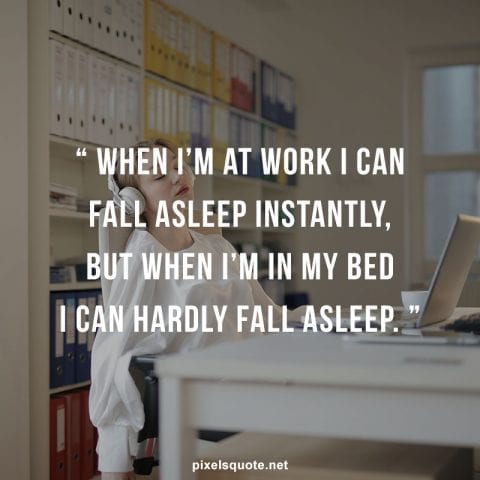 Naptime is the happiest hour of the day. But most people find it hard to drown in a peaceful sleep during nighttime. On the other hand, when they actually have to work, sleep encompasses them and restrains them from keeping their eyes and minds open.
Surely, you may find this sleep quote a lot relatable as it is a day-to-day phenomenon that people witness quite a lot. Boredom from work surely is very effective in triggering a tight sleep.
More text quotes about sleep you may like
"Sleep is my lover now, my forgetting, my opiate, my oblivion." – Audrey Niffenegger, The Time Traveler's Wife
"I love you, in that place between coffee and sleep." – Atticus, The Dark Between Stars
"I walked with you, once upon a dream." – Anne Rice and Charles Perrault, Sleeping Beauty
"I think sleeping was my problem in school. If the school had started at four in the afternoon, I'd be a college graduate today." – George Foreman
"I don't feel old. I don't feel anything till noon. That's when it's time for my nap." – Bob Hope
"No wonder Sleeping Beauty looked so good…she took long naps, never got old, and didn't have to do anything but snore to get her Prince Charming." – Olive Green
"I love to sleep. Do you? Isn't it great? It really is the best of both worlds. You get to be alive and unconscious." – Rita Rudner
"Your eyes water when you yawn because you miss your bed and it makes you sad."
"Happiness is waking up, looking at the clock and finding that you still have two hours left to sleep." – Charles M. Schulz
"Don't fight with the pillow, but lay down your head, and kick every worriment out of the bed." – Elie Wiesel
"Legend says that when you can't sleep, it's because you're awake in someone's dream. So if everyone could stop dreaming about me, that would be great."
"Sleep is the most innocent creature there is and a sleepless man the most guilty." – Franz Kafka
"The last refuge of the insomniac is a sense of superiority to the sleeping world." – Leonard Cohen
"The worst thing in the world is to try to sleep and not to." – F. Scott Fitzgerald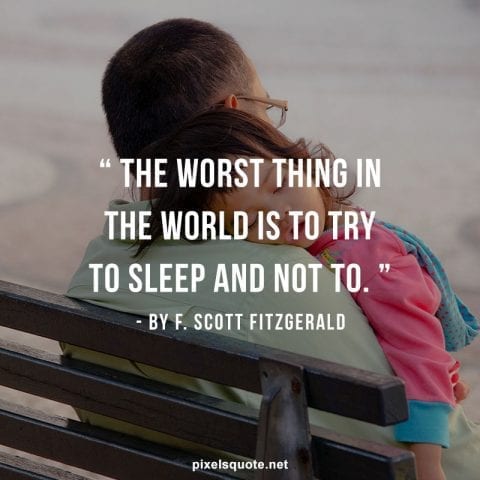 Insomnia can get really nerve-wracking for people who crave to get that good night's sleep. Indeed, it can be very irritating and troublesome to not being able to get rest while you're actually trying to get some.
Undoubtedly, the worst feeling is when you want to relax after having a tough day and you don't get that. Moreover, trying to kill time worsens the situation. Neither you are able to rest nor you can work because of the lethargy.
"Me: Please let me sleep! Brain: Nope, we have to stay up together and go over every bad life decision we have made so far."
"If a man had as many ideas during the day as he does when he has insomnia, he'd make a fortune." – Griff Niblack
"Why can I never go back to bed? Whose is the voice ringing in my head? Where is the sense in these desperate dreams? Why should I wake when I'm half past dead?" – Emilie Autumn
"Not being able to sleep is terrible. You have the misery of having partied all night… without the satisfaction." – Lynn Johnston
"If you can't sleep, then get up and do something instead of lying there worrying. It's the worry that gets you, not the lack of sleep." – Dale Carnegie
"I tried counting sheep so I can fall asleep but that got boring, so I started talking to the shepherd instead."
"The only time I have problems is when I sleep." – Tupac Shakur
"Many things — such as loving, going to sleep, or behaving unaffectedly — are done worst when we try hardest to do them." – S. Lewis
"Each night, when I go to sleep, I die. And the next morning, when I wake up, I'm reborn." – Mahatma Gandhi
"Yea, all things live forever, though at times they sleep and are forgotten." – Rider Haggard
"There is more refreshment and stimulation in a nap, even of the briefest, than in all the alcohol ever distilled."
"Even a soul submerged in sleep is hard at work and helps make something of the world." – Heraclitus
"Let her sleep, for when she wakes, she will shake the world." – Napoleon Bonaparte, French Military Leader
"Dreaming permits each and every one of us to be quietly and safely insane every night of our lives." – William Charles Dement, American Author.
"Laugh and the world laughs with you, snore and you sleep alone." – Anthony Burgess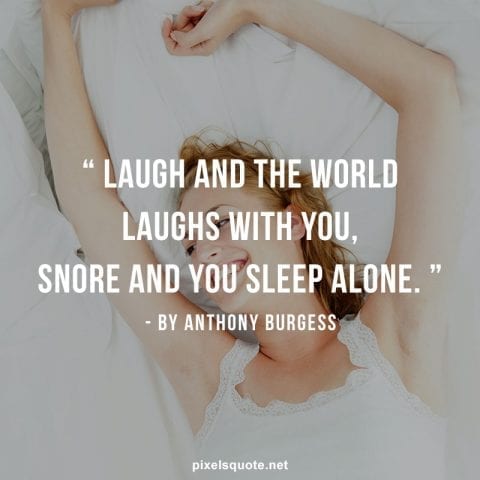 Surely, this quote by Anthony Burgess would have reminded you of all the embarrassing times when you had to sleep alone because of your snoring. Although it is not possible for a snorer to control his snoring, it can become a huge hindrance in maintaining your relationships.
Still, if your partner stays by your side no matter how problematic your snoring is for them, then they would definitely too deep in love with you. It's best to never let such people go.
"Three meals plus bedtime make four sure blessings each day." – Mason Cooley, American Aphorist
"True silence is the rest of the mind and is to the spirit what sleep is to the body, nourishment and refreshment." – William Penn
"Before you sleep, read something that is exquisite, and worth remembering." – Desiderius Erasmus
"When you wake up with a song stuck in your head, it means an angel sang you to sleep." – Denise Baer, Author
"In dreams, we enter a world that's entirely our own. Let them swim in the deepest ocean or glide over the highest cloud." – K. Rowling, Harry Potter and The Prisoner of Azkaban
"Goodnight — may you fall asleep in the arms of a dream, so beautiful, you'll cry when you awake." – Michael Faudet
"Sleep is not on good terms with broken hearts. It will have nothing to do with them." – Christopher Pike, Author
"A dream is a wish your heart makes when you're fast asleep."
"Now cracks a noble heart. Good-night, sweet prince; And flights of angels sing thee to thy rest. " ― William Shakespeare
"Mother's arms are made of tenderness, and sweet sleep blesses the child who lies within." – Victor Hugo
"When my baby is sleeping that's when I think, 'Wow. I made that.'" – Maria Jose Ovalle
"People who say they sleep like a baby usually don't have one." – Leo J. Burke
"Little boys should never be put to sleep. They always wake up a day older." – M. Barrie
"They tell you that at his age, all they do is eat, sleep, and poop. And what I've learned is they can actually do all three at the same time. Who knew?" – Josh Duhamel, American Actor
"Having my baby fall asleep in my arms takes away all of my worries and stresses. A sense of complete and total peace comes over me." – Maria Jose Ovalle
"Babies smile in their sleep because they are listening to the whispers of angels."
"Hold her a little longer, rock her a little more, read her another story, you've only read her four. Let her sleep on your shoulder, rejoice in her happy smile, she is only a little girl, for such a little while."
"There was never a child so lovely but his mother was glad to get him to sleep." – Ralph Waldo Emerson, American Essayist
"Always kiss your children goodnight, even if they are already asleep." – Jackson Brown, Jr., American Author
"There are hard days in motherhood, but looking at your baby sleeping reminds you why it's all worth it." – Kara Ferwerda, Mommy blogger
"Sleep, baby, sleep. The father's watching the sheep. Thy mother's shaking the dreamland tree, and down drops a little dream for thee." – Elizabeth Prentiss
"Watching a baby sleeping is perhaps the only thing more comfortable than sleep itself." – Atmaja Bandyopadhyay, Writer
"The only thing worth stealing is a kiss from a sleeping child." – Joe Houldsworth
Sleep quotes short
"Who said nights were for sleep?" – Marilyn Monroe
"A ruffled mind makes a restless pillow." – Charlotte Brontë
"You miss 100% of the naps you don't take."
"I already want to take a nap tomorrow."
"Happiness is a sleeping baby."
"Never go to bed mad. Stay up and fight." – Phyllis Diller
"I think it is good that books still exist, but they do make me sleepy." – Frank Zappa
"When the going gets tough, the tough take a nap." – Tom Hodgkinson
"No civilized person goes to bed the same day he gets up." – Richard Harding Davis
"I love sleep. My life has the tendency to fall apart when I'm awake, you know?" – Ernest Hemingway
"Sleep is like a cat: It only comes to you if you ignore it." -— Gillian Flynn
"No day is so bad it can't be fixed with a nap." – Carrie Snow
"Early to rise, early to bed, makes a man healthy, wealthy, and dead." – James Thurber
"I want to sleep but my brain won't stop talking to itself."
"We are such stuff as dreams are made on." – William Shakespeare
"You're my favorite reason to lose sleep."
"Man is a genius when he is dreaming." – Akira Kurosawa
"A well-spent day brings happy sleep." – Leonardo da Vinci
"Man should forget his anger before he lies down to sleep." – Mahatma Gandhi
"Happiness consists of getting enough sleep. Just that, nothing more." – Robert A. Heinlein
"The best bridge between despair and hope is a good night's sleep." – Joseph Cossman
"Dear sleep, I'm sorry we broke up this morning. I want you back!"
"There is a time for many words, and there is also a time for sleep." – Homer, Author
"Sleep is the golden chain that ties health and our bodies together." – Thomas Dekker
"Insomnia is a glamorous term for thoughts you forgot to have in the day." – Alain de Botton
"Without enough sleep, we all become tall two-year-olds." – JoJo Jensen
"Anything seems possible at night when the rest of the world has gone to sleep."— David Almond
"You can go to bed without fear; you will lie down and sleep soundly." – Proverbs
"If you're going to do something tonight that you'll be sorry for tomorrow morning, sleep late." – Henny Youngman
Final Thoughts
We hope you liked our sweet collection of sleep quotes. Nights indicate that the day has come to an end. Moreover, it is time to calm yourself and prepare for the coming day. Each day is filled with challenges and adequate rest must be ensured so that you can take all the obstacles by storm.
Surely, whoever you share these sleep quotes with would feel loved and adored. They would know that they are the last thought on your mind before a tight sleep. To make their upcoming day even special, you might want to skim through our good morning quotes, too!