In this post, the Pixels Quote blog would like to send you some interesting and meaningful cherry blossom quotes.
Referring to the flowers that make up the flavor of Japan, of course, you will think of Cherry Blossom. As a flower symbol for spring in the land of the Rising Sun, the soft, smooth pale roses fluttering in the wind, always stirring people's hearts every New Year, would be a meaningful choice, especially special for your home.
The beautiful fragile cherry blossom petals are more beautiful each time they fall, they have a lot of meaning, they have many beautiful stories in them.
In Spring there are cherry blossoms and in Summer there are sunflowers. There are as many good quotes about Sunflowers as there are good quotes about Cherry blossom that you should not ignore.
Read more: Spring quotes to enjoy this lovely season of the year more.
Beautiful Cherry Blossom Quotes (And Images)
"Cherry blossoms were as much an inspiration for beautiful verse as they were a reminder of life's fickleness." – Alice Poon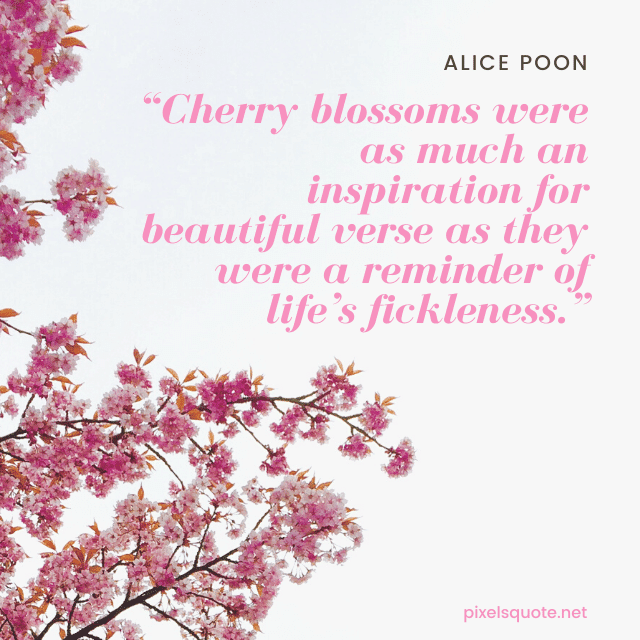 "Cherry blossoms are explored as symbols in Japanese art and artifacts, and in images of Japonism found in Western art" – Ann McClellan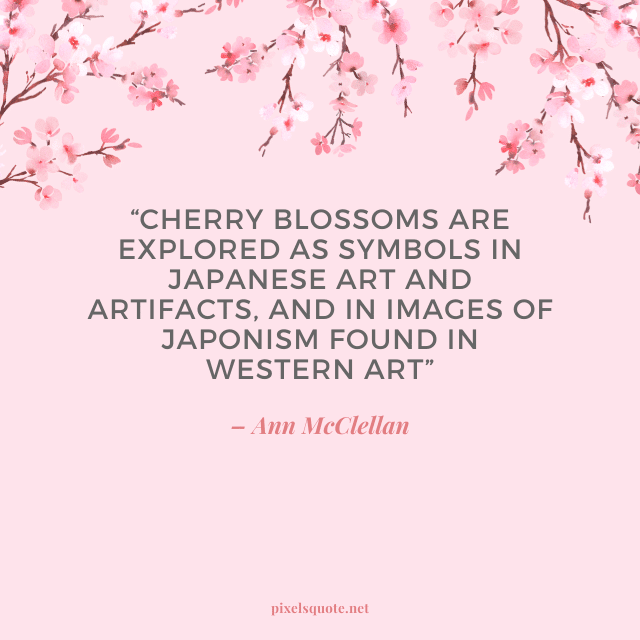 "If I were asked to explain the Japanese spirit, I would say it is wild cherry blossoms glowing in the morning sun!" – Motoori Norinaga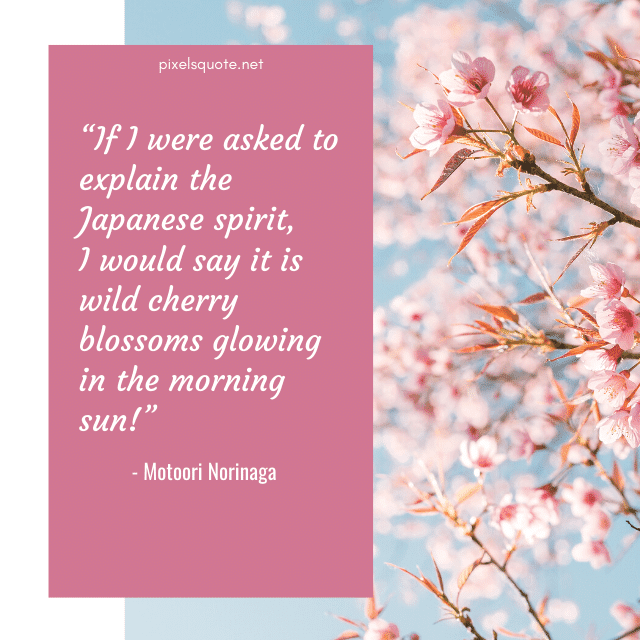 "If there were no cherry blossoms in this world. How much more tranquil our hearts would be in spring." – Ariwara no Narihira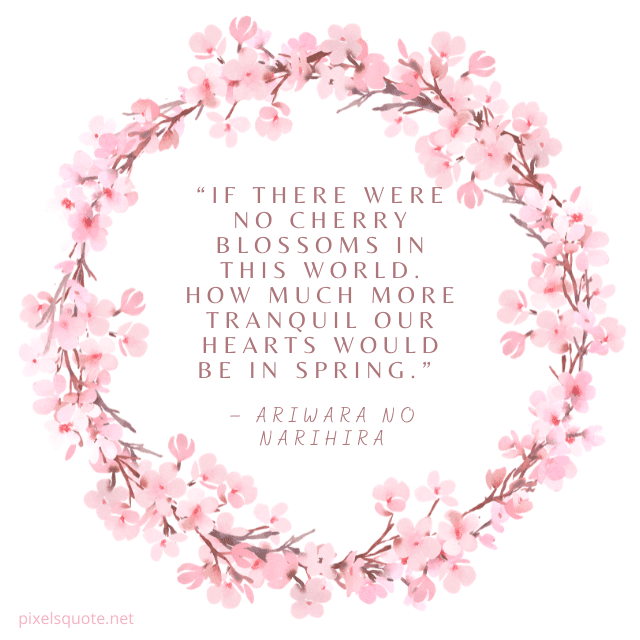 "In the cherry blossom's shade there's no such thing as a stranger." – Kobayashi Issa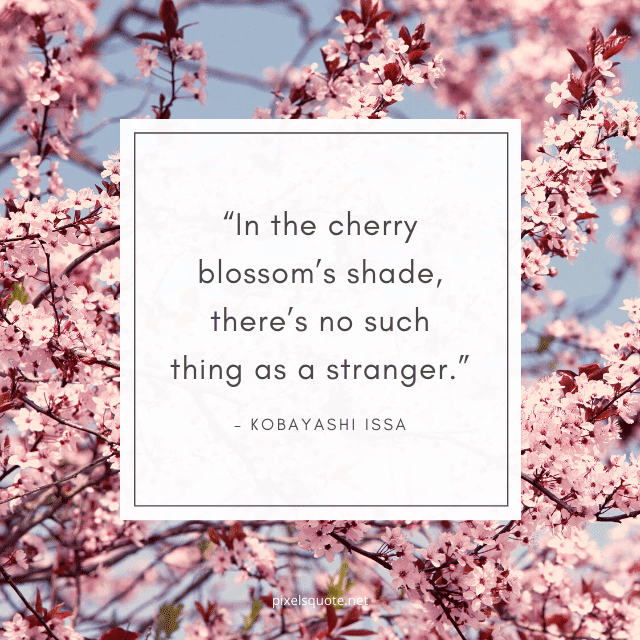 "It is true, as they say, that the blossoms of spring are all the more precious because they bloom so briefly." – Murasaki Shikibu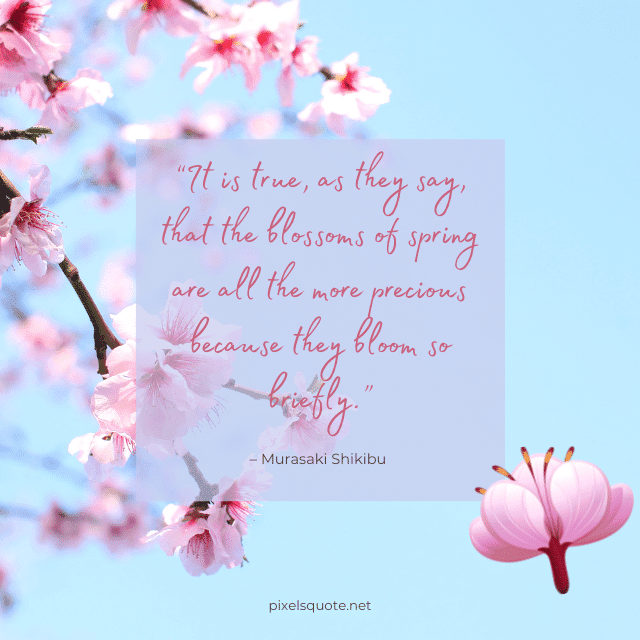 "The significance of the cherry blossom tree in Japanese culture goes back hundreds of years. In their country, the cherry blossom represents the fragility and the beauty of life. It's a reminder that life is almost overwhelmingly beautiful but that it is also tragically short." – Homaro Cantu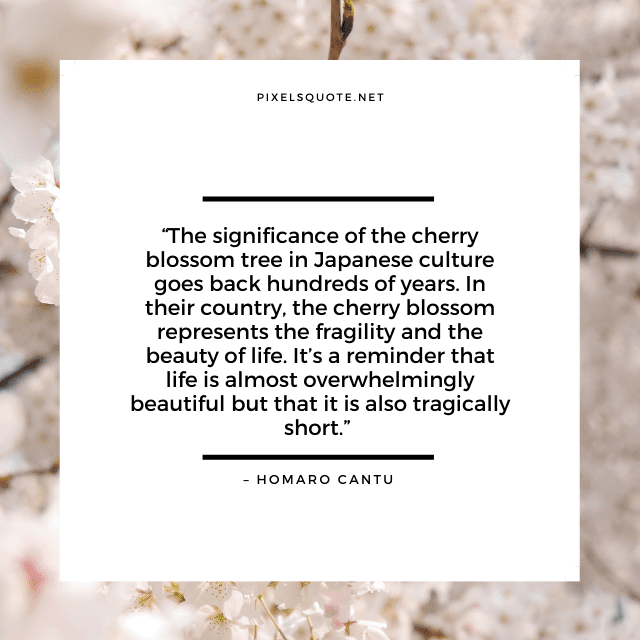 "As the cherry blossoms bloom, festive picnics called hanami usher in the spring with elaborate spreads of miso salmon, mountain vegetables, colorful bento, and fresh mochi turned pink with sakura petals." – Matt Goulding
"Due to their short bloom time, Sakura blossoms are a metaphor for life itself: beautiful yet fleeting. You'll realize when you're as old as me to hang on to the good times because they won't last forever" – Shannon Mullen
"Cherry blossoms on the tree; Their scent of sweetness is divine." – Linda Winchell"
"Double cherry blossoms; Flutter in the wind; One petal after another." – Masaoka Shiki
"I want to do to you what spring does with the cherry trees." – Pablo Neruda
"Loveliest of trees, the cherry now. Is hung with bloom along the bough." – A. E. Housman
"Due to their short bloom time, Sakura blossoms are a metaphor for life itself: beautiful yet fleeting. You'll realize when you're as old as me to hang on to the good times because they won't last forever." – Shannon M. Mullen
"I have a pretty good memory, but memories are time beings, too, like cherry blossoms or ginkgo leaves; for a while they are beautiful, and then they fade and die." – Ruth Ozeki.
"There is much to be said for cherry blossoms, but they seem so flighty. They are so quick to run off and leave you." – Murasaki Shikibu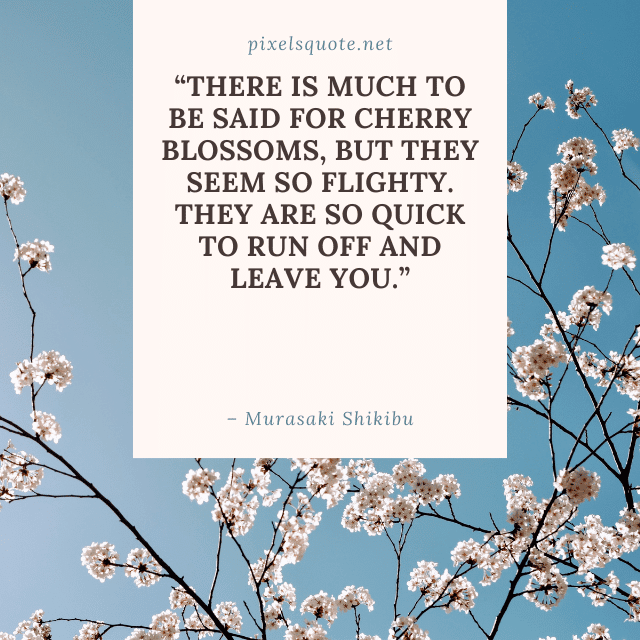 "The cherry blossom tree is truly a sight to behold, especially when it is in full riotous bloom. There are several varieties of the cherry blossom tree, and while most of them produce flowering branches full of small pinkish-hued flowers, some of them produce actual cherries." – Homaro Cantu
"White Cherry Blossom; Behold the joy of spring; As white cherry blossom blooms; For it will be over soon." – Christopher Tye
"These exuberant festivals celebrate the ethereal and glorious springtime blooming of the ancient cherry blossom tree and its role today as an instrument of diplomacy, landscape enhancement and eternal sign of spring and romance" – Ann McClellan
"We celebrate the cherry tree not for its efficiency but for its effectiveness – and for its beauty. Its materials are in constant flow, and all those thousands of useless cherry blossoms look gorgeous. Then they fall to the ground and become soil again, so there's no problem." – William McDonough
"The notion is called wabi-sabi life, like the cherry blossom, it is beautiful because of its impermanence, not in spite of it, more exquisite for the inevitability of loss." – Peggy Orenstein
"The Japanese school year begins in spring. So mothers can send off their children as cherry blossoms fall from the branches." – Cathy Davidson
"O that I had sleeve enough to cover the wide sky! No wind should then take the flowers that blossom in spring." – Murasaki Shikibu
"Let us find inner freedom in each lucky moment that we encounter, like a sun-basking butterfly that finds peace on a cherry blossom petal." – Erik Pevernagie.
"Yes, the cherry trees put this truth very plainly: none of the glory of blossoms and autumn leaves lasts long in this fleeting world." – Murasaki Shikibu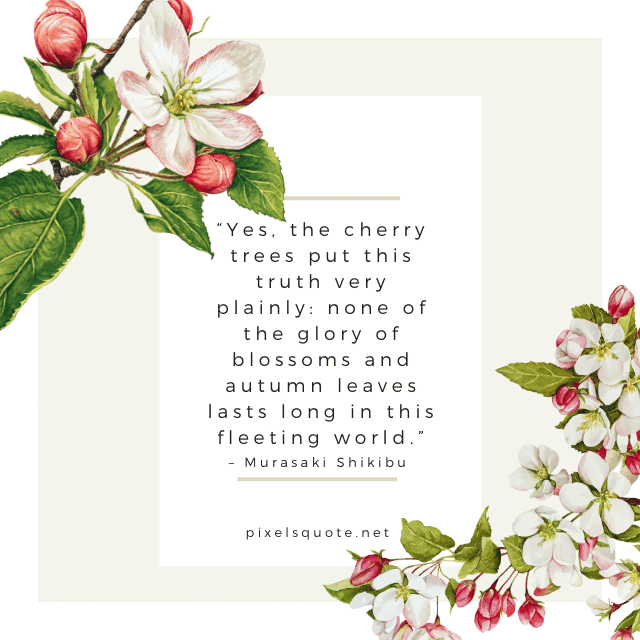 "From all these trees, in the salads, the soup, everywhere, cherry blossoms fall." – Matsuo Bashō
"Donated by Japan, cherry blossoms grace the paths where a wall once stood in Berlin. Walls divide. Flowers unite." – Khang Kijarro Nguyen
"Between our two lives there is also the life of the cherry blossom." –Matsuo Bashō
"A cherry tree was coming into bloom, shooting out a froth of sugar-pink blossoms. She could see from its size and the gnarled branches that it was a mature tree, yet still capable of putting on such a wonderful show. A new beginning every spring, even from an old tree." – Maggie Alderson
"Along the wide curving moat surrounding the palace, rows of cherry trees announced the end of their seasonal beauty. Some of the trees were weeping: blossoms in white and palest pink, ponderous with decrepitude, eddying on the brown water, stirred by the paddling of ducks." – John Burnham Schwartz.
"Look at the cherry blossoms! Their color and scent fall with them, Are gone forever, Yet mindless The spring comes again" – Ikkyu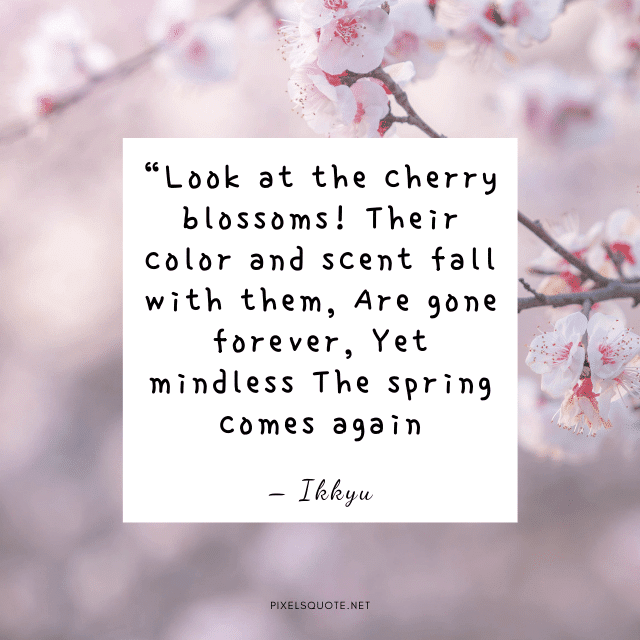 "Are we to look at cherry blossoms only in full bloom, the moon only when it is cloudless? To long for the moon while looking on the rain, to lower the blinds and be unaware of the passing of the spring – these are even more deeply moving. Branches about to blossom or gardens strewn with flowers are worthier of our admiration." – Yoshida Kenkō
"For in spite of the snapdragons and the duty millers and the cherry blossoms, it always wintered." – Janet Frame
"Look at the cherry blossoms! Their color and scent fall with them; Are gone forever; Yet mindless; The spring comes again." – Ikkyū
"On a moonlit night, after a snowfall, or under cherry blossoms, it adds to our pleasure if, while chatting at our ease, we bring forth the wine cups." – Yoshida Kenkō
"She made a figure so beautiful and so perfect in size that she seemed to perfume all the air around her and, to express it in terms of flowers, to put even cherry blossoms to shame." – Murasaki Shikibu
Do you have a favorite Sakura Cherry Blossom quotes you'd like to share and add to this list? Share it with us and use the comment section below! And if you like our collection of Flower love quotes, share it with friends and family on Facebook, Twitter, Pinterest, and more.