Tulip flowers are a symbol of eternal life, because this flower usually blooms in spring, the season of colorful life, dispelling the cold of the last days of winter.
Tulip flowers like to dispel bad luck, bring beauty and vitality, good luck, good omen for flower owners.
As a flower that looks weak on the outside but strong on the inside, assertive but equally gentle and graceful. The Tulip flower symbolizes fame, wealth, and perfect love.
So that, Tulip quotes below will definitely make your heart flutter.
Read more: Beautiful Spring quotes to understand and enjoy this lovely season of the year more.
Tulip quotes with beautiful images
"Tulips were a tray of jewels." – E.M. Forster.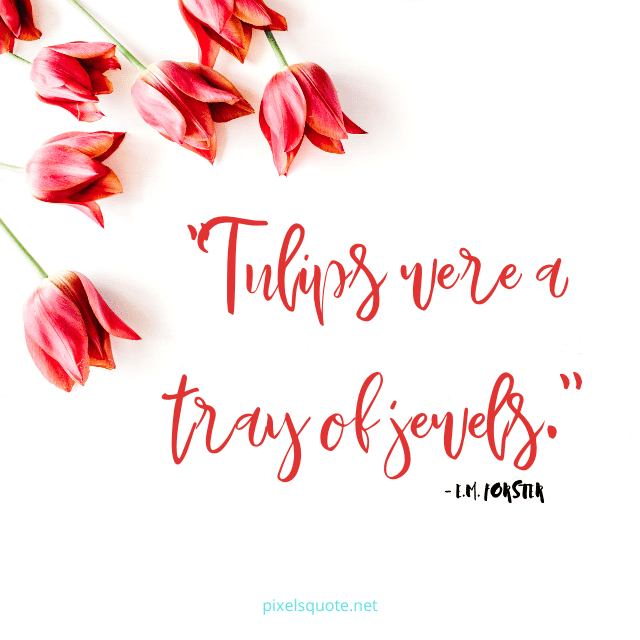 "Sweet scents red tulips, red tulips bring such happiness. Our hearts are full of pleasure." – Natasa Tocuc.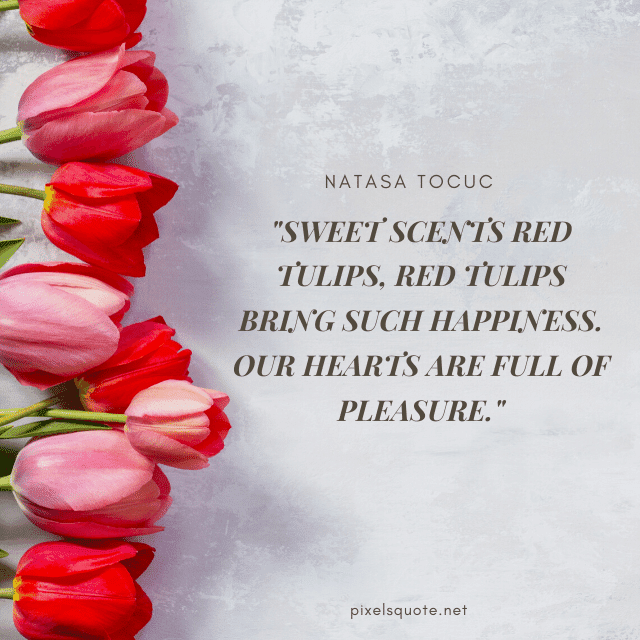 "I want to preserve your love in a field of Tulips safely living in it." – Fathima Shamla.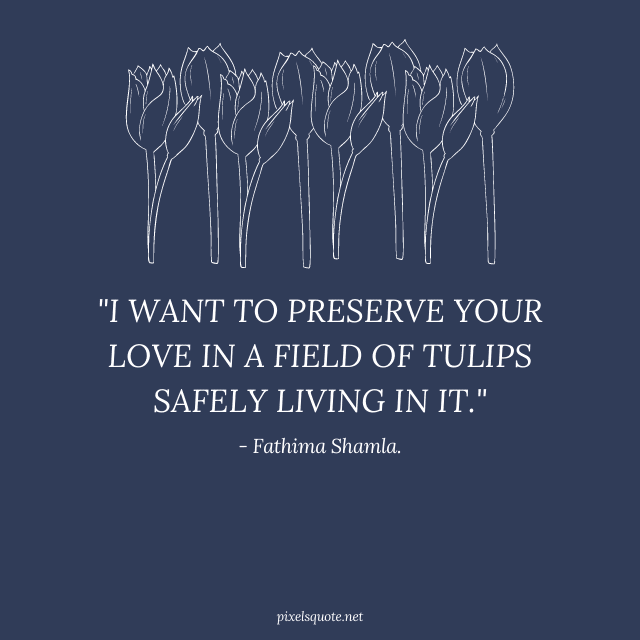 "If a purple tulip could talk she would say something calm, cool, and wise, without the flash of a soothing balm ." – Amelia Brown, 'A Poem of Encouragement'.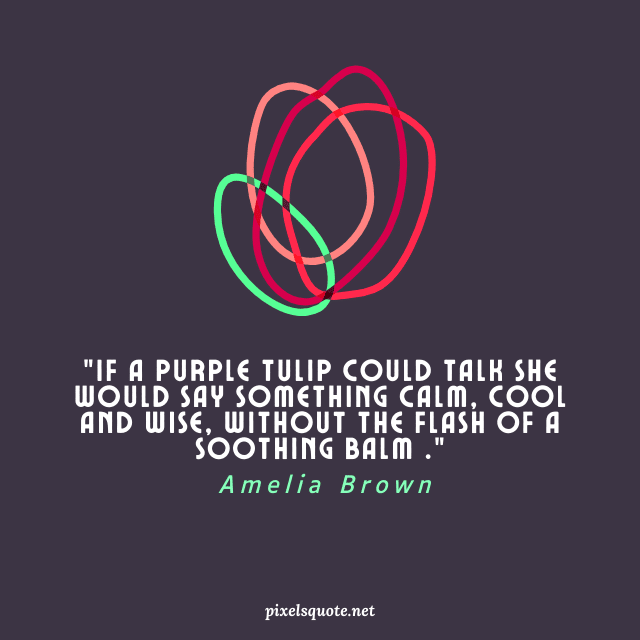 "And in the end, love tastes like Tulips having rain tea in a colored cup." – Fathima Shamla.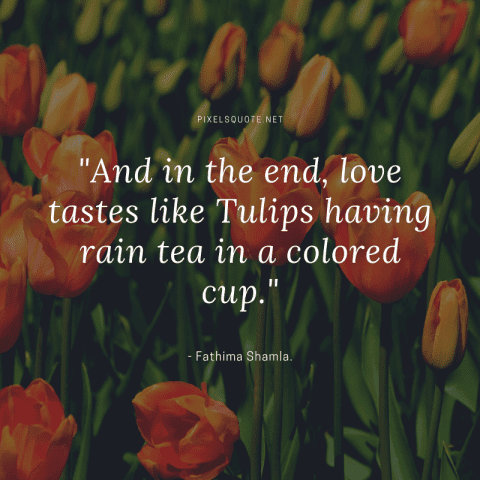 "A tulip doesn't strive to impress anyone. It doesn't struggle to be different than a rose. It doesn't have to. It is different. And there's room in the garden for every flower." – Marianne Williamson.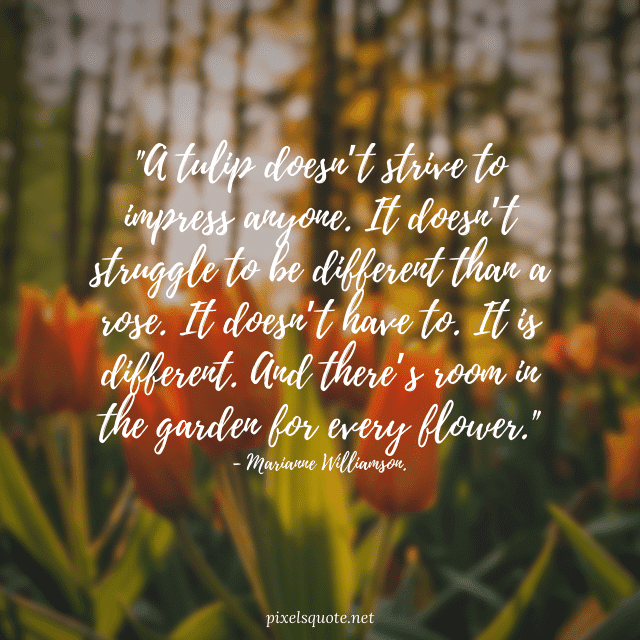 Tulip Love quotes
"She loved him the way one loves an old bridge or a wool sweater or the sound of a growing tulip." – Joseph Fink.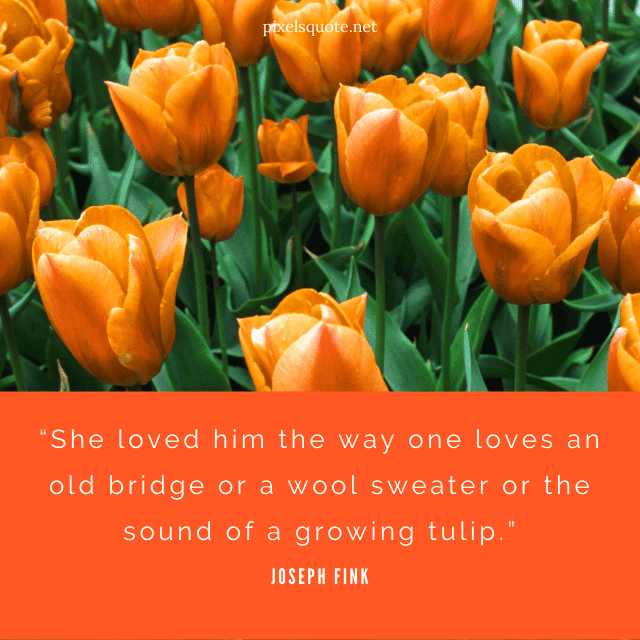 "In a flowerpot of love lives a beautiful tulip plant, and then was the passer by with words to attract it; for, it was just like a passing glance and the sense of love, and they were both attracted to each other." – Edward Kofi Louis.
"Like tulip-beds of different shape and dyes, bending beneath the invisible west-wind's sighs." – Thomas Moore
"He thought of the grammar of Gaelic, in which you did not say you were in love with someone, but that you "had love toward" her, as if it were a physical thing you could present and hold—a bundle of tulips, a golden ring, a parcel of tenderness." – Jodi Picoult, 'Mercy'.
"Flowers heal me. Tulips make me happy." – Rebecca Wells.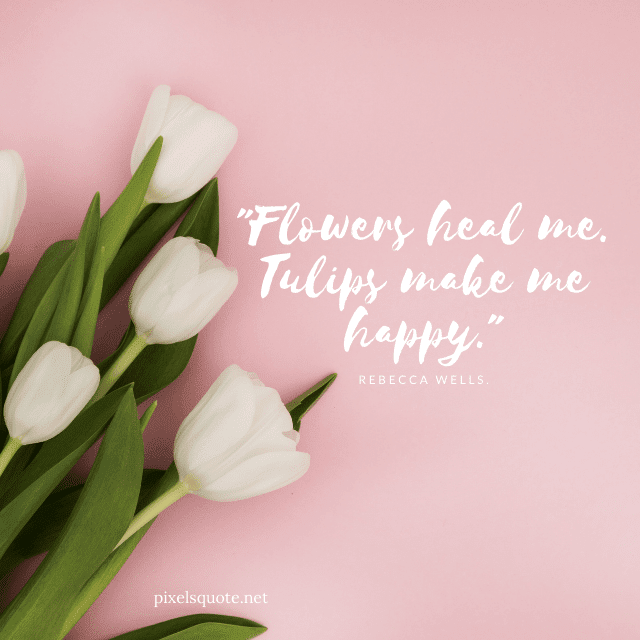 "All my tulips are white. She liked them red. I stained them with my blood and she came running for a hug. Every Tulip that blossomed since became hungry for my red. One day I ran out of my blood the next one that came flowered in white. That's the end of us." – Kalyan Reddy.
"Contempt for flowers is an offense against God. The lovelier the flower, the greater the offense in despising it. The tulip is the loveliest of all flowers. So whoever despised the tulip offends God immeasurably."- Alexandre Dumas.
"I think of the poetry of René Char and all he must have seen and suffered that has brought him to speak only of sedgy rivers, of daffodils and tulips whose roots they water, even to the free-flowing river that laves the rootlets of those sweet-scented flowers that people the milky way." – William Carlos Williams.
Tulip Flower Quotes
"Life isn't a tiptoe through the tulips." – Shannon Hoon.
"You believe In God, for your part? ay? that He who makes, can make good things from ill things, best from worst, As men plant tulips upon dunghills when they wish them finest."- Elizabeth Barrett Browning
"The oppressed martyrs of our culture have shed blood that nourishes the red tulips of our nation."
"Guarded within the old red wall's embrace, Marshalled like soldiers in gay company, The tulips stand arrayed. Here infantry wheels out into the sunlight." – Amy Lowell, 'A Tulip Garden'.
"Every flower is a soul blossoming in nature." – Gerard De Nerval.
"To plant a garden is to believe in tomorrow." – Audrey Hepburn.
You may like more quotes about Flowers, check them at 120 Flower Quotes bring Spring to freshen your day.
"A flower cannot blossom without sunshine, and man cannot live without love." – Max Muller.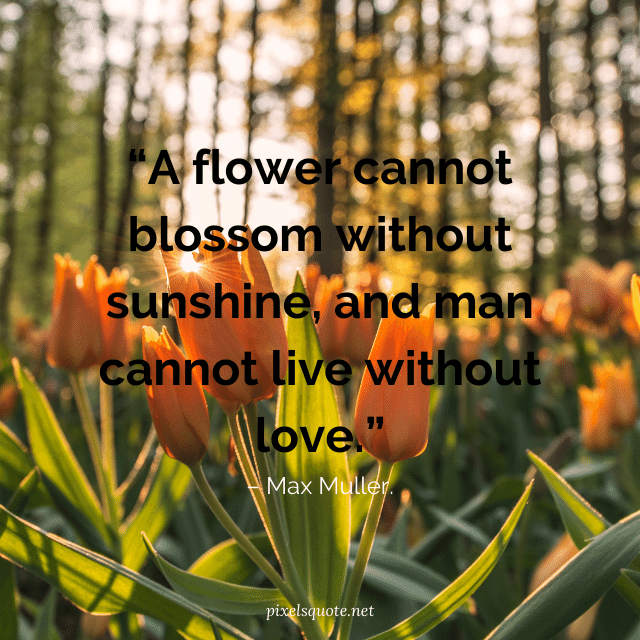 Sunflowers can not grow without sunshine like Tulips. Pixels Quote has also a list of Sunflower Quotes with beautiful images. Let's enjoy that collection.
"Love is the flower you've got to let grow." – John Lennon.
"Love is like a beautiful flower which I may not touch, but whose fragrance makes the garden a place of delight just the same." – Helen Keller.
"Life is the flower for which love is the honey." – Victor Hugo.
"Flowers always make people better, happier, and more helpful; they are sunshine, food, and medicine to the soul." – Luther Burbank.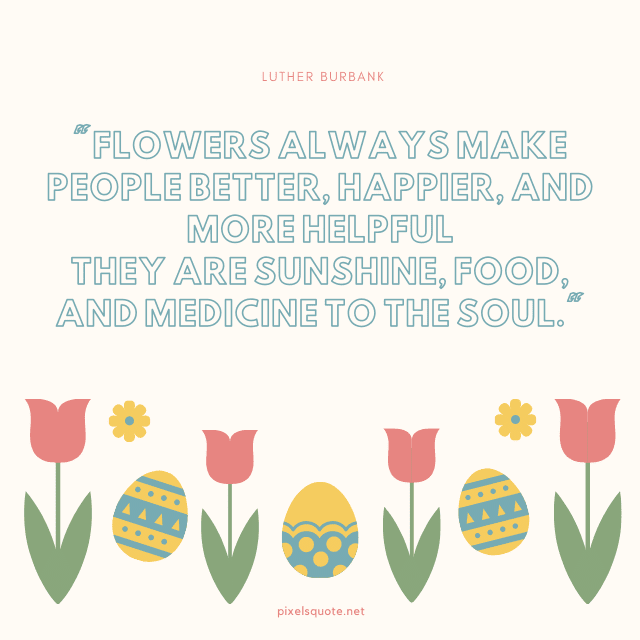 "If we could see the miracle of a single flower, clearly our whole life would change." – Buddha.
"Don't wait for someone to bring you flowers. Plant your own garden and decorate your own soul." – Veronica A. Shofstall.
"The Japanese say, if the flower is to be beautiful, it must be cultivated." – Lester Cole.
"Love speaks in flowers. Truth requires thorns." – Leigh Bardugo
"I love your roots, not the flower everybody sees!" – Akilnathan Logeswaran.
Did you enjoy these Tulip quotes and sayings? Which of the quotes was your favorite? Tell us in the comment section below. We would like to hear all about it.