Summer is coming, with all the fun, love and inspiration. Let's celebrate this period of time with some energetic and happy summer quotes.
There is an endless list of things to love about summer. Whether it is the sunshine, the holiday, or the liveliness you feel around you, summer is anticipated in many aspects.
Even when the summer comes to an end, its meaning and taste will still remain. The positive vibes from the summer quotes will help you enjoy this season more fully and happily.
Happy Summer Quotes
"It's summer and time for wandering…" – Kellie Elmore's.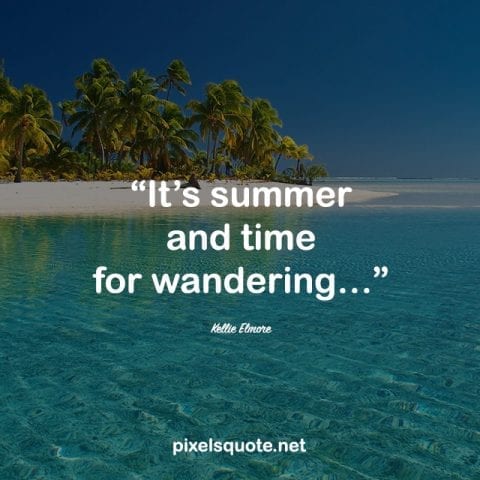 What does it mean to be summer? In this season, trees are growing, flowers are blooming and the world becomes more colorful.
When the day is longer, the schools are on holiday, you also have more time in your hand to discover new things.
Keep wandering and you will see many new aspects of this world that are hidden in other seasons.
Read more: Quotes for Season.
"One must maintain a little bit of summer, even in the middle of winter." – Henry David Thoreau's summer quotes.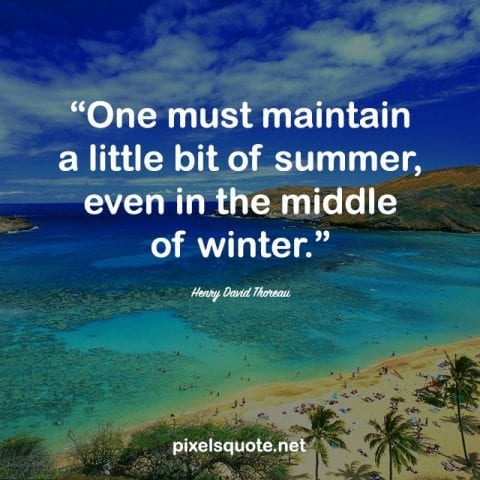 Summer quotes list out many wonderful features of summer: the sun, the weather, the growth.
They have an impact on our feelings, making us more lively and happy. We should always keep this happiness and love for life in our hearts, even when the summer ends.
Read more: Beautiful Sunset Quotes.
"Rejoice as summer should…chase away sorrows by living." – Melissa Marr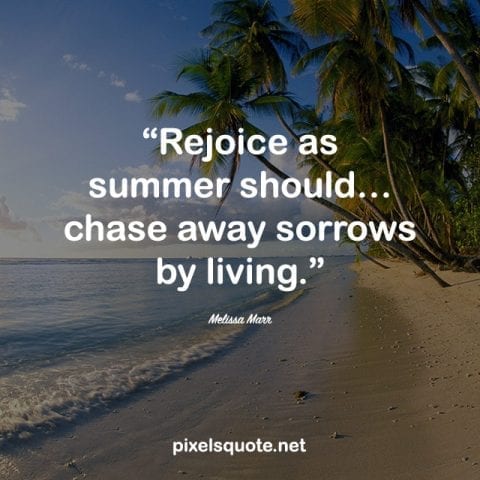 Life is full of unhappy moments. Things will not go as we want, and sometimes we have to suffer loss and sorrows.
Imagine how you enjoy the sunny summer days? That is exactly the key for you to face the sadness and obstacles in life.
Always turn your face to the sun, live to your fullest and be satisfied that you have done the best you can.
"Sun is shining. Weather is sweet. Make you wanna move your dancing feet." – Bob Marley's happy summer quote.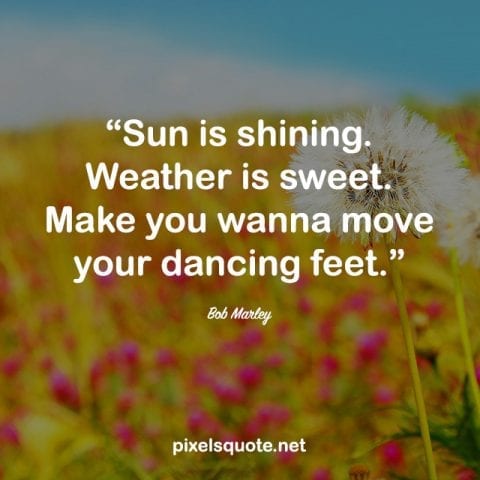 Summer comes with the sunshine. The whole world seems to become brighter.
The sun and the weather evoke your excitement and make you want to go outside.
Suddenly, you feel lively more than ever and want to experiment as many things as possible.
End Of Summer Quotes
"When the winter comes, the summer shines infinitely in our hearts!" – Mehmet Murat ildan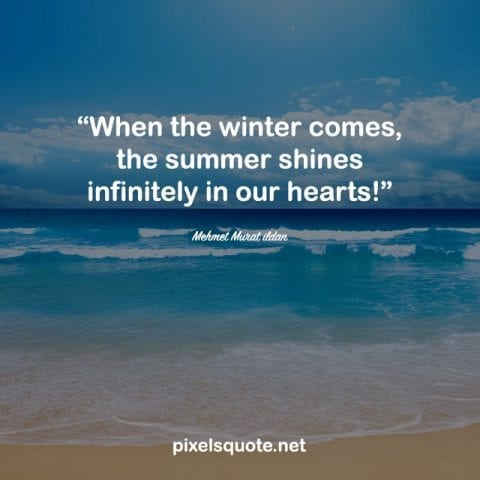 In contrast to the sunny and lively days of summer, winter days are gloomy and tiring. No matter how much we want summer to last forever, one day we will have to face the long winter.
So the most important thing is to keep the lightning and spirit of summer in our hearts to live happily during the year.
"The tans will fade but the memories will last forever."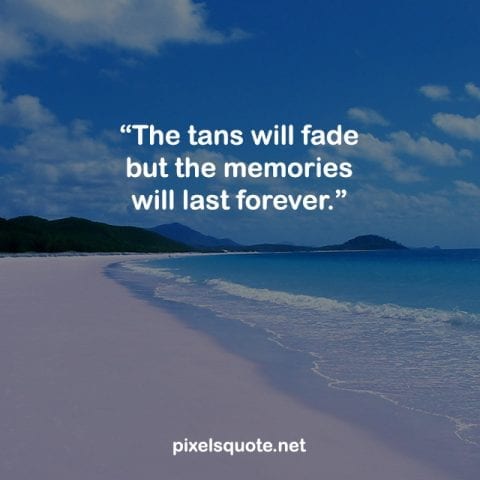 However long summer seems, it will one day come to an end. Days will get shorter, the light will get dimmer and all the traces of summer will vanish.
However, summer quotes ensure to us that even when every mark of summer has disappeared, the memories will last forever. We will always remember those fun and exciting days.
"Summer means happy times and good sunshine. It means going to the beach, going to Disneyland, having fun."- Brian Wilson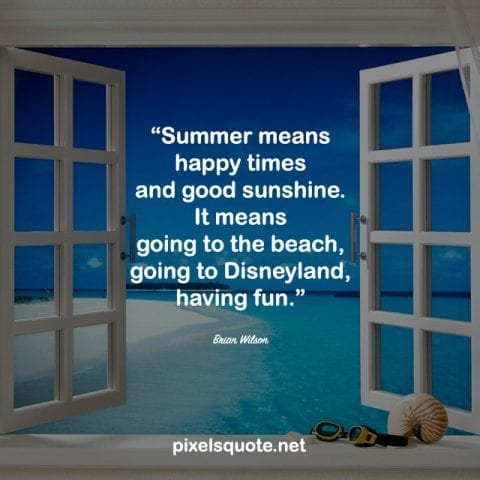 What does summer mean to you? The answers can vary but they all agree on one thing: summer is the time to be happy.
This season means going to holiday sites, having parties at the beach, visiting interesting places and enjoying all the fun.
You may like these Beach quotes.
"Summer: Hair gets lighter. Skin gets darker. Water gets warmer. Drinks get colder. Music gets louder. Nights get longer. Life gets better."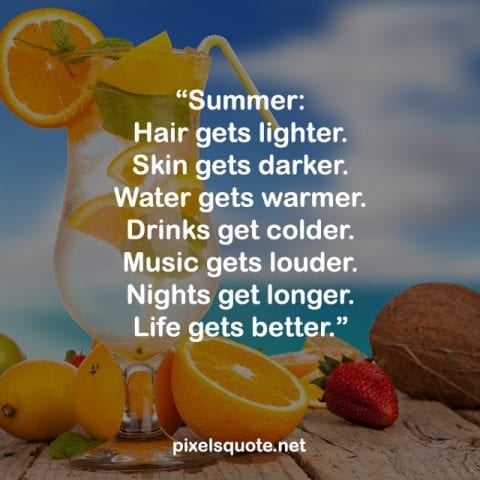 What changes come with the summer? Summer quotes suggest some of them: lighter hair, darker skin, louder music, longer nights.
It is time to throw yourself into parties and adventures. It is time to experiment and enjoy life with all of its glory.
The world becomes more wonderful and life is getting better.
Love quotes about summer
"I love how summer just wraps its arms around you like a warm blanket." – Kellie Elmore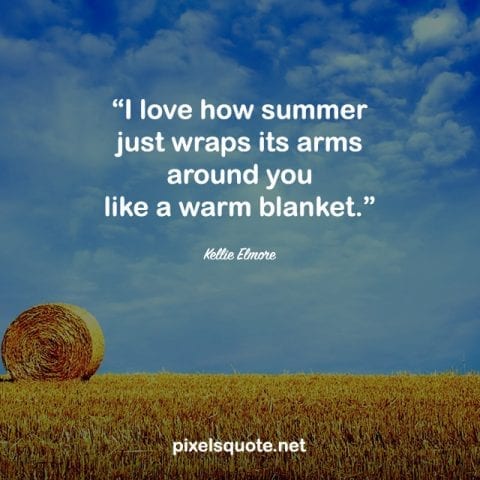 When it comes to summer, you can feel the season wrapping around you. You can feel the heat through your skin; you can hear lots of sounds and see lots of beautiful scenes.
Summer easily wraps its arms around you and you can feel it in your every breath.
"I love how summer just wraps its arms around you like a warm blanket." ― Kellie Elmore's quotes about summer.
"I could taste the salt on her lips, each kiss like a summer wave breaking on an empty beach." ― Michael Faudet
"Everything good, everything magical happens between the months of June and August."—Jenny Han
"I know I am but summer to your heart, and not the full four seasons of the year." ― Edna St. Vincent Millay
"Like a welcome summer rain, humor may suddenly cleanse and cool the earth, the air and you."- Langston Hughes
"A life without love is like a year without summer."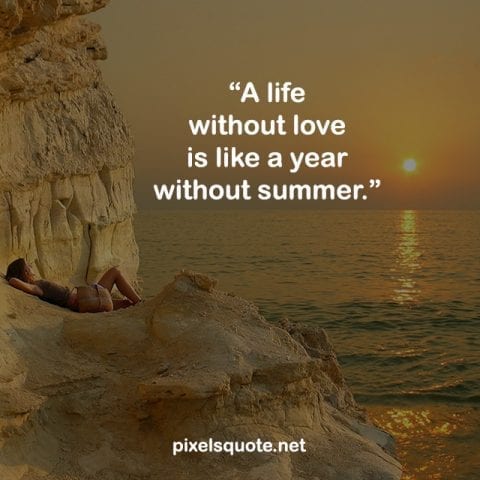 How would a life without love be? It would lack warmth, happiness, and excitement. That is exactly how a year without summer would be.
Without a season of sunshine, holidays and adventures, these 365 days would not be that diverse, excited and worth looking forward to.
"Nothing is more memorable than a smell. One scent can be unexpected, momentary and fleeting, yet conjure up a childhood summer beside a lake in the mountains."- Diane Ackerman
"Tears of joy are like the summer rain drops pierced by sunbeams."- Hosea Ballou
"Summer has filled her veins with light and her heart is washed with noon."- C. Day Lewis's quote.
"It was June, and the world smelled of roses. The sunshine was like powdered gold over the grassy hillside." ―Maud Hart Lovelace
Inspirational Quotes for Summertime
"There is no 'we' in summer. Only 'u' and 'me'."
"In summer, the song sings itself." – William Carlos Williams
"Salt in the air, sand in my hair." – The shortest summertime quotes.
"Yellow butterflies look like flowers flying through the warm summer air." – Andrea Willis
"It was a splendid summer morning and it seemed as if nothing could go wrong." – John Cheever
"If a June night could talk, it would probably boast it invented romance." – Bern Williams
"Hip, Hip, Hooray for the Hot Summer Day!" – Funny Summer Quote.
"Summertime and the livin' is easy." – Porgy and Bess
"Summer afternoon – summer afternoon; to me those have always been the two most beautiful words in the English language." – Henry James
"Summertime is always the best of what might be." – Charles Bowden
"In June, as many as a dozen species may burst their buds on a single day. No man can heed all of these anniversaries; no man can ignore all of them." – Aldo Leopold
"The summer night is like a perfection of thought." – Inspirational summertime quotes from Wallace Stevens.
"I love summertime more than anything else in the world. That is the only thing that gets me through the winter, knowing that summer is going to be there." -Jack McBrayer
"In the depth of winter I finally learned that there was in me an invincible summer."- Albert Camus
"He who marvels at the beauty of the world in summer will find equal cause for wonder and admiration in winter."- John Burroughs
"Rest is not idleness, and to lie sometimes on the grass under trees on a summer's day, listening to the murmur of the water, or watching the clouds float across the sky, is by no means a waste of time."- John Lubbock.
"Live in the sunshine, swim the sea, drink the wild air." – Ralph Waldo Emerson quotes about summertime.
Cute Summer Days Quotes
"The morning had dawned clear and cold, with a crispness that hinted at the end of summer." – George R.R. Martin
"Summer is a promissory note signed in June, it's long days spent and gone before you know it, and due to be repaid next January." – Hal Borland
"September tries its best to have us forget summer." – Bern Williams
"What good is the warmth of summer, without the cold of winter to give it sweetness." ― John Steinbeck saying about summer days.
"Summer's lease hath all too short a date." ― William Shakespeare
"August rain: the best of the summer gone, and the new fall not yet born. The odd uneven time." ―Sylvia Plath
"It is easy to forget how effervescent and free we all felt that summer." – Anna Godbersen
"There is something deep within us that sobs at endings. Why, God, does everything have to end? Why does all nature grow old? Why do spring and summer have to go?" – Joe Wheeler
"Let us dance in the sun, wearing wildflowers in our hair…" ― Happy summer days quotes from Susan Polis Schutz.
"It's a smile, it's a kiss, it's a sip of wine … it's summertime!" ― Kenny Chesney.
"One benefit of Summer was that each day we had more light to read by." ― Jeannette Walls
"It was rapture enough just to sit there beside him in silence, alone in the summer night in the white splendor of moonshine, with the wind blowing down on them out of the pine woods." ―L.M. Montgomery

"The summer night was settling upon the neighborhood like a dark lace veil, casting dappled shadows on the roofs and sidewalks and lawns." ―Victoria Kahler

"Summer will end soon enough, childhood as well." – George R.R. Martin
"If June was the beginning of a hopeful summer, and July the juice middle, August was suddenly feeling like the bitter end." – Sarah Dessen
Final Thought
Summer quotes are not only happy words about a season of the year. They also teach us some lessons in life, such as how to live with no regrets.
Summer is the most anticipated time. It does not only allow you to take a rest but also allows you to see this world in its more colorful and bigger form.
You will throw yourself into many activities, many adventures, and find life meaning through living.
When the summer ends, you will have the memories kept forever in your mind, and the spirit lives forever in your heart. That is the meaning of summer.
More related topic:
Inspirational Spring Quotes with beautiful images
Winter quotes
Fall quotes and Sayings