Four seasons compared to four major stages of a person's life are a complete picture of the life of nature. The four seasons of spring, summer, autumn, and winter in a year also show similar meanings. We've taken the time to compile the best season quotes, so take some time to reflect on these meaningful quotes.
In spring, hundreds of flowers bloom and are vibrant. Summer's sun is bright, strong, and intense. Autumn is a bit deserted, everything seems to slow down.
Winter is cold and everything is ruined and faded. The picture of the four seasons has four different shapes and colors, but all of them give us deeper messages.
Best Season quotes
"The seasons are what a symphony ought to be: four perfect movements in harmony with each other." – Arthur Rubinstein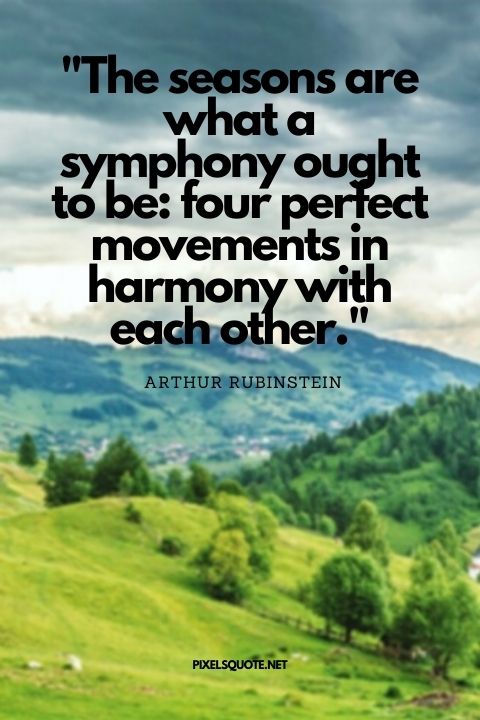 "There's no one season such delight can bring/ As summer, autumn, winter, and the spring."- William Browne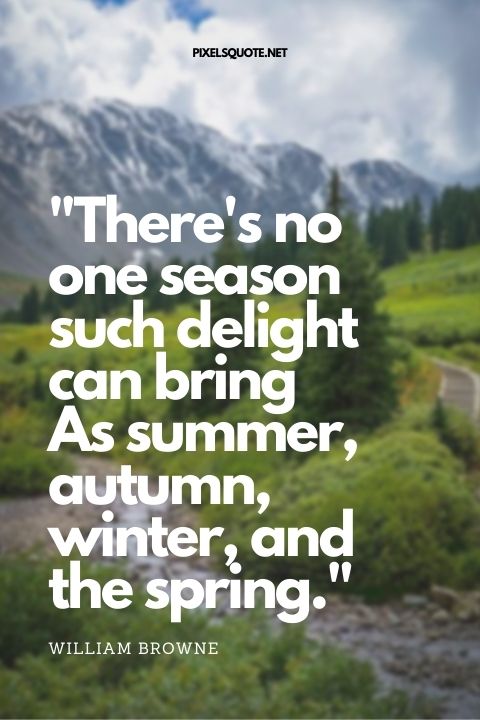 "The sun shines different ways in winter and summer. We shine different ways in the seasons of our lives."- Terri Guillemets
"Like the sun and moon, they end but to begin anew; like the four seasons, they pass away to return once more." – Sun Tzu
"Does Heaven ever speak? The four seasons come and go, and all creatures thrive and grow. Does Heaven ever speak!"- Confucius
"There are four seasons in a year: Winter, Spring, Summer and Colour!" – Mehmet Murat Ildan
"There aren't four seasons a year in the mountains; there are forty seasons a day up there in those divine altitudes!" – Mehmet Murat Ildan
"Four seasons fill the measure of the year; there are four seasons in the minds of men." – John Keats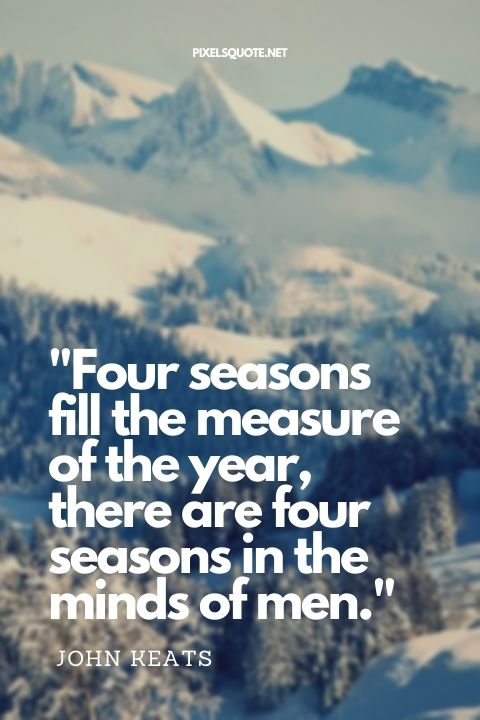 "There are four seasons in the UK, spring, autumn, winter and winter. "- Steve Fowler
"I think that in itself is kind of an amazing achievement to be able to say that your full-time career is in any creative arts, let alone a show that has kept people interested for coming on four seasons and hopefully more." – Anna Paquin
"To be honest, I'm a bit of a snob now; give me a Four Seasons anywhere in the world and I'm happy. Also, they've just opened a Ritz-Carlton in County Wicklow, Ireland, which is stunning and has great views."- Joe Elliott
"The first thing people look at with Four Seasons records is the vocals. But for me, the drum fills and rhythms are as much a part of it as anything. They're the base on which the harmonies were built."- Bob Gaudio
"To be interested in the changing seasons is… a happier state of mind than to be hopelessly in love with spring." – George Santayana, The Life of Reason, 1905
"Summer passed, autumn painted frost on the fallen leaves, winter swept the trees bare."- Nina George, The Little Paris Bookshop, 2013, translated by Simon Pare, 2015
Season quotes about spring
"You can cut all the flowers but you cannot keep Spring from coming."- Pablo Neruda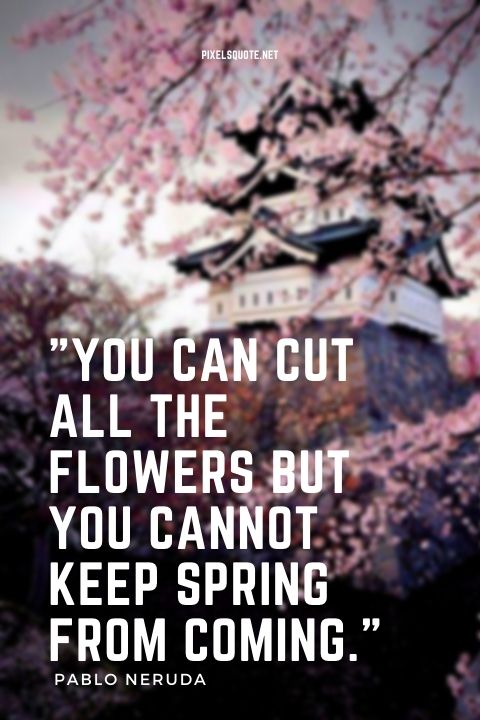 "In the spring, at the end of the day, you should smell like dirt."- Margaret Atwood, Bluebeard's Egg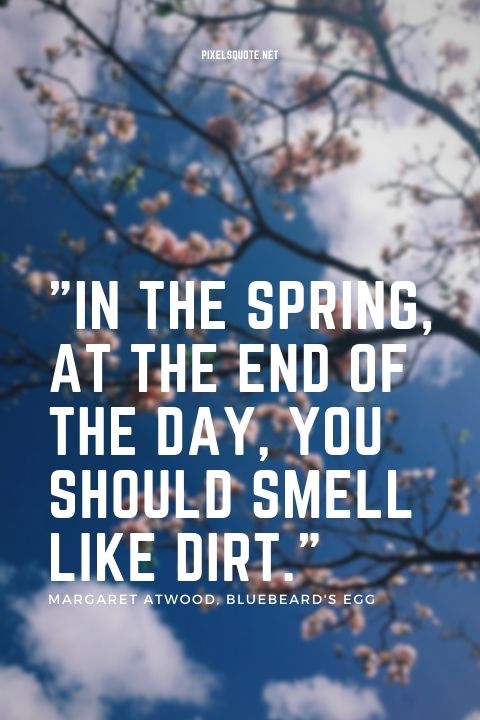 "It is the sun shining on the rain and the rain falling on the sunshine…? "- Frances Hodgson Burnett, The Secret Garden
"It is spring again. The earth is like a child that knows poems by heart.?"- Rainer Maria Rilke
"The deep roots never doubt spring will come.?"- Marty Rubin
"Spring work is going on with joyful enthusiasm.?"- John Muir, The Wilderness World of John Muir
"Spring shows what God can do with a drab and dirty world.? "- Virgil A. Kraft
"Despite the forecast, live like it's spring.? "- Lilly Pulitzer
"Spring is the time of plans and projects."- Leo Tolstoy, Anna Karenina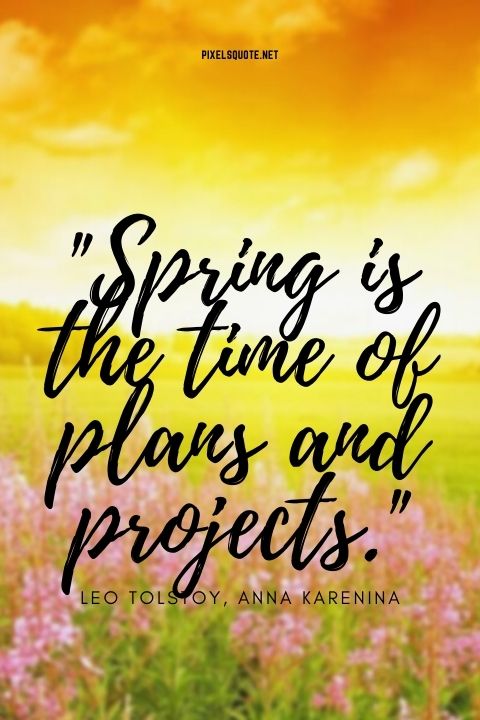 See more: Spring quotes
"If people did not love one another, I really don't see what use there would be in having any spring.? "-Victor Hugo
"It's spring fever. That is what the name of it is. And when you've got it, you want-oh, you don't quite know what it is you do want, but it just fairly makes your heartache, you want it so!?"- Mark Twain
"That is one good thing about this world…there are always sure to be more springs.?"- L.M. Montgomery, Anne of Avonlea
"I enjoy the spring more than the autumn now. One does, I think, as one gets older.?"- Virginia Woolf, Jacob's Room
"I suppose the best kind of spring morning is the best weather God has to offer.?"- Dodie Smith, I Capture the Castle
Summer quotes
"It's summer and time for wandering… "- Kellie Elmore's.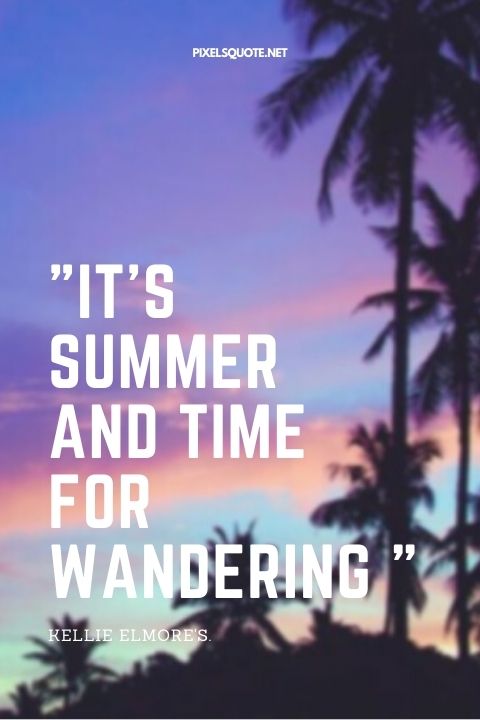 "I love how summer just wraps its arms around you like a warm blanket." – Kellie Elmore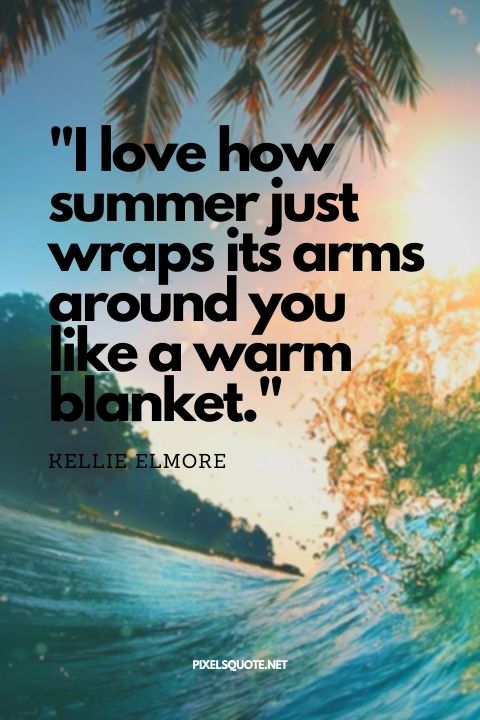 "Rejoice as summer should…chase away sorrows by living." – Melissa Marr
"There is no 'we' in summer. Only 'u' and 'me'."
"Summer means happy times and good sunshine. It means going to the beach, going to Disneyland, having fun."- Brian Wilson
"Sun is shining. The weather is sweet. Make you wanna move your dancing feet." – Bob Marley's happy summer quote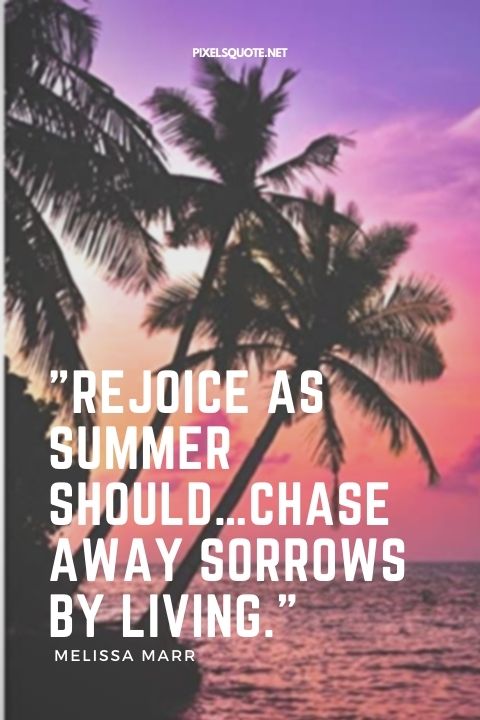 See More: Summer quotes
"When the winter comes, the summer shines infinitely in our hearts!" – Mehmet Murat ildan
"One must maintain a little bit of summer, even in the middle of winter." – Henry David Thoreau's summer quotes.
"I love how summer just wraps its arms around you like a warm blanket. "- Kellie Elmore's quotes about summer.
"I could taste the salt on her lips, each kiss like a summer wave breaking on an empty beach."- Michael Faudet
"I know I am but summer to your heart, and not the full four seasons of the year. "- Edna St. Vincent Millay
"Like a welcome summer rain, humor may suddenly cleanse and cool the earth, the air and you."- Langston Hughes
"Yellow butterflies look like flowers flying through the warm summer air." – Andrea Willis
"In summer, the song sings itself." – William Carlos Williams
"Salt in the air, sand in my hair." – The shortest summertime quotes.
Season quotes about autumn
"Autumn is a second spring when every leaf is a flower." — Albert Camus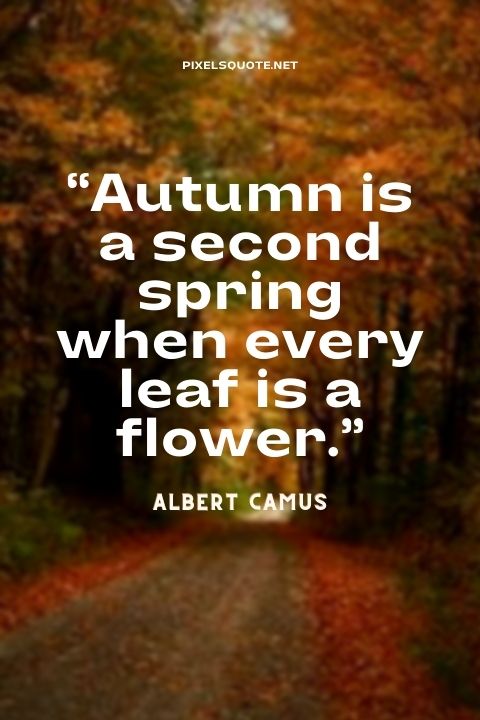 "Autumn wins you best by this its mute appeal to sympathy for its decay." – Robert Browning.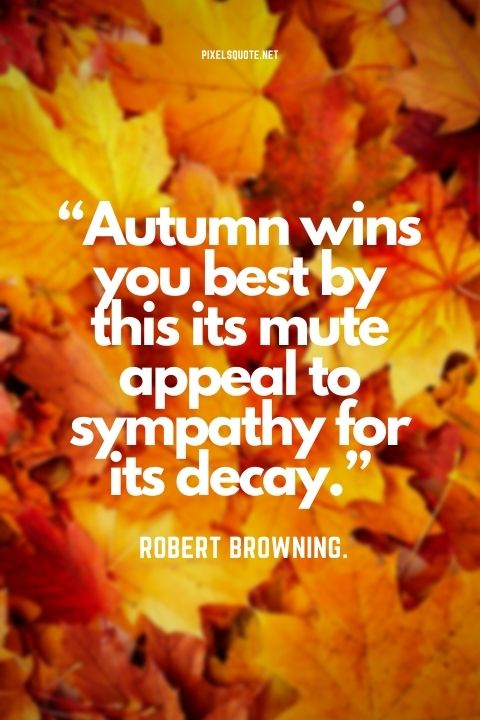 "The Autumn is old; The sere leaves are flying; He hath gathered up gold, And now he is dying… Old age, begin sighing!" — Thomas Hood
"It's like going back to school. You know, autumn! Time for 'Harry Potter'." — Robbie Coltrane"Autumn is a second spring when every leaf is a flower." — Albert Camus "Autumn's the mellow time." — William Allingham
"Autumn lingered on as if fond of its own perfection." — Winston Graham, Ross Poldark
"Autumn carries more gold in its pocket than all the other seasons." — Jim Bishop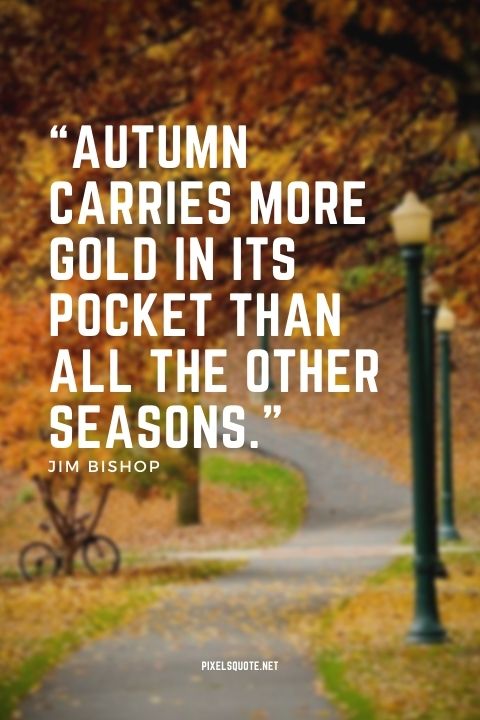 "Fall is the mellower season, and what we lose in flowers we more than gain in fruits." – Samuel Butler.
"Falling autumn leaves gave the air an amber hue as though seen through a jar of honey." ― Paula Wall
"Autumn is a second spring when every leaf is a flower." — Albert Camus
"The heart of autumn must have broken here and poured its treasure upon the leaves." – by Charlotte Bates.
"Autumn, the year's last loveliest smile. "– William Cullen Bryant
"I loved autumn, the season of the year that God seemed to have put there just for the beauty of it." –  by Lee Maynard.
"Autumn is as joyful and sweet as an untimely end." — Rémy de Gourmont
"And all at once, summer collapsed into fall." – Oscar Wilde
"The tints of autumn…a mighty flower garden blossoming under the spell of the enchanter, frost." — John Greenleaf Whittier
See More: Best quotes about Fall.
Winter quotes
"Winter is the time for comfort, for good food and warmth, for the touch of a friendly hand and for a talk beside the fire: it is the time for home."– Edith Sitwell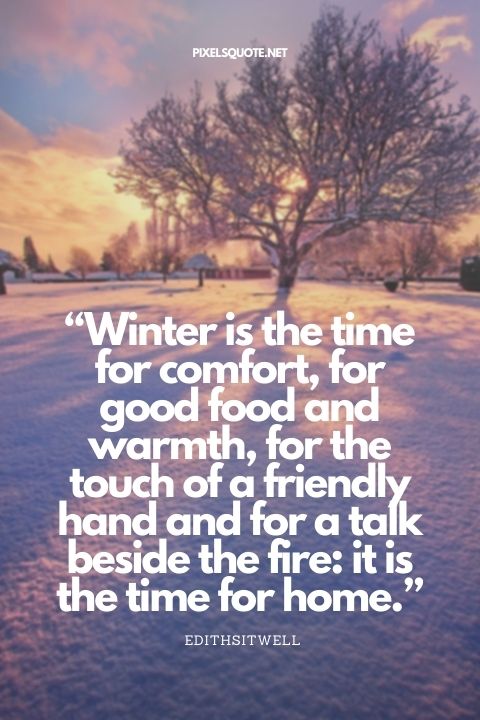 "If Winter comes, can Spring be far behind" -Percy Bysshe Shelley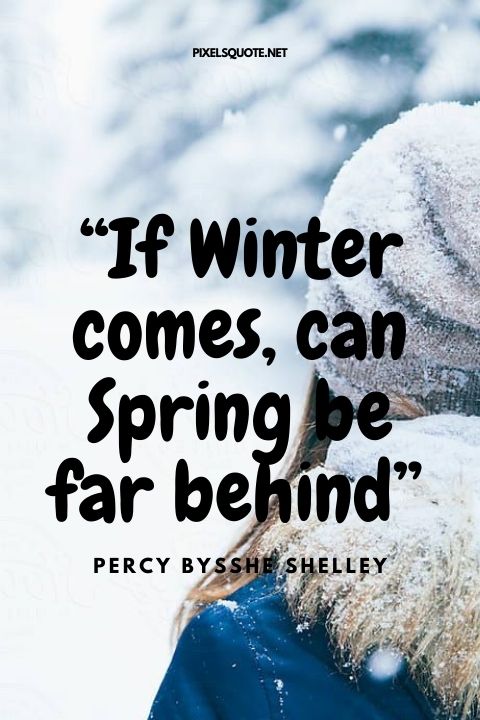 "What good is the warmth of summer, without the cold of winter to give it sweetness."- John Steinbeck, Travels with Charley: In Search of America
"Nothing burns like the cold."- George R.R. Martin, A Game of Thrones
"Melancholy were the sounds on a winter's night."- Virginia Woolf, Jacob's Room
"A man says a lot of things in summer he doesn't mean in winter."- Patricia Briggs, Dragon Blood
"Spring, summer, and fall fill us with hope; winter alone reminds us of the human condition." – Mignon McLaughlin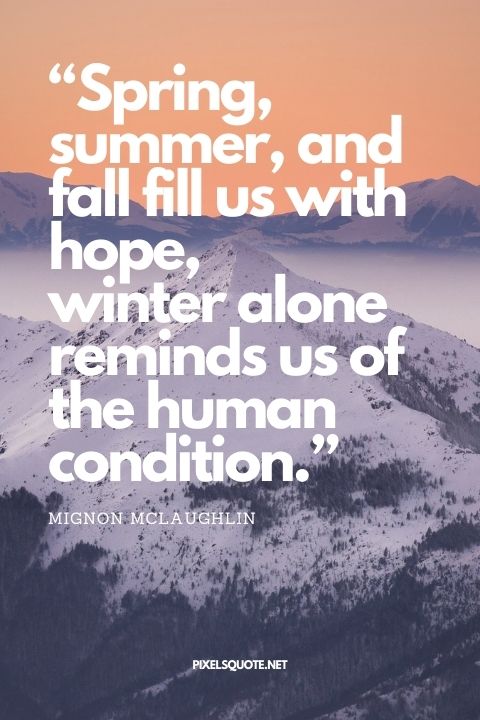 "If winter comes, can spring be far behind"- Percy Bysshe Shelley, Ode to the West Wind
"The heart can get really cold if all you've known is winter."- Benjamin Alire Sáenz, Last Night I Sang to the Monster
"Winter is not a season, it's an occupation."- Sinclair Lewis
"In the winter she curls up around a good book and dreams away the cold."- Ben Aaronovitch, Broken Homes
"I read, much of the night, and go south in the winter."-T.S. Eliot
"Music brings a warm glow to my vision, thawing mind and muscle from their endless wintering."- Haruki Murakami, Hard-Boiled Wonderland and the End of the World
"Winter is much like unrequited love; cold and merciless."- Kellie Elmore
"Summer is the time for squabbles. In winter, we must protect one another, keep each other warm, share our strengths."- George R.R. Martin, A Game of Thrones
See More: Winter quotes
Each season of the year is a brand new colorful journey that awaits us. Each of them has its own unique beauty, and each evokes endless sources of inspiration for our creativity.
It's wonderful when Mother Nature gives us spring, summer, autumn, and winter, so we know how beautiful the place we live is.
The above-season quotes will surely make you appreciate and love the beauty of the four seasons. Let's share and spread the good things everywhere you go.