The power of music is inevitably massive. Undoubtedly, it is very surprising how some simple-looking music quotes can have such a deep impact on people's lives.
Indeed, it is very inspiring and motivating to read the thoughts of great men and women about this art form. How splendid it is to feel connected with such great people through a beautiful string that is musical notes.
Music is like a magic key. Truly, it can unlock even the most tightly closed hearts open. It can ease out all sorts of pain and give you the energy and motivation to strive towards your goals. Really, music is like a central element of many people's lives, just like food and water.
Imagining life without music can be difficult for many. Give these sayings a deep read. Surely, you'll find these best quotes about music very gratifying and soul-soothing.
Read more: Inspirational Rap Quotes.
Best Music Quotes with images and meaning
"Music can change the world because it can change people." – Bono.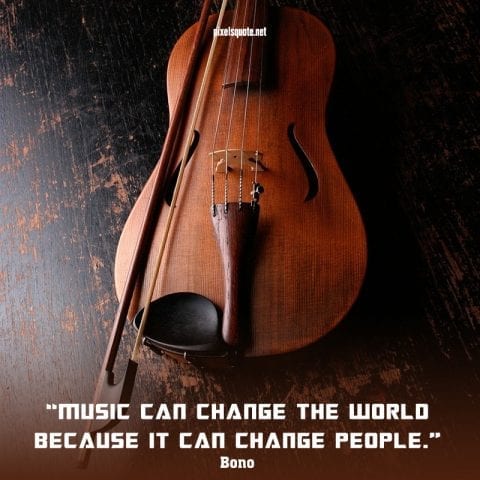 Music is indeed a great medium to break the barriers created by humans. It helps in reconciling and promoting equity amongst all. After all, it is the string that connects us with our fellow human beings.
It surpasses all rules and restrictions that we have put over our social relations. Music can lift people up when they're feeling down and mend broken relationships too! Above all, it has the power to bring people together as one family.
"If music be the food of love, play on." – William Shakespeare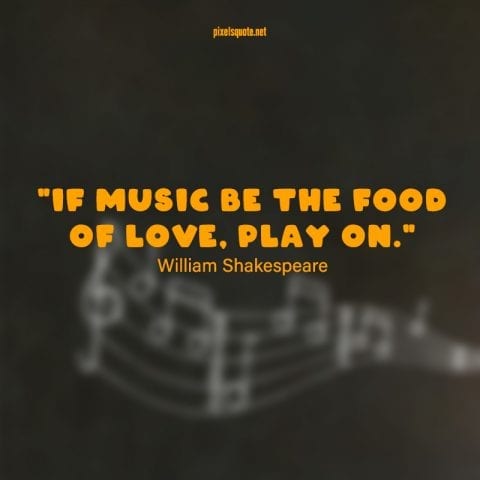 This romantic quote is taken from one of Shakespeare's very famous plays, The Twelfth Night. The main lead, Duke Orsino, compares music with the love of his life, Olivia.
Orsino very strongly falls in love with a person and he compares the effect that love has on you with the effect of music. He asks his fellow people to cure his immense desire for love with music. Why? Because music is the food of love.
"Music is the strongest form of magic." – Marilyn Manson
Music has different meanings for different people. You think about it and get flooded with beautiful and magically captivating images in your mind. What can be a better way to kick start your day than a good music quote.
If you take a moment to pause and think, any moment can become lively with music. A hot cup of coffee and a soothing note is all you need to set it right.
"I see my life in terms of music." – Albert Einstein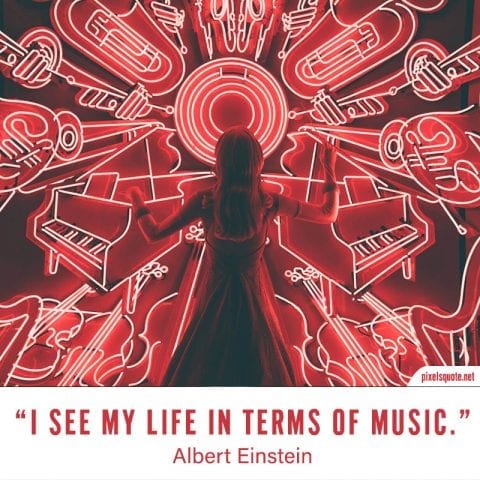 Music shapes life. It sure does. Because music had a big impact on Einstein's life and his scientific ideas. Drowning into the complexities of the music, he could easily bring quality to his theories.
He has many times admitted that he sees his life be conveyed inharmonious notes. Moreover, he wanted his ideas to flow beautifully just like musical notes flow. He wanted his life to inspiring people just the way music inspires lives.
"If you cannot teach me to fly, teach me to sing." – J.M. Barrie, Peter Pan quotes.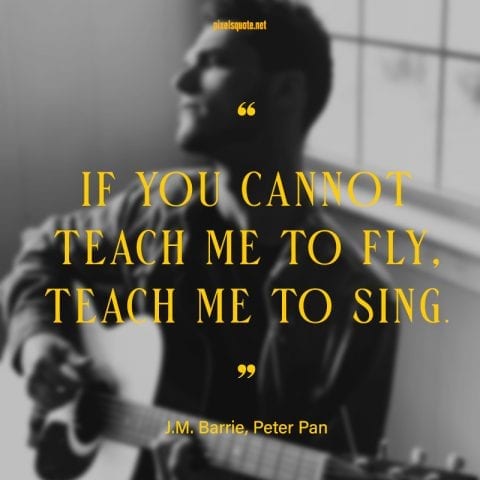 A person who is deeply engrossed in music might feel like he's on top of the world. Indeed his heart would thump as if he were flying through the clouds and playing with the rainbows.
Well, Peter Pan was right in saying that if he cannot fly, he should do the second-best thing. Which, by all means, is letting himself loose in the wavy musical notes. A lovely tune of music indeed sets you soaring high in the sky.
"Without music, life would be a mistake" – Friedrich Nietzsche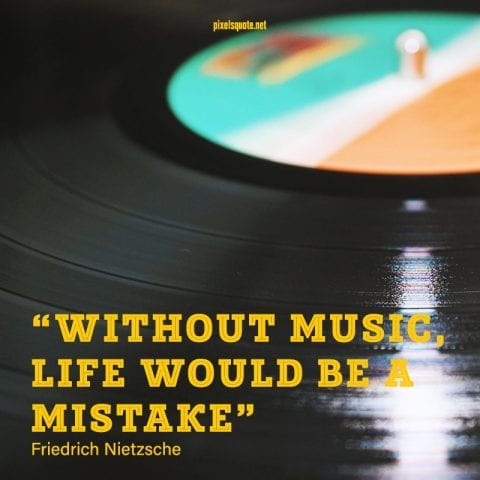 Clearly, a musical note can set all moods right. If you are having a bad day at work, just slam the doors and put on some music. It's a matter of few minutes before all your anxiety, angst, tiredness, everything washes away.
This music quote is good enough to be relatable to youngsters and adults alike. Sometimes we forget to realize how important it is to feel our emotions. And, music just opens the doors to that.
"Music is to the soul what words are to the mind." – Modest Mouse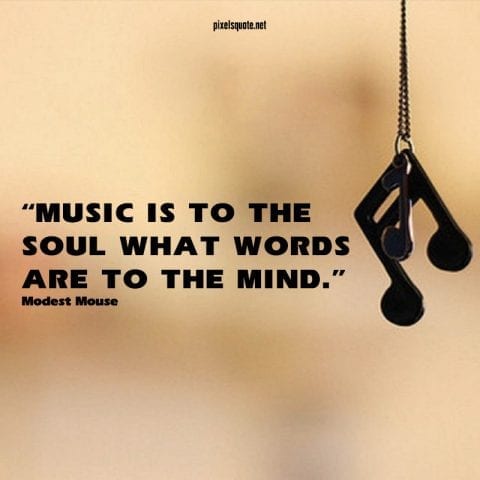 Indeed, music has the power to put our minds to relaxation. The comforting music tones flow towards you and take away all your worries. It has an ever-lasting impression on your mind. One that you can never wipe off.
Music touches our souls deeply and ignites passion in our hearts. Humans are born with the habit of finding a rhythm in everything. Furthermore, the music intensifies that rhythm.
Inspiring Music Quotes That Will Fuel Your Soul
"Music is like a dream. One that I cannot hear." – Ludwig van Beethoven
"I can chase you, and I can catch you, but there is nothing I can do to make you mine." – Morrissey
"Music gives a soul to the universe, wings to the mind, flight to the imagination and life to everything." – Plato
"How is it that music can, without words, evoke our laughter, our fears, our highest aspirations?" – Jane Swan
"I'm just a musical prostitute, my dear." – Freddie Mercury
"Music is a language that doesn't speak in particular words. It speaks in emotions, and if it's in the bones, it's in the bones." – Keith Richards
"I think music in itself is healing. It's an explosive expression of humanity. It's something we are all touched by. No matter what culture we're from, everyone loves music." – Billy Joel
"One good thing about music, when it hits you, you feel no pain." – Bob Marley
"The only truth is music." – Jack Kerouac
"There are two means of refuge from the miseries of life: music and cats." – Albert Schweitzer
"Music is the shorthand of emotion." – Leo Tolstoy.
"Music is my higher power" – Oliver James
The author may have been deeply involved in his music fantasy while writing this music quote. For a musician, his love and belief in music determine how dear he holds it. Music can make you feel deeply content and truly wonderful.
For people who dedicate their lives to musical tones, it becomes their higher power. They hold it par to the Supreme power and worship it.
"Without music, life would be a blank to me."- Jane Austen
"If music be the food of love, play on, Give me excess of it; that surfeiting, The appetite may sicken, and so die." – William Shakespeare
"Music was my refuge. I could crawl into space between the notes and curl my back to loneliness." – Maya Angelou quotes
"After silence, that which comes nearest to expressing the inexpressible is music." – Aldous Huxley
"The most exciting rhythms seem unexpected and complex, the most beautiful melodies simple and inevitable." – W.H. Auden
"Where words fail, music speaks." – Hans Christian Andersen
"Music expresses that which cannot be said and on which it is impossible to be silent." – Victor Hugo
"We are the music makers, and we are the dreamers of dreams." – Arthur O'Shaughnessy
"If I had my life to live over again, I would have made a rule to read some poetry and listen to some music at least once every week."- Charles Darwin.
Famous Music Quotes
"Tell me what you listen to, and I'll tell you who you are." – Tiffanie DeBartolo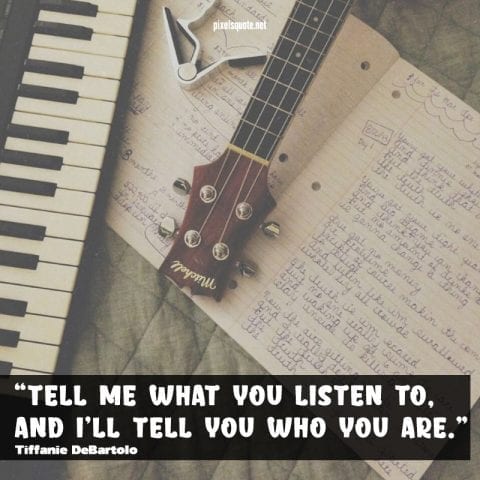 Amusing as it may sound, but your musical preferences can say a lot about your personality. Also, it has now been proven scientifically too!
If you are soft and humble you might enjoy a good piece of a slow lullaby. For people who prefer rock music, they might come off as energetic and enthusiastic to everyone.
Their music choice determines how cheerful they are. So if you need to understand a person, just keep a note of their favorite music.
"Music produces a kind of pleasure which human nature cannot do without." – Confucius
"Music is … A higher revelation than all Wisdom & Philosophy" – Ludwig van Beethoven
"A man should hear a little music, read a little poetry, and see a fine picture every day of his life, in order that worldly cares may not obliterate the sense of the beautiful which God has implanted in the human soul." – Johann Wolfgang von Goethe
"Music, once admitted to the soul, becomes a sort of spirit, and never dies." – Edward Bulwer-Lytton
"Music touches us emotionally, where words alone can't." – Johnny Depp
"Virtually every writer I know would rather be a musician." – Kurt Vonnegut
"A painter paints pictures on canvas. But musicians paint their pictures on silence." – Leopold Stokowski
"Music . . . can name the unnameable and communicate the unknowable." – Leonard Bernstein
"I like beautiful melodies telling me terrible things." – Tom Waits
"When you make music or write or create, it's really your job to have mind-blowing, irresponsible, condomless sex with whatever idea it is you're writing about at the time. " – Lady Gaga
"If being an egomaniac means I believe in what I do and in my art or music, then in that respect you can call me that… I believe in what I do, and I'll say it." – John Lennon.
"Music is the divine way to tell beautiful, poetic things to the heart." – Pablo Casals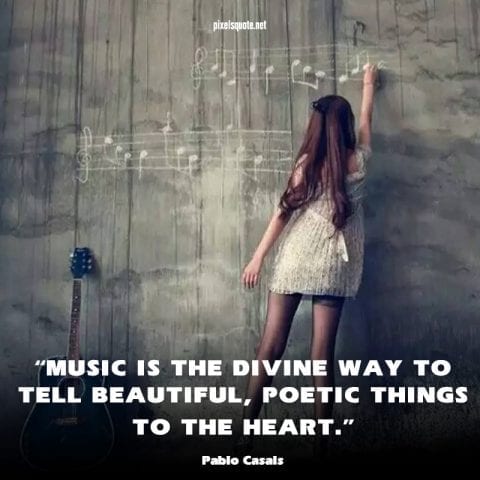 Indeed, music expresses the emotions that words fail to deliver. Moreover, music can beautify your feelings and make them sound even more magical. Humans are undoubtedly born with a poetic persona.
A good melody is what you need to melt away your tiredness. Music becomes the carrier to tell lovely sayings to the soul. It takes you a little closer to the heavenly love and cradles you to beautiful dreams.
"Live your truth. Express your love. Share your enthusiasm. Take action towards your dreams. Walk your talk. Dance and sing to your music. Embrace your blessings. Make today worth remembering." – Steve Maraboli
"Information is not knowledge. Knowledge is not wisdom. Wisdom is not truth. Truth is not beauty. Beauty does not love. Love is not music. Music is THE BEST." – Frank Zappa
"Music is the literature of the heart; it commences where speech ends." – Alphonse de Lamartine
"Beethoven tells you what it's like to be Beethoven and Mozart tells you what it's like to be human. Bach tells you what it's like to be the universe." – Douglas Adams
"The music is not in the notes, but in the silence between." – Wolfgang Amadeus Mozart
"Music makes one feel so romantic – at least it always gets on one's nerves – which is the same thing nowadays."- Oscar Wilde
"Without music to decorate it, time is just a bunch of boring production deadlines or dates by which bills must be paid." – Frank Zappa
"Music is the wine that fills the cup of silence." – Robert Fripp
"Music in the soul can be heard by the universe." – Lao Tzu
Final Thought
There can nothing be more powerful and moving than a good Music quote. Undoubtedly it stirs something profound within your soul and sets you free from all worldly desires and worries. The same music can have different meanings for different people. What is soothing to one can be painful for others and vice versa.
It is indeed something very personal that a person cannot share. It is the only language which only propagates peace and love. You can never say a mean thing to anyone via music. It is your own experiences that you express in a beautiful manner, just like pearls put in a string together.