Rap is kind of a music genre that not really suits everyone's hobby. But when once you get to know it, you will understand that rap music also brings us many inspirations. So, we won't miss a chance to gift you a collection of all the famous rap quotes.
Music is an art form where an artist expresses his thoughts and feelings through melody and lyrics. And the rap is similar. Years ago, rap was still an undervalued genre of music due to its rough expression.
However, rap gradually gained more recognition. And from then on, we also understand that the efforts of rappers are completely deserved praise.
Best Rap Quotes
"Rap is something you do. Hip Hop is something you live." – KRS-One
Starting in the '80s, the appearance of hip hop has contributed to countless waves of responses around the world. Gradually, street artists appear and change the music in a new direction, which is extremely young and modern.
Rap is also one of the most prominent and popular forms of hip hop. And this is how rap began and started to dominate a part of the music industry.
"Although rap is about boasting, it's also about honesty and expressing your emotions." – Keith Stanfield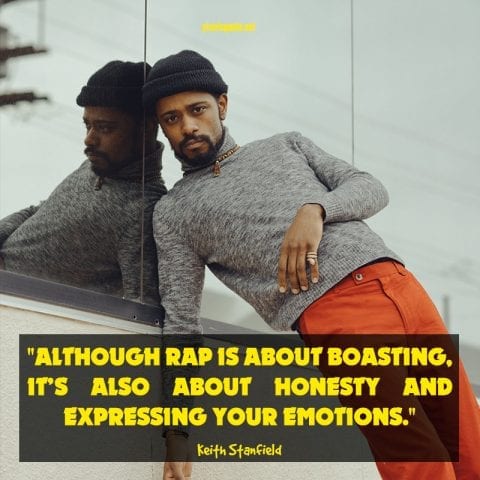 Everybody knows rap as a rough and bare style of music genre, so it's not as popular as mainstream music. Because rap speaks frankly about issues that most people don't dare to speak up about.
It's like this rap quote helps us to spit out a thorn in our throat. Rap goes straight to the point without hesitation and always shows its own personality.
"Rap music is the only vital form of music introduced since punk rock." – Kurt Cobain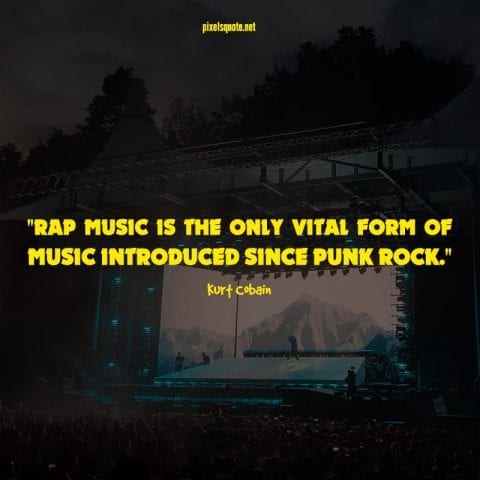 Studies have shown that music has a strong influence on human cognition and emotions. A joyful song can help you forget your troubles. Conversely, a painful love song will also make you feel a little sad.
Most of the lyrics and flow of rap songs always have something to invite the listener to ponder. For that reason, Rap is a way that people stimulate brain functions.
"Sometimes I feel like rap music is almost the key to stopping racism." – Eminem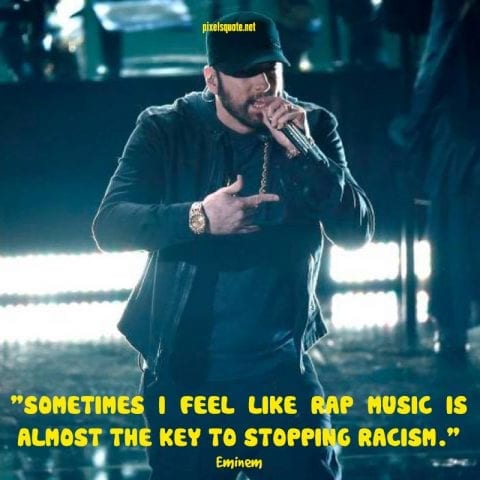 Rap goes into dark corners with the most sensitive topics. Over the years, rap has always been criticized for its lyrics and messages. But really, rap seems to have proven to audiences that it does a lot better than it harms.
This rap quote understands that rap has saved the lives of countless people who have lost their ways. And rap really is ushering in a new era where rap has more healing values than ever before.
"My only scheme was to be a rapper." – Eminem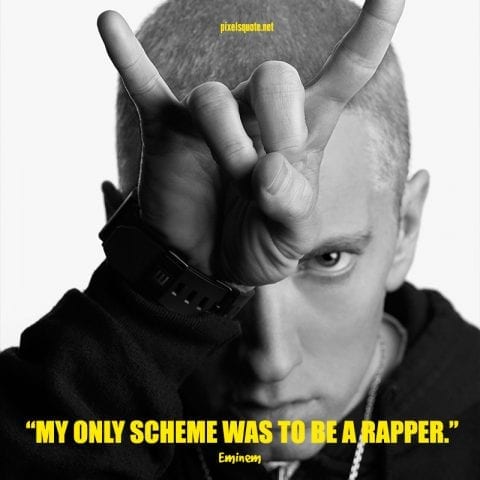 When it comes to rap, it is impossible not to mention the king of rap, Eminem. With talent and endless passion for rap, Eminem has affirmed his name in the top of rap styles. When his albums were released, they always became a craze over the music industry.
This rap quote of the wildest rapper proves that the true talent of a person is not shown in appearance.
"Rappers wear diamonds to compensate for a lack of fashion sense." – A$AP Rocky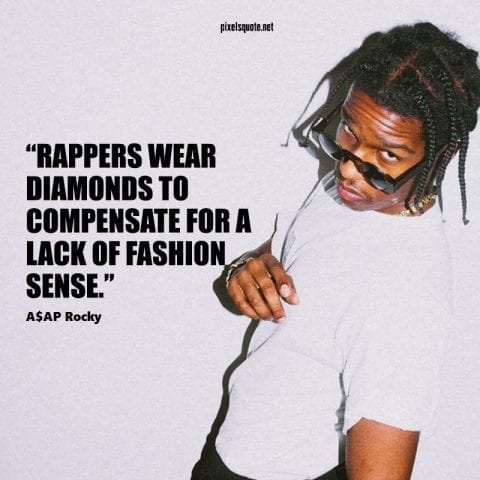 As mentioned, rap music originated with street entertainment and was one of the first forms of hip hop. They attract people who are passionate about the style to find themselves.
Without much promotion and flashy appearances, underground rap has gone from amateurism to professionalism. They are really passionate about making rap and don't care too much about the cover.
Inspirational Rap Quotes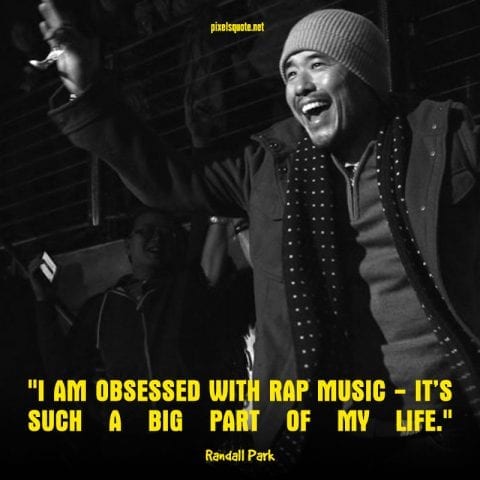 Rap is a rare form of art where rappers are free to express their egos without being fearful. And that's why rap becomes to be the most favorable art and people turn to prefer it. It's like a play yard when they can vent their emotions and let go of bad feelings.
So this inspirational rap quote reminds you that rap music has become more and more popular these years.
"I am obsessed with rap music – it's such a big part of my life." – Randall Park
"I'd rather be proud of what I am, rather than desperately try to be something I'm really not; just to fit in." – Immortal Technique
"If it's flipping hamburgers at McDonald's, be the best hamburger flipper in the world. Whatever it is you do you have to master your craft." –Snoop Dogg
"I didn't have nothin' going for me… school, home… until I found something I loved, which was music, and that changed everything." –Eminem
"Don't let nobody tell you that you can't do it. Love what you do until you don't love it anymore. Nothing's impossible." – Fetty Wap
"If you live for people's acceptance, you will die from their rejection." – Lecrae
"Speak the truth even if your voice shakes." – Iggy Azalea
"The most daring thing is to be yourself and to do exactly what you want to do at that point in time and not to be worried with what other people are doing or what's popular." – Wiz Khalifa
"What do you base your happiness around? Material, women, and large paper? That means you're inferior, not major." – Nas
"If you don't see you beautiful in your complexion / It ain't complex to put it in context." – Rapsody
"Cause I think we can make it, in fact, I'm sure / And if you fall, stand tall and come back for more." –Tupac
"A goal is just a dream with a deadline." – Drake
"My whole thing is to inspire, to better people, to better myself forever in this thing that we call rap, this thing that we call hip hop." – Kendrick Lamar
"Cause whatever you love can be taken away, so live like it's your dying day." – Machine Gun Kelly
"People can try to reinvent themselves. I don't think you can really change who you are, though, because who you are is pretty much where you came from and what you've done up to now." – Eminem
"I am honestly trying to inspire you to do something. I ain't saying, 'I'm changin' lives,' I'm saying, 'Make a decision and do something,' and see where you are four years later!" – Killer Mike
"Keeping it real ain't about carrying a gun or smoking blunts. It's about being true to yourself and those around you." – LL Cool J
"So the next time you feel like the world's about to end, I hope you studied, because he's testing your faith again." – Kendrick Lamar
"Even when I was close to defeat I rose to my feet." – Dr. Dre
"Don't be afraid to close your eyes and dream but then open your eyes and see." – Sean Combs
"Keep on pushing the boundaries and reaching for higher heights." – Sean Combs
"Educate yourself, make your world view bigger, visualize wealth, and put yourself in the picture." – KRS-One
"Trust your own judgment, live with it and love it." – Nas
"You have to keep your vision clear, cause only a coward lives in fear." – Nas
"You can make something of your life, it just depends on your drive." – Eminem
Rap quotes about Life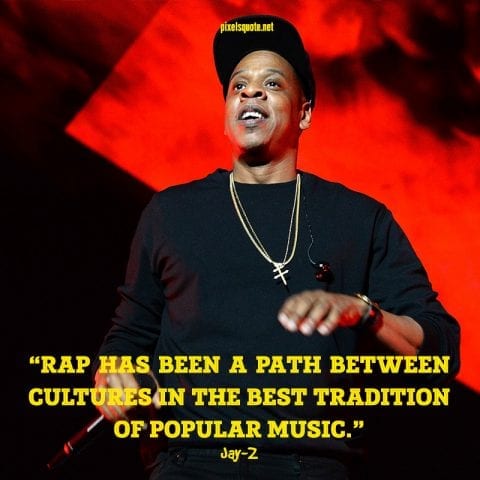 Rap has ushered in inviting pop culture, while also spawning new creative and entertaining styles, it is not only a musical style but also a new culture. Especially nowadays, rap has gradually appeared as a piece of very trending music. Jay-Z with this famous rap quote has really inspired a large number of fans around the globe.
"Rap has been a path between cultures in the best tradition of popular music." – Jay-Z
"Life will put many red lights in front of you, but sometimes we must push on the gas and trust God." – Kendrick Lamar
"The purpose of life is a life with a purpose. So I'd rather die for a cause, than live a life that is worthless." – Immortal Technique
"Well, hip hop is what makes the world go round." – Snoop Dogg
"Be careful what you say to someone today. Because tomorrow they might not be here, and you can't take it back."– Wiz Khalifa
"Living well eliminates the need for revenge." – Kanye West
"Learn life, before life learn you." – Jadakiss
"It's so easy for a kid to join a gang, to do drugs… we should make it that easy to be involved in football and academics." – Snoop Dogg
"Remember one thing: Through every dark night, there's a bright day after that. So no matter how hard it get, stick your chest out. Keep your head up, and handle it." – Tupac
"When you shine bright, some won't enjoy the shadow you cast." – Talib Kweli
"Nothing easy is worth anything." – Nas
"Live your life, live it right. Be different, do different things." – Kendrick Lamar
"Sunny days wouldn't be so special, if it wasn't for rain. Joy wouldn't feel so good, if it wasn't for pain." – 50 Cent
"You know it's funny when it rains it pours
They got money for wars, but can't feed the poor." – 2Pac
"Life without dreaming is a life without meaning." – Wale
"Never become so involved with something that it blinds you.
Never forget where you from; someone will remind you." – DMX,
"Don't fall for fake people. They're often disguised as people close to you."― Big Lez
"You gotta be able to smile through the bullshit." – Tupac
"Life is a wheel of fortune and it's my turn to spin it." – Tupac
"Life is too short to live the same day twice. So each new day make sure you live your life." – Machine Gun Kelly
"Rap for me is like making movies, telling stories, and getting the emotions of the songs through in just as deep a way." – Jay-Z
"It ain't no fun if the homies can't have none. " ― Snoop Dogg (see more Snoop Dogg quotes)
"Living life is a choice. Making a difference in someone else's isn't."– Kid Cudi
"The truth is you don't know what is going to happen tomorrow. Life is a crazy ride and nothing is guaranteed." – Eminem
"No matter where life takes me, find me with a smile." – Mac Miller
Rap quotes about Love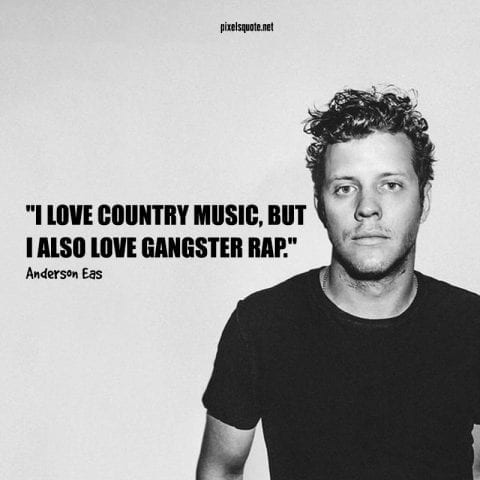 Whenever you feel down and discouraged, rap music will definitely help you a lot in finding yourself again. Leaving aside a negative part, many rappers still inspire and motivate listeners through their compositions.
That's why rap is still very welcoming even though there are still many negative opinions about it.
"I love country music, but I also love gangster rap." – Anderson East
"My girlfriend is rap. Music and albums and records and my kids." – Mystikal
"Everybody's at war with different things…I'm at war with my own heart sometimes." ― Tupac Shakur
"Love yourself and your expression, you can't go wrong." – KRS-One
"Forgive but don't forget girl, keep ya head up. And when he tells you you ain't nothing don't believe him, and if he can't learn to love you, you should leave him." – Tupac
"One day you're gonna remember me and how much I love you… then you're gonna hate yourself for letting me go." – Drake
"Jealousy is just loved and hate at the same time." – Drake
"Kept breaking promises you said you would keep, so you can leave a message at the beep." – Mac Miller
"I'll be your best friend if you promise you'll be mine." – 50 Cent
"We always ignore the ones who adore us, and adore the ones who ignore us." – Drake
"If you don't love yourself, I'll make you see your own heart." – Biggie Smalls
"I remember the love right after the fights. You can't tell me you don't remember those nights." – Lil Wayne
"If you don't love me somebody else will." – Lil Wayne
"I look for ways to say 'I love you'. But I ain't into makin' love songs."— A$AP Rocky
"Sometimes if you're lucky, someone comes into your life who'll take up a place in your heart that no one else can fill." – Snoop Dogg
"They say you can't turn a bad girl good. But once a good girl's gone bad, she's bad forever." – Jay Z
"Everyone has an addiction. Mine happens to be you." – Andre 3000
"I will be there for you, I will care for you." – Drake
Rap song quotes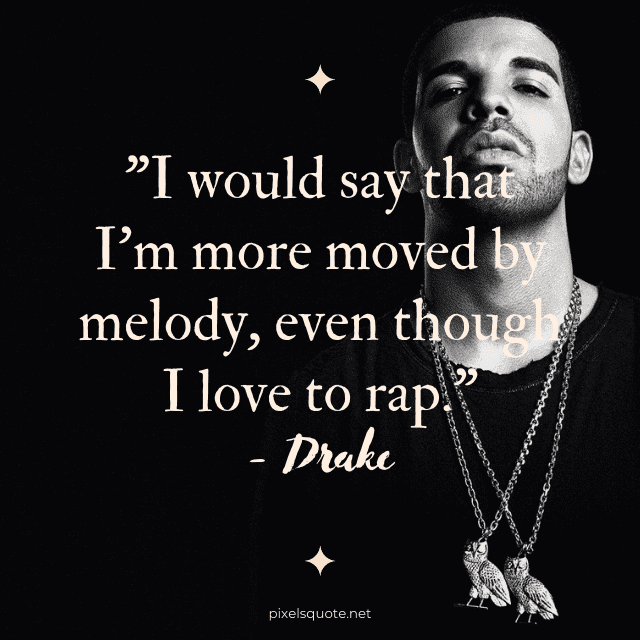 Rap music, in many cases, is a reflection of the rapper's thoughts and experiences. Popular music always captivates us with its cheerful melody and does a great job of helping us relax our minds.
Meanwhile, rap is more about expressing yourself and your feelings. Regular rap players always have a strong personality just like how they show in a rap song.
"I would say that I'm more moved by melody, even though I love to rap." – Drake
"I'd shoot for the moon but I'm too busy gazing at stars."–Eminem, Not Afraid
"Without order, nothing exists. Without chaos, nothing evolves."–Jedi Mind Tricks, Heavy Metal Kings
"You've got to realize that the world's a test; You can only do your best and let Him do the rest.
You've got your life, and got your health,
So quit procrastinating and push it yourself." – Cee-Lo, "In Due Time"
"Stay far from timid. Only make moves when your heart's in it. And live the phrase 'sky's the limit.'" — The Notorious B.I.G., "Sky's the Limit"
"You could be the king, but watch the queen conquer." — Nicki Minaj, "Monster"
"When I say or do something, I do it. I don't give a damn what you think. I'm doing this for me." — Eminem, "Not Afraid"
"Live for today, plan for tomorrow, party tonight." — Drake, "The Real Her"
"It seems like blessings keep falling in my lap." — Chance the Rapper, "Blessings"
"She said 'where we goin?' I said 'the moon.'" — Travis Scott, "Sicko Mode"
"Reach for the stars so if you fall you land on a cloud." – Kanye West, Homecoming
"With your phone out, gotta hit them angles" — Drake, "Nice for What"
"They see pictures, they say goals. I'm who they trying to be." — Cardi B, "Bodak Yellow"
"No matter how hard it gets stick your chest out, keep your head up and handle it." — Tupac, "Me Against the World"
"How you look so perfect on your worst days?" — A Boogie Wit Da Hoodie, "Swervin"
"Jump regardless of the consequence, cause even on the night of the apocalypse, everybody's an optimist."–Tonedeff, Optimist
"Once in a while, I'm cheating and get dome; But best believe that I'mma always comes home. Shorty, I Luv you." – Meyhem Lauren, "Let's Hold Hands.
"People will love you and support you when it's beneficial."– Nicki Minaj, Pills and Potions
"The question isn't does he loves ya the question is, do ya love yourself? You give the best advice to your friends and not take it for yourself." –Big Sean, Jump Out The Window
"Last night I saw you in my dreams, now I can't wait to go to sleep."–Kanye West, Hey Mama
"I can see you're sad even when you smile, even when you laugh I can see it in your eyes."–Eminem, Mockingbird
"No law's gonna change us, we have to change us." – Macklemore and Ryan Lewis, Same Love
Conclusion
Every genre of music has its own beauty and unique expression. Most miraculously, we humans have created many different types of music together.
Among them, rap is the music genre that appears and creates the most controversy. But thanks to the efforts of real rapper artists along with a large fan base everywhere, rap has gradually asserted its position.
It's a pity to miss the best rap quotes of the most legendary superstar rappers here. Music is one of the most magical things that help people heal and live a happier life. Find more related articles on music quotes and happy life quotes to always keep the flame of inspiration in you.