Being thankful and expressing your gratitude brings happiness to you as well as to the one you show appreciation to. These Thank you quotes are absolutely the perfect little phrases if you want to express your gratefulness to your loved ones.
Although, saying thank you is seen as a way to convey gratitude and appreciation but these simple words has much more to it. A thankful gesture or a simple quote can go a long way in strengthening your bond with your fellow mates.
It is an acknowledgement of the help that the person has given to you and that their being in your life matters to you. It is a symbol of respect to the person who has helped you in some way or the other.
Thank you quotes like these express your gratefulness and thankfulness. Such quotes show your humility and kindness. And these virtues go a long way in honing your personality. It makes you a better human being.
Top 15 Thank you quotes
"Thank you for being the reason I smile"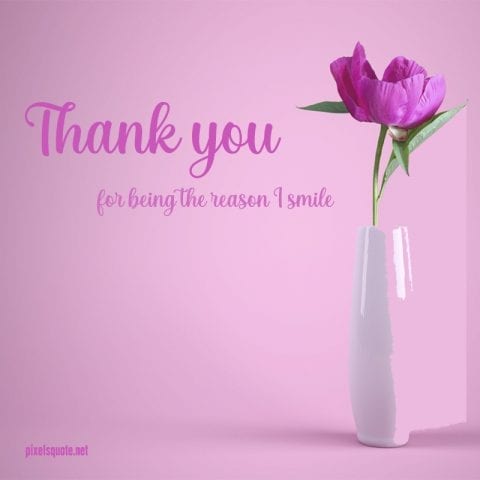 Smile is the most beautiful ornament one can wear. And it is an even more wonderful gift one can give to someone.
Nothing can be better than bringing smiles to fellow men. And a thank you quote like this is perfect for expressing your gratitude to the person who brought a smile on your face.
"Let us be thankful for the fools. But for them the rest of us could not succeed" – Mark Twain quotes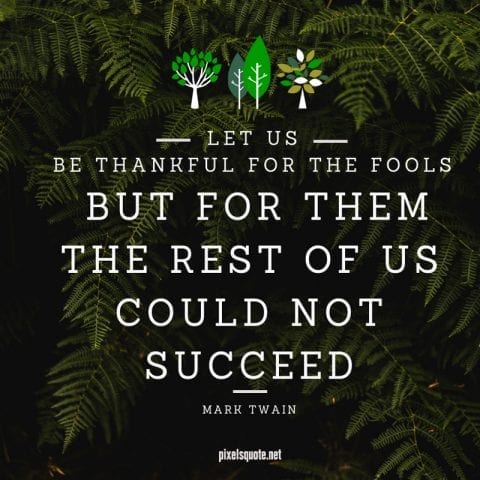 This phrase by Mark Twain might seem shady at the first appearance, but it is deeply meaningful. For one to shine in the world, the others need to be dull….. in the same way, for one to succeed, the others have to be fools.
This quote is a reminder for all the successful people, that they must recognize the role of the less smarter ones in their success.
"Thank you for being you"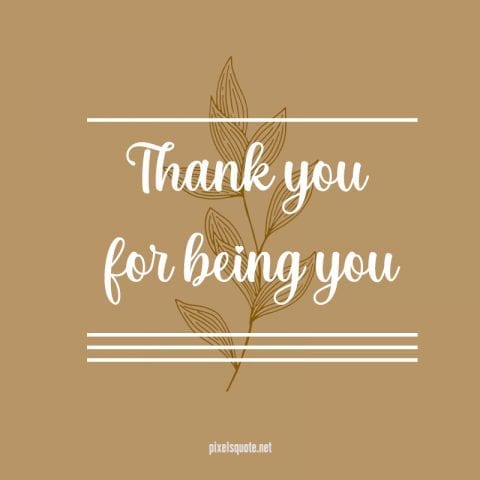 Beauty lies in the imperfections. It shines through the little flaws. Letting all the guards down and being your true self in front of a person takes a lot of valor. And if a person expresses their true self in front of you genuinely, they deserve appreciation for it.
This quote is a spot on for one such moment, when you want to thank a person for being themselves in front of you.
"Friends like you make life's challenging moments more bearable. Thanks for being you." – Catherine Pulsifer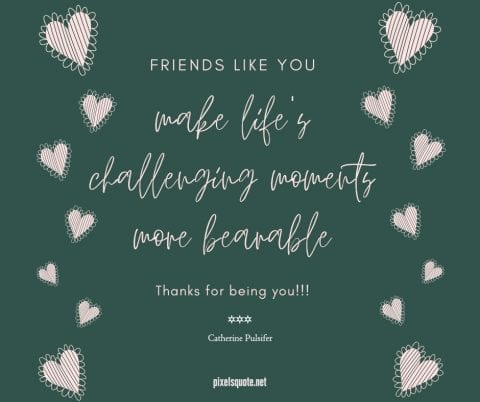 If you are one of those people who count on their friends for support, then this thank you quote is just the right thing for you.
Friends make life's most testing times easy and tolerable. And pals like these are so worthy of a sweet quote by you, showing your thankfulness to them for being their aide.
"If the world had more people like you it would be a better place. You do make a difference." – Catherine Pulsifer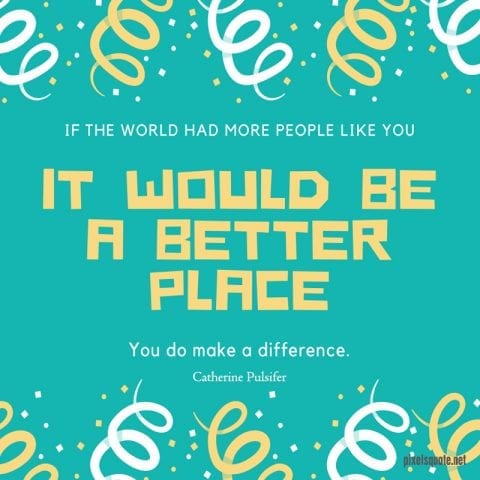 The world becomes a serene place when you have amazing people around you at all times.
This quote is in every respect the best one to express your thank you to such amazing people of your lives. Such people make this world a better place, and this quote would definitely make their day a better one.
"Here's to those who inspire you and don't even know it"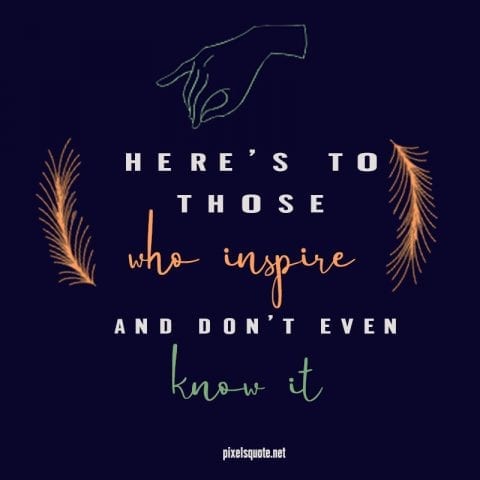 Every person has an idol in life, whose footsteps they follow or take inspiration from. Your idol can be a celebrity, your teacher, or your family and friends as well.
And for all the role they have played in your success, you would definitely love this quote to show your thankfulness to them. So why not, raise a toast to your great icon for their silent guidance in your life.
"Someday I will give back what you have given me. Thank You."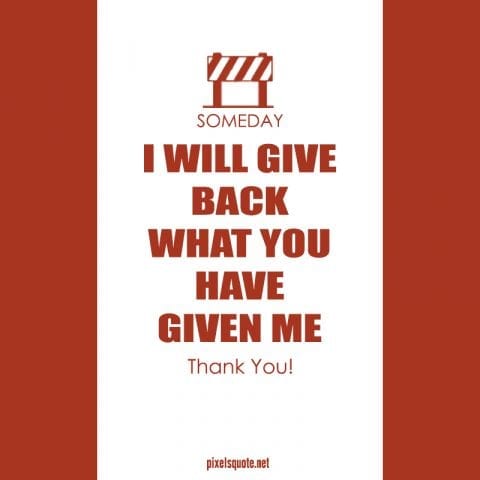 It's hard to measure the immense care and support a person gives to you. But a simple thank you note like this surely does wonders in expressing your gratitude to them.
Although it's not easy to pay back for all the sweet gestures one does for you, but an effortless thank you does help a lot. Recognizing someone's favors is out and out the best way to thank someone.
"Thank you for brightening my world"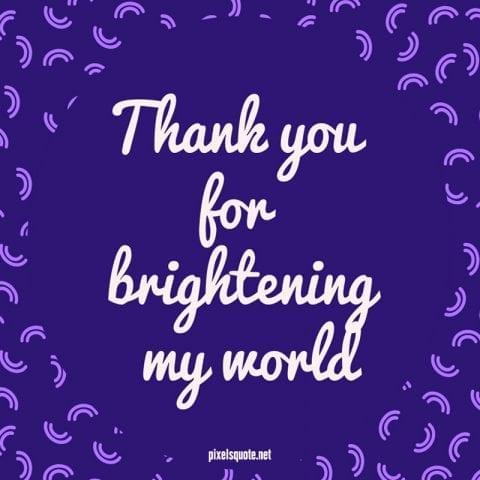 The right people enter your lives and illuminate your each day. They, in every respect, brighten your lives and add colors to it. A pleasant thank you quote would be an apt solution to tell them how much you cherish and admire them for being the light of your life.
"Let us be kinder to one another"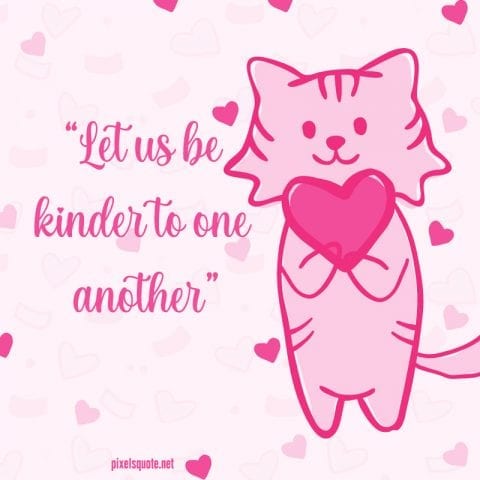 No wisdom in this world is more great than kindness. The world would become a much better place if the mankind would be kinder to each other.
Kindness and love are virtues that blooms and grows wherever they are planted. They are never wasted. Few words of kindness can really make your fellow human's day..
"You've always believed in me. Thank you!"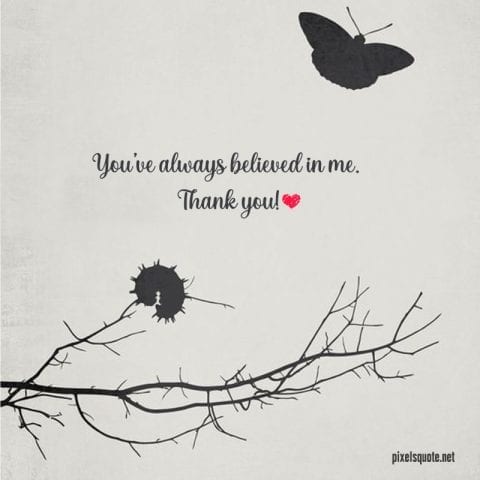 The power of belief is commendable. And having your friends and family by your side, who believe in you, is unmatchable.
A little thank you quote for such companions would be a great gesture to make them feel acknowledged. This amazing phrase is going to make your loved ones feel highly appreciated and valued.
"Thank you for being an important part of my story" – Alfred Painter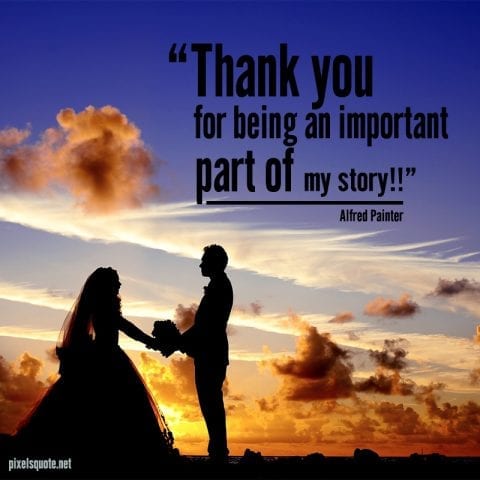 Some people make your life better just by being in it. Life is like a story, and the people that are close to you add twists and turns to your story to make it ever more interesting.
This thank you quote can help you a great deal in appreciating such people who are your authors of happiness….
"Saying thank you is more than good manners, it is good spirituality" – Mark Twain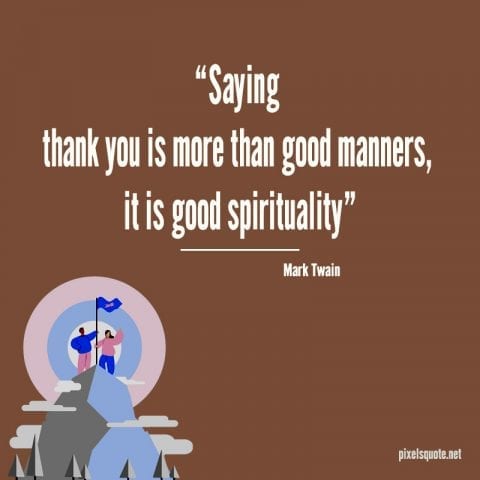 Thank you and sorry are some of the most simple words. Simple as they seem, they are so powerful they can give someone a leg up even in the most difficult situations.
Praising someone's efforts can brighten up their day. It's more than just good manners, it is good spirituality. Only a person with a pure heart can bring happiness to people by their small gestures. This thank you quote can lift up spirits even in the dullest moments.
"Kindness is a language which the deaf can hear and the blind can see" – Willie Nelson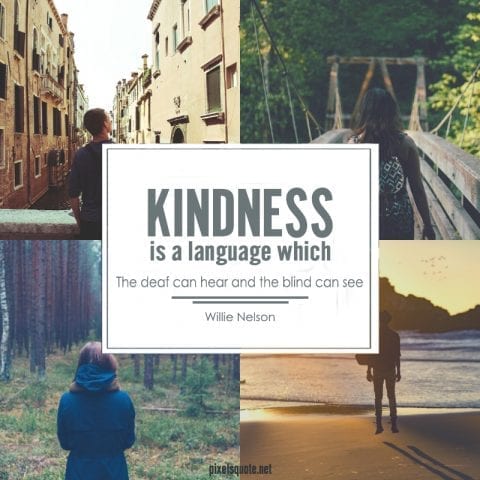 Kindness costs nothing, not even a single penny, but it means everything to people who crave warmth. A simple gesture of goodwill can bring blissfulness in life of all fellow beings. Kindness conveys a lot without even saying a word. It's a language that even the deaf can hear and the blind can see.
"When I started counting my blessings, my whole life turned around"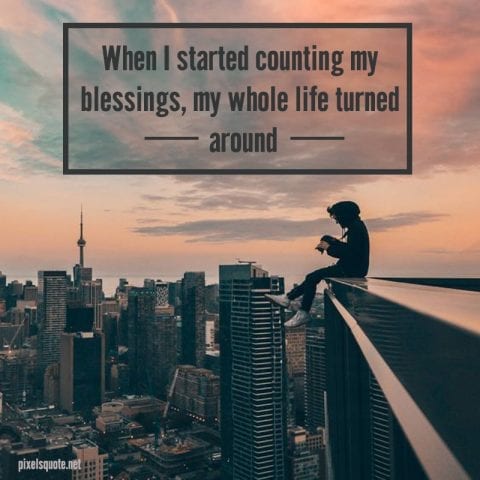 If people started to count their abundant blessings instead of money, then there would be no one poor in this world. People must appreciate the blessings that are showered upon them in the form of family, friends, and other loved ones in their life.
This quote is tailor-made for people who wish to cherish their blessings in life and want to thank the universe for all the positivity.
"There is always, always, always something to be thankful for" – Maya Angelou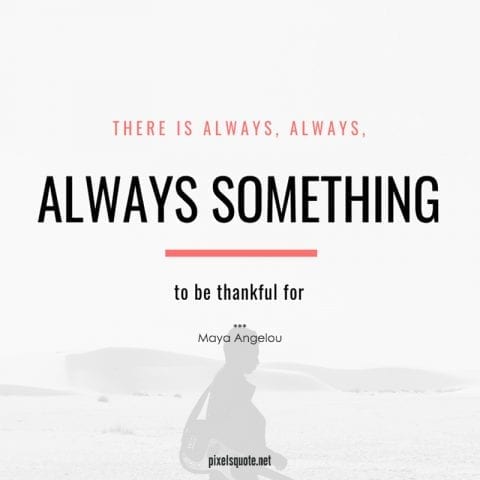 This thank you quote gracefully preaches the positivity and optimism that one should treasure in life. Even in the most dark and dull days, there is something to look forward to. One should be thankful of even a little sparkle that comes his way.
Even when you are going through the most trying times of your life, you should be grateful to God. For you never know, there might be your good hidden behind all that happens.
Check more thank you quotes
It is said that a little act of kindness goes a long way. Saying thank you is out-and-out the easiest way to appreciate someone. It shows your kind-heartedness. It is extremely easy to say thank you and it is now even easier, all due to these amazing Thank-you Quotes.
Recognizing someone's efforts helps to strengthen your connections with them. Realizing the role of your fellow human beings in your success and well-being can make your relationship with them healthier. If you are one of those who love to spread positivity, then trust these quotes to do the job for you.
These quotes have an amusing ability to create goodwill amongst people and spread cheerfulness. Appreciation and acknowledgement makes people happy, and it in turn makes you happier. So share these quotes with your friends and family and spread cheer and gratefulness!!!
"When we give cheerfully and accept gratefully, everyone is blessed" – JFK
"As we express our gratitude, we must never forget that the highest appreciation is not to utter words, but to live by them." – Ralph Waldo Emerson
"You cannot do a kindness too soon because you never know how soon it will be too late"
"Never let the things you want make you forget the things you have" – Robert Holden
"The real gift of gratitude is that the more grateful you are, the more present you become" – Bruce Wilkinson
"A moment of gratitude makes a difference in your attitude" – Kristin Armstrong
"When we focus on our gratitude, the tide of disappointment goes out and the tide of love rushes in" – Cicero
"Gratitude is not only the greatest of virtues, but the parent of all others" – David Steinall-Rast
"It is not joy that makes us grateful; it is gratitude that makes us joyful" – William Arthur Ward
"Gratitude can transform common days into thanksgiving, turn routine jobs into joy and change ordinary opportunities into blessings" – Brian Tracy
"Develop an attitude of gratitude and give thanks for everything that happens to you, knowing that every step forward is a step toward achieving something bigger and better than your current situation" – Benjamin Disraeli
"I feel a very unusual sensation—if it is not indigestion, I think it must be gratitude" – Oscar Wilde
"The smallest act of kindness is worth more than the grandest intention" – Ethel Watts Mumford
"God gave us our relatives; thank God we can choose our friends"
"There's always something to be thankful for. If you can't pay your bills, you can be thankful you're not one of your creditors"
"Thank you for always being there for me even when I'm being a pain in the rear"
You may also like these text quotes
"I couldn't find a card that expressed my gratitude the way I wanted. I need a card that gives you a big hug"
"You put the you in thank you!" – The shortest thank you quotes.
"Someday I will give back what you have given me. Thank You."
"Every life is a story, thank you for being part of my story."
"There are no words that can express my thanks for you. If words could be hugs I would send you pages."
"I couldn't find a card that expressed my gratitude the way I wanted. I need a card that gives you a big hug." – Catherine Pulsifer
"You have influenced my life in such a positive way words cannot express my appreciation. You are truly an inspiration" – Catherine Pulsifer
"From the bottom of my heart, I thank you, and appreciate all you have done. Your generosity has given me new hope!" – Catherine Pulsifer
"Your guidance and patience no matter what I was doing has helped develop me into the person I am today, thank you!" – Steve Maraboli
"You changed my life without even trying, and I don't think I could ever tell you how much you mean to me. I can't imagine what things would be like if I hadn't met you." – John F. Kennedy
"We must find time to stop and thank the people who make a difference in our lives." – Tommy Wyatt, Appreciation Marketing
"The truth is, not saying 'thank you' does more damage than actually saying 'thank you' does good." – Chris Johnston, 101 Greatest Life Lessons
"…saying thank you, or offering other words of appreciation, along with sincere compliments and other grateful or kind words are the best way to fortify relationships." – Elizabeth Gilbert's thank you quotes.
"In the end, maybe we must all give up trying to pay back the people in this world who sustain our lives. In the end, maybe it's wiser to surrender before the miraculous scope of human generosity and to just keep saying thank you, forever and sincerely, for as long as we have voices." – Don Meyer, Basketball Coach
"If you want to thank me, go do something for somebody else." – Elllen DeGeneres
"If someone ever says you're weird say thank you." – Brenda Shoshanna, Everyday Gratitude
"When we start paying attention to the services we receive, stop and really see the person who is doing it and take the time to say thank you, our entire day will change." – Byron Pulsifer
"From young to old, there are two words that carry a person forth in grace and honor; please and thank you." – Catherine Pulsifer