Valentine's Day is a special occasion when all of your concentration is on showing love to the others. This is a day when the whole world will celebrate love, with chocolates, flowers and kisses.
On this day, we try to spend time with our beloved ones in the most impressive way. That could be as fancy as a dinner with candles and live music, or as simple as some lovely words whispered to their ears.
There are many romantic Valentine's Day quotes that you can use to show your love on this special day. Let's look at some of these quotes in which you can see the genuine feelings in every word.
Happy Valentine's Day quotes
"There is only one happiness in life: to love and be loved." – by George Sand
We think that happiness comes after success. Truth is, as many Valentine's Day quotes point out, happiness only happens when you love and you are loved.
When you find your love, you will feel the peace and fulfillment that you cannot have in any other case. Suddenly, your world becomes brighter, happier, and you feel at home.
"Valentine's Day is the poet's holiday." – by Ted Koosner, Poet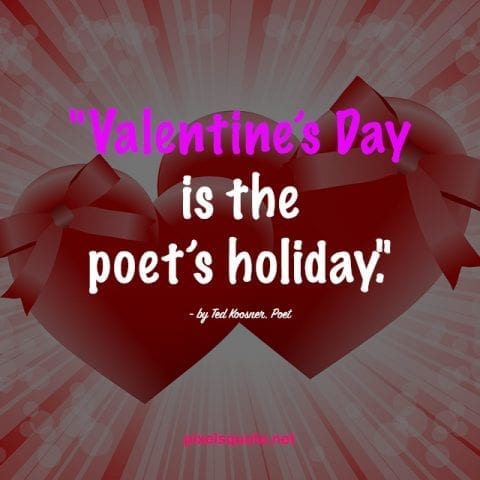 Poets are the ones who paint pictures and show feelings by words. However, there is still something that even the best poet cannot express enough, no matter how much he tries.
That something is called "love". In a day like Valentine's Day, when love is praised all around the world, poetry falls short in describing the happiness we have.
Valentine's Day is when they all take a break, and just spend time feeling and celebrating their own love.
"A flower cannot blossom without sunshine, and man cannot live without love." – by Max Muller, Philologist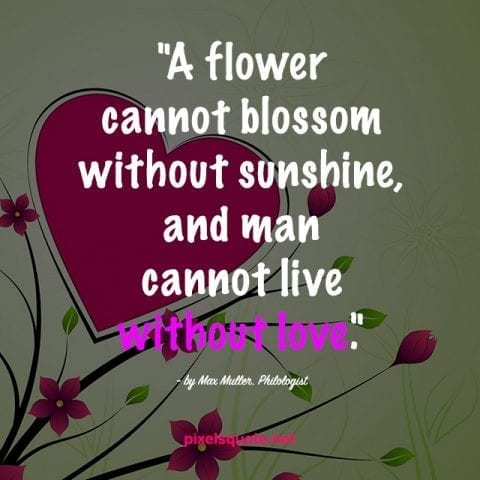 On Valentine's Day, when we look back at our love, we become more aware of its power. No more rushing in daily routine, we realize that what gives us strength in life is love.
We depend on this feeling to have inspiration, motivation and belief to survive and thrive. We need love to live just like flowers need sunshine to blossom.
"You know you're in love when you can't fall asleep because reality is finally better than your dreams." – by Dr. Seuss, Author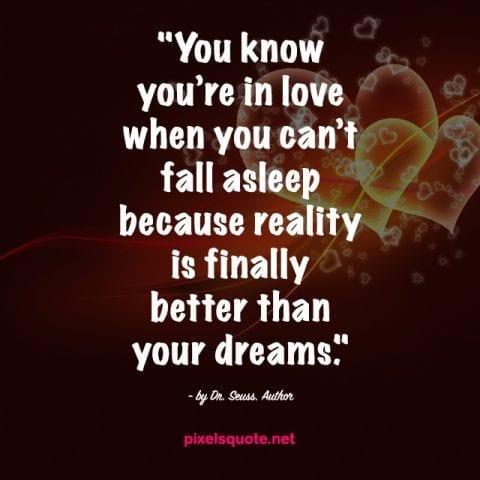 When we are in love, suddenly the world becomes thousands times better.
Love does not change the life itself, but love changes the way we look at it.
We start to notice the little things we normally ignore, and believe in the future we used to doubt.
We find life lovelier and more beautiful, and even dreams cannot compare.
"Love planted a rose, and the world turned sweet." – by Katharine Lee Bates, Songwriter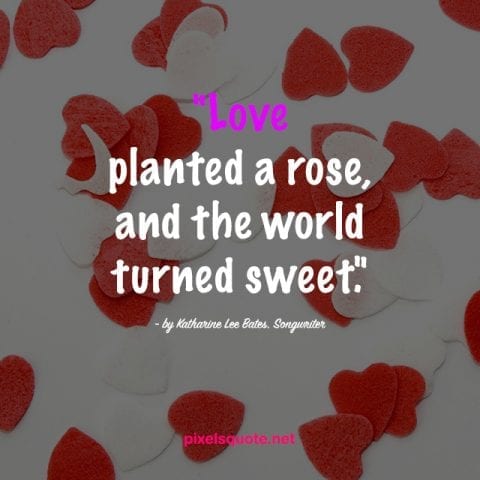 Valentine's Day quotes compare each love as one more rose planted on this planet. It adds color, scent and life to this world.
It makes this world a much more beautiful place to live. On Valentine's Day, we can see millions of roses everywhere, representing millions of loves.
Loving someone and showing that love means one rose has blossomed with more sweetness added to this life.
"There are never enough I Love You's." – by Lenny Bruce, Comedian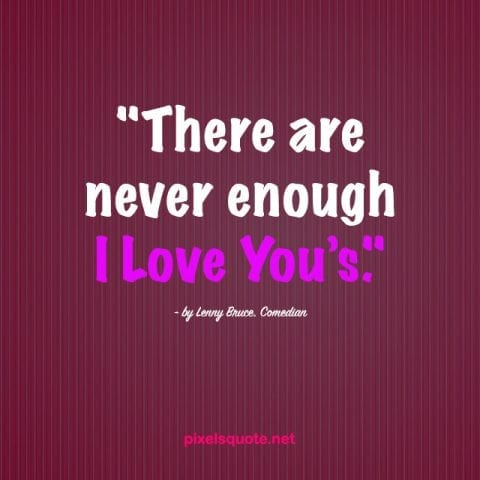 Will there ever be enough love? Well, the answer is no. Each of us need love in our life, and we need as much love as possible.
And when you love someone, tell that person your feelings, show that you care and appreciate your loved one.
Each time you say "I Love You", you are making your life happier and bringing a little more beauty to this world.
"Love is metaphysical gravity." – by R. Buckminster Fuller, Architect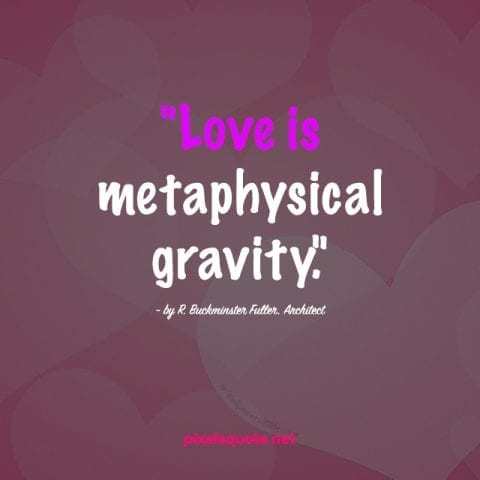 Love is very powerful. It is a mega force that we cannot escape when we have fallen in, a trap that we voluntarily jump into.
Love is stronger than any gravity, pulling us together without us being aware of it.
Before you even realize, you have found yourself emotionally attached with another person in this sweet relationship.
Love defies time and distance. No matter where you are, you will always come back with the one you love.
"I want you today, tomorrow, next week and for the rest of my life." – by I.A. Dice.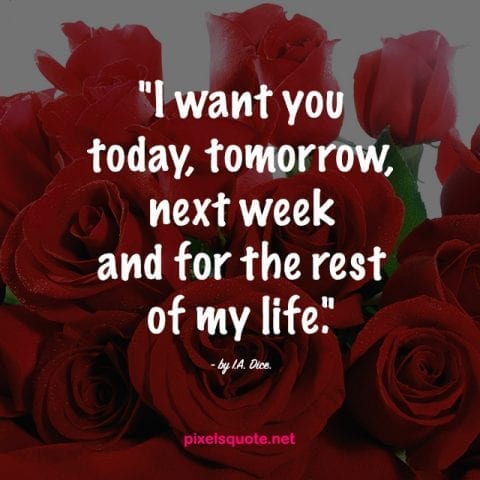 Valentine's Day can be only a day, but love is for a lifetime. The need and desire for the one you love is expressed in many Valentine's Day quotes.
This day is a special day which we can spend with each other, but love is not a matter of a day. It is what you do today, tomorrow and for the whole future ahead.
"If you remember me, then I don't care if everyone else forgets." – by Haruki Murakami, Author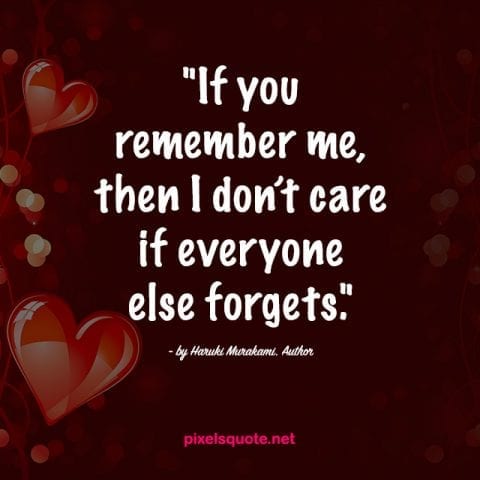 There are many people we meet in our lifetime, but the ones who matter are the ones we love.
We cannot make everyone we meet appreciate and remember us. However, we can make the most important people to keep us in their hearts.
After all, they are the one who we truly love and care, and whom we expect to love us back.
"My ideal Valentine's Day is spending it with someone you are in love with and for that someone to make you feel loved and appreciated." – by Candice Swanepoel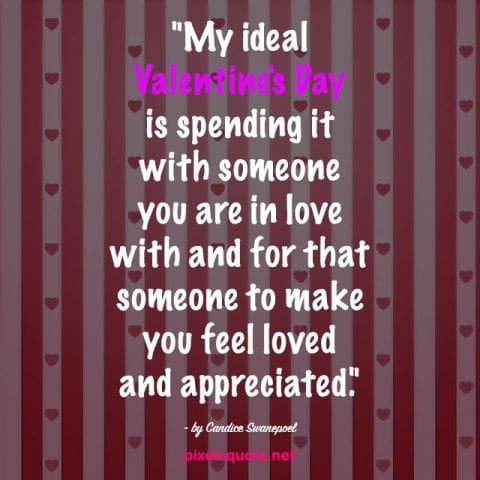 Valentine's Day is the day of love, don't waste it living like an ordinary day.
The best way to enjoy this day is to spend it with the one you love and also loves you. By that way, you will feel happy giving and receiving love, care and appreciation.
And that does not only limit in one day; that should also be the ideal for every day.
Image quotes about Valentines Day
"You're a beautiful woman, you deserve a beautiful life. Nothing less." – by Water for Elephants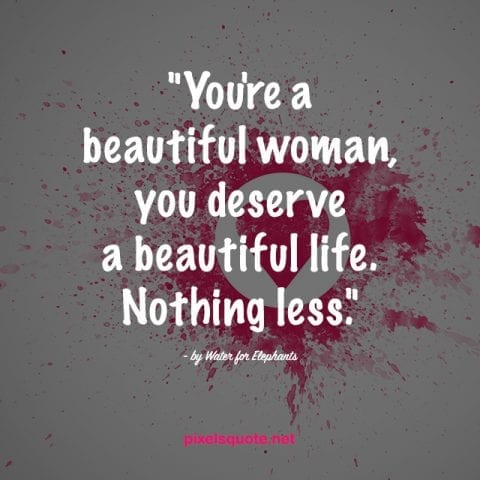 "I feel wonderful because I see the love light in your eyes." – by Eric Clapton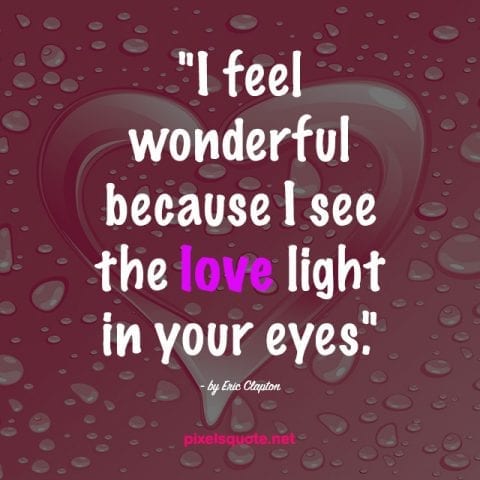 "When love is not madness, it is not love." – by Pedro Calderon de la Barca, Playwright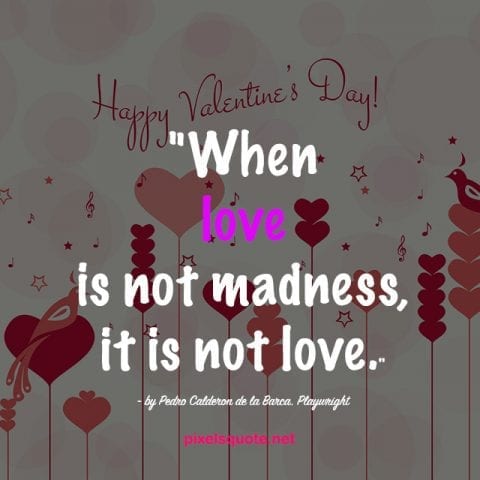 "Your flaws are perfect for the heart that's meant to love you." – by Trent Shelton, Football Player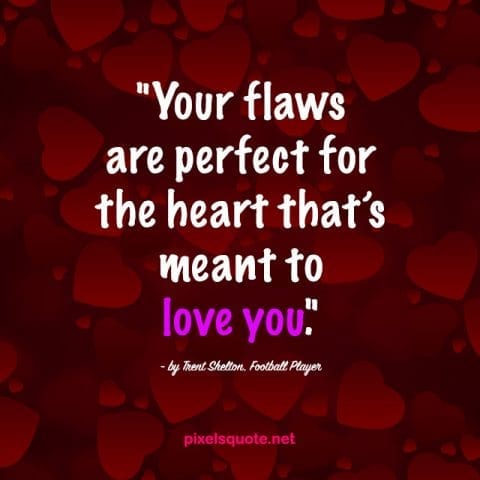 "Lovers don't finally meet somewhere. They're in each other all along." – by Rumi, Poet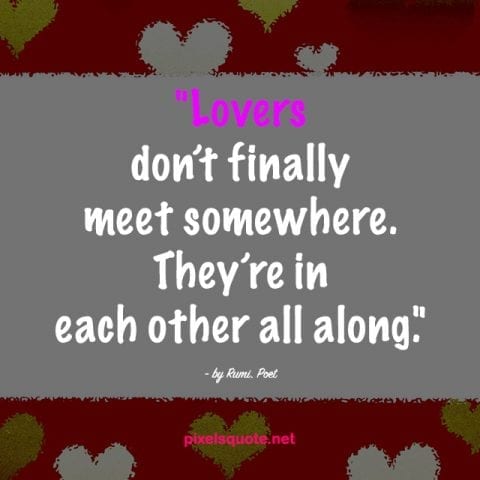 "The art of love…is largely the art of persistence." – by Albert Ellis, Psychologist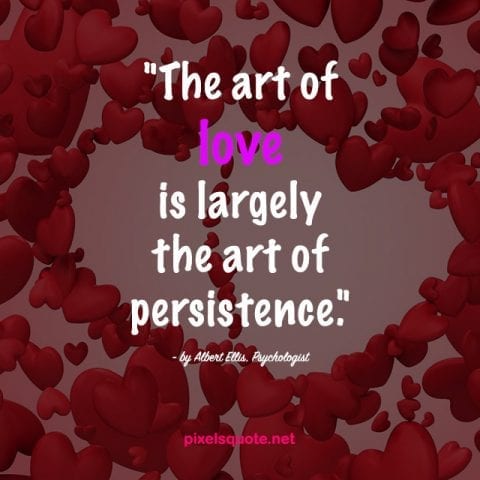 "A successful marriage requires falling in love many times, always with the same person." – by Mignon McLaughlin, Journalist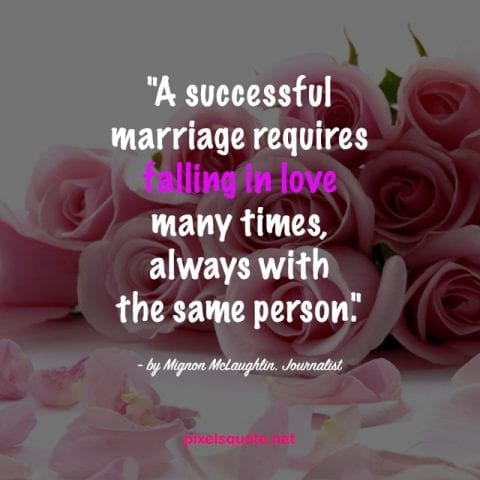 "Love doesn't make the world go round. Love is what makes the ride worthwhile." – by Franklin P. Jones, Engineer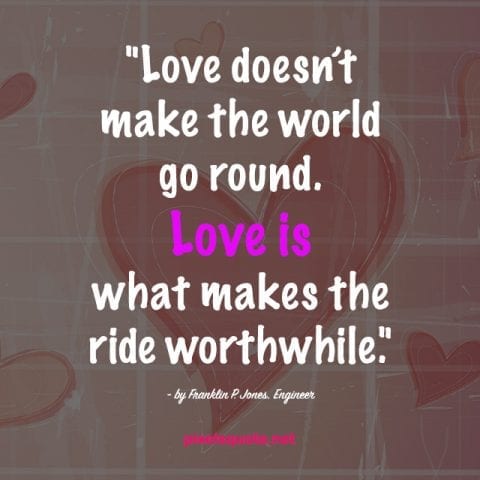 "Grow old with me! The best is yet to be." – by Robert Browning, Poet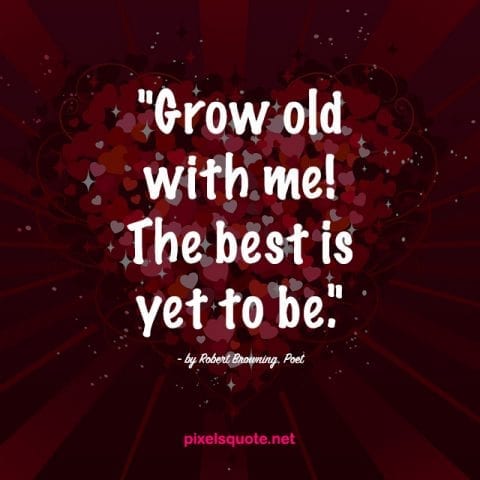 "It is astonishing how little one feels alone when one loves." – by John Bulwer, Physician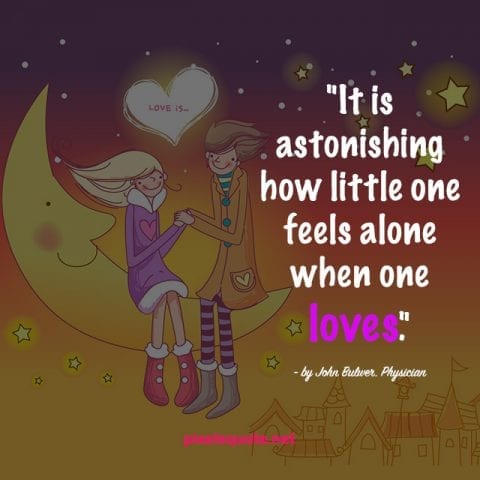 Valentine's Day text quotes:
"Love is the greatest refreshment in life." – by Pablo Picasso, Artist
"Where there is love, there is life." – by Mahatma Ghandi, Civil Rights Leader
"All of us, consciously or unconsciously, set out to have the best possible love life. Valentine's Day simply shines a light on the degree to which that didn't – or hasn't yet – materialized." – by Tracy McMillan
"The best and most beautiful things in the world cannot be seen or even touched. They must be felt with the heart." – by Helen Keller, Author
"Love is something eternal; the aspect may change, but not the essence." – by Vincent van Gogh, Artist
"This fire that we call Loving is too strong for human minds. But just right for human souls." – by Aberjhani, Historian
"Each time you love, love as deeply as if it were forever." – by Audre Lorde, Civil Rights Activist
"Love is when the desire to be desired takes you so badly that you feel you could die of it." – by Henri de Toulouse-Lautrec, Painter
"A true lover always feels in debt to the one he loves." – by Ralph W. Sockman, Pastor
"Gravitation is not responsible for people falling in love." – by Albert Einstein, Physicist
"Nobody has ever measured, even poets, how much a heart can hold." – by Zelda Fitzgerald, Author
"Love is a canvas furnished by nature and embroidered by imagination." – by Voltaire, Author
"People love in different ways. You may have a man who brings you flowers every Monday but doesn't give two hooty-hoots about Valentine's Day. Just because he doesn't give you a valentine doesn't mean he doesn't love you!" – by Jada Pinkett Smith
"Love is being stupid together." – by Paul Valery, Poet
You may also like these Valentines Day Quotes:
"And suddenly all the love songs were about you." – by Unknown
"I look at you and I would rather look at you than all the portraits in the world." – by Frank O'Hara
"The Eskimos had fifty-two names for snow because it was important to them: there ought to be as many for love." – by Margaret Atwood, Author
"I wish you to know that you have been the last dream of my soul." – by Charles Dickens
"January is the best time of year for gym owners. You all come. It's great! And then, by Valentine's Day, you're not coming in anymore." – by David Kirsch
"If the sun refused to shine, I would still be loving you. When mountains crumble to the sea, there will still be you and me." – by Led Zeppelin
"Love is a condition in which the happiness of another person is essential to your own." – by Robert Heinlein, Author
"If I have learned anything, it is to keep my wife happy by sending her lavish gifts. Other men can learn from my success and send their wives and girlfriends fresh flowers for birthdays, anniversaries, and of course, Valentine's Day." – by Don Rickles
"I just think Valentine's Day is a day to really appreciate the person you love, no matter who it is, and to spend time with them. I don't think it's all about fancy presents or whatever. I think it's about spending that quality time with that special person." – by Prince Royce
"I'm a hopeless romantic. I love love. My middle name is Love. Valentine's Day is my favorite holiday. I want to have a family and children. I am a sucker for every romantic comedy that comes out." – by Jennifer Love Hewitt
"It was love at first sight, at last sight, at ever and ever sight." – by Vladimir Nabokov
"Look forward to your future, not backward to your past." – by
"No measure of time with you will be long enough, but we'll start with forever." – by Stephenie Meyer
"Our love cannot be measured, it just is." – by John Paul Stevens
"You are imperfect, permanently and inevitably flawed. And you are beautiful." – by Amy Bloom
"Real love cannot be measured with the passion. Love can exist without passion. Real love is a deep and calm feeling." – by Unknown
Final Thought
Valentine's Day plays an important part in today's hectic life when we normally forget life's core meaning.
Eventually, happiness only comes in its full force when we are in deep love. Love is blind, powerful and beautiful.
It should not only be celebrated on a certain day, but also kept in our hearts for a lifetime. In that sense, Valentine's Day quotes not only add sweetness to your day, but also ask you to nurture your love.
They remind us to always express love towards each other, because love is the pillar for a truly happy life.