For many people, beaches are much more than just a holiday destination. Beaches incite feelings of love, laughter, excitement, and joy. These short beach quotes are for sure going to take you back to the waters and make your day a little better.
Not only will you find these quotes funny, but you'll find them purposeful as well. Beaches are almost therapeutic.
If you're planning to chill out and relax, then going to a beach is the perfect solution for you.
And to prepare you for your amazing vacation, here we have a bunch of awesome and short beach quotes that are going to make you feel good cheer.
Short beach quotes top 10
"Beach you to it."
"I'm an aquaholic."
"Sea la vie!"
"Long time, no sea. "
"Sun of a beach."
"Resting beach face."
"Life's a beach."
"Aloha beaches!"
"Beach bum."
"Beach hair, don't care."
Read more similar Quotes about Beach and quotes about Summer.
"Beach you to it."
Whoa!!! This beach quote short but has a hot sexy edge to it. Also, if you not already knew, this quote was also used by Kylie Jenner in one of her Instagram posts. You can get this quote framed as a memoir in your beach home to give it an aesthetic feel.
The warmth and comfort of the beaches can cure any and every tiredness… If you intend to add excitement to a dull beachy conversation, then you can definitely make use of this phrase.
Not only is this quote full of sensuousness, but it is also good enough to make anyone blush too!
"Sea la vie!"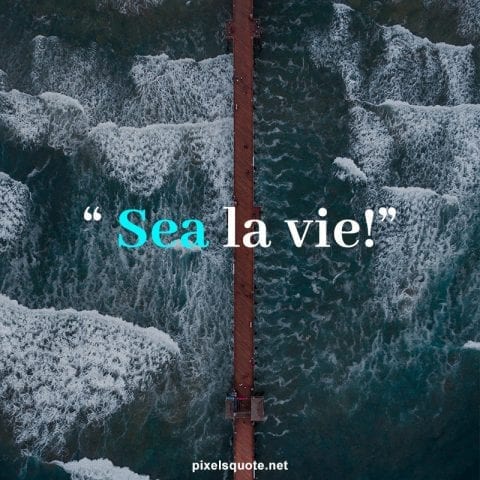 "C'est la vie" is a popular French saying that translates to "this is life"! It can easily be understood as the new generation motto, for people who live life like there's no tomorrow.
Changing this French phrase a little bit, Sea la vie is a short beach quote for all the water babies. Relaxing in the sun, overlooking the waters can be very serene. And this quote is perfect for when you are peacefully laying near the beach waters.
"Long time, no sea."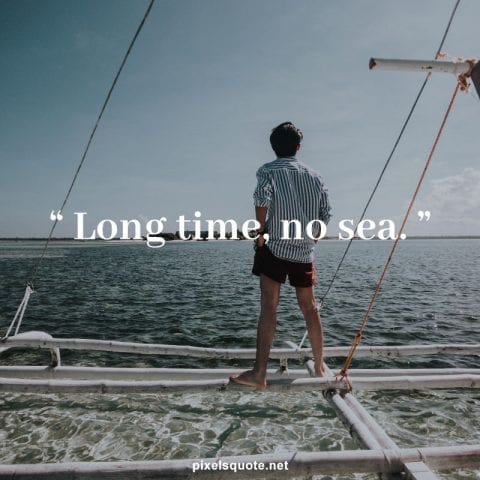 No one doesn't love a good quote with a hint of humor. Besides if you want to invite someone over for a sea party you can make use of this awesome short beach quote.
The pun in this phrase adds a fun element to the otherwise normal greeting. Other than using it as an invitation, you can also use it to spice up your conversations.
"I'm an aquaholic."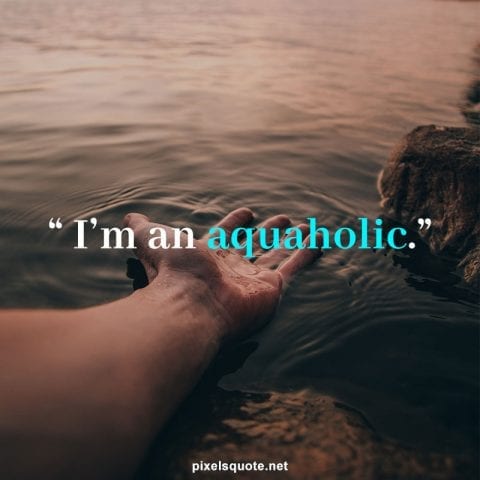 An aquaholic is a person who is addicted to water for some reason. This amazing quote would make for a cool Instagram caption paired with a photo of the beach waters.
If you are a person who is the happiest when you're floating in the sea, then this is just the right thing for you. Use this phrase as a caption, or just stick its poster in your bedroom. This is surely going to tell everyone about your vibes.
"Sun of a beach."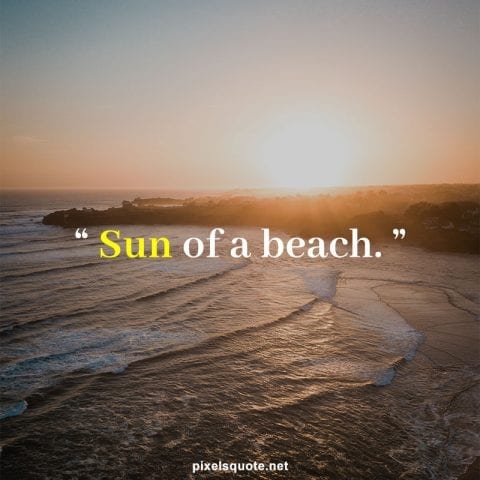 This short beach quote is truly hilarious. It can easily be misunderstood for a swearing phrase which indeed adds a risky element to this saying. Taking its light meaning, this one is spot-on for people for whom the beach is their second home.
Not only this, but it also speaks about the sun that gives you the perfect tan. There is something special about the sun on the beaches. It gives you shivers when you think about it.
"Resting beach face."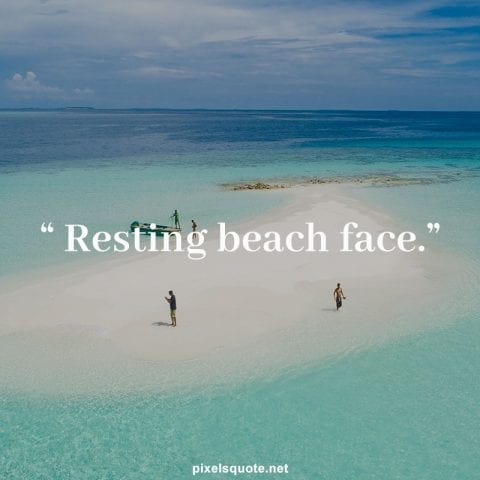 Here we have one more funny beach quote laced with a pun. On one hand, resting "bitch" face is usually used for having involuntary expressions while a person is relaxing.
On the other hand, resting "beach" face is a "pun-ny" phrase that describes portraying facial expressions while relaxing on the seaside. This quote is perfect when you want to dedicate a line for people who enjoy the beach vibes all the time!
"Life's a beach."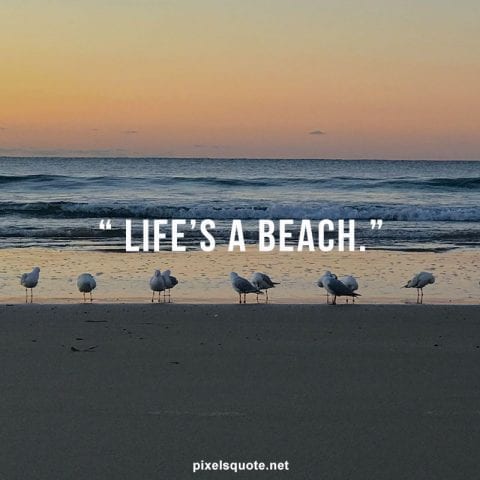 Nothing is as wild, as alluring, and as wavy as the beach waters. Life is like a beach, which calls out to people to find their waves. This short beach quote is not only funny but has a deep meaningful side to it as well.
It is the best feeling to forget all the worries and lay down near the waters. It's so peaceful that mere words can't do justice to it. It's a paradise for all of those who crave a little bit of sunlight and oceans.
"Aloha beaches!"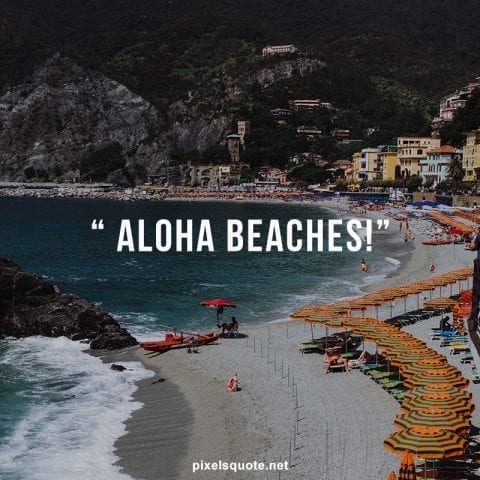 "Aloha beaches!" is a Hawaiian term that refers to a greeting to the beaches. Aloha means living in harmony with the people and land around you with mercy, sympathy, and kindness.
To think soulfully, this quote preaches to enjoy at the beaches, but not let the enjoyment destroy the beauty of nature.
Many people forget to enjoy themselves sustainably and end up leaving a place full of filth. It's better to take a lesson from this phrase and implement it into your lives.
"Beach bum."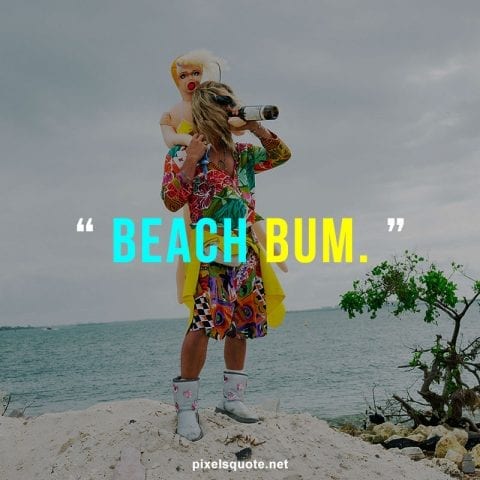 If someone calls you a beach bum, then maybe you love to spend time on beaches. Well, who doesn't? The sea and its shores are probably the most scenics of all the beauties of nature.
The soft and cold breeze that blows on the seaside puts the mind at ease. Moreover, it makes the soul feel better and free from all worries.
The salty waters, the wind blowing in the hair, the palm trees and the sun makes for a fantastic combination. So if you are one such person who loves beaches, you can call yourself a beach bum.
"Beach hair, don't care."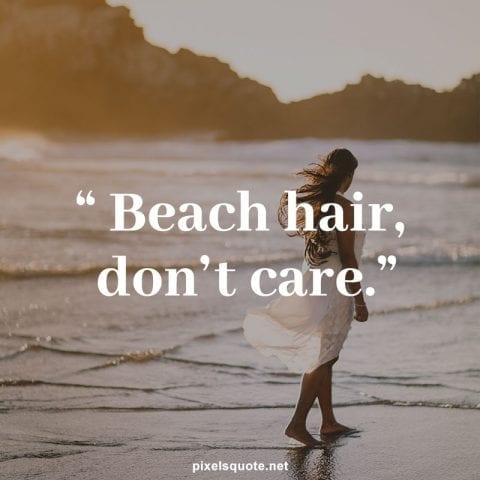 If you wonder what's so special about beach hair, then maybe you haven't yet experienced roaming out on the beaches. Beach hair is full of life, waving wildly in the air. Not to exaggerate, beach hair is pure art.
Soft waves in the hair make everyone look fiercely energetic and happening. And a big plus, you don't have to do anything about it. The salty waters make your hair look very tempting. Enjoy while you're at it, later on, you might have a hard time washing off the sand.
Short Funny Beach quotes
Flipping through the sea waters, drinking cocktails and building sandcastles sounds fun, right? If you want to live the best vacation life, then you must at least once plan a trip to the beaches.
To help you get into vacation mode, here we have the best hand-picked short funny beach quotes which you're surely going to love.
"Shell yeah!"
"Keep palm and carry on. "
"Seas the day."
"Namast'ay at the beach."
"Don't worry, beach happy."
"The beach gives me porpoise."
"Talk to the sand."
"If in doubt paddle out."
"Tropic like it's hot."
"Happy as a clam."
"Beach, please! "
"Salty and sweet."
"Feeling fintastic."
"Just a fish out of water."
"Life is better in flip flops."
"I need vitamin sea."
"Girls just wanna have sun."
"Sunshine is the best medicine. "
"Vacation mode: activated. "
"Good times and tan lines."
"Sandy toes. Sunkissed nose."
"Good vibes happen on the tides."
"Sand on, stress off."
"I wonder if the beach misses me."
"Memories are made in flip flops."
There is no bliss like the beach for sure. It's like a perfect balance between wildness and serenity. These short quotes about the beach perfectly describe the rhythm of the waters and the pace of the waves.
Share them with your family and friends to set the mood for a fun family vacation! These short beach quotes are full of witty punches, puns, and edgy vibes, and are perfect to make you stand out from the crowd!!