Every day is a new day! Let yourself get ready for the upcoming day ahead by reading the inspiring good morning quotes below.
Good morning quotes are perfect choices to start a day full of energy and good vibes. Every day is a new day and there unlimited chances for you to explore new directions for your life. Keep your head up, rise, and shine, it is a new day!
Pick one of these quotes below in your favor to have a perfect beginning of a brand-new day!
Good Morning Quotes Images
"I like my coffee black and my mornings bright." – Terri Guillemets.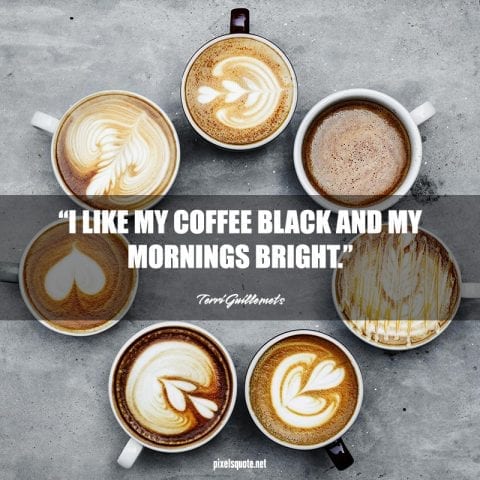 Using a brilliant contrast of black and bright, this good morning quote has emphasized the two most important things for a perfect morning. And it is definitely nothing but black coffee and bright mornings.
Black coffee will keep you energized for the day and bright mornings will give you positivity to make it great. If you are a coffee lover, or your love is, use this quote to inspire the day. It is a good pick for good morning quotes for him/her.
"Write it on your heart that every day is the best day in the year." – Ralph Waldo Emerson.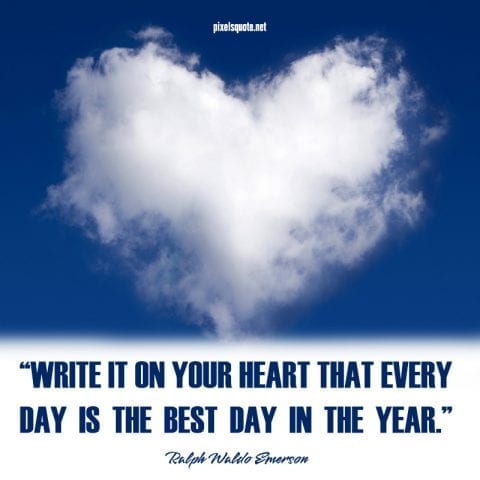 There are 365 days in a year but no days are the same. Yesterday is past, tomorrow is not yet to come and so, today is your best option. You are in your best state today, right at this moment.
Time will never come back. Look at the calendar, we will never have the same day with the exact number ever again!
So, what are you waiting for? Isn't it the best time to create some meaningful moments in your life?
Keep reading: 60 GOOD NIGHT QUOTES WITH SWEET IMAGES
"Morning comes whether you set the alarm or not." – Ursula K. Le Guin.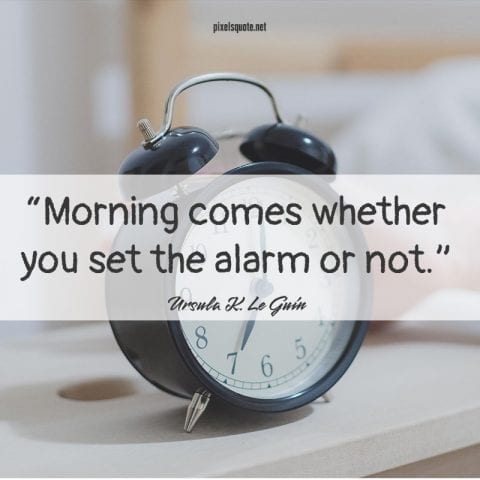 This good morning quote has the same message as the quote "Time waits for no man". Even if you are ready or not, time passes by.
And as time goes by, so do its unfolded mysteries. If you don't get up and live out your life, time can never come back.
Time is gold. Because in time, lies unlimited possibilities. And it is your choice to make the best out of it or let it pass by.
"I've got nothing to say but it's okay, good morning, good morning" — The Beatles.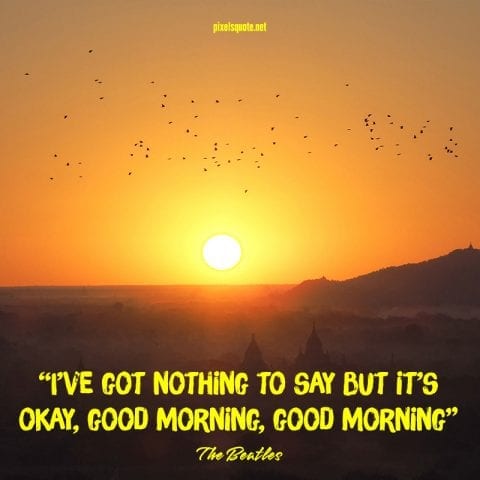 Keep an ear out for the most influential band of all time – The Beatles' quote. With their heart-melting and wholesome lyrics, sometimes it gets just simple as this good morning quote.
Sometimes you wake up and feel nothing. Sometimes it is hard to find something good to say, but it is okay.
Accepting your own feelings and thoughts is the first step to allow yourself to take in anything that the moment gives you. Your morning will kick off perfectly in this way.
"The breeze at dawn has secrets to tell you. Don't go back to sleep." – Rumi.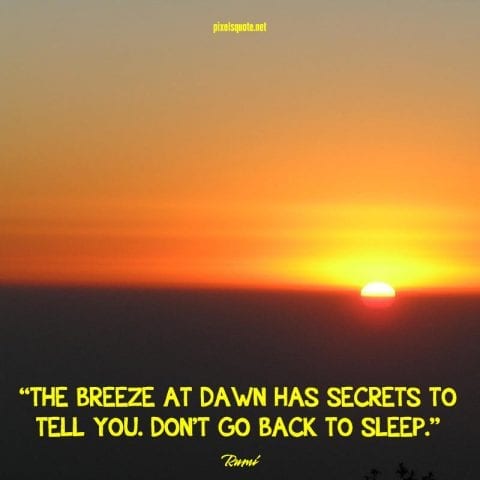 They say "Tomorrow is a mystery". But you don't need to wait until tomorrow. Because your next hour, minute, second already contains unpredictable surprises.
It is a new morning and the dazzling dawn of the day is promising you some amazing gift that is not yet to be known. Don't bury yourself on that plain boring bed. Wake up, say hello to a new day, and brace yourself to unfold the day's mysteries.
"Smile in the mirror. Do that every morning and you'll start to see a big difference in your life." – Yoko Ono smile quotes.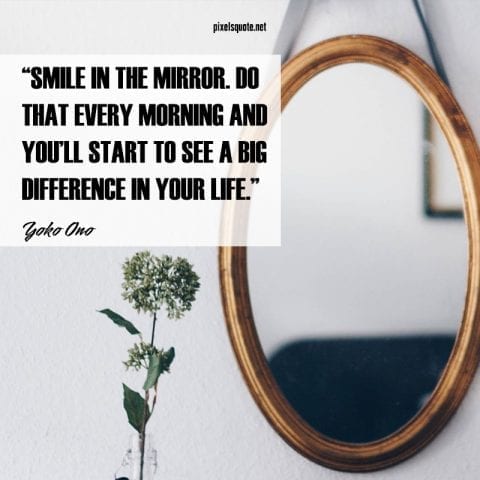 Normally, we wake up in a rush. Rush to have breakfast, rush to go to work, rush to do everything in the day just to hope for a better future, for happiness.
But – think again. Isn't it happiness lies in simple things as the glittering yellow of sunshine laying on the leaves?
Take a slow moment every morning to smile to yourself in the morning. You deserve your own compassion than anyone else, you deserve self-care. Which through just a moment or two.
"The sun is a daily reminder that we too can rise again from the darkness, that we too can shine our own light." – S. Ajna.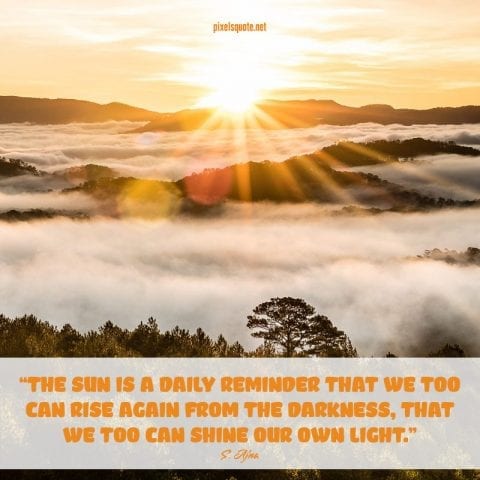 In life, there is darkness and there is light. The constant of life and time is undeniable. The sun rises no matter what and the day comes even if you are ready or not. What adjustable is your attitude towards life?
We, humans, are born with flexibility and adaptability. We too, just as the sun, we fall and we rise. We fail and we try again. We get broken, and we get healed. Remember this and the day is yours.
Inspirational Good Morning Quotes
If you are looking for motivation, inspiration, or good vibes to tell yourself or your loved ones in the morning, pick between these amazing good morning quotes. These are the words from successful people around the world.
"Today's goals: Coffee and kindness. Maybe two coffees, and then kindness." – Nanea Hoffman.
"An early-morning walk is a blessing for the whole day." – Henry David Thoreau.
"I wake up every morning at nine and grab for the morning paper. Then I look at the obituary page. If my name is not on it, I get up." – Benjamin Franklin.
"Every morning, I wake up saying, 'I'm still alive, a miracle.' And so I keep on pushing." — Jim Carrey.
"If you're changing the world, you're working on important things. You're excited to get up in the morning." – Larry Page.
"When you arise in the morning, think of what a precious privilege it is to be alive, to breathe, to think, to enjoy, to love." – Marcus Aurelius.
"I like freedom. I wake up in the morning and say, 'I don't know, should I have a popsicle or a donut?' You know, who knows?" – Oscar Nunez.
"In the morning a man walks with his whole body; in the evening, only with his legs." – Ralph Waldo Emerson.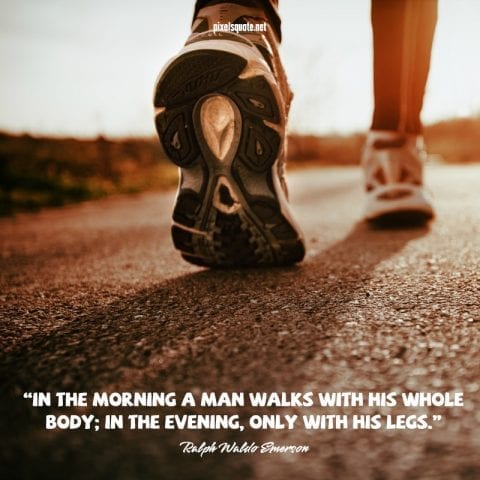 After a long night's sleep, our brain cells and body get recharged fully and are ready for a new day. However, throughout the day, our energy gets drained and we may only live the day with half of it.
Maybe that's why morning is the best time for us to focus on the best parts of the day. Divide your tasks and distribute your energy effectively. You will make the best of each day!
"Some people dream of success, while other people get up every morning and make it happen." – Wayne Huizenga.
"I used to love night best but the older I get the more treasures and hope and joy I find in mornings." – Terri Guillemets.
"Morning is an important time of day because how you spend your morning can often tell you what kind of day you are going to have." – Lemony Snicket.
"It is in the early morning hour that the unseen is seen and that the far-off beauty and glory, vanquishing all their vagueness, move down upon us till they stand clear as crystal close over against the soul." – Sarah Smiley.
"Everyone has highs and lows that they have to learn from, but every morning I start off with a good head on my shoulders, saying to myself, 'It's going to be a good day!" – Lindsay Lohan.
"I'm always thinking about creating. My future starts when I wake up every morning. Every day I find something creative to do with my life." – Miles Davis.
"I get up every morning and it's going to be a great day. You never know when it's going to be over, so I refuse to have a bad day." – Paul Henderson.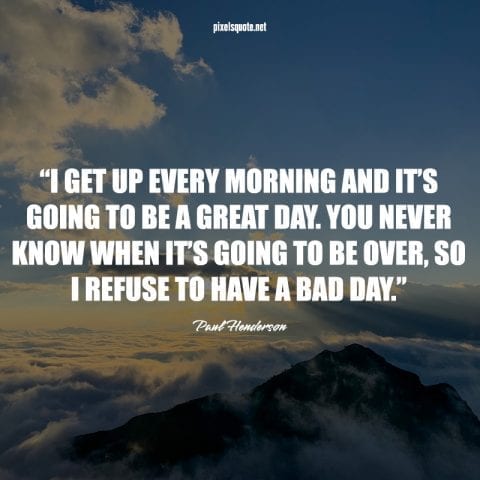 Paul Henderson is a man who lives with enthusiasm and makes thousands of audiences cheering whenever he scores a point in his hockey matches. This quote of him about new days has conveyed a simple but long-lasting message.
Our lives are finite, we don't know when will our time on this planet reach its end. So, enjoy every morning that you can wake up from. Take it as a gift and live it to its fullest.
"Lose an hour in the morning, and you will spend all day looking for it." – Richard Whately
"Now that your eyes are open, make the sun jealous with your burning passion to start the day. Make the sun jealous or stay in bed." – Malak El Halabi
"First thing every morning before you arise say out loud, 'I believe,' three times." – Ovid
"I remind myself every morning: Nothing I say this day will teach me anything. So if I'm going to learn, I must do it by listening." – Larry King
"I wake up laughing. Yes, I wake up in the morning and there I am just laughing my head off." – Bruce Willis
"When I wake up in the morning, I feel like a billionaire without paying taxes." – Ernie Banks
"If you get up in the morning and think the future is going to be better, it is a bright day. Otherwise, it's not." – Elon Musk
They may be successful on different levels, but there is one thing that they all excel in life. It is to get themselves up in the morning and make the best out of their days.
Good Morning Quotes for her and for him
Besides saying good night quotes to your loved one, say this good morning quote to her/him to motivate them.
"Every morning was a cheerful invitation to make my life of equal simplicity, and I may say innocence, with Nature herself." – Henry David Thoreau
"In these times you have to be an optimist to open your eyes when you awake in the morning." – Carl Sandburg
"I like to work in the morning. I like to sometimes go to a place where I'm all alone where I'm not going to get a phone call early that hurts my feelings because once my feelings are hurt, I'm dead in the water." – Francis Ford Coppola
"Something special awaits you each day. All you need is to recognize it and make the most of it. Have a positive attitude throughout the day and then that today is going to be the best day of your life."
"You know that feeling when you wake up in the morning and you're excited for the day? That's one of my main goals in life." – Kirsten Dunst
"I learned to love myself because I sleep with myself every night and I wake up with myself every morning, and if I don't like myself, there's no reason to even live the life." – Gabourey Sidibe
"I arise in the morning torn between a desire to improve the world and a desire to enjoy the world." – E. B. White
"One key to success is to have lunch at the time of day most people have breakfast." – Robert Brault
"I wake up in the morning and my heart is light, man. It's not heavy. I don't have skeletons in the closet on their way out." – Drake.
"What is love? It is the morning and the evening star." – Sinclair Lewis.
"Morning without you is a dwindled dawn." – Emily Dickinson.
"The silence in the morning holds lots of expectations and is more hopeful than the silence at night." – Victoria Durnak.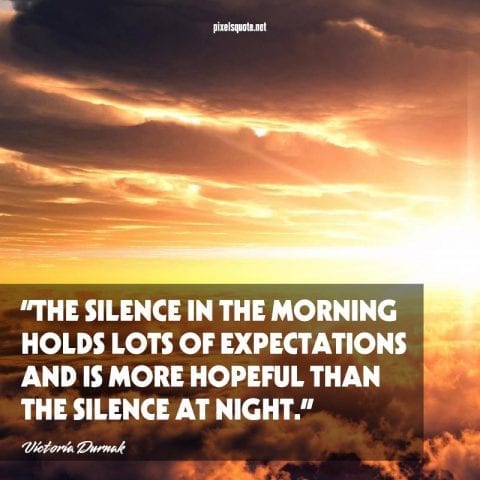 The silence of the night gives us the space to relax, rewind, and reflect. While mornings' silence holds lots of possibilities for you to be ready to feel. To seize the moment, and to make the upcoming hours become memorable.
No matter how bad or good your previous day was, it is possible to make today the greatest day of your life!
"Every morning, my dad would have me looking in the mirror and repeat: "Today is going to be a great day; I can, and I will." – Gina Rodriguez.
"With the new day comes new strength and new thoughts." – Eleanor Roosevelt.
"I have always been delighted at the prospect of a new day, a fresh try, one more start, with perhaps a bit of magic waiting somewhere behind the morning." – J. B. Priestley
"For each new morning let there be flow of love. Let there be light of happiness in every direction." – Amit Ray.
"When you do something beautiful and nobody noticed, do not be sad. For the sun every morning is a beautiful spectacle, and yet most of the audience still sleeps."– John Lennon.
"It is a serious thing – just to be alive – on this fresh morning – in this broken world." – Mary Oliver.
"Nobody can go back and start a new beginning, but anyone can start today and make a new ending." – Maria Robinson.
"Do not shorten the morning by getting up late; look upon it as the quintessence of life, as to a certain extent sacred." – Arthur Schopenhauer.
"I never wake up in the morning and wonder why I am here. I wake up and wonder why I am not making here better." – Jeffrey Fry.
In the end, all we could leave for the world is our footprint. Why don't we pick up the same energy to make our own story memorable? Get yourself up, lift up your hope and gather all of your energy! Because it is a new day!