Hi guys, nice to see you again. Today, when I was on my way to work, I received a greeting from my old friend. She comes to visit me (but not only me) once per year and every time she comes, she helps me to realize that life is really beautiful.
And you guys, I bet that you know her too. But sometimes maybe you are too busy to realize her. Her name is Autumn – the most beautiful, attractive season of the year.
I know that you agree when I call Autumn a lady. Yup, a romantic season like this must be a woman. But she can make not only men but also women fall in love with her. What are your memories about Autumn?
I really want to hear about that. But first of all, let me share my memory about this wonderful friend by my favorite autumn quotes.
Autumn Quotes with beautiful images:
"Autumn is a second spring when every leaf is a flower" – Albert Camus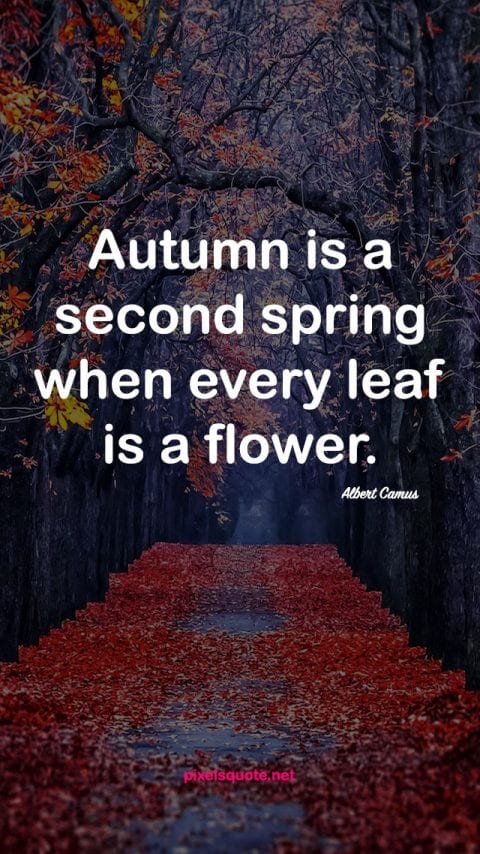 "Anyone who thinks fallen leaves are dead has never watched them dancing on a windy day" – Shira Tamir.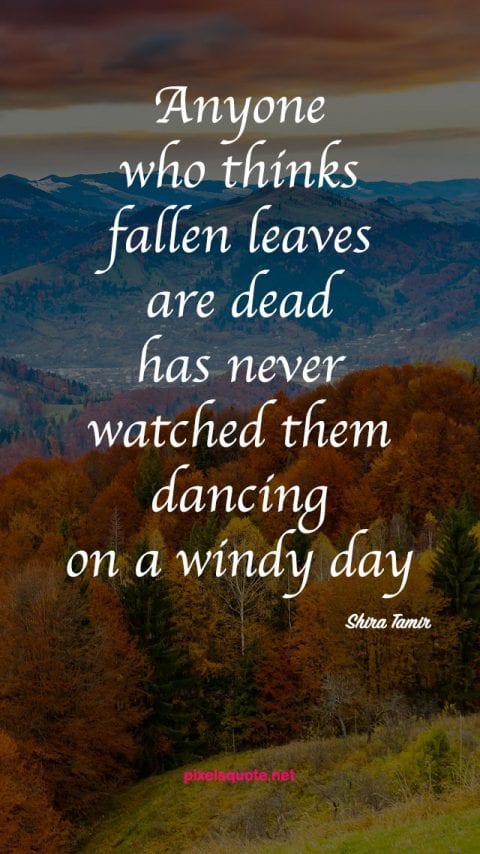 "Autumn that year painted the countryside in vivid shades of scarlet, saffron, and russet, and the days were clear and crisp under the harvest skies" – Autumn quotes from Sharon Kay Penman.
"I can smell autumn dancing in the breeze. The sweet chill of pumpkin, and crisp sunburnt leaves." – by Ann Drake.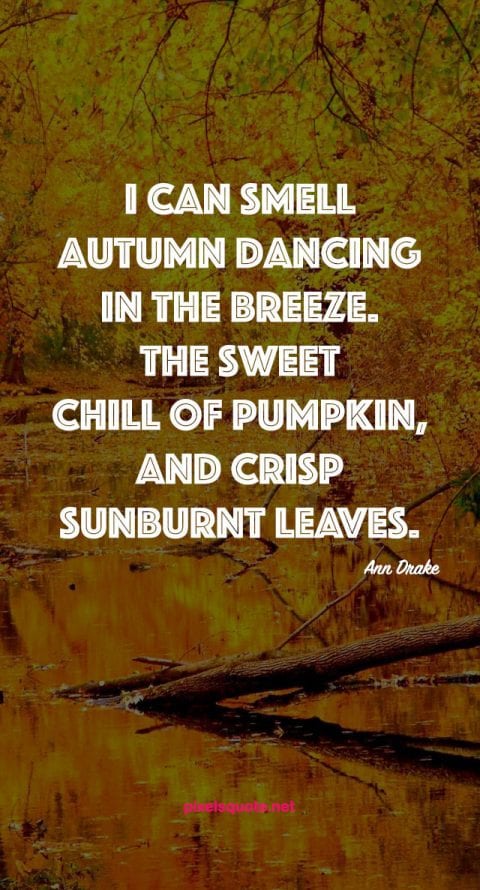 "Once in a while I am struck all over again… by just how blue the sky appears .. on wind-played autumn mornings, blue enough to bruise a heart." – Quote by Sanober Khan about Autumn.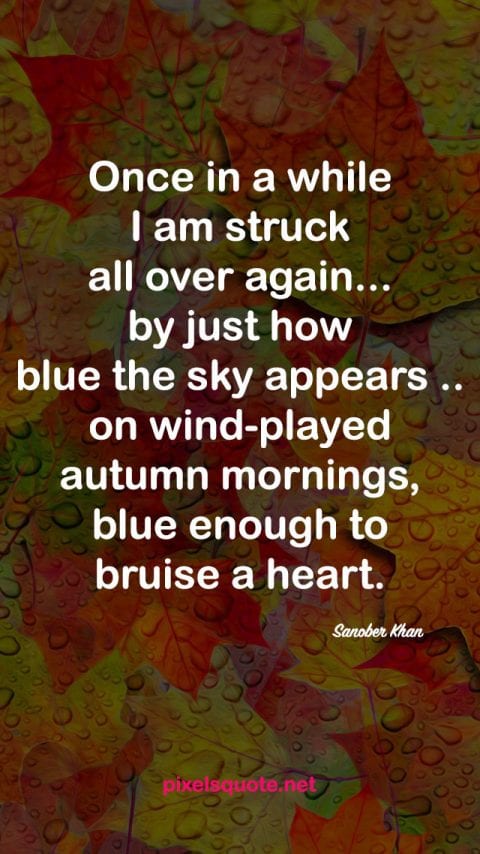 "I cannot endure to waste anything so precious as autumnal sunshine by staying in the house. So I have spent almost all the daylight hours in the open air." – Quote about Autumn by Nathaniel Hawthorne.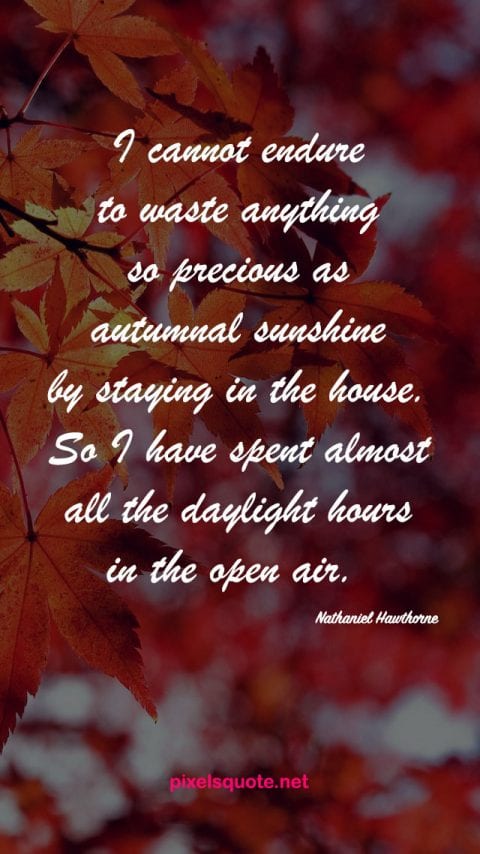 "For man, autumn is a time of harvest, of gathering together. For nature, it is a time of sowing, of scattering abroad." – Edwin Way Teale's quote.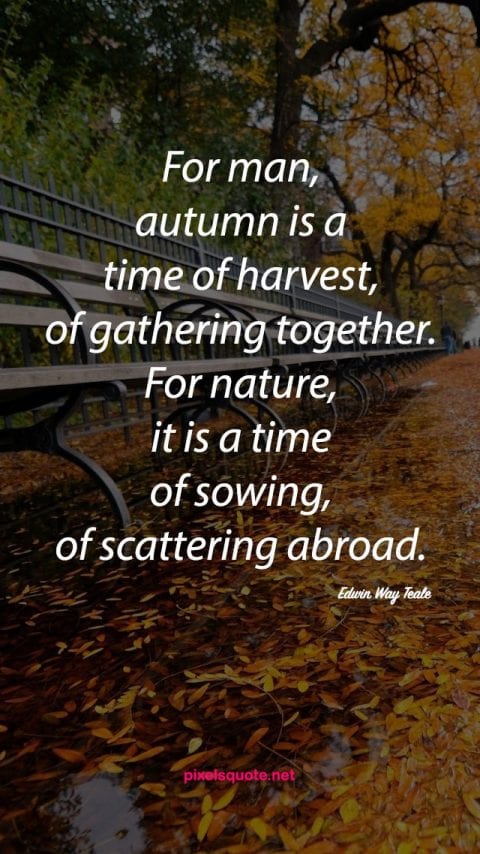 "There is something incredibly nostalgic and significant about the annual cascade of autumn leaves." – by Joe L. Wheeler.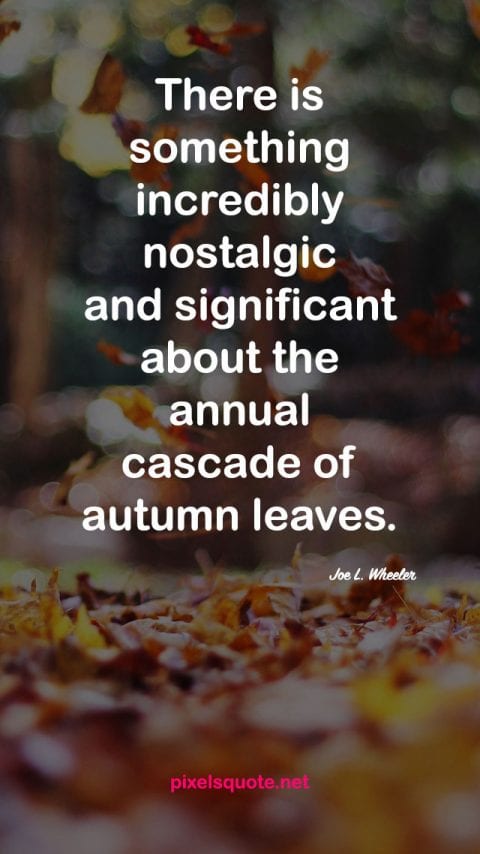 "Winter is an etching, spring a watercolor, summer an oil painting, and autumn a mosaic of them all." – Stanley Horowitz sayings about Fall.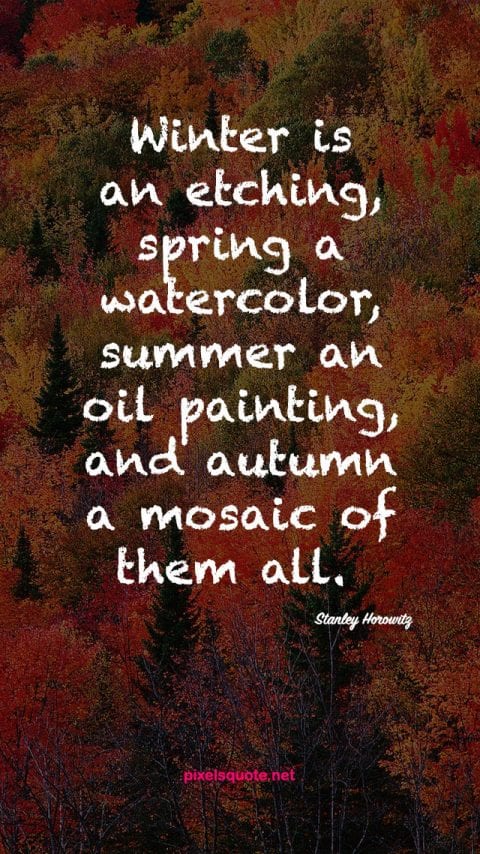 "If a year was tucked inside of a clock, then autumn would be the magic hour" – Victoria Erickson.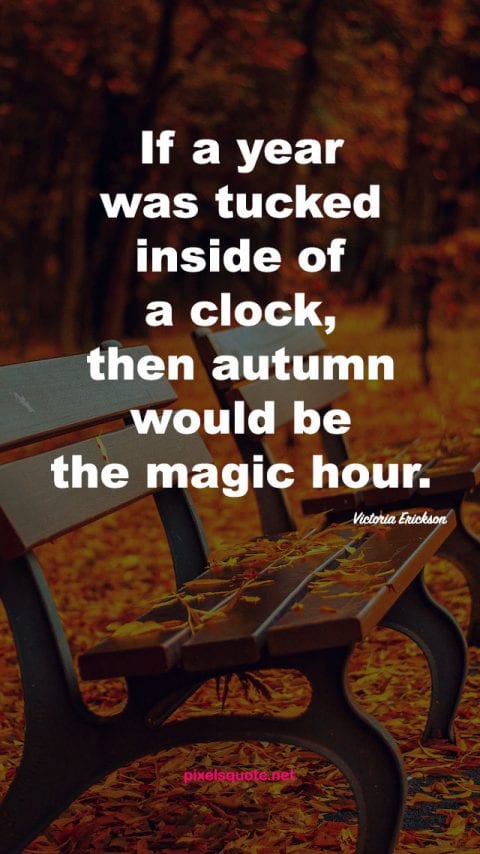 Quotes about Autumn season:
"Notice that autumn is more the season of the soul than of nature."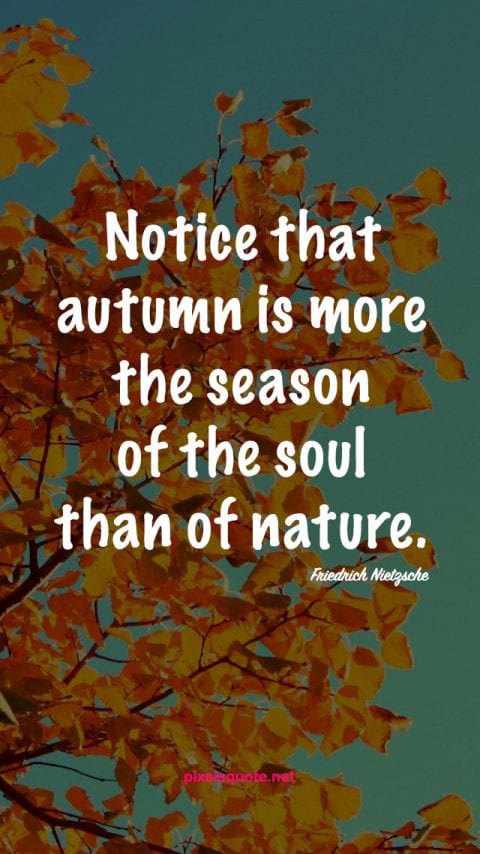 "And the sun took a step back, the leaves lulled themselves to sleep and autumn was awakened"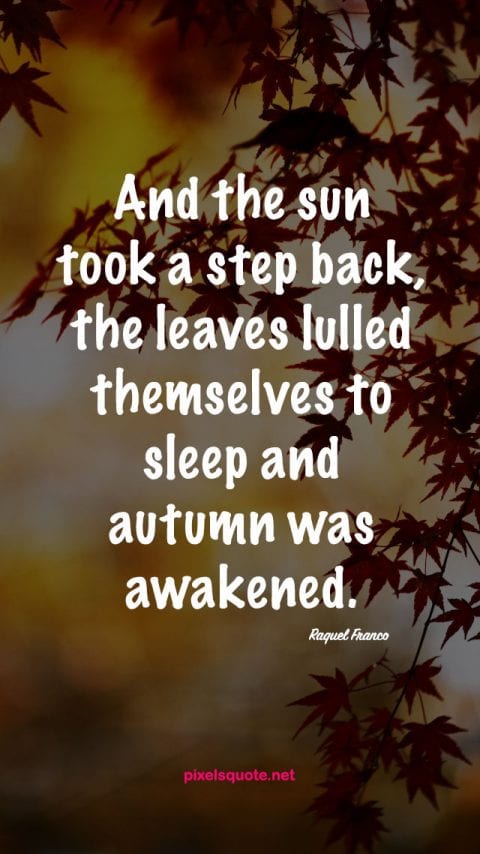 "Autumn! My very soul is wedded to it, and if I were a bird I would fly about the Earth seeking the successive autumns."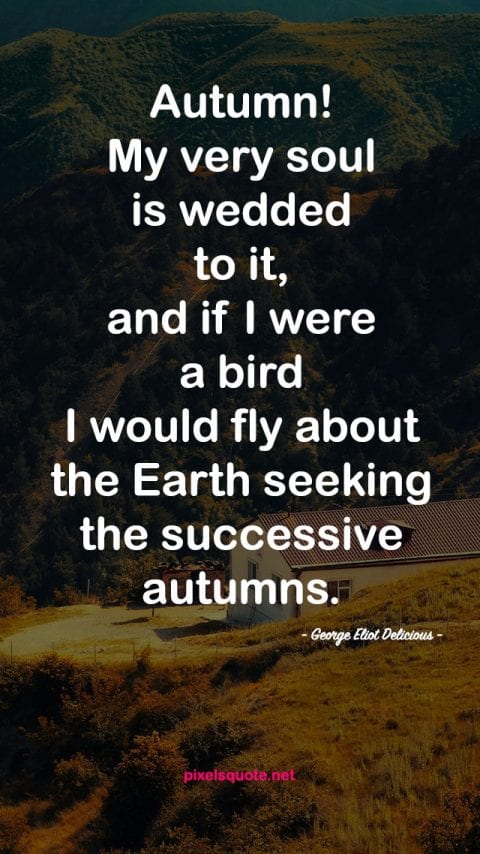 "Autumn is the hardest season. The leaves are all falling, and they're falling like they're falling in love with the ground."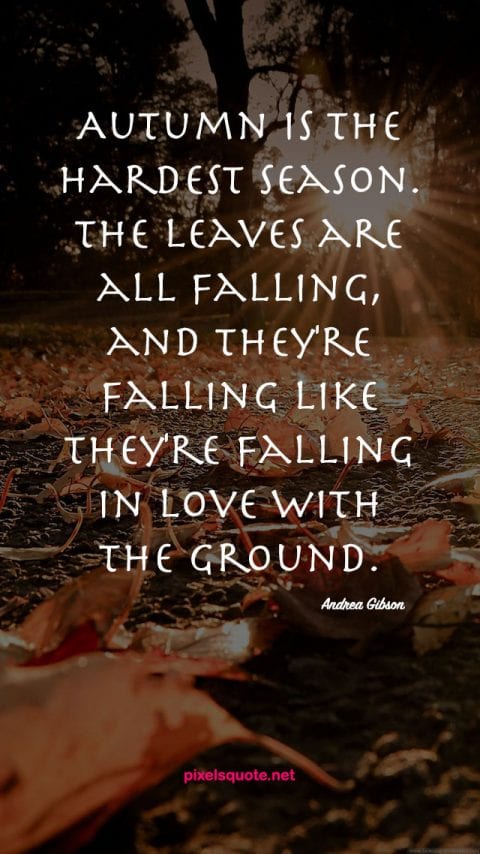 "There are two times of the year. Autumn. And waiting for Autumn."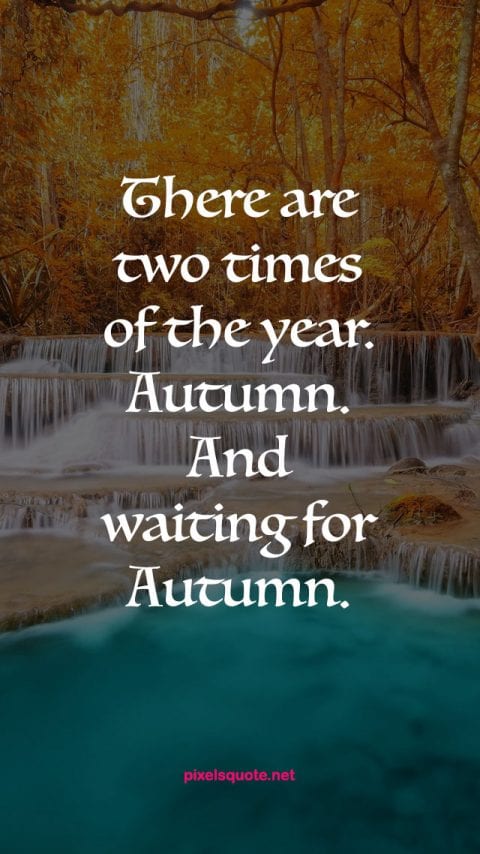 You may also like these autumn quotes that I collected from the internet:
"Autumn wins you best by this its mute appeal to sympathy for its decay." – Autumn quote by Robert Browning.
"The heart of autumn must have broken here, and poured its treasure upon the leaves." – by Charlotte Bates.
"I loved autumn, the season of the year that God seemed to have put there just for the beauty of it." –  by Lee Maynard.
"The trees are about to show us how lovely it is to let the dead things go." – by Unknown.
"Or maybe spring is the season of love and fall the season of mad lust. Spring for flirting but fall for the untamed delicious wild thing." – by Elizabeth Cohen, The Hypothetical Girl.
"Just as a painter needs light in order to put the finishing touches to his picture, so I need an inner light, which I feel I never have enough of in the autumn." – Autumn quoted by Leo Tolstoy.
"Autumn wins you best by this its mute appeal to sympathy for its decay." – Robert Browning.
"Autumn is leaving its mellowness behind for its spiky, rotted stage. Don't remember summer even saying goodbye." – by David Mitchell, Cloud Atlas.
"Autumn keeps a radiance that is all her own." – by Jennifer Williamson.
"Autumn killed the summer with the softest kiss."
"No spring nor summer beauty hath such grace, as I have seen in one autumnal face." – by John Donne.
"I like winter. Spring is nice; let's skip summer. And do Fall twice!" – Rusty Fischer sayings about Fall.
"You can't hide your true colors as you approach the autumn of your life."
"I've never known anyone yet who doesn't suffer a certain restlessness when autumn rolls around… We're all eight years old again and anything is possible." – The best autumn quotes of Sue Grafton.
"Falling leaves hide the path so quietly." – The shortest fall quote by John Bailey.
I fell in love with Autumn thanks to her soft, gentle ways. Today I am a romantic writer because I am in love. Have you ever asked what is the meaning of happiness? I will tell you that today, this Fall is the best moment to get the answer.
Let's stop our fast pace, let's enjoy cool wind, let's see leaves before they fall down, let's have a deep breath. That's right, that's called happiness – enjoying nature, enjoying your life because you are part of nature after all.
These autumn quotes are my Fall memory. Now it's your turn, I am listening…