Following your dreams takes a lot more than you can even imagine. It demands you to invest your time, energy, resources, hard work, and dedication; only the finest can make their ambitions their truth.
Your past is your history, you cannot do anything about it. But you can definitely change your future if you start to focus on your dreams from the present day. The future belongs to those who believe in the power of their dreams.
These following your dreams quotes are the thoughts of great people, who always believed in themselves and never stopped following their dreams. If they too would have backed off, many masterpieces would have never been made for the world to see.
Give these quotes a quick read whenever you feel disheartened by your failures. These amazing sayings are definitely going to cheer you up.
Read more: Dream Quotes inspire you to pursue your goals.
The Best Following your dreams quotes
"A dream doesn't become reality through magic, it takes sweat, determination and hard work" – Colin Powell.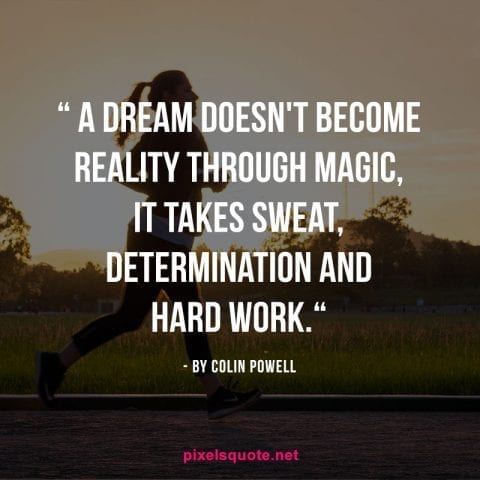 If someone asks you what are dreams, you might as well say that they are something that doesn't let you sleep. They require a constant supply of diligence, a stone-hard persistence, and the best of your efforts to become your reality.
Everyone dreams but only a handful of them manage to live their dreams. This inspirational quote motivates everyone to follow their dreams, be consistent, and win their fears and laziness over.
"All our dreams can come true, if we have the courage to pursue them" – Walt Disney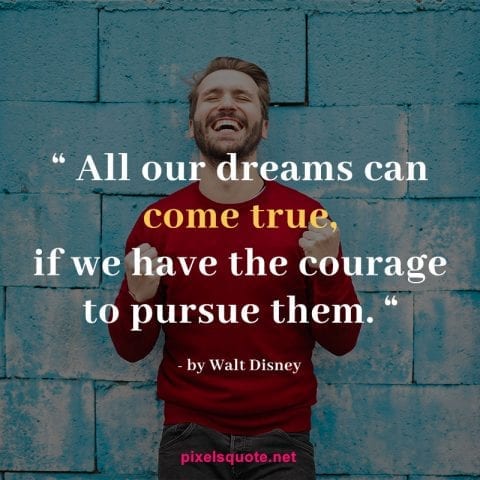 The distance between dreaming and living the dream can only be covered if you dare to make fate work in your favor.
All aspirations have the possibility of becoming reality but only the courageous can hustle to fulfill their fantasies, as suggested by this following your dream quote.
Read more: Courage quotes will motivate everyone to never lose hope and keep following your dream.
"Don't ever let someone tell you, you can't do something. Not even me. You got a dream, you got to protect it." – Steven Conrad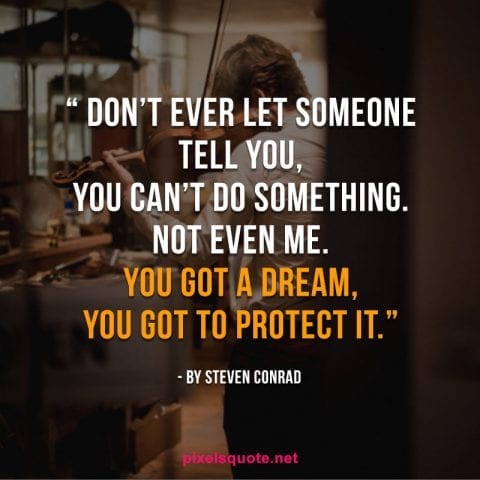 Keep your friends closer to your heart, and your support system even closer. Those people who underrate your capabilities don't deserve a place in your life.
If anyone tells you that your dream is stupid, trust me, that person is either jealous or wants to let you down. Don't let any negativity come in your way while following your dreams.
After all, your dreams are valid and only you can protect them.
"The biggest adventure you can take is to live the life of your dreams" – Oprah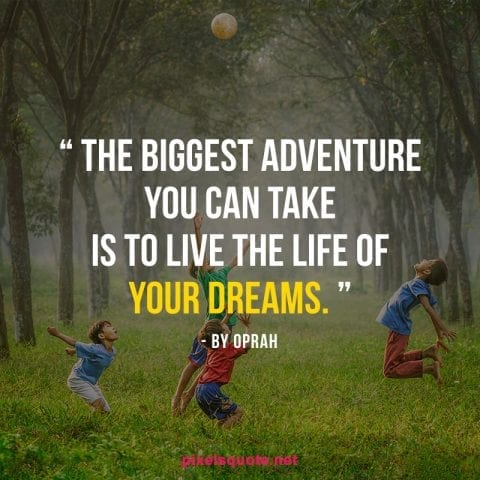 For most people, the word adventure would mean some thrilling sport or perhaps a dangerous stunt. But in its truest sense, adventure means to live life out of your comfort zone.
Life is all about taking risks and exploring new possibilities. And, nothing can be more adventurous than making your dreams your reality.
This following your dreams quote by Oprah Winfrey is truly an eye-opener for people to start working on their dream life to be their actuality.
"Dreams come true. Without that possibility, nature would not incite us to have them" – John Updike
The author, John Updike is well known for his thought provoking works and this quote is a perfect example of the same.
All dreams have the possibility to become reality, all it requires is a spunk to run after that dream, and trust to keep on working for it.
If, by any chance, your dreams were just a false façade, then why would the universe incite you to have them. So, believe in yourself and brace up yourself for following your dreams.
"Never give up on a dream just because of the time it will take to accomplish it. The time will pass anyway" – Earl Nightingale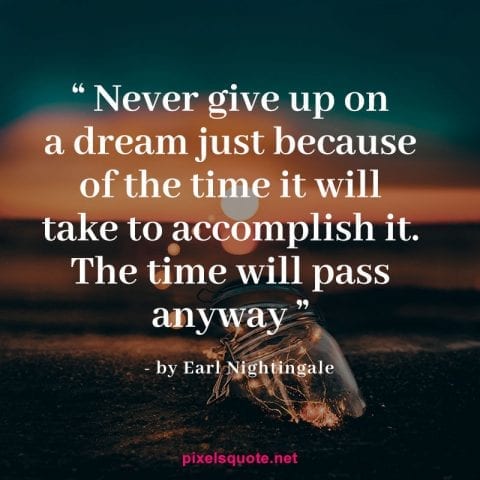 Patience is one of the most important things that you need if you're on your way to accomplish your dreams. Following your dreams might take much more time than you can even imagine.
If you're thinking of giving up on your goals and backing off, remember, that great works take time to build.
Work hard in silence and rock the world with your success. Keep these Never give up quotes on the forefront of your mind and you will never feel low again.
"Stay focused, go after your dreams, and keep moving towards your goals" – LL Cool J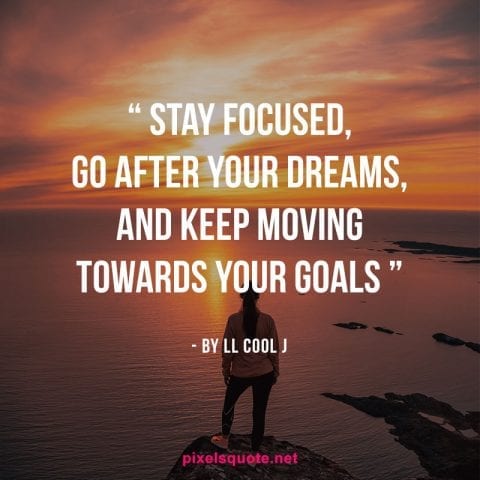 If you want to achieve your dreams, then you need to stick to it 24/7. In order to accomplish your desired goals in life, you need to put in the best of your labor and sweat.
This quote is a must-read if you want to motivate yourself to achieve your goal. After all, life is meaningless without a set motive and aim. So, stay focused, and believe that you will get whatever you want and you will surely have it.
Following your dream quotes short
"Don't give up on your dreams, or your dreams will give up on you" – John Wooden
"A man is not old until regrets take the place of dreams" – John Barrymore
"Dreams are illustrations… from the book your soul is writing about you" – Marsha Norman
"Dream no small dreams for they have no power to move the hearts of men" – Goethe
"The only thing worse than starting something and failing… is not staring something" – Seth Godin
"Everything you can imagine is real" – Pablo Picasso
"When you stop having dreams and ideals – well, you might as well stop altogether" – Marian Anderson
"Dreams are today's answers to tomorrow's questions" – Edgar Cayce
"Whatever you do, or dream you can, begin it. Boldness has genius and power and magic in it" – Goethe
"If you take responsibility for yourself you will develop a hunger to accomplish your dreams" – Les Brown
"Nobody can give you wiser advice than yourself" – Cicero
"It may be that those who do most, dream most" – Stephen Butler Leacock.
"Follow your dreams, they know the way" – Kobe Yamada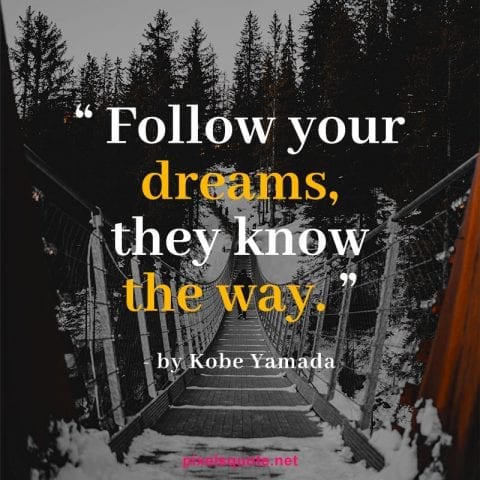 Your aims are like the pole star. Follow them and they will never let you get lost.
This following your dream quote aptly describes how our dreams shape our life. They are the guiding force that will lead your way when everything is hazy and you don't know what to do next.
Trust your dreams and they will never let you go astray.
"No matter where you're from, your dreams are valid" – Lupita Nyong'o
"Only those who risk going too far can possibly find out how far one can go" – T.S. Eliot
"You have to dream before your dreams can come true" – A.P.J. Abdul Kalam
"You will never find time for anything. You must make it" – Charles Buxton. M
"Lose your dreams and you might lose your mind" – Mick Jagger
"Your better future is a dream for yourself and for your family" – Jim Rohn
"What is not started today is never finished tomorrow" – Goethe
"Only do what your heart tells you" – Princess Diana
"You'll never find peace of mind until you listen to your heart" – George Michael
"Without dreams, there can be no courage. And without courage, there can be no action" – Encouraging words for men from Wim Wenders.
"You are never too old to set another goal or to dream a new dream" – C.S. Lewis
"Dream as if you'll live forever, live as if you'll die today" – James Dean
"Nothing happens unless first, we dream" – Carl Sandburg.
If you believe in dreams, then you should also be ready to embrace the difficulties that come along with them. Following your dream is not an easy breezy job and requires a lot of sure perseverance and hard work.
Indeed, it can be said that only those people can fulfill their dreams who have the zeal to give it their best.
More text quotes about following your dreams you may like
"There is only one thing that makes a dream impossible to achieve: the fear of failure" – Paolo Coelho.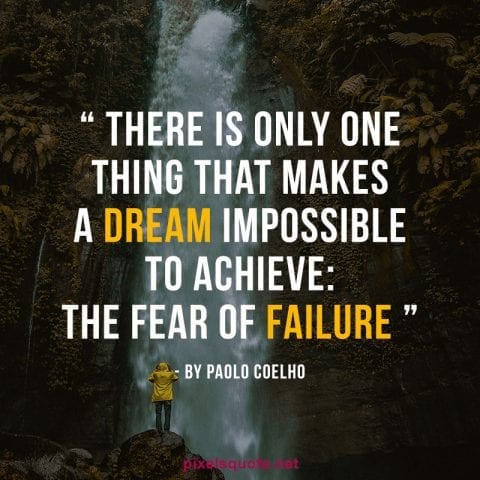 The only thing that can stop you from following your dream is the uneasiness that you might not succeed. This amazing quote emits truckloads of positivity and optimism for people who need assurance that they won't fail.
Paulo Coelho is best known for conveying big mantras of success in an easy and uncomplicated language; of which this quote is a great example. It teaches you a lot without saying much.
"Every great dream begins with a dreamer. Always remember, you have within you the strength, the patience, and the passion to reach for the stars to change the world" – Harriet Tubman
"Hold fast to dreams, for if dreams die, life is a broken-winged bird that cannot fly" – Langston Hughes
"20 years from now you will be more disappointed by the things that you didn't do than by the ones you did do. So throw off the bowlines. Sail away from the safe harbor. Catch the trade winds in your sails. Explore. Dream. Discover" – Mark Twain
"When you have a dream that you can't let go of, trust your instincts and pursue it. But remember: Real dreams take work, They take patience, and sometimes they require you to dig down very deep. Be sure you're willing to do that" – Harvey Mackay
"If one advances confidently in the direction of one's dreams, and endeavors to live the life which one has imagined, one will meet with a success unexpected in common hours" – Henry David Thoreau
"So many of our dreams at first seem impossible, then they seem improbable, and then, when we summon the will, they soon become inevitable" – Christopher Reeve
"To be a human being is to be in a state of tension between your appetites and your dreams, and the social realities around you and your obligations to your fellow man" – John Updike
"I can't imagine a person becoming a success who doesn't give this game of life everything he's got" – Walter Cronkite.
"You see things; and you say, 'Why?' But I dream things that never were; and I say 'Why not?'" – George Bernard Shaw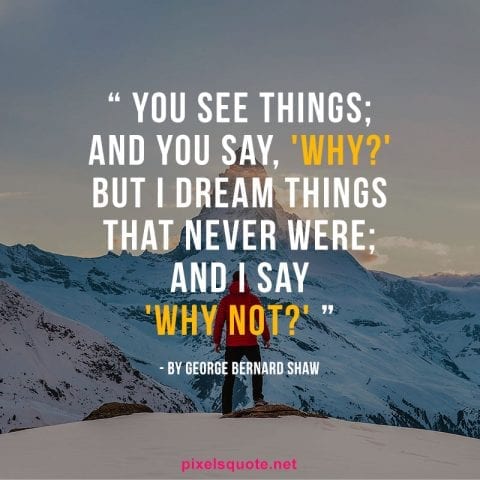 Some men see things that already exist and question its purpose of existence. Such people don't see beyond the ordinary and hence live life at the basic level.
On the contrary, the author, does the exact opposite which is evident by this quote.
He dreams of things that have no existence and have not been seen or heard before. But he still has the guts to challenge the extraordinary and he says – why not?
"Love what you do and do what you love. Don't listen to anyone else who tells you not to do it. You do what you want, what you love. Imagination should be the center of your life" – Ray Bradbury
"It is better to risk starving to death than surrender. If you give up on your dreams, what's left?" – Jim Carrey
"Put our heart, mind, and soul into even your smallest acts. This is the secret of success" – Swami Sivananda
"I don't dream at night, I dream all day; I dream for a living" – Steven Spielberg
"The end of wisdom is to dream high enough to lose the dream in the seeking of it" – William Faulkner
"When you stop chasing your dreams, your dreams start chasing you" – Dez Del Rio
"As soon as you start to pursue a dream, your life wakes up and everything has meaning" – Barbara Sher
"Don't tell me the sky's the limit when there are footprints on the moon" – Paul Brandt
"Man, alone, has the power to transform his thoughts into physical reality; man, alone, can dream and make his dreams come true " – Napoleon Hill
"At the center of your being you have the answer; you know who you are and you know what you want" – Lao Tzu
"If you don't build your dream someone will hire you to help build theirs" – Tony Gaskins.
These powerful following your dreams quotes are surely going to give you a hand in all the comings and goings of life. Because, dreams, without a doubt, are the most important and crucial part of an individual's success story. Don't lose courage and trust your capabilities and you will surely succeed.