Books are possibly one of the most valuable treasures available to us. Let's think about it, most of the knowledge you've accumulated so far has come from books. So, we don't hesitate to send you a pile of the best and most valuable book quotes.
Books have countless beneficial values that serve us. In addition to providing knowledge, books also help us to expand our vocabulary and relieve stress. Furthermore, the book is no different from a good friend for some other parts, accompanying every moment of life.
Best Book Quotes to inspire you to read more
"Once you have read a book you care about, some part of it is always with you."– Louis L'Amour.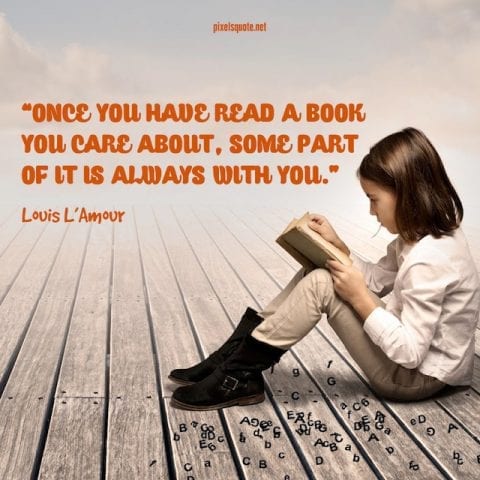 None of us can forget the feeling when we first read a great book. Perhaps this first impression can follow you for a lifetime.
Indeed, a good book will have a huge impact on your mind. It transforms your thinking and completely changes your mindset.
Books are just like magnetic, once we reach out, the impression of them will probably follow us forever.
"Take a good book to bed with you – books do not snore." – Thea Dorn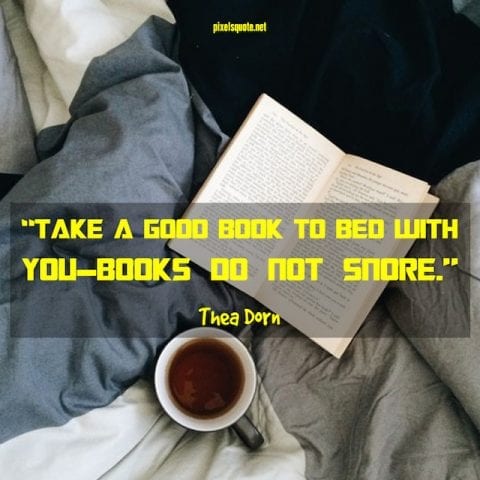 If there's a short vacation awaits you, and you don't know what to do in your spare time. Grab a book along with you, or maybe two or three. One thing is for sure, the book will be the perfect companion along the way with you. And we listed out this book quote here to advise you that.
Forget all the smart devices that you keep glued to every day. Start building a habit of reading before going to bed. Then, you will find it life-changing in a much more positive direction.
"Fill your house with stacks of books, in all the crannies and all the nooks." – Dr. Seuss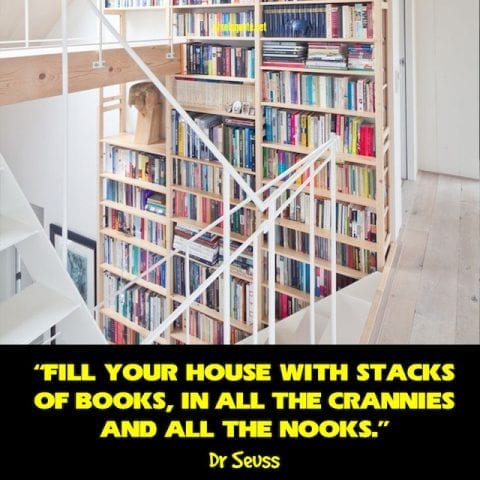 If you are a genuine bookworm, you will understand what this book quote means. For someone who loves to read, the number of books they own is never enough.
Sometimes it's not because they really keen on reading and knowing more things, it's because they simply like books. Perhaps, many people will find this hobby strange and bombastic. But sometimes, your interest in books partly shows that you always have a desire to learn more things.
"Rainy days should be spent at home with a cup of tea and a good book." – Bill Patterson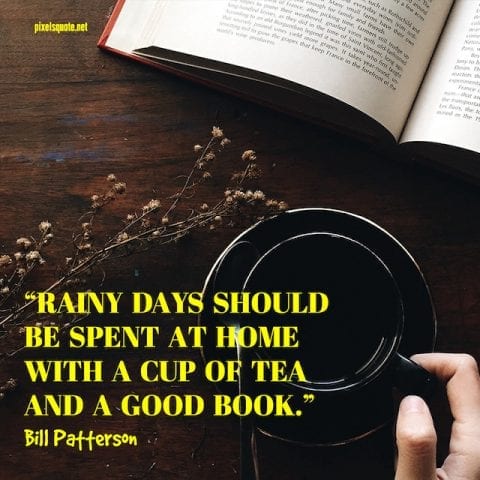 This book quote must have drawn you to a very relaxing and comfortable scene, right? That will definitely be the best feeling you have always wanted.
Books are like vitamins that nourish our spirits. Having the chance to read a good book is like your mental mind has taken a new level.
"A great book should leave you with many experiences, and slightly exhausted at the end. You live several lives while reading."– William Styron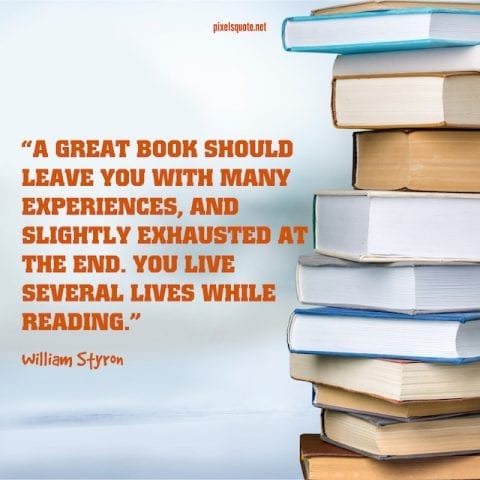 Indeed, books bring us a whole colorful world. More than that, reading a good book also has a multitude of benefits for you. They help you relieve stress, increase empathy, also help you put yourself in someone else's shoes, and be more understanding.
That is why this book quote is implied, which is simply when you have a better understanding of other life situations.
"We live for books." – Umberto Eco
"Books were my pass to personal freedom."– Oprah Winfrey
"The best books… are those that tell you what you know already."– George Orwell, 1984
"In the end, we'll all become stories."– Margaret Atwood
"There is no Frigate like a Book To take us Lands away."– Emily Dickinson
"She is too fond of books, and it has turned her brain." – Louisa May Alcott
"If you don't like to read, you haven't found the right book."– J.K. Rowling
"Books are a uniquely portable magic." – Stephen King
"I have always imagined paradise will be a kind of library." – Jorge Luis Borges
"Only the very weak-minded refuse to be influenced by literature and poetry."– Cassandra Clare
"Sleep is good, he said, and books are better."– George R.R. Martin
"Wear the old coat and buy the new book."– Austin Phelps
"Where is human nature so weak as in the bookstore?" – Henry Ward Beecher
"There is more treasure in books than in all the pirate's loot on Treasure Island."– Walt Disney
"Many people, myself among them, feel better at the mere sight of a book."– Jane Smiley
"The library is inhabited by spirits that come out of the pages at night."– Isabel Allende
"A book is a garden, an orchard, a storehouse, a party, a company by the way, a counselor, a multitude of counselors."– Charles Baudelaire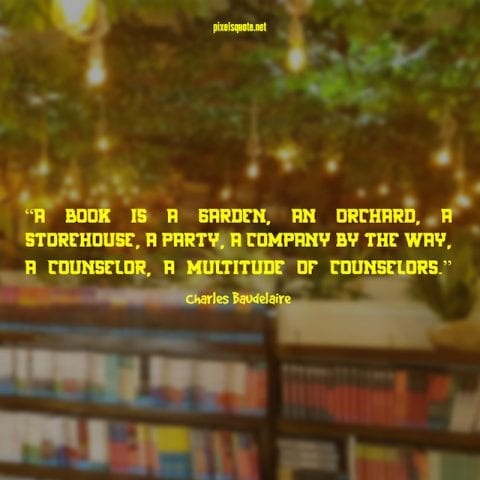 "No book is really worth reading at the age of ten which is not equally – and often far more – worth reading at the age of fifty and beyond."– C.S. Lewis
"A classic is a book that has never finished saying what it has to say." – Italo Calvino
"A good library will never be too neat, or too dusty, because somebody will always be in it, taking books off the shelves and staying up late reading them."– Lemony Snicket, Horseradish
"We are of opinion that instead of letting books grow moldy behind an iron grating, far from the vulgar gaze, it is better to let them wear out by being read."– Jules Verne, Journey to the Center of the Earth
"Show me a family of readers, and I will show you the people who move the world."– Napoleon Bonaparte
"I couldn't live a week without a private library – indeed, I'd part with all my furniture and squat and sleep on the floor before I'd let go of the 1500 or so books I possess."– H.P. Lovecraft
"The worst thing about new books is that they keep us from reading the old ones." – Joseph Joubert
"Some books should be tasted, some devoured, but only a few should be chewed and digested thoroughly."– Sir Francis Bacon
"Read. Read. Read. Just don't read one type of book. Read different books by various authors so that you develop different styles."– R.L. Stine.
BOOK LOVER QUOTES
In the digital world, we live now, reading is modernized in so many ways. Besides traditional books, as we all know, the emergence of ebooks and audiobooks also gradually influenced readers.
It cannot be denied that every reading way has its own benefits breakthrough. But somehow, the traditional book remains in great popularity over the years. Simply because they like to hold a sturdy book in their hands, touch the pages and smell the ink. That can be the greatest joy of the readers.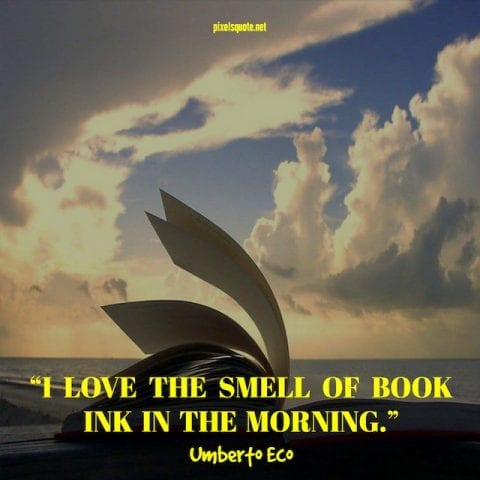 "I love the smell of book ink in the morning."– Umberto Eco
"The America I love still exists at the front desks of our public libraries."– Kurt Vonnegut
"I love books. I adore everything about them. I love the feel of the pages on my fingertips. They are light enough to carry, yet so heavy with worlds and ideas. I love the sound of the pages flicking against my fingers. Print against fingerprints. Books make people quiet, yet they are so loud."– Nnedi Okorafor
"A half-read book is a half-finished love affair."– David Mitchell
"What a blessing it is to love books as I love them;- to be able to converse with the dead, and to live amidst the unreal!"– Thomas Babington Macaulay
Of course, anyone who truly loves books buys more of them than he or she can hope to read in one fleeting lifetime. A good book, resting unopened in its slot on a shelf, full of majestic potentiality, is the most comforting sort of intellectual wallpaper."– David Quammen
"Until I feared I would lose it, I never loved to read. One does not love breathing." – Harper Lee
"I still love books. Nothing a computer can do can compare to a book. You can't really put a book on the Internet."– Ray Bradbury
"Happiness. That's what books smell like. Happiness. That's why I always wanted to have a book shop. What better life than to trade in happiness?"– Saran MacLean
"The best moments in reading are when you come across something – a thought, a feeling, a way of looking at things – which you had thought special and particular to you. Now here it is, set down by someone else, a person you have never met, someone even who is long dead. And it is as if a hand has come out and taken yours."– Alan Bennett, The History Boys.
"So Matilda's strong young mind continued to grow, nurtured by the voices of all those authors who had sent their books out into the world like ships on the sea. These books gave Matilda a hopeful and comforting message: You are not alone."– Roald Dahl, Matilda
FAMOUS BOOK QUOTES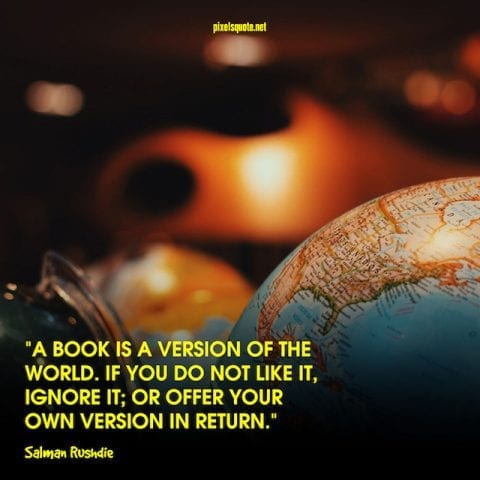 "A book is a version of the world. If you do not like it, ignore it; or offer your own version in return."– Salman Rushdie
"A children's story that can only be enjoyed by children is not a good children's story in the slightest."– C.S. Lewis
"Let us read, and let us dance; these two amusements will never do any harm to the world."– Voltaire
"Books are not made for furniture, but there is nothing else that so beautifully furnishes a house."– Henry Ward Beecher
"Once you have read a book you care about, some part of it is always with you."– Louis L'Amour
"Books are mirrors: you only see in them what you already have inside you." – Carlos Ruiz Zafón
"It is a good rule after reading a new book, never to allow yourself another new one till you have read an old one in between."– C.S. Lewis
"Reading is an act of civilization; it's one of the greatest acts of civilization because it takes the free raw material of the mind and builds castles of possibilities."– Ben Okri
"Children know perfectly well that unicorns aren't real, but they also know that books about unicorns, if they are good books, are true books."– Ursula K. LeGuin
"A good bookshop is just a genteel Black Hole that knows how to read."– Terry Pratchett
"Never trust anyone who has not brought a book with them." – Lemony Snicket
"You know you've read a good book when you turn the last page and feel a little as if you have lost a friend."– Paul Sweeney
"I owe everything I am and everything I will ever be to books."– Gary Paulsen
"Books should go where they will be most appreciated, and not sit unread, gathering dust on a forgotten shelf, don't you agree?"– Christopher Paolini
"The more that you read, the more things you will know. The more that you learn, the more places you'll go." – Dr. Seuss
"I find television very educating. Every time somebody turns on the set, I go into the other room and read a book."– Groucho Marx
"You can never get a cup of tea large enough or a book long enough to suit me." – C.S. Lewis
INSPIRATIONAL QUOTES FROM BOOK
"Fill your house with stacks of books, in all the crannies and all the nooks." – Dr. Seuss

"That's the thing about books. They let you travel without moving your feet."– Jhumpa Lahiri
"I do believe something very magical can happen when you read a book." – J.K. Rowling.
"Books are no more threatened by Kindle than stairs by elevators." – Stephen Fry
"′Classic′ – a book which people praise and don't read."– Quote from Mark Twain.
"Books are the quietest and most constant of friends; they are the most accessible and wisest of counselors, and the most patient of teachers."– Charles W. Eliot
"When we read a story, we inhabit it. The covers of the book are like a roof and four walls. What is to happen next will take place within the four walls of the story. And this is possible because the story's voice makes everything its own."– John Berger
"Books don't offer real escape, but they can stop a mind scratching itself raw."– David Mitchell
"Books are everywhere, and always the same sense of adventure fills us. Second-hand books are wild books, homeless books; they have come together in vast flocks of variegated feather, and have a charm which the domesticated volumes of the library lack."– Virginia Woolf, Street Haunting
"I declare after all there is no enjoyment like reading! How much sooner one tires of anything than of a book! — When I have a house of my own, I shall be miserable if I have not an excellent library."– Jane Austen
"Let's be reasonable and add an eighth day to the week that is devoted exclusively to reading." – Lena Dunham.
"The reading of all good books is like a conversation with the finest minds of past centuries."– Rene Descartes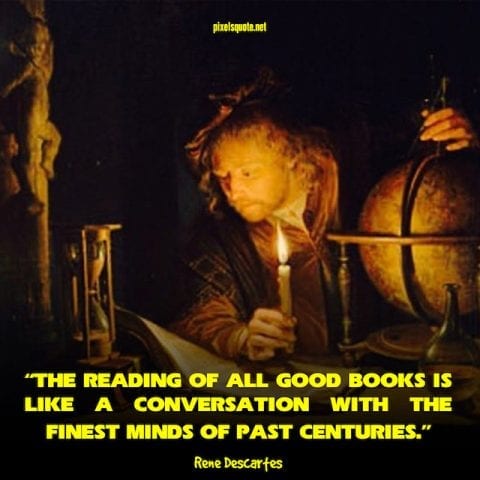 This is crazy when we have acquired wisdom from people who existed hundreds or thousands of years before us. In other words, reading is kind of a space and time travel.
We go through the ages and immerse ourselves in the stories, the people who have appeared there.
Isn't it wonderful when you didn't need a time machine but still be able to travel time in some way?
"Never put off till tomorrow the book you can read today." – Holbrook Jackson
"A truly great book should be read in youth, again in maturity and once more in old age, as a fine building should be seen by morning light, at noon and by moonlight."– Robertson Davies
"No man can be called friendless who has God and the companionship of good books."– Elizabeth Barrett Browning

"I have a passion for teaching kids to become readers, to become comfortable with a book, not daunted. Books shouldn't be daunting, they should be funny, exciting and wonderful; and learning to be a reader gives a terrific advantage."– Roald Dahl

"Books are good company, in sad times and happy times, for books are people – people who have managed to stay alive by hiding between the covers of a book."– E.B. White
"Isn't it odd how much fatter a book gets when you've read it several times?" Mo had said…"As if something were left between the pages every time you read it. Feelings, thoughts, sounds, smells…and then, when you look at the book again many years later, you find yourself there, too, a slightly younger self, slightly different, as if the book had preserved you like a pressed flower…both strange and familiar."– Cornelia Funke, Inkspell
"One glance at a book and you hear the voice of another person, perhaps someone dead for 1,000 years. To read is to voyage through time."– Carl Sagan
"When I have a little money, I buy books; and if I have any left, I buy food and clothes."– Erasmus
"It is is better to know one book intimately than a hundred superficially."– Donna Tartt
"Fairy tales are more than true: not because they tell us that dragons exist, but because they tell us that dragons can be beaten."– Neil Gaiman
"Some of these things are true and some of them lies. But they are all good stories."– Hilary Mantel, Wolf Hall
"In the case of good books, the point is not to see how many of them you can get through, but rather how many can get through to you."– Mortimer J. Adler
"Libraries will get you through times of no money better than money will get you through times of no libraries."– Anne Herbert
BOOK QUOTES ABOUT LIFE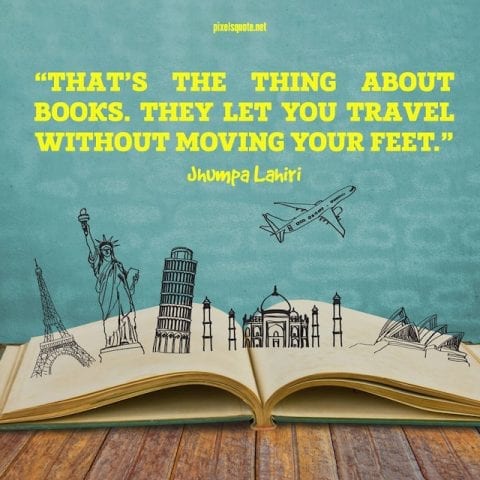 Reading is maybe the most affordable and easy kind of travel way. Especially with the outbreak pandemic these years, staying at home and reading books are much more preferable.
Magically, we still can all over the country by going through all the ages in the world of books.
That's how this book quote inspires you to read more books and dig into the whole splendid world.
"That's the thing about books. They let you travel without moving your feet."– Jhumpa Lahiri
"My alma mater was books, a good library…. I could spend the rest of my life reading, just satisfying my curiosity."– Malcolm X
"It wasn't until I started reading and found books they wouldn't let us read in school that I discovered you could be insane and happy and have a good life without being like everybody else."– John Waters
"It is a great thing to start life with a small number of really good books which are your very own." – Sir Arthur Conan Doyle

"If you stop to think about it, you'll have to admit that all the stories in the world consist essentially of twenty-six letters. The letters are always the same, only the arrangement varies. From letters, words are formed, from words sentences, from sentences chapters, and from chapters stories."– Michael Ende

"You think your pain and your heartbreak are unprecedented in the history of the world, but then you read. It was books that taught me that the things that tormented me most were the very things that connected me with all the people who were alive, who had ever been alive."– James Baldwin
"A great book should leave you with many experiences, and slightly exhausted at the end. You live several lives while reading."– William Styron
"Sometimes, you read a book and it fills you with this weird evangelical zeal, and you become convinced that the shattered world will never be put back together unless and until all living humans read the book."– John Green, The Fault in Our Stars
"A book is a dream you hold in your hands." – Neil Gaiman
"For some of us, books are as important as almost anything else on earth. What a miracle it is that out of these small, flat, rigid squares of paper unfolds world after world after world, worlds that sing to you, comfort and quiet or excite you. Books help us understand who we are and how we are to behave. They show us what community and friendship mean; they show us how to live and die."– Anne Lamott
"Books are the plane, and the train, and the road. They are the destination and the journey. They are home." – Anna Quindlen
Final Thought
We have been fortunate enough to have countless books that testify to human civilization on Earth through many different ages. Books are the work of many generations of the inhabitants of Earth, from countless different professions and classes of society. So we are very lucky to have lived in an age where reading was promoted and popularized.
These book quotes that we have compiled here are inspirations for you to encourage reading more books. Besides, find more links about reading quotes and education quotes articles on our site.
Reading not only adds a variety of knowledge, expands the worldview, but also increases the emotions in you. That is the greatest power that books give us.