A very wise man once said, love, is not what makes the world go round. Love is what makes the ride worthwhile. The ride becomes even more amazing when you have a good companion by your side.
Your man has made the journey of your life prettier and more meaningful just by being in it. He surely deserves appreciation for loving and pampering you so much.
And here, we've rounded up the best deep love messages for him so that you can make your man feel a lot more special and desirable. These remarkable quotes have made many relationships a lot stronger and they will surely help you a great deal.
The Best Deep Love Messages For Him
"You're the only thing better than morning coffee. I love you deeply, sweetie."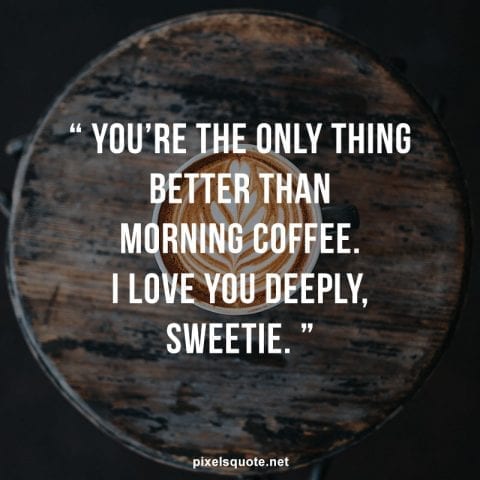 Coffee enthusiasts would definitely have a good time relating to this deep love message for him. There's nothing like that morning cup of fresh brew coffee, which awakens you to the core.
The effect that this aromatic stuff has on you is only second to your admirer's love. He's the only thing that matters more than your early morning coffee. For all the coffee fanatics out there, this amazing love quote is the perfect one.
"Thank you for being the reason I smile. I love you deeply my beau."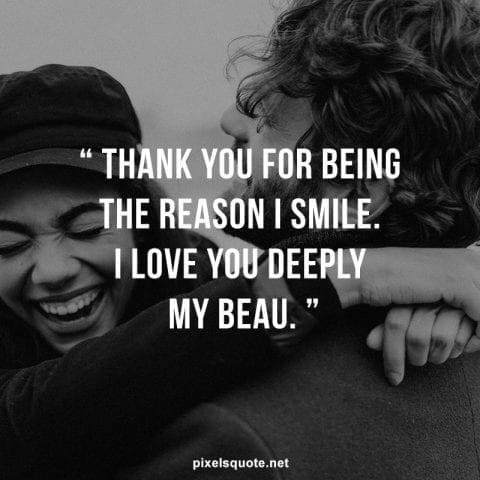 A man who treasures you would do anything to make your dull days brighter. He would love to see your face lighting up with a big smile. If your sweetheart beautifies all your moments then this love message would be just the right way to thank him.
If your man loves you for who you are and makes you feel like you are the one for him, then he clearly is the one for you. And this quote right here would help you to tell him that you feel the same way about him.
"You're never too far away because I know we're close in the heart."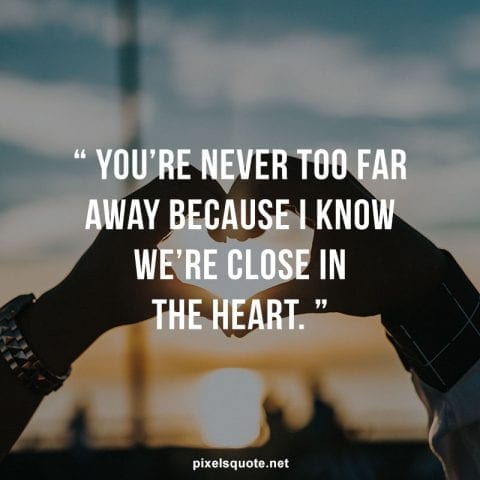 Your man becomes your sunshine on a gloomy day, a cool breeze under the scorching sun, and the beat of your heart. When you're in the company of your boyfriend, you're not able to focus on anything else. And when you're away from him, you can still feel him close to your heart.
If you feel distracted and miss your beau, then you can make use of this deep love message for him to tell how much you await him.
You may also like Wonderful Boyfriend Quotes.
"If I did anything right in my life it was when I gave my heart to you."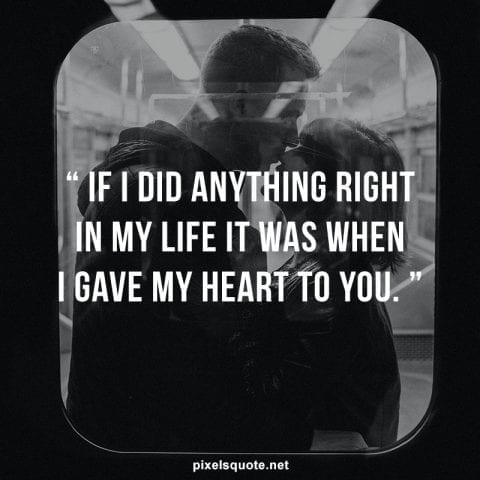 Sometimes sticking side by side with a person seem like the best decision of one's life. If you think that being with your beau has been the best choice you've made, then you must tell him this.
Sharing this romantic phrase with him could prove to be a good way of telling him how lucky you feel about having him. This is surely going to make your love life happening and sizzling.
"By your side; that's where I always want to be. I love you deeply."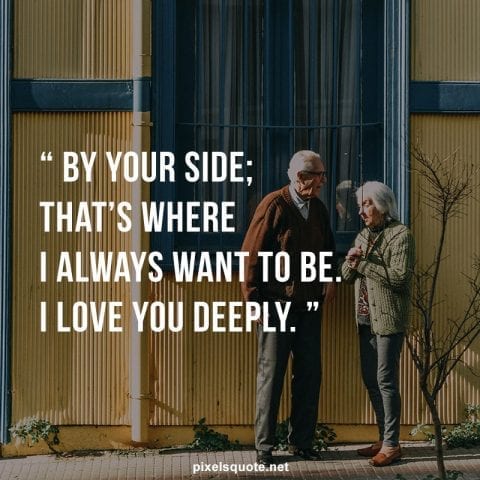 A true relationship is where two imperfect people refuse to give up on each other and stay together forever. Love is just not gazing at each other 24/7. Love requires two people to stay side by side and conquer all difficulties together.
A good relationship sustains because of the love that two people have for each other throughout their lives. If your relationship is full of love and support, then this sweet note would make him feel a lot happier.
"I don't need paradise because I found you. I don't need dreams because I already have you."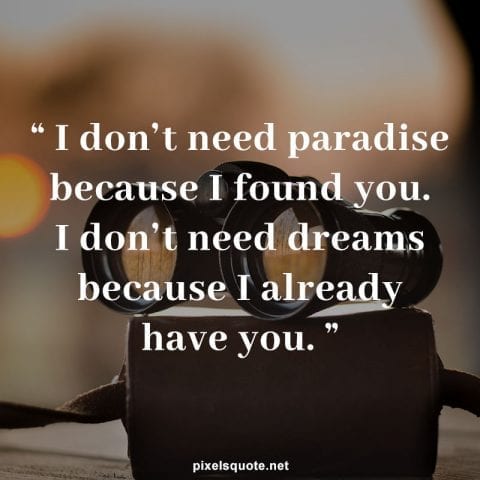 A man who truly cares for you would make your life beautiful and sacred. Your life becomes as dreamy as paradise when you have your angel on earth itself. People say that it's very lucky if your dreams come true. But, would you truly need dreams if you get the man you always wished for as your lover.
If you want to ignite a spark in your relationship and make your soul mate feel special, then you must transmit your love through this romantic message to him.
"You are forever and always the hero of my heart, the love of my life. I love you deeply."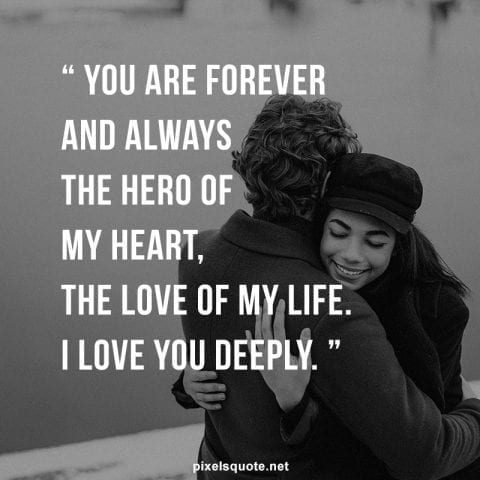 If you want your sweetheart to be convinced about how much you admire him, then you should not let go of any opportunity to make him feel loved and cherished. The best way to tell your partner that he lights up your life is to plan a romantic dinner for him.
Your hero is worthy of enjoying this special treat for bringing so much happiness, love, and bliss to your life. He is the one who makes you believe in him forever and this sweet gesture would certainly make your relationship happier.
"I'm ready to do anything to be your everything. I love you deeply my sweetheart."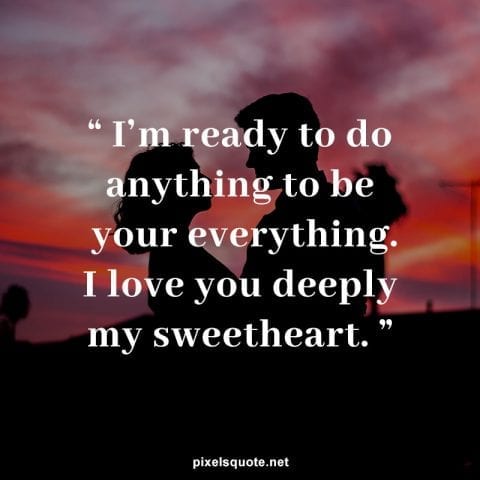 Loving someone and having them love you back is the most beautiful thing in the world. When you love and treasure someone without limits, you can do anything to prove your dedication to them.
Nothing in this world brings more joy than staying with your beau forever and being his most priced asset. Romantic deep love messages are important if you want to keep the flame alive in your relationship. These sweet texts keep the cupid of your relationship thriving.
Meaningful Love Messages For Him
"I love you is not enough to describe my feelings for you."
"I just want you to know, that when I picture myself happy, it's with you."
"You have no idea how fast my heart races when I see you."
"No matter how much time I spend with you, I can never ever get enough of you. Your love is forever mine and I need you every day."
"You have this incredible way of making my heart happy. I love you deeply my beau."
"I love you to the moon and back."
"I'll never fail to encourage you at every hour of the day, cause you're my happiness."
"My day: It starts with the thought of you."
"Ever since the day you came into my life, I know that you are the one I'll truly love till the end."
"If I ever made a good decision, it was loving you. I love you deeply my baby.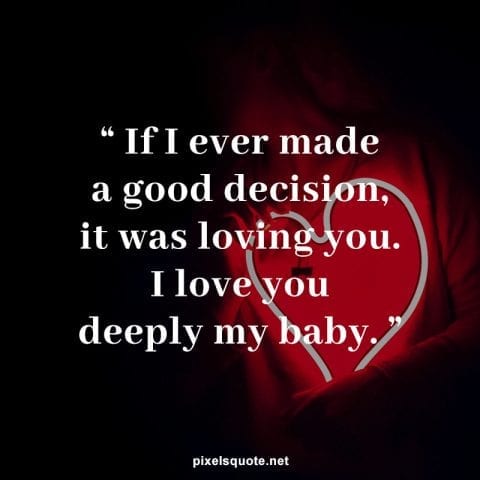 The person who's right for you comes into your life and moves it upside down. He turns your relationship into a paradise and treats you like his queen. If you want to tell your man how important he is to you, then you should certainly make use of this incredible note for him.
A person who truly loves you would make you feel like you're on the seventh sky. A deep love message for him would mean the world to him and he would surely feel a good cheer reading this.
"I miss you the most at night when everything is quiet. The silence reminds me that you're not next to me."
"You are a thousand miles away, but you are still closer to my heart than anybody else. I love you deeply my sweetheart."
"Somewhere between all our laughs, long talks, stupid little fights, and all our jokes, I fell in love."
"Meeting you was like listening to a song for the first time and knowing it would be my favorite."
"Forever is a long time, but I wouldn't mind spending it by your side. I love you deeply my sweetheart."
Heartwarming Deep Love Message For Husband
Not everyone is as lucky to have a loving man in their lives. But if you're one of the lucky ones and your beau treats you every bit like a queen, then you should do something romantic for him too.
Light up a few candles, get him some flowers, and set up the mood. He is surely going to love this special gift that you will give to him.
Keep reading: Husband Love Quotes.
"You turned all my imperfections into perfection just by the power of your love. I love you for all the great things that you did to me."
"I may not say it often, but I want you to know that your love and care matters a lot to me. I'm so lucky to have you."
"You are my paradise and I would happily get stranded on you for a lifetime."
"I want three things, to see you, to touch you, and to kiss you. I love you deeply my baby."
"You make me feel so proud of being in love with you. I love you deeply."
"Can anything be more valuable than our love? Since you are with me, my only measurement is in heartbeats."
"My day is not complete if I don't tell you I love you."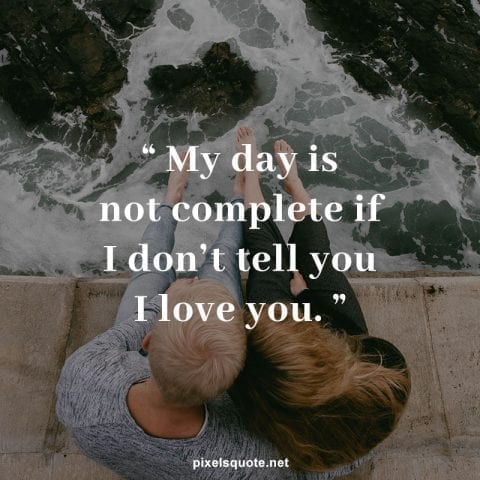 It never enough to tell someone how much they mean to you. Love thrives when it is shared. When you truly adore someone, he is the first and the last thing on your mind.
He rules your thoughts and so it would be just the right thing to convey your love to him and to express what's going on in your heart, this romantic quote would be the best choice for you. A tight hug and a sweet note are just what is needed for conveying your feelings to the love of your life.
"It hurts to breathe because every breath I take proves I can't live without you."
"When we first met, I had no idea you would be so important to me."
"I think about you a little more than I should. I love you deeply, sweetie."
"I'm in love with every moment I spend with you."
"Whenever I look at the keyboard, it always reminds me that "U" and "I" will be together forever."
"Every morning I wake up happy because I know I'll see you. I love you deeply."
"Even if I spend the entire day with you, I will miss you the second you leave."
"Every time I kiss you I feel happy, and every time you kiss me I feel even happier. I love you deeply my beau."
"I fell in love with the way you touched me without using your hands."
Final Thoughts
It is said that one should dream without fears and love without limits. But what's even more important than loving is to convey the love to your man.
If you are having a hard time speaking your heart out, then these deep love quotes for him might help you out. Trust these amazing love messages to sizzle your love bond exceptionally.
"Before I fall asleep I always picture what it would feel like to fall asleep in your arms. It's probably the best feeling in the world."
"My love for you is magical. It gives me the strength and confidence to face even my biggest fears. I love you, my boyfriend."
"You are my man, and I have nothing but pure love for you. I am dedicating my life to love you the way you deserve."
"Loving you never was an option. It was a necessity. I love you deeply my sweetheart."
"You are my world. I love you deeply my baby."
"If I did anything right in my life it was when I gave my heart to you."
"You are the most beautiful thing I keep inside my heart. I love you deeply."
"Meeting you was the best thing that has ever happened to me. I feel lucky to have you. I love you, Babe."
"I know that my feelings for you are real because I spend more time thinking of you than myself."
"I wanna live, sleep, and wake up by your side."
"The love you give to me changes the way I think and act. Your love is my biggest inspiration, and I am happy to have you in my life."